Our Top Picks
Shredding is one of the best ways to destroy sensitive data, whether it be at home or in the office. You want a top-quality paper shredders that can handle your needs and this is how this guide will help you.
Using criteria such as cost, effectiveness, speed, capacity and capability, webve put together comprehensive reviews along with a buying guide and all the facts you need to know before you purchase a shredder.
Compare: Paper Shredders
*Please note that ratings are based on a 5-star rating scale.
FEATURES
Bonsaii EverShred Pro 3S16
Amazon Basics Shredder
Fellowes Powershred 79Ci
BOXIS Microcut Paper Shredderr
GBC Super Cross-Cut Paper Shredder
Kobra Hybrid-S Cross-Cut Paper Shredder
Dodocool Cross-Cut Paper/CD/Credit Card Shredder
Additional Features

60 minutes continuous run time
Also shreds credit cards, DVDs, CDs, paper clips and staples
Jam protection with auto-start and auto-reverse
Over-heating protection
Comes with a 4.2-gallon bin

25-minute continuous run time
Also shreds credit cards, DVDs and CDs
Overheat protection
LED light indicator for door open, standby and overload
Auto-start and auto-reverse to clear paper jams
Comes with a 7-gallon bin

20-minute continuous run time
Also shreds credit cards, DVDs, CDs, paper clips and staples
Has a 100% jam proof system
Safety feature to stop shredder if hands touch the paper opening
Comes with a 6-gallon bucket

Fill the auto-feed tray with up to 120 sheets and you can literally walk away!
Manual feed slot for shredding up to 10 sheets quickly.
Microcut shred cuts virtually obliterate your documents.
Destroy the confidential information of your credit cards with confidence.
The pull-out waste bin is simple to empty.
Casters bound easy mobility.

The 12 sheets cross-cut shredder is suitable for moderate security requirements. (Level 3)
Most junk mail, CDs, credit cards, paper clips, staples, and papers are shredded.
Emptying the 5-gallon pull-out waste bin is a breeze.
The use of a CD cutter separate from the main cutters removes wear and tear on the main cutters.
Machines have a 2-year warranty, and cutters have a 5-year warranty.

Hybrid Technology
24 Hour Continuous Duty Motor
Convenient Front Window
Attractive Design And Led Technology
Automatic Start&Stop Zero Consumption
Carbon Hardened Steel Cutting Knives

Can shred up to 12 sheets of paper
Can shreds paper into 4mm x 12 pieces at the P4 security level
Can destroy paper, CD/DVD, all types of cards
Super sharp metal works wonder within minutes
The 5.7-gallon

Type
Cross cut
Cross cut
Cross cut
Micro cut
Super cross-cut
Cross-cut
Cross-cut
Sheet Capacity
12 (other options available)
24 sheets
16 sheets
11 sheets
12 sheets
12-14 sheets
12 sheets
Rating
B 4.4
4.6
4.6
4.5
4.4
3.9
4.3
Pricing
Best Paper Shredders Reviews
1. Bonsaii EverShred Pro 3S16:
This shredder is available in 12, 14 and 18 sheet capacities. Note that prices will vary accordingly. This is a relatively quiet shredder that can reach a speed of 7.2 feet per minute, however; it should be noted that the more sheets you shred at one time will cause the shredder to slow down a bit. You can see when the bin is full by viewing through the window.
Other features of this shredder include a run time of 60 continuous minutes with a 10-minute cooldown period, cross-cut shredding with particles that measure 4mm x 35mm, and jam protection by way of auto-start and auto-reverse, although you may find that clearing jams can be a bit difficult. There is also thermal protection technology to prevent over-heating and an additional indicator to prevent over-loading.
The Bonsaii EverShred Pro 3S16 has the ability to shred paper, credit cards, staples and paper clips as well as CDs and DVDs. There is a 4.2-gallon bin for paper and a smaller 0.37-gallon bin for collecting CDs, DVDs and credit cards. It also has 4 casters making it easy to relocate. It does not have an auto-shut off feature so be aware of that.
This item measures 23.9 x 17.3 x 13.7 inches. There is an easy to follow instruction manual included with the shredder. Overall, this is a good value for the money and would work well in a home or small office.
2. AmazonBasics Shredder:
With the capability to shred up to 24 sheets of paper at a time, as well as credit cards, DVDs, CDs, this shredder is easy to operate and a good choice for a home or small office. Paper is shredded to 5.5 mm x 25.4 mm particles. Credit cards can be micro cut for added protection.
This shredder can run for a continuous 25-minutes and requires a 60-minute cool down period. Other features include an LED indicator to show standby, door open and overload modes plus auto-start and auto-reverse to avoid paper jams. It has casters for ease of portability and a 7-gallon pull out bin, which is a nice size compared to other shredders.
It doesnbt turn off automatically so be aware of that in case youbre looking for a more energy-efficient shredder. Also, be sure to read instructions carefully before use and know the shredder will not run unless the pullout bin is securely and properly in place.
If youbre searching for a basic and efficient shredder, this is a nice compromise between performance and cost. There arenbt many bells and whistles but it is relatively affordable and Amazon offers a one-year warranty for the product. Product dimensions are 26.2 x 16.3 x 11.9 inches.
3. Fellowes Powershred 79Ci:
Fellowes has been in the business of office equipment since 1917 so you can rest assure this is a high-quality product. It has what Fellowes calls SilentShred technology to make it a quiet shredder. It has a 16-sheet capacity that will shred paper to 3.9 mm x 25.4 mm particles.
This Fellowes Powershred 79Ci has a continuous run time of 20-minutes and needs a 30-minute cool down period. It can shred paper, credit cards, DVDs, CDs, staples and small paper clips. It features a three-level jam protection system that practically guarantees a 100% jam-proof run.
One of the most important features is the SafeSense technology. This is an electronic sensor that will cause the machine to automatically shut off if hands touch the paper entry area. Other features include an energy-saving mode, casters for easy portability, and LED indicator that shows if a feed is too thick and a 6-gallon pullout bin.
This is the most expensive shredder in our guide but well-worth the investment for home or office. It is durable and well-built and has plenty of great features. The shredder also comes with oil for maintenance, an easy to read manual and plastic bags for the bin. Shredder dimensions are 21.31 x 15.38 x 10.44 inches.
4. BOXIS Microcut Paper Shredder
The BOXIS AutoShred AF120's auto-feed tray can hold up to 120 sheets at a time and will begin shredding your documents one page at a time at speeds up to 11 sheets per minute. The continuous run time for the manual feed is 20 minutes, and the throat entry width is 8. 66 inches.
With automatic forward and reverse modes, paper jams are less likely to occur. Furthermore, a P-4 Din level High levels security is an added assurance for the desired service.
For your convenience, there is also a manual feed intake that can take up to 10 sheets. To complete large shredding tasks, the manual feed has a 10-minute continuous run time. A large 6.0-gallon capacity waste bin pulls out with a window when it's full.
This shredder comes with all the features you would need like auto start/stop, manual reverse function, open door, overload and overheat indicator. It can operate quietly with 70db, and the casters make it easy to move around.
5. GBC Super Cross-Cut Paper Shredder
Its place on our list is due to a graceful feature set backed by an outstanding reputation relating to its success and the underlying brand.
The GBC 22SM deviates from the other standard shredders with its elegant and contemporary style. The shredding feed and system are installed on top of a large bin. It weighs 12.8 kg and measures 44 x 38 x 57 cm in height, width, and height.
It's a micro shredder that can tear 210 mm strips at a rate of 2.1 metres per minute. With a relatively low noise level of 58DB, the shredder can also work on other materials including CDs and credit cards.
Its P-4 security level allows it to be used for highly classified information. The shredder has a shredding width of 228mm. It has a capacity of eight sheets for 70 gsm paper and six sheets for 80 gsm paper. The volume size of the pull-out bin is 5 gallons.
It can shred for seven minutes straight before automatically transitioning to a 90-minute cool-down mode.
6. Kobra Hybrid-S Cross-Cut Paper Shredder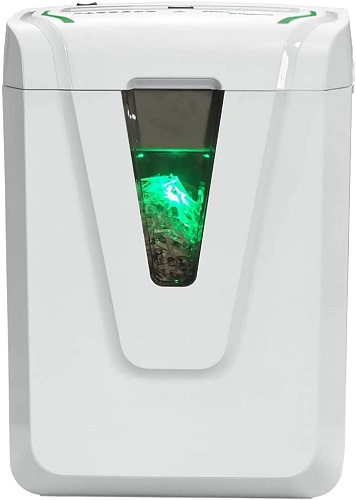 The exclusive hybrid technology of this shredder saves electricity by using stored energy. In fact, this is one of the few such shredders which work on stored energy concepts. The heavy-duty motor can run for 24 hours without overheating or duty cycles. The best part is that it doesn't consume any energy while in standby mode.
Cutting knives made of carbon hardened steel can work on staples and metal clips apart from the normal destroyable objects like paper at a rate of 12-14 sheets.
When inserting the material to be shredded, the machine can start and stop automatically. Similarly, a safety stop is triggered during the emptying of the waste bin.
It is handy and quiet while performing its task of shredding papers and credit cards. The LED illuminated front window enables you to check the shred level.
7. Dodocool Cross-Cut Paper/CD/Credit Card Shredder
This professional shredder can shred up to 12 sheets of paper and shreds them into 4mm x 12 pieces at the P4 security level. The nitrated metal is super sharp and can destroy all sensitive information within minutes.
It can manage four more sheets at once than its basic counterpart model. Also, it has twice the run time as well. While this might not seem to be a significant change, the increased capacity and run time mean you can shred more paper in a single session.
With the 5.7-gallon bin, you do not have to empty it as often as you would do with other smaller shredder machines. Unlike the eight-sheet model, this 12-sheet shredder lacks a separate slot for shredding discs—but that's unlikely to be a problem for most people due to the higher-capacity bin.
The body is protected with a multi-dimensional sensor and thermal control. These features enable the shredder to turn off after constantly running for a long time and in case of overheating. It has the Reverse feature, allowing you to retrieve un-shredded or partially shredded documents to avoid jams.
About Paper Shredders
We encounter sensitive data on an almost daily basis and there usually comes a time when that data should be destroyed. Whether it be personal taxes you no longer need to retain or client information at work, it's imperative the data be thoroughly destroyed to protect ourselves and others.
Paper shredders are an advantage both at home and at the office and are highly recommended by privacy experts. Let us take a look at some of those advantages:
Protection from scams and identity theft.
Shredded paper and other items can be recycled and kept out of landfills or will at least reduce the amount of waste inside them.
In the office, shredding sensitive documents offers peace of mind to your customers and in some cases, keep employers compliant with specific legal regulations.
If recycling is a topic that interests you, try using shredded material as animal bedding or packing material. If you are crafty try your hand at making your own paper from shredded bits or create paper mache. For gardening, add biodegradable shredded paper to compost heaps or use it as mulch.
Be creative! Shredding can sometimes be a somewhat boring task so it may help to know that in the end, you all have something you can recycle while maybe having a little fun.
Buying Guide For Best Paper Shredders:
Before purchasing a shredder, it is important to know the various types of paper shredders available. There are three basic shredders:
As the name implies, this shredder cuts in strips and shouldn't be used for highly sensitive information such as social security numbers or credit card information; shreds an 8 x 10-inch piece of paper to 40 b 50 strips; low-level security.
This will cut paper into small bits; shreds an 8 x 10-inch piece of paper to around 200 particles; medium-level security.
If you're looking for a serious shredder that will turn your sensitive documents into confetti, go with this option; shred an 8 x 10-inch piece of paper to around 2,000 particles; high level of security.
Based on your requirements, you may choose from a basic shredder to a more advanced paper shredder. However, to choose the best paper shredder in the market, you need to consider these features before making your final investment.
Speed
Shredders work at different speeds so you may desire a machine that works quickly if you are a frequent user.
Sheet capacity
Be sure to purchase a shredder that can meet your needs regarding the amount of paper that can be shredded at one time.
Daily usage
Determine your daily usage needs and purchase accordingly; a basic shredder will work well for home and infrequent use but consider a higher-speed shredder for frequent use or an office.
Warranty
Shredders like any other small appliance and should have warranty protection; be sure you understand what your warranty will and will not cover.
Energy-saving and safety
These features may be important if you plan to use your shredder frequently and if you have small children and/or pets you wish to protect from injury.
Noise: Consider the noise level and determine how quietly you desire your shredder to operate.
Run time/cool down
The continuous run time and required cool-down period for shredders vary considerably so be sure you choose one that will keep up with your shredding needs.
Let's talk security. It is likely you are buying a shredder as a way to protect yourself, your family and/or clients or employees from fraud, identity theft or other such crimes. If that is the case, you must understand the various security levels of a paper shredder.
Level P-1: Lowest level of protection; it does work the fastest since less cutting is involved; would work nicely if you wanted an in-home shredded for reducing waste caused by newspapers, magazines, non-sensitive junk mail, etc.
Level P-2: Creates slimmer strips than P-1; still not ideal for sensitive data; would also work well at reducing the volume of waste.
Level P-3: Satisfactory for FACTA AND HIPAA regulations; more complicated to reassemble than P-1 and P-2; could be used for information that is not confidential such as consumer and non-classified information.
Level P-4: The most popular shredder security level; increasingly difficult to piece together shredded documents; suitable for the destruction of personal information.
Level P-5: Ideal if caution regarding personal identification is an issue; safe for the destruction of paper containing social security numbers or credit card information; will work well for high volumes of shredding.
Level P-6: High level of security; can be used to destroy sensitive personal documents.
Level P-7: Highest security; often used in government offices to destroy classified information; virtually impossible to reconstruct shredded documents.
Note: All the shredders listed in this product guide fall under at least a Level P-4 security level.
One last point you should consider before purchasing a shredder is maintenance. Yes, shredders do require regular maintenance to prolong their lifespan but the good news is it's a simple process.
You can follow these tips to maintain your paper shredder in its best condition.
Regular cleaning: Carefully inspect your shredder, paying special attention to blades and the gears, and remove any dust and debris; a can of pressurized air makes this task easy.
Oiling: The blades of your shredder must be oiled to ensure they continue cutting properly; use only commercial oil made specifically for shredders; check manufacturer guidelines for the correct oil.
Cooldown periods: Follow these carefully to prevent overheating and damage to your shredder.
Bin bags: It is important to use the correct size bag for your shredder to reduce the amount of dust that collects in the gears; consult the manual for the proper size bag.
Objects: Some shredders can handle only paper while others are able to handle objects such as staples and paperclips; it is important to follow the instructions of your shredder carefully and shred only what the machine can handle to avoid damaging the gears and blades while also avoiding possible injury.
All the buying information may seem overwhelming but it is necessary. Know your budgetary limits and make notes about your home or office needs before shopping. Use this guide to help you shop smart, not hard.
Frequently Asked Questions
Protecting confidential information is easier with a micro-cut shredder. It can shred documents and papers into confetti, or 3700 small pieces of paper or any other item. A cross-cut shredder, on the other hand, can shred into 400 small square pieces.
#2. What is the difference between shredders that shred in strips and those that shred in cross-cuts?
Non-sensitive documents are typically shredded with strip-cut shredders. Among the various types of shredders, they have the lowest level of security. As it cuts the paper vertically, the strip-cut shredder can shred an A 4 size paper into 39 pieces of thin, long strips.
When compared to a strip-cut shredder, a cross-cut shredder is more secure. They used the adjacent corners to cut the paper diagonally. As a result, they can shred an A4 sheet of paper into 400 small square or diamond-shaped pieces.
#3. What is the average lifespan of a paper shredder?
A paper shredder should have a lifespan of at least five years. It is, however, critical that you take proper care of it.
After 3-5 minutes of use, give the motor the time it needs to rest. Most professional shredders can shred for up to 30 minutes continuously. Make sure you don't overuse it.
#4. What is the difference between paper shredders, disintegrators, and granulators?
No, it's not true. While they all have the same goal of destroying confidential information, they work in different ways. Paper shredders cut the paper into varying pieces, whereas others cut the paper into a fine powder repeatedly.
#5. Can I cut cardboard with paper shredders?
No, paper shredders cannot shred cardboard because it has a different structure and is made of different materials. Refer to the user manual for what to shred and what not to shred.
Conclusion
Ultimately, our choice for Best Paper Shredders is the Fellowes Powershred 79Ci. Yes, it is the priciest shredder on our list but it also offers the most features making it a good investment. We especially like the safety feature and feel this is something that should not be overlooked.
It's a powerhouse shredder that can handle some tough jobs. While it has more features than the other machines in our guide, it is still easy to use as well as easy to maintain. With Level P-4 security, you can feel safe shredding sensitive and personal documents.
No matter your choice, be sure to always read instruction manuals carefully and follow a regular maintenance routine. By doing so, you can be sure you'll get the best performance and longest life from your shredder.
RESEARCH LINKS:
Office Equipment Typepad:https://office-equipment.typepad.com/paper-shredder-review/2012/03/advantages-of-using-paper-shredders.html
Shredonsite:https://www.shredonsite.co.uk/blog/the-benefits-of-paper-shredding-for-your-office
Ebay:httpz://www.ebay.com/gds/5-Reasons-Every-Office-Needs-a-Shredder-/10000000177634154/g.html
Documentsnap:https://www.documentsnap.com/shredder-types/
Wikihow:https://www.wikihow.com/Choose-a-Paper-Shredder
Wikipedia:https://en.wikipedia.org/wiki/Paper_shredder
Smallbusiness:https://smallbusiness.chron.com/shredder-maintenance-29680.html
X
You might want to hear this:
Andreá G Cassar said…
"We have been wanting to replace a ten year old shredder that did even CDs. This shreds CDs and CC like it was nothing. Amazing and quiet compared to the other one. Definitely worth every penny."