After COVID-19, it has become essential to maintain social distancing. If you are a gym freak who is missing their exercise bike, elliptical machine or squat proof leggings, do not worry as you can convert your home to a gym without burning a whole in your pocket. In this article, we will discuss some creative ideas for the same.
What do we need?
Nylon rope- very durable and can handle a lot of weight, pulley, PVC pipe- You can also use a metal pipe or a bamboo, galvanized wire, s-shaped iron rod, metal hook.
Method
Tie the galvanized wire around the PVC pipe properly.
Now take the nylon rope, tie a small knot and insert the s-shaped iron rod through it. Ensure that the rod is secured properly.
Now hang the pulley using the galvanized wire from a height; you can use a tree or a rod, whichever is available in your home. Make sure that the pulley is tied and hanged properly.
Now insert the rope through the pulley, tie a knot on the other end and pull the rope until the knot reaches the top of the pulley.
Insert the metal hook through the knot and on the other side of the hook hang the PVC pipe using the galvanized wire that is already tied there.
Now take a 5 litre water jar and hang it on the S-shaped hook that is tied on the end of the rope that is hanging through the pulley. You can use buckets and stones so that you have a choice of exercising with different weights.
What to do?
You can use this DIY gym equipment for your Triceps exercises. Stand straight facing towards the equipment, hold the PVC pipe at 45 degree angle and pull.
What do we need?
1/2 inch and 3/4 inch galvanized pipe, a saw for cutting the pipes, welding machine, 2 pcs short spring, paint and some weights.
Method
Take the pipes, cut them into desired size.
Now insert some metal springs into it and then perform welding so that the pipes can join to form the given shape. The springs will help the metal pipes inside to move up and down smoothly.
Now paint the pipes for the final touch and let them dry. Put some weights on it as per your requirements.
What to do?
Sit on a chair and then place your hand on the top pipe and grab the pipe just below it. Now start pulling the pipes up and down to do your forearm exercises.
What do we need?
3 water jars of 2 litre each, water, sand, and PVC pipe.
Method
Take 3 jars of 2 litre and fill one up with water.
Now take another jar of the same size and put some sand in it.
Take the 3rd jar and fill it with a mixture of water and sand.
Now weigh all the 3, you would see the water filled jar is the least heavy while the sand and water jar is the heaviest.
You can insert a galvanized rod through the jar handles and then use them for tricep exercises.
What to do?
Stand straight and put the PVC pipe through a combination of jars that would give you desired weight. Now pull and push the pipe at regular intervals to work on your triceps.
What do we need?
A reusable strong plastic bag, you can use the trash bag, duct tape, sand, rope, bubble wrap and a duffle bag.
Method
Take the plastic bag, fill it up with sand and tie a rope at the top to secure it properly.
Also add duct tapes to make sure there are no leakages.
Now use bubble wrap to wrap up the whole equipment and cover it with a canvas duffle bag. Now tie a rope at the top again or you can use the same rope and hang it from a height.
What to do?
This DIY trick will help you to create the perfect sandbag. You can do some strength and endurance exercises using this one.
What do we need?
Take a belt, hardwire, and galvanized pipe.
Method
Tie the wire through the pipe to give it a round shape, and make a thick ring with it.
Now put the ring through your belt and sew the belt so that the ring does not get displaced.
Now take a chain and hook. Tie one end of the chain with the hook and place the hook inside the ring tied in the belt.
Through the other end of the chain put your desired weight and then tie it again with the same hook
What to do?
You can wear this on your waist while you perform dips. Weighted dips are a great addition to your regular exercising regime.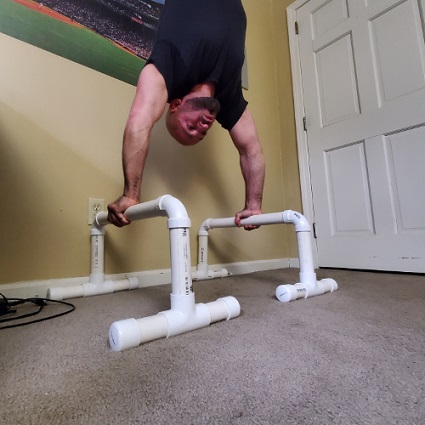 What do we need?
PVC Pipes.
Method
You would need a couple of PVC pipes for making this parallette. It is super easy and one of the best DIY equipment for your home gym. Join the PVC pipes in desired shape to get your perfect PVC parallettes.
What to do?
You can do various exercises to get in shape using this easy-to-make DIY gym equipment.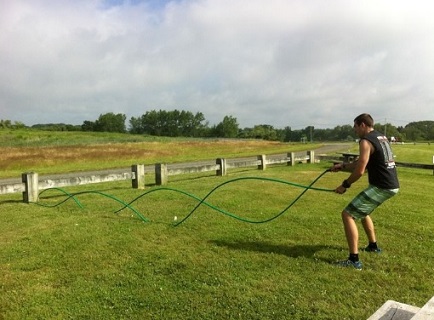 What do we need?
At Least a 50 foot long garden/fire hose, you can use your old one or purchase a cheap one available in your nearby store.
Method
It is a super easy gym equipment that can be a great addition to your daily regime. You can use the garden hose to perform the waves by tying it on one side and holding it on the other side
What to do?
It has become a popular exercise lately. After a few days, if you think of adding some weight to the rope, fill it with water and cap both the sides of the pipe. You can also fill it with sand and use duct tapes to secure both the ends.
What do we need?
PVC pipe, wooden board, and small wooden pieces.
Method
Take a wooden board and stand on it.
Now cut it out to the right size so that you can balance on it properly.
Now take the small wooden pieces and fix it on the back side of the board so that it can work as a stopper.
Now place the board on top of the pipe and get ready for some balancing action.
What to do?
You can use this balancing board for a number of free-hand exercises like lunges, squats, calf raises, etc. It is very easy to make multi-purpose home gym equipment.
What do we need?
Lashing straps, PVC pipes, Nylon ropes, duct tapes, twine, an oven, aluminium foil, sand, and paint.
Method
You would need to preheat the oven to 350 degrees.
Now take the twine, wet it and put it through the pipe. Seal one end using a duct tape.
Now fill all the pipe with sand, ensure that it is fully filled and compact.
Now seal the other end with duct tape too, making sure that the twine hangs out from both the ends.
Now put the pipe on the aluminium foil, put it in the oven and let it heat up for 8-10 minutes. Now take it out and let it cool for another 3-4 minutes.
Repeat the same with the other pipe.
Now put a rope through and loop it around twice. Ensure the rope is secured enough to bear your weight and hang it on a structure of your desire using straps.
What to do?
You can perform pull ups and ring push ups using this DIY fitness ring. It is easy and affordable to make.
What do we need?
PVC pipes, sandpaper, and sand.
Method
Take the PVC pipes, and scrap off the sides using sandpaper.
Now fill it up with sand ensuring it is full and compact.
Seal both the ends with the caps.
What to do?
From shoulder press to lying tricep extension, you can perform a lot of exercises using this free weight dumbbells.
What do we need?
2 Nylon webbing of one color to make the sides of the ladder, another nylon webbing to make the stairs, thread, sewing machine, pins, and scissors.
Method
Put the big 2 nylon webbings parallely, and then take the other one to cut into small pieces so that you can make the stair rugs.
Now pin the rugs in proper position by maintaining a gap of 18inches.
Once you are done pinning, it is the time to sew your rug. Do it multiple times from different directions to ensure that it is secured enough to use.
What to do?
If you are a fan of crossfit exercises, the agility ladder is known to you. It is very easy to make and using it, you can reach your fitness goals without burning a hole in your pocket.
What do we need?
Plywood, Table Saw, Nail Gun, Jig Saw, measuring tape, Drill, and glue for wood.
Method
Take plywood and cut them into pieces so that they can be joined to make up a box.
Cut the notches so that each piece can be interlocked with one another.
Take your time to take the right measurements and cut it properly as it is the most challenging part of the project.
Once you have done it, squeeze them together to fix followed by nailing the edges.
To make it more convenient, drill a hole at the sides of the box so that you can put your hands on it.
What to do?
It is also a cross fit equipment that you can use to perform different types of exercises like glute bridges, toe taps, tricep dips, etc
What do we need?
A large Tyre, tow ropes, metal chain, plywood, rod, and weight.
Method
Tie the rope through the tyre and put the plywood inside the tyre in a way that it stays there securely.
Now weld the rod to the plywood making sure that it would not move away.
Then put the weights inside the rod.
You can wrap it with metal chains to ensure the security. That's it. Your pulling tyre is ready.
Now tie the other end of the rope to your waist and pull it as fast as you can.
What to do?
It is a cross fit exercise that improves your endurance. It is easy to build and very affordable
What do we need?
All you would need here is a giant tractor tyre. You would generally get it for free in the heavy equipment shop.
Method
There is no task with this tyre, it is exercising equipment by itself.
What to do?
Flipping the tyre is a great exercise. You can also attach a tow rope to it and make it a pulling tyre. These are also great for glute-ham sit-ups and farmer's carry.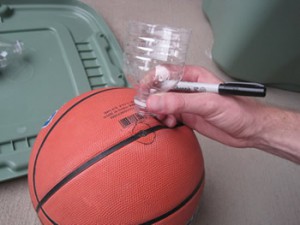 What do we need?
A large ball made of thick material, sand, scissors, duct tape, and dowel.
Method
With the scissor make a triangular flap on the ball.
Fill it with sand, use a dowel to ensure that the sand is filled compactly.
Now close the flap and cover the ball all-over with duct tapes.
You can also sew it to ensure that it is secured.
What to do?
You can use these medicine balls for a full body workout. It can help to strengthen your core muscles and shoulders too.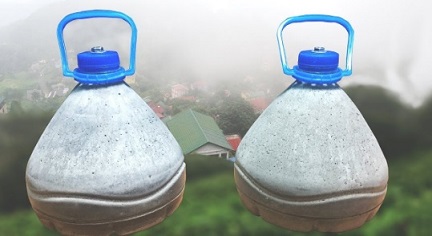 What do we need?
1 gallon water jars made of sturdy material, sand, funnel, hot glue gun, and weighing machine.
Method
Empty the water jar and get rid of the excess water by keeping it in an up-side down position for a few minutes.
Now put the funnel on its mouth and pour sand to fill it up.
Put the bottle in a weighing machine and adjust the sand accordingly to get your desired weight. You can use a permanent marker to write down the exact weight of the bottle for your convenience.
Take the hot glue gun and seal the cap on the top of the bottle.
What to do?
You can use this as big dumbbells to perform all your strength exercises. It is super easy to make but will serve as a great DIY home gym equipment.
What do we need?
Wooden post, metal post, lumber, wood screws, table saw, drill press, power drill, hole saw, and spade bit.
Method
Cut the wood according to the length and then punch proper holes on it.
Now position the woods properly and insert metal rods through the hole.
Make sure that the bar fits properly into the hole.
Repeat the steps for each end of the bar until they are adjusted parallely to form the right structure.
What to do?
You can use these parallel bars for strength exercises. It is simple to construct and the cost depends on the type of material you use.
What do we need?
Plywood- the size depends on the amount of area you wish to cover, T-Nuts, Wood screws, wood glues, climbing holds, power drills, and clamps.
Method
Drill diagonal holes on the plywood and screw in the T-Nuts.
Repeat this for every hole you drill. Now use small spare plywood pieces as spacers and glue them to the back of the climbing board using the wood screws.
Now take your holds and attach it on the board anyhow you want and your rock climbing wall is ready.
What to do?
Rock climbing is a fun way to exercise. It would strengthen your forearms and also your core muscles. You can build it as big as you want. The process is easy and you can have some fun while exercising.
What do we need?
A 16′ kickball, sand, tire patch kit, knife, funnel, and sandpaper.
Method
Take a knife and cut a small hole on the ball so that the funnel's end can fit in it.
Next, pour sand into the ball through the funnel until it is compact.
Once the sand is filled, take the sandpaper and sand around the hole so that the patch can fit.
Apply rubber cement and fit the entire patch on the ball.
Wait for 5 minutes till it's fully done.
What to do?
From wall ball to med ball squat, you can do multiple exercises using this equipment.
What do we need?
12 ft pine board, 50 ft sisal rope, wood screws, wood glue, and long staple.
Method
Cut the boards and wrap them with the rope. Do use staples on the rope.
Drill the board for screws and align them properly.
Now Glue the boards properly and ensure they are secure enough.
Screw the rest of the boards to complete the makiwara.
What to do?
Makiwara is basically a karate training tool, but you can use it as a part of your fitness regime. It consists of simple components and is very easy to construct too.
What do we need?
All you would need is a bungee cord.
Method
Double or triple up the cord and pin down the band. Ensure to secure it properly or else it would hit your face straight.
What to do?
Pull the cord and with all the resistance it provides, bungee cords can be a great exercising equipment for you. You can perform various trunk rotation exercises using this cord.
Conclusion
With these easy DIY ideas, you can create your very own home gym and walk towards your fitness destination. These pieces of equipment are easy to make, and the materials involved are also pocket-friendly. So what are you waiting for? Build your DIY gym gears and start your fitness journey today!