Today we will talk about Squat Proof Leggings.
But first, listen to this:
Workouts are great when you want to keep your body in shape.It is essential to take care of the minutest things during workouts.
It can be anything like the time chosen to exercise, the place, the equipment used to exercise, the trainer who guides you in all this process, and even the type of clothes that you put on. This includes your leggings, T-shirts, boots, and socks.
One of the most important factors in any workout is to have a comfortable pair of clothes that allow you to exercise with flexibility and ease.
Imagine yourself doing a squat where your leggings just slide down when you bend or the underwear is visible from your leggings. We know how embarrassing it becomes.
That is the reason why we decided to throw light on this particular subject. We review items ranging from kitchen products, office items, sports accessories, and many more.
Today we are glad to review in detail 7 different brands of squat proof leggings which will not embarrass you in front of anyone and are slide proof and non-see-through leggings.
Let us discuss the pros and cons of each in greater detail.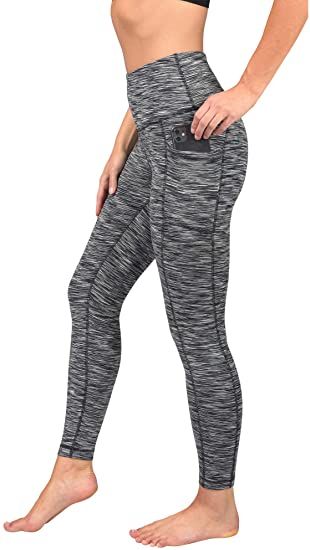 Pros:
They are non-see-through Squat proof leggings and won't display your underwear when you stretch your body.
Long in length.
It has a 4 way stretch till ankles.
Tummy control with high rise grip.
Gusseted crotch with interlocked fabric.
Smartphone pocket.
Cons:
Limited color choice with only 12 colors to choose from.
The use of Polyester as a fabric can sometimes cause rashes on the skin as it fails to absorb sweat.
Size issues are there with some of the verified Amazon customers.
Some people feel that the leggings are too dark in color.
Stains of sweat are visible if you opt for lighter color leggings.
Machine wash can damage the fabric in the long run if they are washed in the machine regularly.
If you aren't too choosy about the colors then 90-degree reflex squat proof leggings won't disappoint you. The name '90 degree' itself suggests how flexible they are.
The leggings are made from a combination fabric of polyester and spandex. While spandex gives it much-needed elasticity, polyester makes it fit your body.
They have an interlocking weaving that helps you to stay away from the rashes caused by the type of weaving.
On the top part near the waist, it is interlinked weaving that makes it more comfortable.
The pockets on the sideways are of great help to store mobiles and credit cards. They are long enough for most of the mobile phones.
The high rise tummy control leggings provide support to the back. They provide gentle compression to your midsection. This helps you to look slimmer.
The 25 inches inseam makes it very comfortable to wear and the fabric and the type of stitch used to weave it make it durable.
Pros:
Leopard designs on the squat proof leggings make it non-see-through.
The use of Spandex gives it flexibility and aids in the quick-dry process.
Hidden waistband pocket.
Suits healthy females due to a high inseam measuring 28 inches.
High waisted leggings with "buttery" soft texture.
Cons:
Non-availability in plain colors, only leopard prints.
Polyester fabric can cause rashes on the skin if you have an allergy to it.
Limited availability of colors to choose from.
It has only one pocket to store things.
The color of the fabric fades after multiple washes.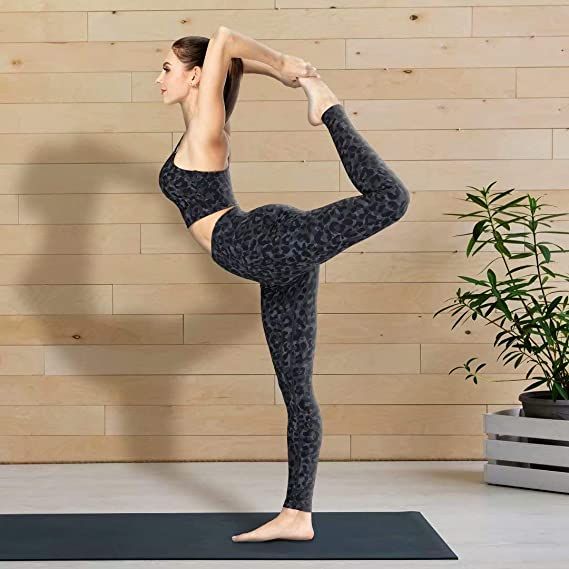 Leopard print will surely make you look different among all the people. It looks stylish too. The leopard print makes it non-see-through fabric in a true sense.
The fabric is made up of 75% polyester 25% spandex. This makes it light in weight too. It weighs just 100 grams. So you can carry it anywhere without bothering for the load or space that it occupies.
The fabric used is soft like butter and breathable and sweat-wicking fabric. The waist portion is differently stitched to give you the much-needed compression on the tummy portion. This makes you look slim.
It has got a wide inseam of 28 inches so it is a perfect fit for anyone who has an athletic body too. Along with that, there is a waistband pocket that allows you to keep your things safely with you when you exercise
Pros:
It has a wide availability of different colors.
Available in different sizes with 28 inches inseam.
It has flatlock seams that provide comfort and reduce chafing.
It has a gusset crotch to maximize free movement and interlock seams to minimize rubbing and chaffing.
Anti-drop, high-rise, wide waistband for no muffin top and maximum coverage.
It is made from stretchable fabric nylon and spandex, which gives it much-needed elasticity.
Cons:
Although it is sweat-wicking fabric, it does not absorb sweat.
Some of the users feel that they do not fit tight on the legs, compression is there on just the waistband part.
This fabric might not be suitable if you are using it in very hot climates.
If you are fond of different colors then surely you should go for Baleaf leggings. Here you get a wide range of colors and styles to choose from.
Apart from that, the size chart guides you to opt for the best size that fits you.
Nearly 50% of the current users find the chart helpful and find the garment fitting true to its size.
The use of nylon and spandex as a fabric makes it more elastic and breathable. Also, it helps to give it much-needed flexibility and makes it light like a feather.
The waistband portion is non-see-through and quite high that rises to your belly button. So even if you bend down to do a squat, you need not worry that your hip joint will be open for the public to view. We think this is the most important feature.
There is a pocket inside the waistband that allows you to keep your things safely. Also, the stitches are flat so that they do not cause any kind of discomfort while you exercise.
Some of the users complain that depending on the color opted by you and the usage, the fabric becomes a see through the fabric after repeated washes. We think you should consider this fact before opting for your favorite color.
Pros:
The leggings are available in two styles, hugged feeling and naked feeling.
True to size
They are made from Polyamide and Lycra, this makes them stretchable and soft in texture.
No camel toe and 25-inch inseam.
Cons:
Few customers feel that the hugged feeling of the leggings are too tight on the thigh, especially if you have an athletic body.
There have been sizing issues with some customers.
Non-availability of wide colors to choose from.
The fabric is not suitable for too hot climates.
If you want a choice between how tight you want your leggings to be, then go for CRZ Yoga leggings. They are available in two different variants. The naked ones feel light on the thigh area whereas the hugged ones are tight.
You get a wide range of color selection and the most important feature that we noticed is that it does not cause the embarrassing camel toe in the unwanted region.
The stitches are interlinked and flat which prevents chafing. Also, the fabric used is a variant of Polyester that allows the leggings to stay cool. The meaning thereby even if you sweat inside this fabric, you won't feel hot.
Pros:
Non-see-through leopard print leggings.
Two side pockets with a hidden waistband pocket.
Soft and sweat absorbing material.
Cons:
Material is made up of a combination of nylon, spandex, and polyester which makes it uncomfortable to use in too hot climates.
Not many color choices are available if you want to opt for plain fabric.
Some of the users complain that the color fades after repeated washes.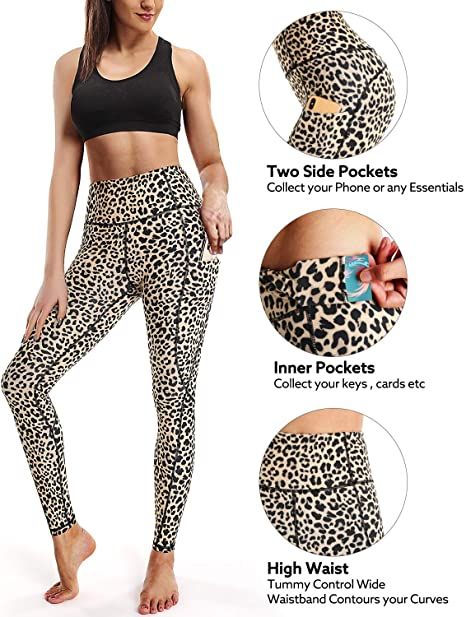 True to its name, Styleworld is a perfect choice for anyone who wants to show off and be comfortable at the same time.
Styleworld leggings are made from Nylon, Polyester, and Spandex, which makes it extra soft and light in weight. Also, it is a quick-dry fabric.
The leopard print successfully hides your underwear when you squat during yoga positions. We think this is the biggest advantage of leopard prints.
The waistband rises to the belly button and has a secret pocket where you can store your debit or credit cards. Apart from that, it has two side pockets to keep things.
Pros:
Made from comfortable, stretchable, and soft material.
Available in different styles and patterns.
It has waistband pockets to store things.
Cons:
Some of the users complain that it is not meant for people with large hips. It does not fit properly.
Some people have issues with size.
Although the material is non-see-through, but still depending on the color you have opted for, it might reveal a bit.
Amazon's choice is truly amazing. Why are we saying this? Well, because you get a wide range of choices here from choosing a plain color, stripes, leopard print, and plain black. Different color variants are available for you to try.
The texture of the material is thick and made up of Polyester, Elastane, and Polyamide. This makes it elastic and a piece of quick-dry fabric.
Compared to the other squat proof leggings that we discussed earlier, you might find the material of these leggings a bit thick and fit on your thighs. But that depends on your personal choice of how tight you want your leggings to be.
It has got a single pocket in the waistband area to store things. It is large enough to keep mobile phones and cards.
Pros:
79% of the verified customers on Amazon, feel that the fabric is true to its size.
The fabric is elastic, lightweight and soft in texture.
It has a waistband pocket to store things.
A mesh on the side panel makes it look stylish and keeps the area well ventilated.
Cons:
Some customers complain that the mesh is not sturdy and it rips off after repeated washes.
Not for someone who does not want to display his skin. Your thighs are visible from the mesh.
The pocket is small and cannot store mobile phones. It is just meant for cards and keys.
These squat proof leggings are the best combination of style and comfort. The mesh on the side panel helps to keep the area well ventilated and you won't feel the heat while you exercise.
The only problem some users face is that the mesh rips off after repeated washes. It is a non-see-through soft, quick-dry, and lightweight fabric.
It has a single pocket on the waistband which is large enough to store keys and cards. Some of the users complain that it is not sufficient to keep cell phones.
Different patterns of mesh and the colors are available to choose from. As a matter of precaution, do consider the exact size before you buy it.
Best Squat Proof Leggings?
So we have analyzed the above leggings based on their texture, feel, comfort, ease of use, and most importantly the non-see-through feature.
According to us, all the above suggestions for the squat proof leggings are good to buy but still, if you wish to go with our choice then it would be STYLEWORD Women's Yoga Pants.
This is our recommended product. It has pockets to store things and a waistband pocket. It can be used to store keys, cards, and cell phones, that adds to the functionality.
The leopard print and the various other color combinations available make it a great choice.
Do try it and let us know in the comment section about how you felt after using our recommended product.
X
You might want to hear this:
Jessica said…
"These are great! They are so soft and fit like a glove. Also they stay up well during a tough workout! I am 5'5 130 and I got a medium. Will definitely buy these in more colors."