Adopting a puppy and becoming a pet parent is one of the most beautiful experiences in the world. They will come into your life and take the biggest place in your heart. Pets are not only animals, they are like your child or best friend.
When someone holds such an important position in your life, you will of course want to capture their each and every moment. There is no denying that puppy years of a dog are the cutest. Thus, you should make no more delays in taking puppy photos.
Pet Photography is a tricky art, but it is something close to everyone's heart. Pets would give you some of the cutest and funniest moments. But, they are very unpredictable. Hence, it is essential that you know the right tips of taking puppy photos.
A good pet camera will help you to keep a close eye on your doggos while you are away. But to take amazing pictures, you would need to use your regular camera the right way. In this article, we will help you with some tips that will encourage you to take the best puppy photos.
Tip 1: Pre-planning the session
In order to have a successful pet photoshoot, scheduling is important. Pre-planning the session will help you to make all the necessary arrangements. You will also have the scope of preparing your puppy to keep them calm.
In case you want some dynamic shots, play to make them energized. Consider your dog's personality and do the planning accordingly. If your puppy has been good during the session, you can give them treats or do something that they love. Afterall, models should be adequately paid!
Tip 2: Make the most of Natural Lighting
The best time to do puppy photography is during the day. That is when the natural light shines the brightest. Complicated lighting setup will not work well for the puppies. It can frighten them, which might ruin the whole session.
It would be a good idea to shoot outdoors, where the puppy can enjoy. On darker days, you can increase the ISO. It would help you to capture moving shots with higher shutter speed, even in low lights.
Tip 3: Go for high shutter speed
While purchasing a camera, ensure that it has a high shutter speed. You can go for the pet-face detection feature, which would be of great help. You can also check out the burst mode, which will give you a series of poses in a single push of a button. In other words, increasing the shutter speed will make pet photography convenient for you.
Tip 4: Choose a Comfortable Location
To get the best picture of your furry baby you must select the right locations. When they are comfortable, the photos will display their personality in the right way. So instead of a photo studio, go to a dog park.
Give some time to your pet to relax and cope up with the surroundings before starting the photoshoot. When they feel comfortable, they will look comfortable on camera.
Tip 5: Select the right angle
Photos of your puppy from above is not a good idea. The angle might not be capable enough to capture their best expressions. So you should go down below. Depending on the height and breed of your dog, you might have to stand on your knees or lie on your belly.
You should try and capture the pictures from your pet's eyes or lower level. Your little effort would show great results, in the form of cute photos.
Tip 6: Focus on Eyes
Focusing the pet camera on the eyes of your puppy helps in creating depth in the photo. It is similar to that of human portraits. If your dog has an unusual eye color, make it the main focus of your photo. The trick will also help in showing a side of your dog's personality. You can use manual focus for sharp results.
Tip 7: Create distractions for untrained dogs
If you have untrained dogs, then the photoshoot can become more challenging. In such situations, creating distractions is essential. You can use several things to focus your pup's energy in one place, like their favorite toys or treats.
You can also take a family member along in the photoshoot. They will help you with the whole process. You can also take portraits of them together. After all, who would not love a portrait of your favorite human with your favorite doggo?
Tip 8: Do not forget to groom the pup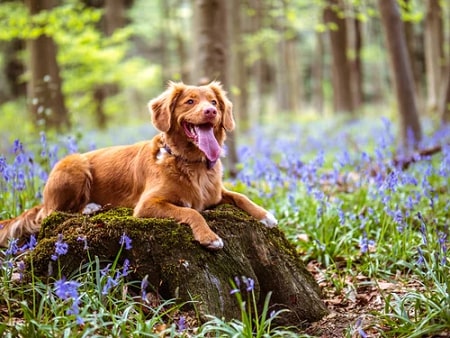 Ensure that your pup is clean and well-groomed on the day of the shoot. It is more important for dog breeds who have long hair. Without grooming, you would have to do a lot of photoshop edits to get the perfect picture.
In case you are not able to groom your dog, make sure that their doggy hair is well-brushed. You can also take their grooming kit along, to give a touch-up during the photo session.
Tip 9: Make use of new props
Adding cute props will take your puppy's photo to a next level. Imagine your dog with a hat or a handkerchief tied at the neck, won't they look the best? With props, you can take memorable pictures.
You can fo for brightly colored bow ties, or sunglasses. Even making your pup wear unique costumes can be a good idea (if they are comfortable). Coats and bandanas also look good in puppy photography.
Tip 10: Communicate with your doggo
Your puppy is your best friend, and no one knows them better than you. Hence, you would know the right ways of communicating instructions to them. Remember that, it is you who has to conceptualize the whole idea. Losing your cool would yield bad results.
Hence, give clear instructions to your pup. Do not confuse or frighten them with a lot of things. You can also do actions and opt for the non-verbal way of communication. The result would however depend on how trained your dog is.
Conclusion
When talking about dog photography patience is the key. Your pup is a small child and you will need to handle them the right way. You might have to undergo a series of practice sessions, before the main event. It will help them to become comfortable in front of a camera.
A puppy photo session is all about having fun. Planning it rightly, will make the dog photo session one of the best experiences in your life.