Setting up a bar is always fun. But what is even a bar without a Wine Cooler? Either for your home or for the lounge, a wine cooler is a great choice. Opening the refrigerator multiple times does not give you a chilled wine.
Here are the Best Wine Coolers that you can add to your bar area.
Best Wine Cooler- EdgeStar Wine Cooler
Good product for the price. Maintains relatively stable temp.
Most Compact- Rovrak Wine Cooler
It keeps the wine cold so it does its job.
Best Design- Schmecke Wine Cooler
Good all around. Quiet and efficient. Looks attractive too.
Best Splurge- Antarctic Star Wine Cooler
Keeps the temperature with very little noise. The blue light is a nice touch at night as well.
Most Cost-Effective- Kalamera Wine Cooler
Liked everything, especially the temperature display on the door.
Thinking of setting up a mini bar at home or the office? Get a Wine Cooler. If you love wine, this is something you will love. A wine that is too warm or too cold does not give the best taste. Refrigerating the wine can be annoying.
Getting a Wine Cooler will just give you the right wine temperature that you can enjoy. We are recommending 5 of the best wine coolers. From your budget options to wine bottle capacity, we have it all for you.
Looking for a bigger cooler? The EdgeStar Wine Cooler has the capacity to store 44 wine bottles at once. These bottles should be of standard size, i.e., 750 ml 2.75" Bordeaux Bottles.
This wine cooler comes with 6 removable shelves. Thus, to store bottles with big sizes, you can remove these. It has compressor-based cooling and the temperature range is between 60 to 65 degrees F.
The wine cooler has blue LED lights for interior illumination. It also comes with a lockable and reversible door.
What We Like
Metal shelves with wood trim assure the durability of the wine cooler
The wine cooler does not make a lot of noise
What We Don't Like
You cannot install it under the counter
You need to leave a lot of space behind the cooler hence not for compact spaces
Looking to set up the bar in a smaller space? Use the Rovrak Wine Cooler for wine cooling. It is compact in size and fits up to 18 wine bottles. It comes with a frost-free setting as well. Freestanding and Built-in are the 2 placement methods available.
The temperature range is wide. The temperature range is 41-72 degrees Fahrenheit.
This wine cabinet is thermostatic and thus it maintains the ideal temperature. The interior LED light is soft blue in color and thus is not harmful.
What We Like
You get to choose from 4 variants
It takes a shorter re-cooling time and has a faster cooling speed
Child lock is available as a safety option
It comes with its own carbon filter
Produces noise less than 40dB
What We Don't Like
Some users say the temperature keeps fluctuating
The shelves are too close to each other according to the buyers
The quality is not up to the mark
Are you too conscious about the look of the wine cooler? You are not alone. We understand that basics are not your choice. The Schmecke Wine Cooler comes with a stylish look and holds 34 wine bottles at once.
The temperature range is 41-64 degrees Fahrenheit. This wine cooler has a double-paned thermo-pane glass for UV resistance.
It helps with interior insulation and maintains the overall flavor of the wine. You can change the settings using the touch panel.
What We Like
2 colors – black and steel are available
The brand assures 1-year warranty on the wine cooler
It has 7 removable shelves
You can choose between Celsius or Fahrenheit temperature units
What We Don't Like
As per some users, the racks are too small
It does not hold bigger bottles
Some customers say that the wine cooler can hold less than 34 bottles only
This one has the capacity to hold 36 wine bottles of 750ml standard size. The temperature range is 40-61 degrees Fahrenheit. It is CFC-free and has polyurethane foam with 65W insulation power. You can store your beer and soda bottles as well.
This wine cooler has a touch control panel and digital thermostat. It comes with a double-paned glass door along with a stainless steel door handle.
The stainless steel shelves are adjustable yet sturdy. The 3D air cooling system maintains a constant temperature. It has a freestanding feature only and you cannot use it as a built-in.
What We Like
4 sizes are available
The overall quality is top-notch
It is small in size and therefore you can place it on the countertop
What We Don't Like
According to some buyers, the compressor makes a lot of noise
Customers are not too happy as it cannot hold the temperature
For a budget-friendly option, we have Kalamera Wine Cooler. It can hold 24 wine bottles at once. The temperature range is 41-64 degrees Fahrenheit. The wine cooler has a special steel frame and 2 layers of tempered glass.
It comes with 4 chrome racks that are detachable and have a stopper. The internal white lights add to the aesthetics. You get a touch control board to adjust the settings.
What We Like
2 sizes to choose from
The size is compact and the design is sleek
The quality of the wine cooler is outstanding
It has a minimal noise
The wine cooler maintains the constant temperature
What We Don't Like
Customers say the wine cooler door does not have any lock
Some buyers say it is challenging to fit in the champagne bottles
You cannot change the unit from Farenheit to Celcius
The Best Wine Cooler
Who does not love some wine and chill? What about a glass of chilled wine? Get your hands on the EdgeStar Wine Cooler. With 44 bottles storage capacity it is one of the best options. The metal racks are sturdy and durable.
Want a chilled wine on a chilled budget? Go for the Kalamera Wine Cooler. It comes with aesthetic white lights in the interior and 24 bottle holding capacity. The compact size consumes less space and looks sleek and classy.
Wine Cooler Buying Guide
Bottle Holding Capacity
People buy the wine cooler depending on its bottle-holding capacity. But do all wine coolers hold the wine bottles in that capacity? See the review in the image below.
Did you get our point through the review? Hence, we suggest you check for the exact bottle holding capacity. The capacity also depends on the number of racks. While some wine coolers have 7 racks, many of them have 4 racks only.
It is a good idea to buy a wine cooler that has removable racks. Rack removal allows you to keep bottles standing as per the need.
Material and Quality
Cheap quality material affects the durability of the wine coolers. These items should be long-lasting just like regular refrigerators. Stainless steel is a sturdy material. Therefore, buy a wine cooler that uses steel as the main material.
In wine coolers, racks have a lot of importance. For good quality racks, buy steel or chrome racks. They last for years and can hold heavy bottles as well.
Try to avoid plastic racks. Plastic racks damage in no time especially when they are removable. Constant removal and cleaning are intolerable for plastic racks.
Temperature and Cooling
If you think a wine cooler will cool your wine well, you are wrong. There are wine coolers that do not support temperature after a certain level. But, some wine coolers can also convert your wine into ice. None of us want it, right?
The wine coolers have temperature adjustment settings. The range lies between 40-72 degrees Fahrenheit. The ideal temperature of the wine is just a few degrees below room temperature. Most people prefer 50-59 degrees F as the ideal wine cooler temperature.
It is obvious that you need to set the temperature of the wine cooler depending on the area you live in.
The door of the Wine Cooler
Preferring a sturdy door is a must. What you should also consider is a double-paned door. This feature protects the interior of your wine cooler from harmful UV rays. The UV rays tend to affect the taste and color of wine after a certain limit.
That is why using a thermopane door is necessary. These types of doors maintain the constant temperature supporting the insulation.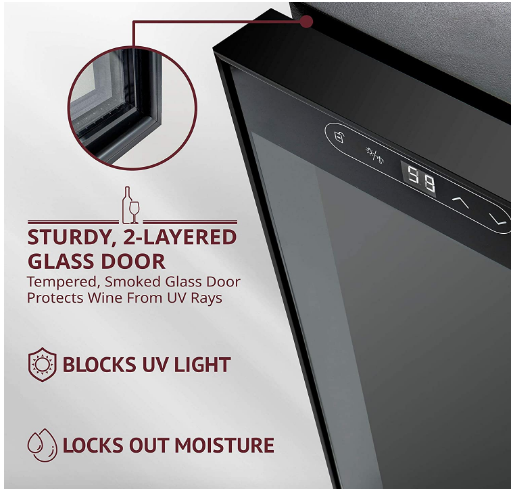 Make sure the door has a safety lock. This comes in handy if you have kids at home. Another point to add is to have stainless steel doors. Steel makes the doors durable. These doors also close easily and make the wine cooler air-tight.
Conclusion
What's stopping you from buying a wine cooler? We have some great suggestions for you and we hope you like them. A party is incomplete without wine and so are our blogs without the Buying Guides.
Do you consider having wine under the pergola? Here are some wonderful recommendations for you. You will find a Buying Guide to make your pergola shopping easier.