An Outdoor retractable pergola can change the entire look of your garden. Enjoy the outdoors in all seasons with a retractable pergola. Check out the 5 best easy-to-install Outdoor retractable pergolas.
Best Overall- Domi Outdoor Living Retractable Pergola
Totally worth it for the price. It's actually pretty easy to assemble with two people.
Best Quality- Purple Leaf Outdoor Retractable Pergola
I think this is a fabulous value product.
Best Splurge- Domi Outdoor Living Garden Pergola
I love the nice boost it gives my backyard! Seems very sturdy.
Best Size- UPHYB Outdoor Retractable Pergola
I love the look of this. It looks awesome in my backyard.
Best Value- Liuchongyang99 Outdoor Retractable Pergola
This is a high-quality factory seller. I will recommend this pavilion to my friends.
If you want to enhance the look of your outdoors, a pergola addition can work the best. The weather can change at any moment. To make the most of your time in the garden, you need an Outdoor retractable pergola.
A pergola allows you to set up your garden area beautifully. You can add canopy curtains, climbers, and fairy lights to decorate it. We have some of the best retractable pergola suggestions for you.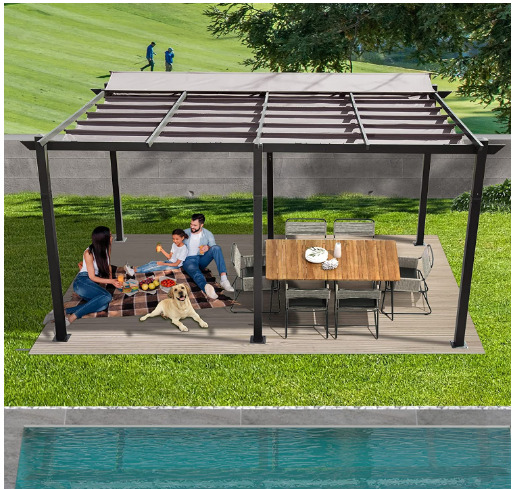 To add a standard look to your garden, try out this high-end retractable pergola. It is not only sturdy but also looks stunning. The rust-resistant aluminum frame enhances the overall look of your garden.
The Domi Outdoor retractable pergola is useful besides the swimming pool. You can add beach chairs below it and have a gala time.
What We Like
The aluminum poles have 6 powder coatings. These coatings make the poles durable and strong
The canopy is faded and fire-resistant.
The polyester fabric makes the canopy water-repellant
You can slide the canopy on the sliding rail. This makes retracting the canopy easier
What We Don't Like
The assembly of the pergola takes more than 3 hours
You will need around 4-5 people to put together this outdoor retractable pergola
Only a single size and color (black) is available
Purple Leaf is popular for manufacturing the best outdoor retractable pergolas. They bring unique designs and pergola patterns to the market.
This particular size of the retractable pergola is big enough to set up a bistro. If you are looking for a very strong and durable quality, this is it.
What We Like
You can buy in 2 sizes – 10' X 10' and 10' X 13'
2 color options are available – Beige and Gray
The magnets on the crossbeam hold the canopy firmly. This is helpful during heavy winds
A protective top roof protects the canopy from harsh UV-rays
What We Don't Like
According to the buyers, the canopy is not useful during the rains
The customers are not happy with pole quality and size
What makes this garden pergola different from the first Domi pergola? The design is different and so is the size. This Outdoor retractable pergola does not have grills on the roof. The first retractable pergola on this list has grills.
This retractable pergola is 10' X 10' in size. If you want to save space but enjoy under the pergola, invest in this one.
What We Like
The canopy material is water-resistant
Retracting the canopy is a smooth process as it has a slider
The size is compatible with the patio
What We Don't Like
Users say the ground attachment is weak
The holes on the poles have incorrect arrangements
Have you been looking for a different pergola material? UPHYB Outdoor Retractable Pergola uses an alloy steel frame. Most of the brands use aluminium as a base frame material.
The interior frame of this retractable pergola is triangular. This shape adds stability. Also, you can slide down the canopy/cover if it rains or is too sunny. This way you can protect yourself from the sides as well.
What We Like
The 2 mounting holes on each foot allow you to fox the poles to the ground
The PA-coated canopy is wear-resistant and waterproof
You can adjust the canopy length from each side
What We Don't Like
The rod does not hold the canopy nicely, say the users
The pieces on the rod (to attach to the canopy) are plastic-made
Want a pergola but running low on a budget? Liuchongyang99 Outdoor Retractable Pergola is here to save you. The pavilion grill gazebo works as an element in your garden.
The USP here is the size. You get a huge retractable pergola for such a minimum price.
What We Like
The ceiling beam has clips to fix the canopy
The parts have marks on them viz. a/b/c. This helps you organize the pergola without any confusion
The canopy fabric protects you from the UV-rays
What We Don't Like
The material is lightweight aluminum alloy. It may not handle strong winds
The overall quality is not too sturdy
Our Winner
As per our comparison, Domi Outdoor Living Retractable Pergola is the best. The size and quality are something you should not miss. The fade and fire-resistant canopy is a feature that only Domi Outdoor offers you.
If you do not wish to spend so much on the pergola you can buy Liuchongyang99 Pergola. Without compromising the size, you can have a pocket-friendly retractable pergola.
Buyer's Guide for Best Outdoor Retractable Pergolas
Difference Between An Awning and A Retractable Pergola
Awning
Awning is a covering that you can attach to a window or door. It is also called an overhang. Generally, you will find this attachment to any exterior structure of the house.
This additional roof-like structure is not portable. Once you attach it, it might be difficult to place it from one window to another.
Though these are not too expensive, you have to adjust to its "same place all the time" thing.
Retractable Pergola
A pergola is also a roof-like structure but it is portable. You can always adjust the Retractable Pergola as per your choice.
Take it to the pool or place it on your patio, the choice is yours. This is on the pricier side but the features are commendable.
2. Types of Outdoor Pergolas
There are 2 types of Pergolas –
Retractable Pergola
In this type, you can adjust the canopy. You can retract the canopy depending on how much sunlight you want to enjoy.
To experience a starry night, you can also remove the canopy completely.
Fixed/ Non-Retractable Pergola
These types of pergolas have fixed canopies. Also, these are generally roof-attached. Hence, these are not easily movable.
3. The Place of Installation
You can place the Outdoor Retractable Pergola near your pool, in your garden, and in the backyard. If you live in a city/country with frequent strong winds, you can use a windshield.
For protection against heavy rains, sturdy and water-resistant canopies are available.
4. Size of the Outdoor retractable pergola
People only focus on the size of their patio or garden. Often, they ignore taking home size into consideration. If your home is too big and you choose a very small pergola, it won't look attractive.
Also for spacious gardens and patios, a retractable pergola of size 11' X 16' fits well. Domi Outdoor Living Retractable Pergola is perfect for a patio/garden of a bigger size.
A 12' X 9' retractable pergola is good for medium-sized patios. UPHYB Outdoor Retractable Pergola is of the same size.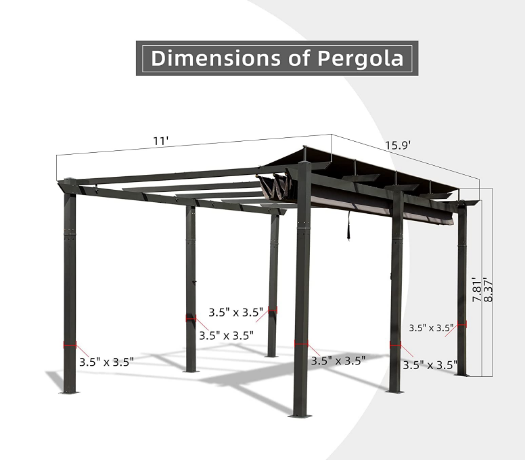 5. Material of Outdoor retractable pergola
Once you install a pergola, it will be a long-lasting installation. Hence, it is essential that you choose durable material. The most common materials you will come across are wood and aluminium.
The material varies in poles and the canopy. The poles or the basic frame of a pergola are aluminium, wood, or iron. But the canopy material can be fabric, plastic, etc.
Wood often lasts longer for more than 15 years. It is sturdy and convenient in all seasons. But the only two problems you may face are –
Insect Attack – You need to maintain the wood well and keep checking it for any insect attack
Weight – Wood, no doubt, is heavy and portability can be an issue
Almost all the pergola manufacturers use Aluminium frames these days. These are sturdy but not too heavy to move and assemble. Another factor is that you get a variety of colors and designs in an aluminium frame.
Alloy Steel is another material you will find in retractable pergolas. UPHYB uses alloy steel in frames of retractable pergolas. This adds proper support and weight to your pergola.
All the brands in this article use canopies of polyester fabric. All the canopies are retractable. This means you get innovative functionality.
6. Assembly of the Outdoor Retractable Pergola
Make sure the installation is not challenging. There exist pergolas that take days to build up. See the two reviews below –
Conclusion
This was it for our 5 best Outdoor retractable pergolas. If you wish to buy something apart from the list here, refer to our buying guide first. It will help you decide on the best retractable pergola. It will also save you money.
We bring many such reviews and buying guides to ease your shopping process. You can check them out here.