If you love cold drinks you should invest in an Ice Maker. Don't wait for your freezer to take hours to make the ice. These ice makers produce the ice in less than 2 hours.
Now that you have made up your mind to buy one, check out the 5 Best Ice Makers.
Best Overall- Freezimer Countertop Ice Maker
This is a pretty high-volume ice machine with bigger ice cubes.
Best Features- Crownful Portable Ice Maker
We love this ice maker! We're a family of 5 and it can keep up with all our everyday needs.
Most Compact- Free Village Ice Maker
For just at home/parties or whatever the occasion, you can't beat this.
Lowest Noise- Ecozy Portable Ice Maker
It's definitely quiet. This ice maker is my all-time go too.
Most Affordable- Lerizom Countertop Ice Maker
Makes ice fast. I use it outside. The tray fills up fast. Easy to use. Worth the price.
A portable Ice Maker is good for those who love to travel. If you have an RV you can place the ice maker and enjoy the cold drinks. If you love throwing parties, an ice maker comes in handy. It is hassle-free and makes ice instantly.
The ice maker is faster than the freezer and easy to clean. All 5 ice makers have the self-cleaning ability. Don't forget to read the Buying Guide before you finalize your ice maker.
This one makes more ice cubes in less time. And this is the reason why we have it as number 1. It has the capacity to store around 120 cubes of ice at a time. The 2.8L water tank makes more ice than any other ice maker.
You can select the size of the ice cube as per your need. The two sizes are small and large. It makes 9 ice cubes in 10 minutes.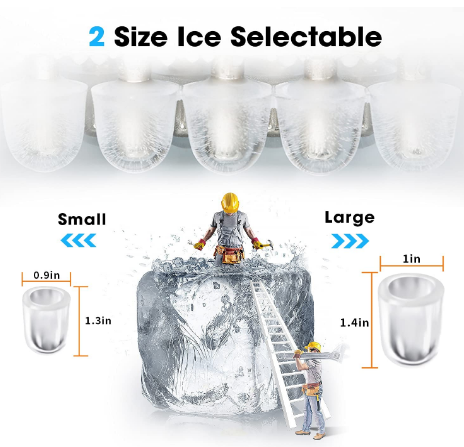 What We Like
It has a 26G R600 Refrigerant for stable and efficient refrigeration
The ice maker machine comes with an ice scoop, ice basket, and a measuring cup
The stainless steel material makes the ice maker sturdy and durable
What We Don't Like
As per some users, the ice maker is a bit noisy
A few users say they have to switch ON the power button again and again after the ice drops in the basket
The Crownful Ice Maker has a powerful compressor. It is a 120W low-power sonic ice maker. It consumes less electricity than its counterparts. The machine allows you to see the ice-making process through the transparent window.
The ice maker machine comes with a 3-layer foaming technology. Stainless steel plate and food-grade PP ensure longer ice storage time.
What We Like
The brand offers a 12-month warranty and lifetime support
A lot of the customers claim that this ice maker makes bigger and better ice cubes
It comes with Infrared Induction Technology that alerts you when the water tank is empty
What We Don't Like
According to some buyers when the ice maker is short of water it makes heavy noise
Some customers say the quality is not the best
If you are willing to buy a smaller ice maker, buy this one. The compact size consumes less space but works efficiently.
It is a perfect option for office, bar, camping, etc. The smaller size serves as an advantage in compact spaces. It comes with a self-cleaning feature like all other 4 ice makers. You need to press the Power ON/OFF switch for 5 seconds and the ice maker starts cleaning itself.
What We Like
2 colors – black and white are available
The company provides a 1-year warranty on the ice maker
The translucent window allows you to check the amount of ice in the ice maker
What We Don't Like
The material is plastic and thus some customers are not too happy with it
Though portable, it is a little heavy than other brands of ice makers in the market
Do you want to buy a portable ice maker that makes the lowest noise? Get your hands on Ecozy Portable Ice Maker. It produces noise less than 42 dB. The package includes 3 ice bags, an ice basket, and an ice scoop.
Lower water temperature makes bigger ice cubes in this ice maker. It comes in a stylish silver color and the material is stainless steel. The sturdy steel casing is corrosion-resistant and durable.
What We Like
The setup of the ice maker is too easy
Many users are happy with the way this ice maker works for the price range
What We Don't Like
The water tank measures 2.1L while many others come with a 2.8-3L capacity
Some customers claim the improper insulation of the ice maker
It takes more than 10 minutes to make the ice
Want a unique design but don't want an expensive ice maker? Lerizom is here. The design is something you cannot miss. It is different from many other ice makers available in the market. The transparent cover on the top makes the ice making process visible.
It comes in silver color and uses ABS material. Acrylonitrile Butadiene Styrene is better than plastic. It increases the strength and durability of the ice maker. It is also popular for providing better insulation.
What We Like
The material is brilliant at such an affordable price
Users have good reviews on the customer service from Lerizom
It has an LCD display that varies from the other 4 ice makers
What We Don't Like
Some buyers say the ice maker does not maintain the cold ice for a long time
It makes very small ice cubes that melt in no time
The ice maker is too loud
The Best Ice Maker
Which one did you like the most? We like Freezimer Countertop Ice Maker. It makes more ice in less time and offers amazing machine quality.
For a pocket-friendly option, we suggest – Lerizom Countertop Ice Maker. The look of the ice maker is unique and so is its LCD system.
Ice Makers Buying Guide
Ice Making Capacity
Generally, the ice makers can make up to 9 ice cubes in 10 minutes. The ice basket has the capacity to store around 3.3 pounds of ice cubes at a time.
Many of the ice makers can make up to 33 lbs of ice cubes while some make around 36 lbs of ice cubes in 24 hours.
All 5 ice makers that we suggest have the capacity to make around 7-9 ice cubes in 10 minutes. Refer to the review in the image below. The reason people buy ice makers is that it makes ice faster. There is no meaning if the ice maker takes a lot of time.
Hence, look for the time it takes in making 10 ice cubes and also check the tank capacity of the ice maker.
Cleaning the Ice Makers
Let us accept that such machines are a tedious task to clean. But what if ice makers come with a self-cleaning option? You heard that right. These 5 ice makers have self-cleaning properties.
All you have to do is to add water to the reservoir and select "clean" mode. In many ice makers, you just need to press the power button for 5 seconds and then it goes to cleaning mode. Ice maker design complicates the manual cleaning process.
Thus, we suggest buying ice makers that can clean themselves.
But beware as not all ice makers have the best self-cleaning feature.
The noise of the Ice Makers
You will find many users complaining about the loud noise of the ice maker. Make sure the ice maker that you purchase has a noise of less than 45 dB. Lower noise does not mean the compressor is weak.
Low noise does not affect the ice-making process. It is just that you need not tolerate the harsh sound of the ice maker. It is annoying when you have guests at home and your ice maker keeps producing noises.
Many of the portable ice makers are too loud that they irritate infants. That is why pick an ice maker with low noise.
Material of the Ice Makers
Stainless steel is the most common material. It is safe, durable, and strong. There are many ice markets that use plastic as the main material. When it comes to plastic, durability is the biggest issue. You need to maintain plastic ice makers a lot.
Plastic ice makers have limited portability. No doubt they are easy to carry but they may break in no time. ABS is another popular material. It is stronger than plastic and even more durable.
ABS is lightweight and thus a popular choice among customers. But we suggest buying an ice maker of stainless steel. The quality is top-notch and lasts very long.
Conclusion
This was it from our side for the best ice makers. We hope this helps you in buying the ice maker for your needs. If you consider investing in some other brand, go through our Buying Guide first. It will simplify your ice maker shopping.
If you own an RV, here are some best RV cover recommendations for you.