Our top picks
Transform your traditional locks to keyless technologically-enabled smart door locks. It would be a great replacement in terms of security and convenience. No more having a hard time keeping track of where your keys are; control everything from your mobile with the click of a button.
Here we have curated a list of the best smart door locks that would save your day. Keep on reading to know in detail.
The Lockly Secure Pro comes with a built-in high-quality 3D fingerprint scanner. It's capacitive fingerprint sensors are accurate in reading, and the device can store up to 99 different fingerprints. It comes with a PIN genie technology that makes it impossible for anyone to guess your home's entry pin.
It comes with a WiFi HUB and can be connected easily through secured Bluetooth from Android or iOS smartphones.
Pros:
It has advanced 3D fingerprint sensors for an accurate reading. It can store up to 99 different fingerprints.
The patented PIN Genie Technology makes the digital keypad of this smart door lock peek proof.
Keep track and review the access history directly from your smartphone.
Compatible with Google and Alexa to make your home smarter.
Cons:
The size of the device is hefty.
The metal bar that connects the exteriors and the interiors might interfere with the installation process sometimes.
It is one of the best smart door locks available in the market with an irreversible left handle. It is equipped with a 3-in-1 keyless entry that has a fingerprint, code, and backup key. Different modes in the device make the lock more secure and advanced.
It has a semiconductor finger sensor, which works double better than the optical ones. The anti-peep password security protects your property better.
Pros:
It comes with anti-duplicated fingerprint functions.
This smart door lock has a touchscreen with an anti-peep password and anti-fake fingerprint feature.
It comes with a secure mechanical key.
It comes with easy DIY installation and a 30-days money-back guarantee.
Cons:
Sometimes, you might need to scan the fingerprint more than once to access the entry.
The ULTRALOQ U-Bolt Pro Smart Lock comes with a 6-in-1 keyless entry. You will get many smart features with these smart door locks like Fingerprint, Anti-peep Keypad, Smartphone, Auto Unlock, Shake to Open, and Mechanical Key. You can type random numbers and get access if your password is embedded on that long number.
It also has automatic lock and unlock features that conveniently lock the door as you leave and unlock it when you come to your property.
Pros:
It comes with 6-in-1 entry options for your door.
It is equipped with a 360-degree fingerprint ID for accurate and smart readings.
Share temporary access to guests easily in a hassle-free way.
You can easily use an external battery with micro USB for activating the lock when the battery is dead.
Cons:
The app sometimes is a bit slow while connecting.
Not compatible with Apple HomeKit.
The SMONET smart door lock is a keyless deadbolt that comes with a passcode and WiFi connection support. It is an automatic lock that is synced with the smartphone app in such a way that it would give you real-time data about each unlock. It is easily integrated with different voice control tools like Alexa.
The lock is made up of good quality zinc alloy, suitable for various harsh environmental conditions.
Pros:
It has an anti-theft design that secures your house.
It comes with a low-battery alert, which means you will not have to worry about dead batteries.
It supports both WiFi and Bluetooth.
You can manage passwords and review unlocks easily through the app.
Cons:
If the door lock gets wet, it might interfere with the functionalities.
This keyless entry smart door lock is equipped with advanced technology with loads of features like a passcode, fingerprint, Bluetooth, app control, etc. It is compatible with Alexa and Google Home, which means it integrates well with your smart home. It has a short time-scheduled lock passcode feature that you can control from your app for temporary guests.
The remote unlock feature would help you to unlock the door even from a distance sitting on your couch.
Pros:
There are multiple ways to unlock the door, like a fingerprint, passcode, door card, app, etc. You can use any as per your convenience.
Perfect for short rentals as you can set and control passcode from anywhere through the app.
Compatible with Google Home and Alexa, perfectly integrate with your Smart Home.
Easy set-up by following the installation guide that comes with the device. Twelve months' warranty with lifetime tech support.
Cons:
There are complaints of the fingerprint reader being unresponsive sometimes.
The Hornbill Smart Lock Keyless Entry Deadbolt Smart Door Lock comes with voice control. You can add a Hornbill WiFi Bridge to unlock and monitor the door. It integrates perfectly with Google Home and Alexa. It is one of the most durable smart door locks that can last you for years.
The keyless door entry is very convenient. No more hassles of carrying keys; install your smartphone app, and you will be good to go with a few clicks.
Pros:
It comes with limited guest access, and you can control the whole set-up using your phone app.
You can easily pair your smart lock with Alexa and control it using voice commands.
Install the app on your smartphone and easily control the smart door lock with it.
Smart reminders will remind you about battery replacement.
Cons:
It would work with Alexa only if you purchase the Hornbill WiFi Bridge separately.
The Narpult smart door lock is made up of zinc alloy that makes it very durable. It has a keyless entry that easily locks and unlocks with a smartphone app. It is an anti-impact lock that can sustain all harsh weather conditions. With the auto-lock feature, you will not have to worry about open doors as you leave the property.
Pros:
The device is equipped with smart Bluetooth connectivity and keyless entry.
This smart door lock is durable and harsh weather resistant as it is made of zinc alloy.
It comes with an automatic lock; the door automatically locks after a preset time.
Thirty days money-back guarantee with one year warranty and lifetime tech support.
Cons:
The design is a bit out-dated.
Buyer's Guide: How Do I Buy the Best Smart Door Locks?
Buying a smart door lock is a big decision. It directly affects the security of your property. Thus, you must purchase nothing but the best. In the above list, we have curated some of the best smart door locks within a budget. These locks are very convenient, and people have great reviews about them.
Choosing from among these smart door locks is a task, but you must first understand your requirements. You should focus on the features that you would love on your smart locks. Based on that, you can make an informed choice. There are different types of smart door locks available like:
Keypad and Combination
Here you would need to remember your passcode to unlock the door. There are combination door locks, too, that have knobs or deadbolts. You can get these on a touchscreen or physical buttons. Some of them are compatible with smart assistants like Google Home or Alexa.
Garage
Garage doors are huge, and opening them physically every day can be a hassle. These smart locks are usually compatible with their dedicated apps, and you can easily control them through it, remotely.
WiFi and/or Bluetooth enabled
The WiFi or Bluetooth enabled smart door locks are technically advanced as everything is done over the connective technology. You can track lock and unlock history, issue e-keys, and do much more using their dedicated apps.
You can also look at the style of the smart door locks. There are different varieties available like knobs and deadbolts- you can choose any as per your preference. Currently, people prefer deadbolts as it gives them a sense of being more secure.
There are key-fob locks too that are coupled with WiFi, Bluetooth, and/or combination features. It gives people an added physical backup and is preferred by those who love speed and convenience.
Fingerprint smart door locks have become quite popular recently. Using an app, you can store the fingerprints of all the family members living in the house. The door will give access to only those people whose fingerprints match with the ones that are stored. It is an excellent option for those who keep forgetting their mechanical keys, cards, or any other lock unlocking tool.
What are the features to consider before buying a smart door lock?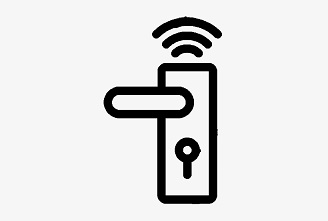 smart door locks are equipped with lots of features. Sometimes, these technologies overwhelm us, and we get confused about the highlight points that we should consider before buying the product. This article has listed a few essential tips that you should consider before buying an ideal smart lock for your front door.
Battery life: It is one of the essential components of any smart door locks. The longer the age of the batteries, the more seamless would be your smart door lock's performance. The type of wireless connection your lock is using impacts the battery life. For example, WiFi consumes more battery, whereas Z-wave connections require less power.
Integration: If you live in a smart home, your smart door locks must integrate appropriately with your online assistance. Make sure that the device is compatible with Google Home or Alexa, whichever you are using. It would make managing and commanding the lock much more comfortable.
Automatic features: Your smart door locks should have features like an auto-lock and unlock. It is one of the main reasons why people feel more secure. You would not have to worry whether you have left your home unlocked when you are away. The automatic feature would quickly lock it for you within the preset time of 5 or 10 seconds.
Failure: Emergencies are inevitable. If you operate your smart door locks with phone apps, there can be instances where your phone's battery is dead. You should not run around looking for a locksmith then; instead, it can prove helpful if you have a keypad lock. In case of power or battery failure, having a physical key card or mechanical key can help.
Guest access: If you want to rent your home for a short period, for example, in AirBnB, your smart door locks must enable guest access. Some locks can be controlled over apps, and you can even generate temporary passcodes for your guest. So if your house has short-term rental potential, then having a guest access option is a must.
Door compatibility: Your smart door locks must be compatible with the door of your house. For example, older homes do not have deadbolts, so if you want those door locks, you would either have to install a deadbolt or replace the whole door, whichever is feasible.
These are some of the basic features that you should look out for in your smart door locks. Go for something that suits your requirements. You would get various locks' features; rather than choosing everything, you should opt for things that would make your life convenient. Set up a budget and choose the best product to meet your requirements within that.
Conclusion
The Lockly Secure Pro is one of the best smart door locks available in the market. It has some great customer reviews and amazing features. It looks classy and would complement the overall looks of your front door. It's a safe and efficient smart door lock within an affordable budget.
X
You might want to hear this:
Peter said…
"Absolutely love it. All the function works flawlessly. Easy to install. And no glitches. I have the worst luck with technology things having glitches. This door functions as promised."