Our Top Picks
From the time we are born we have to carry our weight unless you are in NASA and moving into space! Zero gravity chairs are recliners that are designed to make you feel weightless. This helps us to relax, release tension, put less pressure on the spine, and be aligned to the heart.
In this review, we shall discuss the best seven options to choose from and at the end, we will guide you for the points to look into while purchasing the zero gravity chairs.
This chair is multi-purpose and can be used almost everywhere like in the garden, porch and even beaches. The light weight and the folding capabilities makes it convenient to carry anywhere.
Pros:
Opens easily in 5 seconds and easy to carry.
It is huge and can carry a 350 lbs weighted person.
It has an adjustable back angle from 0 to 170 degrees.
It has a reinforced sturdy steel frame, high-quality durable fabric, and double bungee lacing that make the product last longer.
The anti-rust and anti-fading mechanisms make it perfect for outdoor use.
The padded massage headrest can be adjusted according to the needs.
The portable cup holder allows you to relax keeping your belongings in a secure place.
Cons:
For some customers, the side table is difficult to assemble and dis-assemble.
Not suitable for tall people who have a height of around 6 feet.
Portal zero gravity chairs are sturdy and do not wobble or lean on anything. With a reclining angle that is adjustable from 0 to 170 degrees, it gives your spine much-needed comfort.
Pros:
Easy to use, portable, and lightweight.
It has a bungee suspension that is capable of holding 350 lbs weight.
It is suitable for persons who are tall and support height up to 6'2 inches.
It has a side table that holds two beverages, a mobile device, or any book.
The material used is sturdy and breathable.
It has a pillow to support the neck.
It has a skid-proof frame.
Cons:
The pillow cannot be removed from the unit.
It has fewer color choices.
The wooden frames used on the armrest make it fragile to be used for long hours in the sun and the color fades.
PHI VILLA zero gravity chairs are best in design and comfort. One of the users even mentioned that he has complicated spine surgeries and he is happy after using this product. It reclines to an angle of 168 degrees and can carry 350 lbs weight. A person with a height of about 6 feet can easily relax on it.
Pros:
The fabric used is stain and UV resistant, weather-resistant, and breathable.
The pillow can be detached from the chair.
It has a different locking mechanism which is easy compared to the others in a similar category.
It has a side table that holds beverages and other belongings.
The frame is rust-free, skid-proof, and reinforced.
It has an extra-large wooden armrest and a strong double bungee rope for support.
It offers a wide variety of color choices.
Cons:
It is a bit heavy to carry compared to others in a similar category.
The cross brace under the seat is a problem for some users.
If you are having an athletic personality with great height and weight and find it difficult to find a suitable product for yourself, then go for Timber Ridge zero gravity chairs. They are perfectly designed for such body types, yet they are light in weight and look stylish. The fully reclined chair length measures 72 inches.
Pros:
It has a steel frame with a powdered coating.
It has an adjustable pillow and a wide wooden armrest.
The polyester fabric makes it durable and sturdy.
The lightweight feature makes it easy to port.
It is available in many color variants and has a cup holder to keep beverages.
Cons:
The wooden armrest fades if the chair is used in sunlight for a long duration.
The rivets that hold the rope are probably not of good quality and prone to rust.
Simple things look beautiful too! Luckyberry zero gravity chairs just prove that. They are simple yet powerful designs that help you to relax. The durable fabric, the make of the body, the perfect 180-degree angle of reclination make it enjoyable.
Pros:
It has an ultra-wide design and can bear up to 350 lbs.
The use of extra-large oxford fabric makes it durable.
The non-slip mat prevents accidental falls.
The head pillow can be detached.
The chair is light in weight and can be easily ported.
The coated steel frame makes it rust-free, perfect for outings.
Cons:
Some of the customers have problems with the fittings of screw bolts.
Fewer color choices are available.

AmazonBasics zero gravity chair is probably the most durable chair according to the verified customers and it comes with a one year warranty. The use of a steel alloy frame, cotton fabric makes it more durable and easy to use in any weather conditions.
Pros:
Made with steel alloy and cotton fabric which makes it durable.
Can withstand weight up to 220 lbs.
It has a removable handy cup holder and a pillow.
Looks sturdy.
Cons:
It can only hold a cup, if you want to store a book or mobile you need to purchase a separate attachment for that.
Some customers feel that it is heavy when they need to port.
There is no handle to hold the chair while porting it.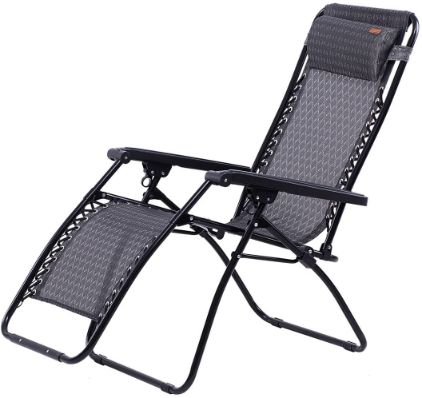 KingCamp zero-gravity chairs look simple yet elegant. They are the most light-weight chairs on our list. Light-weight makes it very easy to port them. Although they are light in weight they are made with durable textilene fabric that helps you to stay cool, especially if you plan to use it outdoors.
Pros:
Made from durable 'textilene fabric' that helps you to stay cool even outdoors.
It can withstand weight up to 264 lbs.
The steel frame is rust-free and durable.
The fabric is attached to the chair with the bungee rope that would stay fit for a longer duration.
The pillow can be conveniently removed.
Cons:
Some people find it difficult to understand the folding mechanism.
It does not have an attachment to keep cups and books, you need to purchase them separately.
Our Winner:
After analyzing various zero gravity chairs for the type of cloth used, the frame, the weight, the ease of use, and most importantly the price we can say that LUCKYBERRY Zero Gravity Chair is most suitable.
What makes it our top choice is the wide design and the non-slip mat which makes it accident-proof. What makes this feature important is the fact that all of us have different body types and we cannot purchase different chairs for different people living together. It is better to get a single product that caters to the needs of everyone in the family.
Secondly, even if elders in the family use it there is no fear of accidents. This makes it our first choice.
Buying Guide
What are zero gravity chairs?
Zero gravity chairs are recliners that are designed to make you feel weightless. This helps us to relax, release tension, put less pressure on the spine, and be aligned to the heart.
How do you know whether you need zero gravity chairs?
If you are having continuous back pain, sciatica, or any spine-related problem relating to the overweight issues then you should look forward to zero gravity chairs.
If you wish to try how these chairs work then simply lay down on the bed with your legs resting upon the pillows. If this position helps you to reduce your back pain then certainly zero gravity chairs will work wonders for you.
How do zero gravity chairs help to achieve a neutral position?
Zero gravity chairs have got special adjustments for reclining. Once you recline, your legs are raised above the ground and you can relax in the chair without touching the feet on the ground. Different chair models have differences in features and reclining angles.
This helps to achieve a neutral position that is free from gravity and provides much-needed support to the spine.
Generally, you can achieve an angle of 180 degrees with zero gravity chairs.
What is the difference between a regular recliner and the zero gravity chair?
With a regular recliner, you flat on the bed/ground and your spine does not get the relief. The tension on the hip joints, back, and neck remains the same.
Whereas zero gravity chairs pivot a central point just below the hips and allow you to sit in a neutral position. This makes you feel free and the chair is perfectly synchronized with your body and does not offer any resistance to it.
What are the different types of zero gravity chairs available in the market?
When we talk of zero gravity, many models are available in the market. It is necessary to judge which one you wish to buy, whether it is a recliner or a chair or a massage chair. Not only the models, but they also differ in the type of materials used.
Broadly zero gravity chairs can be classified as under- according to the style.
Zero gravity recliners
Just as the name indicates, they allow you to relax in a comfortable position and relieve the stress on the back, neck, and hips.
Zero gravity rocking chair
Babies love to sit on a rocking chair and move their bodies to and fro. The adult rocking chair works on the same principle and great for older people. They are much safer as compared to simple zero gravity recliners.
Zero gravity massage chairs
Such chairs offer the benefit of massage in addition to the zero-gravity effect. Such chairs have many features and you need to be particularly sure about the things that you want in the product that you purchase.
Orbital zero gravity chairs
Ideal for people with back pain and with the space constraints at the home or workplace.
Classification of zero gravity chairs based on the type of material used.
Zero gravity chairs use different materials like:
Bamboo,
Metal
Plastic
Rubber
Wood
Leather
Vinyl
Some of them are suited for outdoor use whereas the others are suitable for indoors. Depending on where you're going to use it you can choose.
What are the things to be considered while purchasing zero gravity chairs?
Durability
Zero gravity chairs cost you somewhere between $70 to $200 and above. So while purchasing, read reviews and get an idea about the durability of the product.
Sturdiness
While durability refers to the long life of the product, sturdiness refers to how strong the product is. You should particularly note the height and weight that the product supports.
Brand
Well-known brands cost you more but you can be assured about their performance.
The material used in frames
Depending on the area in which you are going to use the chair, choose the frame. For eg metal frames get hot under the sun whereas wooden frames might get damaged on beaches.
The material used in fabric
Different chairs use different fabrics like rayon, polyester, cotton, etc. You need to particularly note it concerning the durability and the cleaning process that it requires.
Frame-lock mechanism
Zero gravity chairs have locking mechanisms. Some chairs have single locks whereas the others have double locks. In general, double locks provide more safety.
Side tray and cup holders
Many chairs have this accessory but you just need to check whether you can replace it with any other brand or it cannot be customized.
Built-in pillows
Many brands offer pillows, but some of them cannot be removed. You need to check this before you purchase it.
Size and capacity
Depending on your height and weight you need to choose the chair that supports you.
Weight and portability
Carrying the chair daily from one place to another can be a tiresome task if it is heavy. So before buying you should consider its weight.
Frequency of use
If the usage frequency is higher, choose the durable model.
Add-on features
Some of the models provide add-on features like a canopy, massagers, etc at an extra price. You need to check its compatibility with the product that you intend to buy.
Setting up
Setting up of the zero gravity chair should be an easy task. If you cannot figure it out easily then the whole purpose is defeated.
Price
Depending on your budget you can opt for a particular chair ranging from $70 to $200 and upwards.
Replacement of parts
Often the fabric requires replacement after some time. You need to check about its availability and the replacement procedure.
Warranty
Generally, such chairs come with a one year warranty. But you need to check it with your seller.
We hope our review helps you in choosing the best zero gravity chair for yourself. Do share your concerns or suggestions with us, we'll be happy to hear from you.
X
You might want to hear this:
Pamalee said…
"Hubby's a big guy. Yet he's comfy in this and it's sturdy for him. He's 6'5 and around 300 lbs and he fits well in it."