If you are fond of adventure water activities like rafting, kayaking, river hiking, tubing, hiking on wet terrain, swimming in oceans & rivers then you must have surely heard about the important accessory which helps in doing these activities. Yes! We are talking about water shoes.
Water shoes have a flexible material, rugged outsoles. They are fit to be worn both inside the water and on the dry surfaces. They don't get heavy when you get wet rather they have multiple drainage points to drain the water out of the shoes.
In an endeavor to help you here is a small compilation of seven best water shoes.
Pros:
Lightweight, durable.
Hydrophobic engineered mesh.
Rubber pods for better traction.
Drainage ports at the bottom of the shoe.
Uses quick-dry fabric.
Laces help to keep shoes in their proper place.
Cons:
It might not be suitable for use in dry areas where you sweat.
Available in many color variants, these shoes are a perfect blend of style and features.
Anyone who has done kayaking knows how difficult it is to keep your feet on the paddle. This is because they slip frequently making it difficult to paddle.
Aleader water shoes have rubber pods placed in high wear areas for better traction. This helps you to get a firm grip while doing water sports.
The most important feature of any water shoe is the ability to drain off the water from the shoes. Aleader is not an exception to it, rather it does the same exceptionally well.
It uses fluid flow technology to provide excellent drainage from the upper mesh to the outsole.
What truly differentiates a water shoe from a normal shoe is its mesh.
Aleader uses a hydrophobic engineered mesh which helps to keep the shoes dry and offers quick-drying breathability.
The drainage ports at the bottom make it easy for the shoe to keep the water moving out of the shoe as you move on. The sole which is there inside the shoe can be removed and cleaned in case you feel the need for the same.
They weigh less than a tennis shoe but a little more than a flip-flop.
Pros:
They are durable and flexible.
They occupy less space while packing.
Comfortable for hiking trails and water activities.
Ergonomic design.
Best elastic and lock seal shoelace for a perfect grip.
Soft on skin and quick drying.
Cons:
We need to wash them thoroughly with clean water after using them in salty water.
If you thought that all sports accessories are designed keeping in view only physically fit persons, then Simari shoes will make you ponder over it.
Simari shoes have zero heels making it comfortable for a person even who has flat feet or an artificial leg.
Made from 92% polyester, they are quick-drying shoes.
Polyester can sometimes cause skin irritations, it does not absorb sweat. But what makes polyester a great choice is its durability.
Polyester does not stretch much and therefore it is blended with Spandex. Spandex is also known by the brand name Lycra.
Lycra is a man-made fiber that is stronger, durable, breathable, wicks moisture, stretchable, and dries quickly.
Simari uses lycra in combination with polyester that gives it durability, stretchability, and ability to dry up quickly and wick moisture.
Each sole has eight holes that help to drain out the excess water from the shoe.
The sole is made up of rubber and has a unique bump texture design.
It helps to maintain balance even in slippery areas, protects your feet from sharp objects, and offers the best traction.
A close look at the structure of the shoe reveals a tenacious rubber sole with a soft EVA insole. This makes it essentially shock absorbent.
The shoe has a perfect high grip rubber sole which gives anti-slip grip and stability on hike trails or other uneven surfaces.
They are light in weight which makes it comfortable to carry them while traveling.
It is worth noting that they come in two variants, the one with shoelaces and the other with plain elastic grip.
The locking mechanism in shoelace makes it convenient to quickly adjust it and the elastic neckline helps to put it on and take it off without much effort.
As you can see from the above image, Simari shoes are very much portable and do not have too much space in packing.
They have a free fold and do not deform even if you keep them folded for a longer duration of time.
Some of the users opine that the shoes can be washed in the washing machine too!
You will need to wash and dry them thoroughly after every use if you have been in salty water. This is so because salty water has a corrosive effect which will accelerate the aging process of shoe materials and the glue. The sole and upper part may get separated due to this.
Pros:
Flexible shoes.
Breathable fabric.
They have a soft sole inside for better comfort.
Shoelaces and elastic for a better grip.
Cons:
Size is the issue with most of the customers.
The pull tabs on the shoelaces frequently break.
Mishansha water shoes are a perfect blend of price and quality. Meant for use by both men and women, they come in different colors and styles.
The upper part is made up of Spandex which is a flexible, quick-dry fabric. The tiny holes on the upper surface make cross ventilation easy.
If you are venturing out on beaches then the common problem is that sand gets stuck inside the holes of the shoes, but with Mishansha you won't have such problems.
The holes are tiny enough to allow your feet to be kept well ventilated but do not permit sand to enter your shoe.
The rubber sole makes it sturdy and at the same time flexible.
The sole used inside the shoe is breathable and designed to dry quickly. It is soft in touch to keep your feet pampered even in rocky terrain.
Along with the shoelaces, they have an elastic grip that helps the shoe to stay in its place and can be comfortably adjusted according to one's size of the foot.
The drainage holes at the bottom part helps to quickly drain out the water.
Pros:
Lightweight and flexible.
Best drains at the bottom of the shoe.
The midsole for extra durability and bounce-back ability.
The excellent quality wire mesh made with breathable fabric.
If you are the kind of person who uses the product only for the purpose for which it is intended then you will surely love this product.
This is so because water shoes are meant to be used in water activities. So the basic feature which they should possess is being lightweight and the ability to drain off the water quickly.
The bottom sole of Zhuanglin shoes has large holes to allow it to easily drain off the water and the mesh in the upper part is too large to allow breathability.
Some of the reviewers on Amazon complain that large holes act as a drawback and sand and small pebbles fit into it.
But if you venture out in water small pebbles and sand will be quickly washed away with it leaving the shoes completely dry.
It uses Solyte as a midsole material. The best thing about Solyte is that it is very light in weight and is capable of giving the shoe excellent durability, cushioning, and bounce-back ability.
The midsole is the part located between the sole and the top of the shoe. The midsole is made up of EVA material which aids shock absorption and prevents shoe deformation due to the body weight.
It has a unique non-slip design. The drainage holes have a hollow design and have a rubber grip outside to prevent accidental slipping.
Pros:
The shoes can be used for casual wear too.
Breathable fabric to keep your foot well ventilated.
It has an excellent grip.
Shoelaces and an elastic grip to keep it tightly glued to the foot.
Anyone who wants style plus multipurpose shoes should have a look at Doussprt. This is so because they can be used as summer wear and also as water shoes.
The wire mesh on the top of the shoe is made up of polyester giving it the ability to dry up quickly. The mesh is thin enough to allow the water to exit out of it. But if you are using it on the beach then probably sand will not enter your shoe from the tiny holes.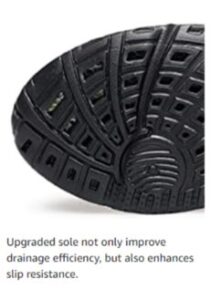 The sole has slightly bigger holes to drain out the extra water. But as you can see from the picture that they are somewhat pressed inside and above that you have a firm grip of groves so that you don't slip.
The shoe has elastic rubber for a better grip and to tighten it shoelace is provided. This helps to keep the shoes tightly on the foot.
It is built-in with breathable fabric and allows you to dry the shoes quickly.
Water Shoes #6. UBFEN
Pros:
The shoes are flexible and light in weight.
It uses breathable fabric for the upper part of the shoe.
The rubber sole helps to remain grounded firmly.
Suitable for land and water activities.
Cons:
Size is a big concern for most of the users.
Most users complain that it does not fit in persons having wide feet.
Made in China, Ubfen claims its shoes are capable of handling dry as well as wet surfaces.
It has got wide acceptability that is shown by the whooping 74% 5-star ratings that it has on Amazon.
Digging deeper into it we found that;
The reason it can be used both on land and water is the kind of sole that they are using.
It uses rubber soles for a firm grip. There are convex dots on the sole which help to have it a firm grip on the ground.
Although there are fewer numbers of drainage holes in the sole compared to other shoes, still, we couldn't find even a single reviewer on Amazon complaining about its ability not to drain. So we think it definitely works.
The upper part of the shoe is made with stretchy fabric. It helps to adjust the shoe according to the feet size.
Water Shoes #7. Hiitave
Pros:
Super flexibility due to the rubber sole.
Good durability.
The top mesh is made with stretchable fabric to adjust to the feet size.
Available in different patterns and colors.
It can be used on rocky terrains too.
Cons:
Some of the users complain that the pull tab of the shoelace breaks after repeated use.
If you just thought that water shoes don't have many choices as far as design is considered then Hiitave will get you wrong.
Don't you believe it?
Here it is!
Hiitvate has a wide range of selection for different patterns and colors in the category of water shoes.
But here it is not only the style that matters. The quality of shoes considering its durability, ability to stay dry, flexibility have been vouched by the customers.
This itself is a big indicator that they are the best fit for persons searching for style, comfort, and best utility.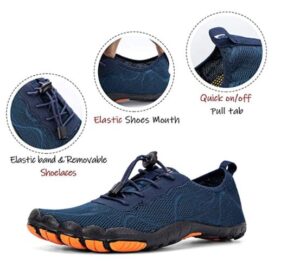 As you can see from the above picture, it has got a nice foot space and a mesh made from friendly fabric to make the shoe breathable.
The shoe has an elastic grip and the shoelaces too for a better fit.
Some of the buyers complain that the pull tab brakes after frequent usage.
It is evident from the above picture that the drainage holes are just perfect to drain out the water and small enough to allow pebbles to enter your shoe.
Made with the rubber sole, the shoes are super flexible and durable. They can be comfortably put on even in rocky areas.
Conclusion:
Keeping the above in view looking at the best features that a water shoe must-have ie., ample foot space, flexibility, durability, ability to dry quickly, drainage holes, and a firm grip we recommend using Zuhanglin shoes.
They have very good drainage holes and designed for comfort and a firm grip.
Apart from that, in the upper part, the wire mesh fabric covers most of the part of the shoe, and very little is left for the area of shoelaces. At the time of cleaning the shoe, this becomes a boon.
Because the only area where you need to wash thoroughly is near the shoelaces.
The fine sand on beaches can get stuck in this area and not the wire mesh.
The remaining portion of the shoe can be quickly washed and dried without much effort on your side.
We hope it helps! Do let us know which shoes you loved the best from the above list. We will be glad to hear from you.