Let me show you the best interdental brushes today.
But first, listen to this:
Have you ever wondered why our mouth feels great after we visit a dentist?
It is because the dentist devotes time to thoroughly clean our teeth's surface by flossing, using interdental brushes.
We, humans, are lazy by nature and sometimes skip the necessary things. This is so because compliance requires motivation. We get motivated only if the product is easy to use.
Dental hygiene is not an exception to our laziness. A normal brush cannot clean all areas of the mouth and nearly 35% of the tooth surface is not cleaned every day!
Often we are confronted with a problem regarding what to choose a dental floss or interdental brush?
In case your teeth are tightly placed together, it is better to use dental floss or else use interdental brushes to clean them.
According to the Canadian Journal of Dental Hygiene, interdental brushing is a better option rather than flossing.
Knowing the fact that " Good health starts from the good mouth" let's now explore the best interdental brushes which will help you to stay fit.
7 Best Interdental Brushes
1. GUM Proxabrush – The only brush with antibacterial coatings.
Proxabrush is designed for a perfect grip with a non-slip flexible handle. It has a bendable neck so that it is easy to clean the back areas of the mouth.
The triangular bristles are made from nylon and are coated with an antibacterial agent-CHX (Chlorhexidine).
The wire stem is coated to avoid scratching dental implants for a safer side.
The product comes with a ventilated cap to protect the brush after every use.
The product comes in four different sizes viz, micro tight, moderate, ultra-tight, and wide.
It might be difficult for you to opt for a perfect size. Hence the product itself gives some guidelines to select the perfect size.
Opting for a perfect size involves a trial and error process, still, if you stay with us till the end you will learn how to choose the perfect size.
Pros:
Flexible grip handle for a better grip
Nylon bristles with antibacterial coatings.
Safe to use even after dental implants.
Available in five different sizes.
Bendable neck for easy cleaning in the back areas of the mouth.
Easy to clean and protect it due to the cap that is provided with the product itself.
Cons:
Nylon wires bend easily after using it thrice.
Piksters are interdental brushes with sturdy bristles made from plastic. They usually last longer than other brushes of a similar kind.
Unlike other brushes, which have a single cap for all brushes, these brushes have different caps making it easy to carry them in laptop bags, keeping them in office drawers and using them conveniently wherever you wish.
They are reusable and cost-effective. Depending on your dental structure you can purchase the size you wish to have. They come in many different sizes.
It is very easy to clean them with water and the neck can be bent for better results.
They are safe to be used by persons having braces or dental implants.
Pros:
Cost-effective and can be re-used.
The flexible neck bends to clean the innermost areas.
Comes in different sizes.
Available in a pack size of 10, 40.
The brushes are rubber and latex-free.
Cons:
Bending the neck of the brush repeated times can cause it to break.
3. TePe Brushes – Most safe brushes with ergonomic grip.
Tepe interdental brushes are made in Sweden and available in different colors as well as sizes.
The blue brush particularly is designed for medium gaps and is 0.6 mm in dimensions.
These are safe to be used even by the persons using braces or having dental implants. You just need to confirm the size of the bristles with your dentist first.
Utmost care is taken in designing them so that they do not hurt the gums. Keeping the same in view they are plastic coated and have an ergonomic grip.
Pros:
Ergonomic grip for better results.
Safe to be used by persons having dental implants and using braces.
Plastic coated to avoid injury to the gums.
4. CURAPROX – Most durable & technologically advanced brushes.
Curaprox interdental bruises are made in Switzerland and are available in different sizes. Curaprox set of CPS prime 08 consists of a double pack of 5 refill brushes and 1 holder UHS 451.
It is worth mentioning that the filament used is of the diameter of 0.05mm and does not use nickel or plastic. Rather, to avoid the allergies, it is made from the surgical wire 'Cural'.
'Cural' bristle is conical in shape this makes it extra safe for the gums and enhances the durability of the product.
Unlike other interdental brushes, Curaprox uses an umbrella effect for better performance. Umbrella effect ensures that the bristles expand in the critical areas and augment the cleaning process.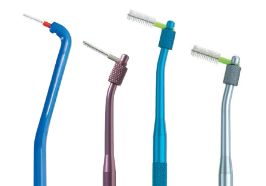 Also, it is environmentally friendly. This is so because it uses one holder handle available in different materials such as plastic, steel, aluminium which can be easily assembled with any other Curaprox interdental refill.
Going a step further in customer satisfaction, the holder is available in two different shapes – angular and straight.
The bristles are available in different sizes and your dentist can easily suggest you the perfect size that suits your dental structure by using the IAP probe.
Pros:
Eco-friendly, generate less waste.
Umbrella effect in bristles.
Plastic-free and nickel free bristles to avoid allergies.
Available in different sizes.
The holder is available in different materials like steel, aluminium, and plastic either straight or angular.
Durable bristles.
Has it ever happened to you that mistakenly you have misplaced the cap of the toothbrush and later need to dispose of it just because of that reason?
Well, if you just replied 'yes' then you need to try this. It comes with a push-button which can be used to keep the brush safe when not in use.
It comes in a box with 60 brushes inside it so that they can be conveniently discarded after use.
But some of the users state that it can be reused after washing.
Pros:
Comes in a giant quantity of 60 pieces.
Push-button to take care of bristles.
Made from soft material, does not hurt gums.
Butler is excellent when you want to work on molars. It easily cleans those tough areas due to its sleek design.
Many users say that it is the best product they have ever used.
The bristles can be replaced and although they are disposable, they can be reused if proper care is taken.
Pros:
The sleek design makes it possible to reach the tough areas.
Replaceable bristles.
Eco-friendly.
Reusable bristles.
Available in the box sizes of 18 and 36.
Cons:
The size of the bristles is not clear from the description.
Pikdent interdental brushes come in seven different bristle sizes.
The handle is not flexible but the bristles are flexible and super soft. They can be bent to reach difficult areas.
Each brush comes with a different cap and the brushes are small in size making it comfortable to carry it even in the pockets.
The bristles are cylindrical in the shape of 0.5mm size 2 as per the ISO standards.
The handles are coated with a steel core for a better look.
Pros:
Tiny size, pocketable.
Available in different sizes.
Each brush has a separate cap to protect itself.
Cons:
Need to be disposed of after three to four uses.
Conclusion:
This brings us to the end of our recommendations for the interdental brushes. So which one do you choose?
We suggest that you need to approach your dentist and let him suggest the proper size for you.
If you want to judge it yourself choose the brush that goes between the teeth without force. You want the brush to touch both teeth without being "loose" between the teeth. If the brush fits loosely between the teeth it will not be as effective.
Once you know the size you can choose the one from our above recommendations.
We recommend you using CURAPROX Interdental Brushes.
They are environment friendly, elegantly designed, and proper safeguards are maintained for taking care of gums using a surgical wire, 'Cural' to make the bristles.
The umbrella effect which they have has an unparalleled competition.
We hope it helps you! Do let us know in the comments section if you wish to know more about it or want to share any concerns. We'll be glad to hear from you.
X
You might want to hear this:
Darryl said…
"Great product, that's what I need it, fit nicely into my teeth. Item despatched less than 24 hours and arrived in one week to NZ. Thank you so much for hassle free trade. Definitely will buy again from you next time. Cheers"