In times of the pandemic, we noticed that some things go on in life irrespective of the circumstances. Nothing can stop them and we surely find innovative ways to perform such activities.
One such thing, which continues to bother people irrespective of the conditions is a haircut. Rich or poor, everyone needs to trim hair.
At times, it was not possible to visit a hairstylist or a saloon for getting it done.
In the age of information technology, nothing is difficult. People can learn to do all the impossible things simply by searching on the internet or using YouTube videos to know how to fix the problem themselves.
DIY is a very popular concept now.
Keeping the same in mind, we feel happy to present you some of the best hair cut kits which can help you to save yourself from the problem of a shabby appearance in times of pandemic.
The list will be useful to people who have a traveling job or a very busy routine too!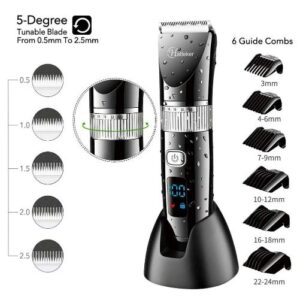 Pros:
Easy to use and clean.
Self-sharpening ceramic-titanium blades.
Fine adjustment button for tuning.
The lithium battery provides cordless operation. It lasts long up to 2.5 hours.
Can be charged via laptop, computer, or USB.
LCD for battery information.
The clipper gets locked when not in use for safety reasons.
The stand helps to keep the clipper upright in place.
Six guide combs to adjust to different sizes of hair.
Cons:
Does not have a guide regarding which comb should be used for which particular type of hair. You need to do a lot of DIY.
What do you get in the kit?
Hair Clipper * 1
Guide Comb * 6
Hair Comb * 1
Charger With USB connection * 1
Charger stand * 1
Clean brush * 1
Battery * 1
Often a barber uses different combs for cutting different sizes of hair. That indicates, one size does not fit all.
To remove this drawback, the Hattekar haircut kit has a fine adjustment button that is tunable from 0.5 mm to 2.5 mm.
The most annoying thing about clippers is the cords that they are attached to. But the Hattekar clipper is a cordless clipper that can be charged via a USB charger, laptop, or a computer.
It takes just 90 minutes for full charging and once charged, it can continue cordless operations for 2.5 hours.
Different sizes of combs are required for trimming different hair. Hattekar clipper has six guide combs
( 3mm, 4-6mm, 7-9mm, 10-12mm, 16-18mm, 22-24 mm).
A wide choice of combs makes it possible to achieve a wide variety of hairstyles that look quite professional.
Many reviews on Amazon state that they are quite happy with the product and especially so because of the least noise generated by it.
Some of the users feel that the kit should contain a guideline about the size of the comb to be used depending on the hair growth.
Unfortunately, the Hattekar clipper does not have such a guide. But you surely can find help through online videos or DIY.
Maintaining good hygiene is of utmost importance if you are going to make wide use of trimmer for everyone around you. The Hattekar clipper is fully washable and the blades can be cleaned under the running water.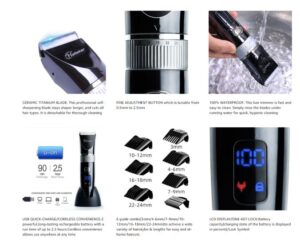 It has a ceramic-titanium self-sharpening blade that is detachable for a thorough cleaning. Amazon users state that the quality of blades is really good and they last longer and can handle all hair types.
The LCDs display the charging percentage which makes it very easy to recharge it in time. For safety purposes when the clipper is lying idle, it gets locked and displays a lock symbol.
Pros:
Light-weight and easy to handle.
The powerful motor of 8200 RPM.
Different attachments for shaving and trimming hair.
Two sets of replaceable shaving heads.
100% washable.
5 tuning adjustments.
9 sets of combs to adjust to different sizes.
Long-lasting battery.
24 months of product warranty.
Cons:
Some users complain that it does not contain the instruction guide on how to replace the blades.
Requires frequent oiling to the blades for better performance.
What do you get in the kit?
Guide Combs * 9 (3mm/6mm/9mm/12mm/15mm/18mm, Left Guard, Right Guard, Thinning Guard)
Hair Clipper * 1
Hair Comb * 1
Charger with USB Connection * 1
Cleaning Brush * 1
User Manual * 1
It feels nice if your clipper can shave your beard as well as to trim your hair. Vapekar clipper has attachments to shave beards as well as different sizes to trim the hair.
"Great things do come in small packages" this is what applies to Vapekar hair clippers. Hair cuts become tiresome if the motor is not powerful enough to trim the hair. Vapekar has a strong alloy motor that has 8200 revolutions per minute.
Often the clipper heats up due to constant use, but this is not the case with Vapekar hair clippers. The material used for making the body does not allow the clipper to heat up and makes it light in weight and easy to handle.
What irritates the most while cutting hair with the clippers is the constant sound that they produce.
Vapekar clipper uses Q-SUS technology and generates the sound of fewer than 60 decibels. Many users on Amazon like this feature particularly.
Apart from that, the cordless operation makes it possible to carry it anywhere or operate it easily even on differently-abled persons who cannot sit straight for a longer duration.
Ceramic blades are rust free, stay longer because of the high resistance to wear than the metal blades.
Ceramic is the poor conductor of heat which makes it possible to touch the unit even after prolonged use. It does not heat up.
The cutter head is made from stainless steel, non-corrosive. The best part about it is that it can be replaced in case of need.
Made in China, Vapekar has 5-degree tunable blades. The nine guide combs of varying sizes make it possible to cut hair according to different styles.
Along with the powerful 8200 RPM motor, it has a powerful battery too. The battery takes 3 hours to fully charge and once it is charged, it lasts for 4 hours approximately.
Some users on Amazon have commented that they can make repeated use at home, once the unit is completely charged. This is so because you do not require 4 hours to trim one person.
The digital display indicates the proportion of battery charged and the power left. This can help you if you need to carry the unit outdoors after charging it.
It can be charged via a USP or using the adapter provided with it.
Unlike other trimmers that are capable of only the blades being washed, Vapekar can be fully immersed in water and cleaned for better hygiene.
In case of breakage or any other problem, two shaving heads are provided that can be easily replaced.
The product comes with a 2-year warranty in case of any problems post-purchase.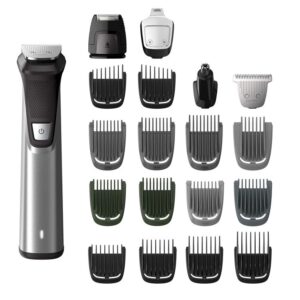 Pros:
The compact size makes it easy to carry it when you are traveling.
The extended battery life of 5 hours.
19 different attachments for grooming.
Separate attachments for finishing and removing nose and ear hair.
Large blade attachment to save time in trimming that trims more hair in less time.
Special attachment to remove unwanted body hair from the parts apart from head, nose, face, and ear.
It is easy to clean and blades can be removed and washed.
Non-corrosive blades with 14 reinforced trimming guards to prevent bending and buckling.
The fade cut attachments can be used to get a smooth tapered hairline.
Self-sharpening blades that last longer.
What do you get in the kit?
1 stainless steel handle
1 full-size trimmer
1 precision foil shaver
1 precision detail trimmer
1 extra-wide hair trimmer
1 nose and ear trimmer
6 extra-wide hair guards
3 beard guards
2 stubble guards
2 body-guards
1 eyebrow guard
1 storage bag
1 cleaning brush
1 power cord.
"Philips" is the father of electronics and it is the first name that comes to our minds when we think of electronic gadgets.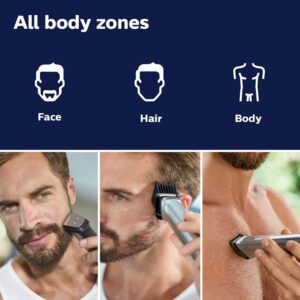 Blended with care, Philips clipper can be used to trim the hair on the body, shave the beard, and help to create new hairstyles.
It has got different attachments that can help to remove unwanted hair from ears and nose without hurting you.
The attachments can be used to remove hair from difficult areas. The foil shaver can be used to shave clean lines around your style.
If you love a french beard, Philips clippers can help to stay groomed every day. it comes with a steel precision trimmer that can be used to precisely edge and finish small details.
Removing the unwanted hair from nose and ear with scissors or a razor involves risk and there is a fear of getting hurt. The unwanted hair can make you look shabby.
With the Philips clipper, nose and ear hair can be removed easily without getting hurt.
Babies generally are quite afraid of getting their hair cut from a professional.
In such cases the extra-wide hair trimmer attachment can be used which captures more hair in one stroke and helps in faster haircut, trimming, and fading. It is a time saver attachment.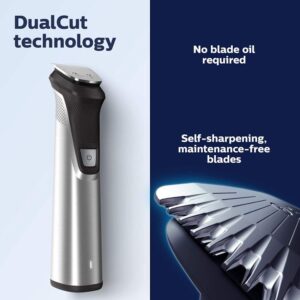 Philips clipper is made up of a stainless steel body and the location of the power button is strategically placed to avoid the accidental turning on and off of the clipper.
The blades are built up using 'DualCut Technology'. The steel blades lightly brush against one another-sharpening themselves as they work.
This results in the blades that are sharp as day one even after five years of use. They can be easily removed from the unit for cleaning purposes and are anti-corrosive.
The anti-corrosive nature of blades makes it possible to remove them from the unit and wash them. Also, you don't need to use any oil for lubricating the blades. They are self-sharpening and last for almost five long years.
There are different attachments for cutting hair, removing unwanted hair from nose and ears, and body-guards to remove unwanted hair from the other body parts.
The fading hair combs can be used for style. It helps to create a classic fade haircut by allowing you to see what length you will be cutting the hair. It is also perfect for a smooth tapered hairline.
The best part about Philips clipper is that once charged, the battery lasts long for 5 hours. Some of the users on Amazon have commented that they are using it for months together without a need to recharge the battery. It uses a Lithium-ion battery for the best performance.
Pros:
The compact design makes it easy to carry.
Li-ion battery lasts for 4 hours.
Minimum attachments to avoid confusion.
Lever for fine adjustment.
Washable and removable blades.
12 months warranty on the product.
Cons:
Not suitable for finishing in minute areas.
Does not have a guide book to use the product.
Some users find the shape of the clipper a little uncomfortable to hold.
What do you get in the kit?
1 Hair trimmer
1 Protective cap
1 Guide comb 1.5mm
1 Guide comb 3mm
1 Guide comb 4.5mm
1 Guide comb 6mm
1 Guide comb 10mm
1 Guide comb 13mm
1 USB charging cord
1 Cleaning brush
Made in China, Surker clippers have wide acceptability. They are pretty good if you are going to use them at home.
The product is handy with minimum attachments needed for you to groom yourself. It helps to create less confusion while using it.
As said earlier, Surker comes with the minimum attachments to avoid confusion. It is best suited for personal use and not meant for professionals who wish to work on minute details.
Although it has less number of attachments, it has not compromised on user satisfaction. It has an adjustable length of 0.8 to 15 mm and precise length control for 0.8 to 2.0 mm which can be tuned in as per the requirements.
Unlike the other clippers in this category that have an adjustable tunable blade that needs to be turned around for setting, Surker has a lever for fine adjustment.
The blades can be easily removed and can be washed. The utility of a cleaning brush is helpful to remove any hair stuck up inside the unit.
The carbon steel cutting blade is long-lasting and free from corrosion.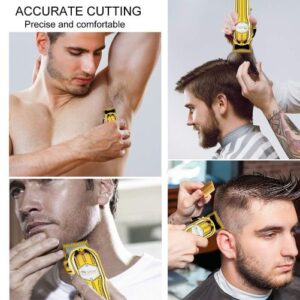 It can work as your grooming assistant and help you to trim hair, shave and remove unwanted hair from the body parts. The shape of the clipper is comfortable to hold.
Although it does not have a base to keep the clipper in standing upright position, it has a small hook at the end of the unit making it easy to hang it on the shelf or a cabinet.
You need to add maintenance oil for the smooth functioning of the clipper. The charging indicator shows how much battery is remaining in the product.
It uses a 2000 mAh Li-ion battery that requires a charging time for 3 hours and once charged it can continue for 4 long hours. It can be charged by a USB cable.
Pros:
It has a long battery life of 5 hours.
The compact size makes it comfortable to carry it anywhere.
It can be recharged in 3 hours with a USB.
It has 6 comb attachments and an adjustable lever for better performance.
The hook at the end of the unit helps to keep it wall mounted.
The LED display displays the power left and the oil remaining in the unit.
Cons:
It required oil to be filled up regularly.
It cannot be washed as the water can wash off the oil on the blades and harm its functioning.
Some of the users opine that the blades turn hot after prolonged use.
What do you get in the kit?
The KEMEI clipper
6 attachment combs
Cleaning brush
Plastic comb
USB charging cable
Red blade guard
Instruction manual.
Kemei is made in China and is very small in size yet powerful tool to help you to trim hair. It has six different attachments for comb and can be used to trim hair and shave.
It has a LED display that indicates when you need to recharge the battery and fill the maintenance oil.
The clipper can be easily charged by a USB cable via a laptop or charger.
The taper lever allows you to adjust the size for different cutting lengths. Unlike the other clippers, it has a power switch button on the side panel.
Some of the users complain of switching it off accidentally while working on it.
The clipper comes with a USB cable and a 2500mAH lithium cell. It needs 3 hours to charge and once charged it can be put to use for 5 hours.
Some of the users opine that it is better to charge the clipper first and then put it to use because the cable is too short to use it while charging.
It has a hook-like structure at the end of the unit that can be used to hang it in a cabinet.
It has self-sharpening anti-corrosive blades. But they can be removed only after removing the screws which makes it a tiresome task and particularly so if you are traveling.
Some of the users opine that the blades get hot after prolonged use. So also, it is not suitable to wash the blades.
As said earlier the blades require machine oil so if you try to wash it the oil will be washed away leaving the blade dry and harm its useful life.
The clipper works great for different styles of hair cut and shaving. You can even use it for fade haircuts. The only problem is that due to the broad base of the blades, you cannot go into the minute details.
Pros:
Ergonomic design and on/off switch.
Requires a charging time of 3 hours and renders 4 hours of service once the battery is fully charged.
It has 6 different sets of combs that have R shaped round blades to prevent skin cuts.
It generates a noise of fewer than 50 decibels.
It comes with a cleaning brush to clean the blades.
The compact size makes it suitable to carry it while traveling.
The stand meant for mounting the unit helps to keep the clipper in an upright position.
Cons:
It is not clear from the instructions whether the unit can be washed.
It does not have an LED display to show the level of charge.
It requires oil.
What do you get in the kit?
1x Electric Hair Clippers
1x 3mm, 6mm, 9mm, 12mm 15mm Level Comb Guides
1x thinning combs
1x left oblique guide combs
1x right oblique guide combs
2x Scissors
1x charging stand
1x Cleaning Brush
1x Power Adapter
1x User Manual
1x Retail Box
Made in China, BuySShow is a compact, elegant, and powerful clipper with the least noise. It comes with a stand that helps to keep it in an upright position.
Many users on Amazon have opined that it is an excellent product and meets all their demands.
Unlike other clippers in the same category, BuySShow does not have an LED display but it does need oil for the blades. It comes with a USB cable and a plug that can help you to keep the device charged.
It has a set of 6 different attachments that can help you to trim the hair. One thing we found peculiar to the blades is that the blades have an R shaped round edge design that helps to prevent the skin cuts.
You can adjust the fine tuner to get the required length of a haircut. The power on and off button can be moved diagonally with the help of a thumb.
Usually, if the clippers have buttons for on/off then there is a possibility of switching it on or off while using or even when they are lying idle. But this is not so with BuySShow clippers.
The R shaped round blades make it safe to be operated on almost anyone including the kids. There is no fear of getting skin cuts due to the clipper.
The ceramic blades are titanium blades that are non- corrosive in nature and self-sharpening. This feature essentially makes them last longer.
The clipper generates a sound of fewer than 50 decibels so sometimes you don't even come to know whether the unit is on or off.
That is why it has an indicator light that glows on if the unit is turned on.
Pros:
Powerful motor.
Different attachments to trim the hair and eyebrows.
Length adjuster to adjust different lengths for getting different hairstyles.
Anti-slip design.
Cons:
No LED indicator.
No clear instructions on the product for cleaning it.
What do you get in the kit?
1 hair clipper
10 Guide combs (3mm/6mm/9mm/12mm/15mm/16mm/20mm, Left Taper, Right Taper, Eyebrow Guide)
1 apron
1 cleaning brush
1 user manual
3 hair comb
1 oil bottle
1 scissor
2 hairpins
1 storage case
Suprent is a Chinese company that makes the best combination of design, quality, and innovation. You will agree to this once you read our review about the Suprent hair clipper.
Although it contains brushes of 7 different sizes, you can create any hairstyle with it due to the different hair cutting lengths (0.9, 1.2, 1.5mm).
The product guide states that you can make 27 different hairstyles due to the length cutting accessory provided with the unit.
A close look at the blade reveals their sharpness. They are self-sharpening blades that are wear-resistant and durable. The wave shape makes them a perfect suit for the clippers and allows them to stay sharp for a long time.
Along with the blades of different dimensions you get an eyebrow trim guide which is an additional feature. You also get third gear adjustment with the kit which can be used to get different hairstyles.
The most important part of the clipper is the motor. This so because unless the motor is powerful enough it won't be in the position to cut the hair.
Suprent has 9 volts motor, powerful enough, yet silent. It creates a sound of fewer than 60 decibels and requires less time to trim the hair. Also, it requires less time to get fully charged.
The power cord is long which makes it possible to use it while charging the device. At home, you might not feel the need to do so but if you are going to use it in a saloon then this utility will be of immense importance to you.
The anti-slip design makes it very easy to hold the clipper while operating it. At times due to vibrations, there is a fear that the clipper can fall and get damaged. This is not the case with Suprent.
CONCLUSION
According to us, while choosing a clipper you need to keep track of the intended use. Whether it is meant for professional use of personal use greatly affects your purchasing option.
Secondly, you need to decide for what purpose you want to use a clipper, is it for hairstyles or shaving or eyebrows or removing hair from different parts of the body.
This is so because all clippers have different attachments for doing different jobs.
Thirdly you need to check the noise levels generated by clipper, safety considering the material from which the blades are made, the motor, warranty & after-sales service, whether it needs oil or not, ease of cleaning it, and lastly the duration of battery charging and operation.
Considering all the above factors when we analyzed the above clippers, we found that Philips Norelco MG7750/49 Multigroom Series is the best.
It is helpful to shave, trim hair, and remove unwanted hair from the body. It is capable of working on minute details for better grooming.
Reviewers on Amazon state that it is the best company to deal with when it comes to handling the grievances if any. This is important because unlike other clippers that are made in China, Philips belongs to the USA. So it makes it easy to get service for the product.
We are sure that after reading our reviews you will opt for a personal groomer. Wishing you the best luck in your DIY projects of personal grooming and do let us know how useful you found our recommended product.
X
You might want to hear this:
Jason said…
"Long battery life, smooth powerful motor, sharp blades, solid build, fully immersible in water, and lots of attachments. This is a high quality shaver worth the price paid. Provides quality trimming of beard as well as hair. Daily use since purchased and not a single hiccup. I'd buy it again."