Let's talk about Fasting Tea.
But first, listen to this:
If you are reading this article it means either you are fasting, wishing to detox your body, wanting to lose weight, or control your hunger pangs or opt for a healthy drink which can boost your immune system, especially due to the deadly pandemic of COVID.
Reasons can be many but the fact that you are here is indicative of the fact that you are a health-conscious person.
There is a wide variety of tea available in the market today like black tea, white tea, green tea, yellow tea, tisanes/herbal tea, matcha, and pu'erh.
This makes the choice tough.
After much research about the teas and the ingredients that it contains, we have come up with the best fasting teas which you can drink even while fasting and for all the reasons mentioned earlier.
We would like to clarify that there are certain dangers associated with the detoxing process, if not followed correctly.
So we have specifically mentioned them at the end just to make you aware.
So here we go sipping the best fasting tea!
Before we discuss other things it is important to know the difference between cleansing and detoxing. Cleansing uses the supplements that focus on the digestive tract whereas detoxing improves the functioning of the liver and kidney by making them free from the unwanted toxins.
Yogi Fasting Tea is a herbal product that has a combination of cleansing and detoxing process.
It comes in different flavors and it is worthwhile to note that all products are free from caffeine.
You get a fruity flavor in Peach detox, Rose and Hibiscus detox, and Berry detox tea whereas Roasted Dandelion and Yogi detox tea have a spicy flavor.
All the above teas fall in the category of 'herbal tea' except 'rose hibiscus skin detox tea'. It is a kind of green tea.
Yogi tea contains pepper, long pepper, Indian sarsaparilla, cinnamon, cardamom, and clove among the ingredients.
All these give it a spicy taste and boost metabolism. Licorice is used as a natural sweetener instead of sugar.
Some of the benefits of herbal tea are;
It accelerates metabolism.
Alleviates the functioning of the lungs, liver, and kidney.
It can help to develop immunity and fight against the common cold.
Although it does not specify the exact quantities of the ingredients used still we can spell out the benefits that can be expected from each of the above ingredients.
Ginger, Cinnamon, Clove, Cardamom, Black pepper, and long pepper – help to develop immunity and boost metabolism. They also help to fight against common cold and flu infections.
Dandelion roots – they have a soothing effect of digestive tracts while removing the toxins from the body. Aid in the functioning of the liver and help to reduce heartburn.
Hibiscus – is particularly helpful to reduce the blood pressure levels and high cholesterol levels.
Rose – has diuretic effects and acts as a mild laxative. It has a cooling effect on the mind and the body thereby relieving you from mouth ulcers, heartburn, acidity, depression, anxiety, nervousness, fatigue, and insomnia.
Yogi Fasting Tea is 100% organic tea having USDA certification. It does not contain any of the articles banned by the FDA like:
Comfrey
Ephedra
Willow bark
Germander
Lobelia
Chaparral
You can use this tea while fasting or as a support in your daily diet.
It will help to keep your weight under control and also detoxify your body. Regular intake can boost metabolism and also increase immunity levels.
Yogi Fasting Tea has been in the business of making tea for the last 30 years and they know perfectly which herbs work well on the body.
Hence, you pick the best of the herbs available when you opt for Yogi tea.
Yogi Fasting Tea products are tagged for their quality of 'awakening goodness'.
This is evident from the ingredients used as well as the materials used to deliver the final product. The teabags used are compostable and have a recyclable carton. This not only takes care of us but also of the environment around us.
Stash Tea originated in 1972 in Portland, Oregon. It is the company that believes in doing crazy things.
That is the reason that even their 'normal' tea tastes a little different from others.
Stash Tea is purely a herbal fasting tea free from caffeine. It includes all-natural ingredients.
We, humans, want to try every possible thing before making a wholesale purchase.
Keeping the same in view, each box of Stash Tea contains six different boxes, each having different flavors like Meyer Lemon, Acai Berry, Wild Raspberry, Mango Passionfruit, Raspberry Hibiscus, Lemon Ginger, Strawberry Pomegranate.
A keen look at ingredients reveals that a combination of herbs is used to make Stash Tea.
They are the crazy, bold combinations to 'TEST' your taste buds. Some of the benefits that we derive from the combination of key ingredients are;
Acai Berries are loaded with antioxidants and help to prevent cancer.
Acai Berries and Hibiscus together can help to boost the brain function and improve the texture of hair and its growth.
Lemon, lemongrass, and ginger give the tangy taste to the drink and help to develop immunity and prevent frequent headaches, flu, and cold symptoms. It increases metabolism.
Strawberries help your heart to function properly and increase HDL. They also prevent premature aging of skin and wrinkles.
Pomegranate is useful to reduce cough symptoms, acts as an oxygen mask, and prevents prostate cancer.
Stash Tea is B Corp certified which means that they try to balance profit and purpose.
Their sensitivity towards the environment is evident from the fact that they use recyclable cartons for packing and the tea bags are compostable.
The teabags are made from 100% wood cellulose fibers. The thread is tied to the bags and not stapled. Also, the bags are free from any chemicals. The strings are made from GMO-corn free cotton.
Traditional Medicines have their roots in North America that date back to 1974. All products manufactured by them fall into the category of herbal supplements.
Ranging from spicy flavors to slightly sweet, tannic, floral, and citrus you name them and you have it here.
Turmeric has many medicinal benefits and that is the reason it is blended with ginger to give you the best of two worlds!
So what can you expect from this drink?
Turmeric contains Curcumin compound which has anti-inflammatory properties. Inflammation helps the body to fight against diseases and kills viruses and harmful bacteria.
It increases the antioxidant capacity of the body.
It helps to improve brain functions and helps to cure neurological disorders.
It is particularly in reducing heart disease, prevents cancer, prevents Alzheimer's disease, arthritis, depression, and has anti-aging properties.
You have a choice of six different flavors to try. Each combination is free from caffeine.
Only the green tea contains caffeine that is generated naturally from a green tea leaf. The pack consists of six boxes each consisting of 16 sealed tea bags.
Curious to know what health benefits you can derive from the above combinations?
Here we present them for your ready reference.
Ginger herbal tea – Prevents nausea, aids metabolism, helps in proper digestion of food.
Chamomile tea – helps to cure insomnia, reduces menstrual cramps, prevents spasms.
Green tea – helps in digestion, improves bowel movements, increases metabolism, keeps weight in control.
Tulsi herbal tea – also known as 'basil'. It has immense medicinal values that cannot be summed up in words.
Reishi Mushroom tea – helps to prevent kidney problems, boosts immunity, improves lung functioning, prevents heart diseases.
The product is made from environmentally friendly material that is reusable and recyclable. The tea bags are compostable which makes it extra safe for daily use.
If black tea is your preferred choice, you must try Twinglings tea.
It comes in a pack of six with 20 small packets. The tea leaves are chosen with the utmost care to maintain the taste.
Black tea contains fermented leaves and caffeine. Black tea protects the lungs from the damages caused by tobacco.
It also helps to keep the heart healthy and reduces the possibility of stroke.
The benefits that you can expect from black tea are;
It keeps the heart healthy and prevents stroke and promotes blood circulation.
It helps to lower blood sugar levels.
It helps to lower bad LDL cholesterol
It helps to reduce the risk of cancer.
But, it is important to note it contains caffeine. So you need to keep watch on the quantities you intake in a day or else it will lead to weight gain problems.
Teavana is a herbal tea available in six different flavors. One of the flavors contain caffeine, rest all are free from caffeine.
For anyone wanting to indulge his/her taste buds, Teavana is great.
The Earl Grey Creme flavor is a sort of black tea with vanilla flavor. The vanilla essence in it gives it an aromatic feeling.
Along with vanilla, lavender and bergamot essences are used.
It is not sure from the packing how much quantities of the ingredients are used.
So if it just used to flavor the drink then more than the health benefits, it would just satisfy your taste buds.
You can have it in six different flavors of herbs. Botanical extracts are used to make the product more healthy. Some of the benefits which you can derive from them are;
Pineapple –  speeds up the recovery process, boosts immunity, and is loaded with nutrients.
Rose petals – Act as a natural sun-screen, fights acne, and prevent dark circles.
Papaya – Helps to reduce wrinkles, acne, prevents dandruff, and acts as an excellent conditioner for hair.
Mango – Helps in the digestion process, promotes eye health, lowers cholesterol, helps to reduce weight.
Lemon – It has anti-bacterial and anti-fungal properties and is a good source of Vitamin C.
Bergamot – It helps to reduce stress and calms the mind.
Teavana Tea is nicely packed in 4 packs each of which contains 15 sachets. This makes it easy to carry it in luggage without any problem of spilling.
This special formula Dieters' Drink is all-natural, soothing, and relaxing especially delightful for those desiring to reduce weight.
This tea can be used to detox your body. It contains Senna leaf as the main ingredient.
Many users have mentioned that it acts as a laxative, so note this point specifically before using it.
The pack contains 4 packs of 18 sachets. This product is not suitable for aged persons and breast-feeding mothers.
For anyone wanting to lose weight quickly, this product works wonders but you are losing weight only due to water loss from the body and the toxins aren't removed. This isn't a safe way to lose weight.
Losing your weight quickly by using such teas can cause heart attacks, strokes, and seizures. You must use your judgment while using the product.
This product can be used by someone who is a celebrity and wishes to lose weight to dramatize a particular skinny character or by youngsters to look more 'in figure' in case of social gatherings.
Matcha is a popular tea brand from Japan. It has a variety of uses, not just tea. It is rich in antioxidants and boosts metabolism. Often people use it to reduce stress and to gain mental clarity.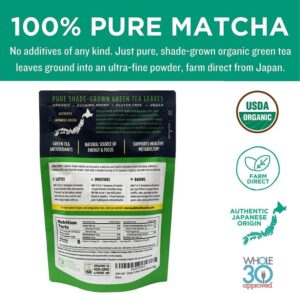 Jade leaf Matcha green tea is grown in Japan in a shaded region that helps to retain its original green color. No artificial colors or flavors are added to it. But it is worth mentioning that it contains caffeine. It is a USDA approved product.
The pack contains Matcha powder that can be stored and used before the expiry date stated on the packet. It can be used to prepare tea, smoothies, latte, muffins, etc.
As you can see it from the above image, Jade leaf Matcha tea is tested for purity and safety and it promptly displays the certificate of analysis on its product. This itself is indicative of the fact that it is authentic.
What's more? If you are not satisfied with the product then you can return it and get a refund. This speaks for the authenticity and genuineness of the product.
CONCLUSION:
According to us, we cannot be familiar with all the tastes of tea offered by different companies.
So it is nice if we get small packs of different flavors to try that helps us to decide which one to opt for.
Secondly, we feel that we need to decide the purpose for which we want to have the product. Is it just for weight loss, or meant to refresh or is it meant to benefit the health?
Depending on the answer, we can choose a particular brand. If you want it for health reasons then according to us you can opt for Traditional Medicinals Organic Turmeric with Meadowsweet & Ginger Herbal Tea.
The reason why we recommend it, is the cost-effectiveness, environment-friendly packing, multiple flavors to test, all herbal and natural products used that are useful to maintain good health.
Lastly, as promised earlier we would like to share with you some of the pitfalls of trying to lose weight using diet teas.
Diet tea just helps you to reduce water content from the body and thereby reduce weight, they do not remove toxins and pose the following dangers.
They can cause diarrhea.
They can lead to abdominal discomfort and nausea.
They create electrolyte imbalance in the body.
They can lead to sleep disruptions and insomnia.
They can interact with other drugs and cause serious complications.
So next time you sip a cup just to lose extra pounds, please bear in mind these points.
We are sure that if you drink herbal fasting tea in moderate quantities regularly, it will show a dramatic effect on your health.
Do let us know in the comment section, any other benefit that you derived after using the product in addition to the points we have mentioned.
We shall be glad to hear from you, till then keep sipping!