Our Top Picks
Electric blankets are devices with a network of wires running inside them. They can be switched on so that they can provide warmth to you. You need to be extra careful while purchasing electric blankets because there it deals with electricity. At the end of our listings, you will find a buying guide that will help you to choose the best according to your needs.
Beautyrest electric blankets are made from a soft reversible fabric with Sherpa Berber. Most importantly it has a long cord that measures 12 feet and 12 inches and a power cord measuring 6 feet. It is designed for minimum EMF and is UL certified for safety.
Pros:
Soft-reversible fabric made with Sherpa Berbe.
Available in different sizes and color variants.
Can be machine washed.
Easy to operate.
Auto shut down after 10 hours.
Long controller and power cords.
5-year warranty on the product.
It offers 20 different heat levels to customize.
Cons:
Some users had issues while setting the temperature level.
Thermee electric blanket caters to the need for different sizes and offers different colors to choose from. Compared to the one that we listed earlier, this one offers fewer options for heating, to be precise it offers 10 heat settings.
Pros:
The fabric is made from micro flannel that is durable, washable, soft, and does not shrink, or fade after repeated use.
Although the remote controller has a backlight, it trips off automatically after 40 seconds to give you a sound sleep.
Auto shut off after 10 hours.
Can be programmed for use up to 12 hours.
It offers 2 dual controllers for king and queen sizes so that you can customize it according to your use.
The memory function allows the unit to remember your last temperature settings.
It offers a 5-years warranty and can be machine washed.
It has a long cord measuring 17 feet.
Cons:
Some people find it difficult to operate it for setting the temperatures, especially elder people.
SensorPedic electric blankets come in four different color variants and four different sizes. When you read the buying guide, you will know more about the fabrics.
SensorPedic uses 100% polyester. This makes it quick dry after wash, durable,anti-pill, and lightweight.
Pros:
It has dual controllers for better customization.
Durable, anti-pill, wrinkle-free fabric.
5-year warranty on the product.
It can be washed in the machine.
It offers 9 different heat settings.
Long cord measuring 17feet.
Auto shut off after 12 hours.
Cons:
Some people find the light of the controller quite disturbing. It glows prominently and does not dim out.
Controls need to be plugged in and plugged out after every use.
The controller uses a digital display, so even after pressing the buttons, you need to look at the temperature that you have set.
The best thing about Perfect Fit electric blankets is the use of thin wires, and the technology used. It transforms 120 volts AC into a DC (similar to the battery) and hence is 'extra safe'.
Unlike others, it has quite simple operations with a round knob that is very easy to operate and ergonomically designed keeping in view the comfort of the user.
Pros:
It provides gentle heat and you won't feel the heat simply by touching the blanket at the highest setting. That adds to comfort.
It has a round knob for easy operations and a backlight with auto-dimming features.
It has a 'pre-heat and hold' feature for added comfort.
The wires used are pretty thin making it unnoticeable for the user.
Can be machine washed.
It has over-temperature protection control that keeps the unit away from getting heated too much.
Uses low-voltage technology.
It has auto-shut off after 10 hours of operation.
It has a 5-year warranty and available in 4 different sizes with 4 different color variants.
Cons:
The price difference is much more when you try shifting from twin size to full size.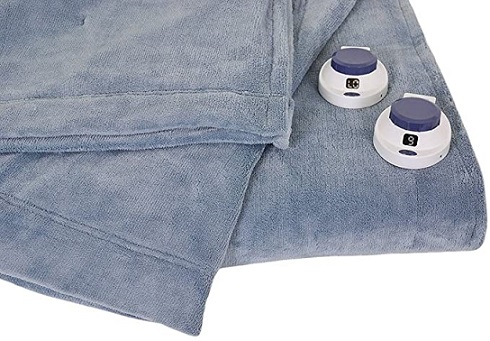 Serta electric blankets also have a round knob for adjusting the heat. Available in four different sizes and three different colors, this blanket uses micro-plush fabric that is soft in touch
Pros:
Auto shut off feature after 10 hours of operation.
Low voltage technology.
Backlight display with the auto-dimming feature.
Machine washable.
Thinner and flexible wires for greater comfort.
Cons:
Some of the customers find it difficult to adjust the temperature knob.
Well, if you are still confused about the fabric, technology, and other parameters then here is a buying guide that will guide you in the process.
Buyer's Guide: How Do I Buy the Best Electric Blankets?
According to a statistical report, the temperature in some cities of America ranges from -16.9° F to -66° F in coldest months.
You might be having heaters, thermal insulators at home, thermal wear but when it comes to a tight sleep at night, don't you think even the slightest touch of the bed that is too cold for your skin, bothers you?
Well, sleep gets disturbed due to a variety of reasons, and having a sound sleep is the precondition for a healthy body.
Normal blankets also protect from cold, then a question lingers in our minds.
Why do we need electric blankets?
Apart from the comfortable room temperature, if you wish to have a 'cozy bed' with a warm touch then an electric blanket is a 'must-buy' for you.
It is a blanket that can be used underneath or to cover your body with temperature settings that can be adjusted to your comfort levels.
What do electric blankets consist of?
Electric blankets are made up of different types of fabrics and available in different styles. They contain insulated wires or heating elements that can be adjusted to heat the blankets.
When it comes to the types of wiring used inside the blankets, it can be simple wiring, carbon fiber, or a rheostat.
Simple wiring allows you to control the temperature of the blanket through a remote control device. Some blankets offer auto-shutoff too!
Carbon fiber is a polymer that is light in weight and used in electric blankets.
A rheostat is a voltage divider that can be used to customize the heating required.
Which type of fabric is used for making electric blankets?
When you think of electric blankets, the first thing that you should consider is the type of fabric that is used in making the electric blanket.
This is especially important because of two reasons. One is to get the cozy feel and the other is the longevity of the fabric used.
The various types of fabric that are used for making electric blankets range from:
Cashmere:
It is made from the wool obtained from Cashmere goat and is light in weight.
Cotton:
Compared to others, they are a little bulky but keep warm for a long duration and have a durable life.
Flannel:
It is a skin-friendly lightweight fabric. Flannel fabric is popular for the soft touch that it offers.
Fleece:
It provides more even distribution of heat and is quite lightweight.
Microfiber:
Microfiber is a type of synthetic fiber that is cheaper than cotton and light in weight. It is durable and stains free. It is a breathable fabric and is wrinkle resistant.
Polyester:
Polyester is a type of polymer that is easy to clean but can cause rashes to people with skin problems. It is light in weight but not so breathable as compared to the others discussed previously. Often it is blended with other fabrics to make it sturdy.
Velvet:
Velvet is famous for its softness and touch. So if you love the soft touch then you can opt for a velvet touch blanket. Often the fabric is sturdy but you need to keep it away from dirt and dust to avoid frequent cleaning.
What are the different bedding sizes available in electric blankets?
Electric blankets are available in different sizes and dimensions like 'Twin, Full, King, Queen, Standard, Extra-long' etc.
What are the different bedding features offered by the electric blankets?
Based on the fabric used, they can be hypoallergenic or reversible blankets. Hypoallergenic blankets absorb less dust and thereby prevent you from getting allergic cold symptoms. Generally, blankets with synthetic fiber offer such benefits.
Reversible blankets on the other hand are a blend of two fabrics. On one side it may have wool and on the other side a different fabric.
What are the different patterns available for electric blankets?
Floral:
They have floral designs all over them and look nice.
Paisley:
They look as if some embroidery work has been done on them. Can absorb dust if not taken care of properly.
Patchwork:
They consist of patchy designs, sometimes geometrical shapes which do not follow any logic.
Plaid:
These blankets have a print of criss-cross patterns on them. Particularly useful in formal settings like hotels, hospitals, or if you want more decency.
Solid:
Such blankets offer one solid color. Often can have a blend of two or more fabrics that are reversible.
Stripped:
Striped blankets have vertical lines on them. They often look longer than their actual size because of visual effects.
How to clean the electric blanket?
Generally, electric blankets can be washed in a washing machine on a 'gentle mode' after unplugging them from a power source.
A user manual provided with the item often provides for how the blanket can be cleaned.
Can electric blankets be washed with warm water?
You need to read the manufacturer's instructions before using it. Often you can soak it in lukewarm water or cold water for 10 minutes before washing.
Can the electric blankets be bleached or sent to a laundry for washing?
Preferably electric blankets should not be sent to a laundry for washing because in laundry the washing machines are quite powerful and gentle wash might not be possible.
You should never bleach your electric blanket, nor should you iron it.
Can you dry clean the electric blanket?
Nope! Dry cleaning requires heavy use of chemicals that can damage your electric blanket.
How can you check whether the electric blanket is damaged after washing?
It is really important to check whether the electric blanket is in a good position after washing. To check it you can hold it in bright light and watch out for any broken or overlapping wires.
In case there are any broken or overlapping wires, it is not safe to use an electric blanket and there is a possibility of a shock.
X
You might want to hear this:
JMe said…
"My first electric blanket. works wonderfully well. is pretty and 'lush' – while not being thick. I love the remote timer/temp controls – wonderfully adjustable. so happy with this purchase. really worth it."