Our Top Picks
A convertible car seat is a car seat for children that can be converted into different positions, to accommodate the child's growth over time.
A good convertible car seat offers not just comfortable seating for your child, but adds extra security in the event of crashes. Thus, they provide peace of mind for parents in two ways: by protecting the child, and keeping them comfy.
So without further ado, let's start looking at the best convertible car seats around:
Graco's 4Ever convertible car seat is at the top of this list for a very good reason:
It does just about everything right! It has multiple features for both safety and comfort, is of sturdy build, and is very easy to use.
On top of that, it's reasonably priced considering what's offered. It's no wonder that this convertible car seat is so highly acclaimed by customers
Pros:
Reasonable pricing given the quality
4-in-1 seat: rear facing harness car seat; forward facing harness; high back belt positioning booster; and backless belt positioning booster
Graco protect Plus is specially engineered to protect the seated child from front, side, back, and rollover crashes
Adjust harness system lets you tweak the height of the headrest and harness to 10 positions in one motion
Additionally, 6 different recline positions
Simple attachment with a loud click to make installation and seating easy
Rapid remove cover can be pulled off the seat within a minute without any need to uninstall the seat, and is machine washable
Range of colors available
Designed to last for 10 years
Extremely positive customer acclaim: 4.9/5 star rating with well over 13,300 ratings
Cons:
Although the price is worth the quality, it may still be pricey for some
Some consistent complaints that the headrest is poorly positioned for newborns, resulting in their heads falling forward when they fall asleep, but there are very few of these
Chicco's NextFit convertible car seat is practically tied for top spot with Graco's convertible car seat.
It also has great features, is sturdily built, beloved by customers, and a decent price for what's offered.
What holds it back?
Well, it won't matter for some, but it does have some complaints relating to ease of use, and it's not a 4-in-1 or 3-in-1 seat. That being said, it's very highly rated by customers—equally so as Graco's seat.
Pros:
Well-priced for the quality
9-position recline leveling system
9-position headrest with an easy transition from rear-facing to forward facing
Sturdy steel-reinforced frame that's padded with energy-absorbing foam and shell
Easily removable, machine-washable padding
Removable, dishwasher-safe cup holder
Wide color range
Very highly acclaimed by customers: over 1,700 reviews backing up a 4.9/5 rating
Cons:
Price may still be a bit high for some, though it's reasonable for what's offered
Some complaints that installation isn't that easy, though there are not many of these
Some complaints that cleaning isn't as easy as advertised
Some complaints that it's too large for smaller cars
Not 4-in-1 or 3-in-1
Britax's Boulevard convertible car seat is an excellent option for those who want to invest in loads of safety features. It's no surprise that this seat has been very well-received by customers.
Even the critics of this convertible car seat agree that it's sturdy and has great protective features.
The main downsides? Some complaints about installation and the price. But for some, it'll be the perfect investment.
Pros:
Very simple and safe installation
2 layers of impact protection on side
Anti Rebound Bar minimizes forces from crashes and stabilizes the car seat when installed rear facing
Aforementioned Anti Rebound Bar has a sturdy steel build with a safe padding
SafeCell Impact Protection includes a steel frame and absorbing base, plus patented V-shape tether, which absorbs crash energy
7-position recline
14-position headrest and harness
Very wide range of colors/prints available
Very highly rated by customers: 4.8/5 rating backed up by well over 4,500 reviews
Cons:
Pricey, though it's a reasonable investment for what's offered
Consistent complaints that installation is difficult
Some consistent complaints of product falling apart after a few months, but 1) there are very few of these, and 2) they are old
Some complaints about sizing, but these are inconsistent (some complaints it's too small, some that it's too large)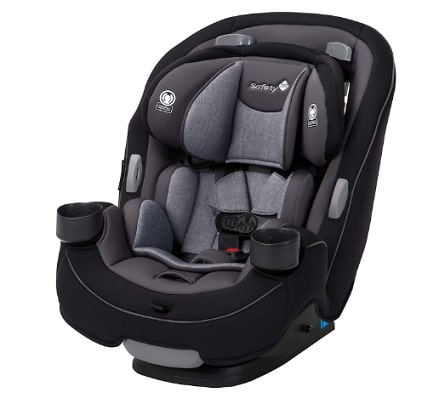 Safety 1st's convertible car seat is a great option for those who are on a tighter budget. Despite its lower cost, though, it doesn't sacrifice quality.
And in particular, it's good for those who want a seat that can be used as their child grows, without breaking the bank. It's ultimately held back on this list by being just slightly less well-received than our other top options—but that's functionally it.
Pros:
Affordable pricing, especially if you have a Prime discount
Range of colors available
3-in-1 seat: rear facing, forward facing, and belt positioning booster
Side impact protection
Easily removable seat pads that are machine washable
2 removable, dishwasher safe cup holders
Quickfit harness lets you easily install, plus adjust headrest and harness
Multiple recline options, plus harness adjustments can fit kids up to 10 years old
High customer satisfaction: 4.7/5 rating upheld by over 17,600 reviews
Cons:
Not as many recline options as other top convertible options
Consistent complaints that it's difficult to fix securely into place, and that the seat may lose its hold after some use
Some complaints about customer service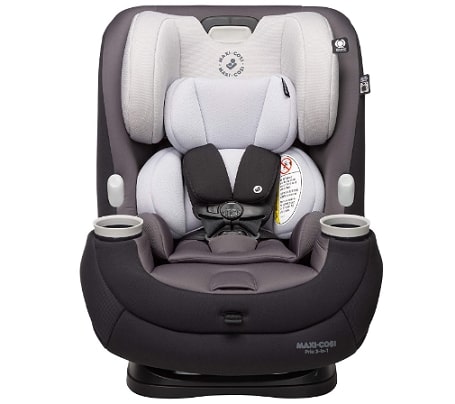 Maxi-Cosi's Pria 3-in-1 convertible car seat doesn't do much wrong. It's pricing is about standard for the quality, if a tad on the higher side, and there are some complaints that hold it back on this list.
But ultimately, it's got all the features you need in a decent convertible car seat, and has been highly praised by customers for that reason.
Pros:
3-in-1 seating system: rear facing, forward facing, and booster mode
Range of color options
Side impact protection
One click latch system
Quick fit shoulder harness (which automatically raises the harness and headrest)
Easily removable, machine washable fabrics
2 removable cup holders
Consistent praise from customers for the seat padding/cushioning being comfortable
Very well-received by customers: 4.7/5 rating held up by well over 1,500 reviews
Cons:
Only 3 recline positions, which is several less than the leading options here
Consistent complaints that cup holders are too small
Consistent complaints that straps are difficult to use and can make the child uncomfortable (though there are not many of these)
Evenflo's Tribute 5 convertible car seat is one of the more unique options here…mostly because of its price. It's the most affordable option on this list by a considerable margin, and despite that is still a high-quality seat.
What holds it back are some age limitations and complaints about build quality. Nonetheless, it's still very highly appreciated by customers, and offers a lot of value for the price.
In particular, most customers consider it a great buy for short-term use and traveling.
Pros:
Decent discount for Prime members
4-in-1 seat is designed to last from birth to 10 years
12 position headrest, which can be adjusted with a single hand
Anti-rebound bar
Built from high-density plastic and steel reinforcement
Side impact protection, plus side impact tested and rollover tested
High build quality/nice materials
High praise: 4.6/5 rating upheld by nearly 200 reviews
Cons:
On the pricier side, even with a Prime discount
Some consistent complaints that it's uncomfortable for infants
Some complaints that there should be more for the price
DiONO's Radian 3QX convertible car seat is held back on this list by its price and a lack of reviews. But that doesn't mean it's the worst—it's just the least competitive of the best, for a general audience.
But for some of you, this will be the top pick: this convertible car seat brings plenty of features and a lot of safety testing, so it's a fine buy.
Pros:
Decent discount for Prime members
4-in-1 seat is designed to last from birth to 10 years
12 position headrest, which can be adjusted with a single hand
Anti-rebound bar
Built from high-density plastic and steel reinforcement
Side impact protection, plus side impact tested and rollover tested
High build quality/nice materials
High praise: 4.6/5 rating upheld by nearly 200 reviews
Cons:
On the pricier side, even with a Prime discount
Some consistent complaints that it's uncomfortable for infants
Some complaints that there should be more for the price
Our Winner:
With all that information out there, we have to award our winning spot to Graco's 4Ever DLX 4 in 1 Car Seat.
It simply has everything a parent needs or wants in a convertible car seat, and has stunningly positive reviews from thousands of people.
But that's our overall winner for a general reader. The best convertible car seat for YOU may be another one:
If you need to budget, then the Safety 1st Grow and Go 3-in-1 Car Seat is a great compromise between price, quality, and safety. If you're traveling somewhere, then your best bet is probably Evenflo's Tribute 5 Convertible Car Seat.
You get the idea—it varies! To refine your search, check out our buyer's guide below:
Buyer's Guide: Convertible Car Seats
Before we proceed to the main things to look for when buying a convertible car seat, let's make sure we're all on the same page about the basics:
A convertible car seat is a seat meant for children to sit safely in cars. It's a type of child safety seat, sometimes colloquially known as just a booster seat, but it's meant to last through different stages of growth.
At the most basic level, a convertible car seat can convert between two positions. The most common of those two are rear-facing, and forward facing.
3-in-1 seats and 4-in-1 seats usually add a special booster position for the very young, and some allow variations of rear-facing or forward-facing positions.
What do all those terms actually mean? One of the convertible car seat makers on this list, Safety 1st, has a simple picture for its own seats that show the difference:
Now, the specific weight ranges will vary a bit from seat maker to seat maker, but generally speaking, these are the intended uses of the main three positions.
Note that the American Academy of Pediatrics recommends that children stay rear-facing until they've outgrown their convertible seat (by weight or height or both).
Now, let's consider what you should be on the lookout for specifically:
Safety
There are a number of ways in which a convertible car seat seller will try to show you that their seat is safe.
It basically comes down to safety features—mostly special designs in the physical form of the seat—but also information about safety compliance and crash testing.
Safety compliance is largely straightforward: the more met, the better. The same thing applies for crash testing: the more proof of rigorous crash testing, the better.
But it'd still be good to double-check whether a listed safety certification or industry compliance certification is legitimate or just fluff. Usually you can figure that out just by Googling around for a little bit.
As for design features:
Just about any popular convertible car seat option is going to advertise design geared towards safety. And generally speaking, a reputable and well-received convertible car seat will indeed be safely designed.
But there are specific things worth looking out for.
Side impact protection is one of the single most important safety design features. Side impact protection means design that adds support for the areas of the seat around the child's head and neck.
Typically, there's some sort of sturdy base from strong materials, which has additional layers of softer material—especially foam. This ensures that the seat is both comfortable for daily use, but can absorb the energy of an impact.
In fact, you probably shouldn't consider a convertible car seat without side impact protection. Luckily, side impact protection is fairly common nowadays, even at lower price points.
It's worth noting here that some seats are more adjustable than others, and many of them also include side impact protection and related forms of protection alongside those adjustments.
That way, you can get a design that fits your child's size, and can protect them even as they grow older and get bigger.
Comfort features
The two main points to consider when looking for a convertible seat that's comfortable for your child are thus:
First, the type of padding used for the seat, and second, the fabric it's in.
A pretty standard form of padding is some sort of foam—usually memory foam, EPS, or EPP foam. These are comfortable and worth prioritizing the same reason you want foam in the chairs and beds you use in your daily life.
Plus, as mentioned earlier, most of these foams are also designed to absorb shock.
As for the fabric, the biggest priority is that it's breathable. There is a safety component to this, too: some fabrics may irritate your child's skin or overheat them.
For the typical child, however, it just makes for a more pleasant experience. Plus, it may help them relax—which of course, in turn, helps parents relax.
Another good feature to look for is the inclusion of inserts for newborns and infants:
These help the seat accommodate the small size of very young children, but besides that, they also are good for safety in that they support proper body alignment. They also make the fit safer by reducing the room a child might be otherwise be tossed around in during a drive.
Note: it's okay if infant inserts aren't included in the seat you want to buy. While it's nice if a convertible car seat includes inserts, you can usually buy them separately from the same manufacturer.
Lastly, while most convertible car seats allow for some adjustment in recline and such, it's better to have several options—as with most seats for adults.
Ease of use
Many are quick to dismiss ease of use concerns in their convertible car seat search. The thought here is that if everything else is good—meaning, if the price is acceptable and the design is safe and comfortable—then ease of use is secondary.
That's fair insofar as your first priorities should be the safety and comfort of your child. But realistically:
Most parents will find dealing with difficult installations and tricky maintenance issues can quickly become frustrating. This is especially true over time.
It's best to get a seat that can be installed both safely and easily.
Good maintenance features include having easily removable and machine washable cup holders and seat covers. Those features are increasingly common, thankfully.
Another one is design that's intended to help parents manage things—like buckling or unbuckling a kid—with a single-hand. Sometimes seats even allow parents to adjust recline and harness positioning with just one hand as well.
Harness holders are another feature you should keep an eye out for. As the name implies, these hold the harness straps out of the way when you get your child in or out of the seat. Some seats even have a specially designed fastening process that can be completed in a few easy steps.
As a final note on ease of use, don't forget to take a look at what other customers have said. Customer reviews are far from perfect, but most companies will claim to make easy convertible car seats—not all of them are as easy as advertised, though.
Best Convertible Car Seats?
As stated, our top recommendation goes to Graco's 4Ever DLX 4 in 1 Car Seat, because it just does everything very well.
But each convertible car seat on this list is still one of the best convertible car seats around, and each has its own unique combination of advantages.
So be happy! There's no shortage of good options to keep your child comfortable and safe.
X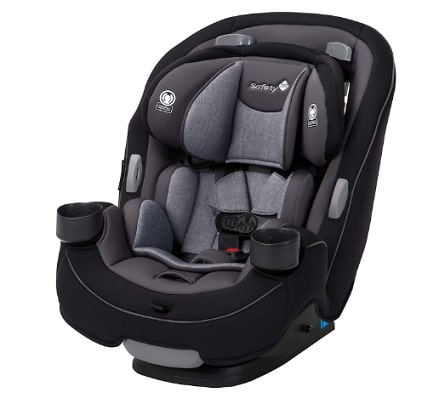 You might want to hear this:
BlackKnight007 said…
"This is our second car seat with this brand. Its one of the best car seats for the money. It still a pain to install but they have great straps for seat belts. Cup holders are awesome and love the midnight color. "