In some sports like basketball, golf, carrom, you want to conquer the holes. Because putting your ball in the hole increases your chances of winning.
Golf rangers mainly help to increase the chances of winning in golf. A golf Rangefinder helps to improve the swing and calculates the exact distance between you and the target.
The Rangefinder's light beams calculate a lot of data, and depending on that, a golfer comes to know how hard he needs to hit.
It helps the golfer to choose the proper club for hitting the ball.
There are various types of golf rangers available in the market like laser Rangefinders, optical Rangefinders, and GPS Rangefinders.
We analyzed some of them earlier, but today, we wish to review the 'Laser Link Red Hot 2B golf Rangefinder' in greater detail.
This review will help you to know the features of the Laser Link Red Rangefinder and help you to decide to purchase it.
Golf rangers include guidance about the temperature, distance to the target, and the amount of time required for light to bounce off the mark.
All this information helps when golfers are trying to aim their drive.
Depending on various parameters, a golfer can decide to opt for the wood club (for hitting long-distance targets), iron club(used for a variety of shots), hybrids (a combination of wood and iron clubs), putters(used to put the ball in a hole).
In case you are in a hurry, here's a quick look at the pros and cons of Laser Link Red golf Rangefinder.
Pros:
Distance to any target up to 1,000 yards on the golf course with an accuracy of +/- 1 yard
Pistol-shaped for ease of use
Red Dot Aiming System features the Zero-Inch alignment aid.
Large, easy-to-read external LCD
Three measurement confirmation settings – Audio, Silent, and Vibrate
Measures in yards or meters
Tournament legal
Water-resistant
Cons:
Lacks a little in terms of 'magnification facilities' which other golf Rangefinders in similar categories do have. It could have added to the functionality.
Now that we have listed the pros and cons of the ranger for the people in a hurry- let's discuss features in detail.
Technical specifications:
Yard Range: 5-1000 yard
Magnification: None
Dimensions: 5.375 x 2 x 3.125 inches
Weight: 6.4 oz with battery
Display Type: LCD/Black with red aiming dot
Tournament Legal: Yes
Measuring System: Yards/Meters
Measuring Distance: Distance Only
Waterproof: Yes
Battery Type: 9-volt
Where should I aim for a golf Rangefinder?
Often every golfer has this question in his mind. A good piece of advice is, better to point your rangefinder at the ground first and give a quick press on the button to start measuring distance.
It is when the rangefinder is ready to operate; then, you should bring up the reticle in the display. Later you can aim right at the target and push the button.
Laser Rangefinders generally give the most accurate yardage to any target. With the help of rangefinders, you can see within several hundred yards.
Laser Link Red Rangefinder works fine for 1000 yards. When you measure the distance, there can be a variation of +/- 1 yard.
The pistol shape makes it easy to hold. Also, it is only due to this shape that it gives a firm grip without vibrations. (That's exactly the shape of a gun and guns are meant to shoot a target!)
It weighs just 6.4oz and has a battery of the dimension 5.3 x 2 x 3.1 inches.
In comparison to many other Rangefinders- it is ergonomically designed and light in weight. It has a carrying case that can prove handy to carry it to the ground. It has a 9-volt alkaline battery and a 1-year warranty from 'Laser Link.'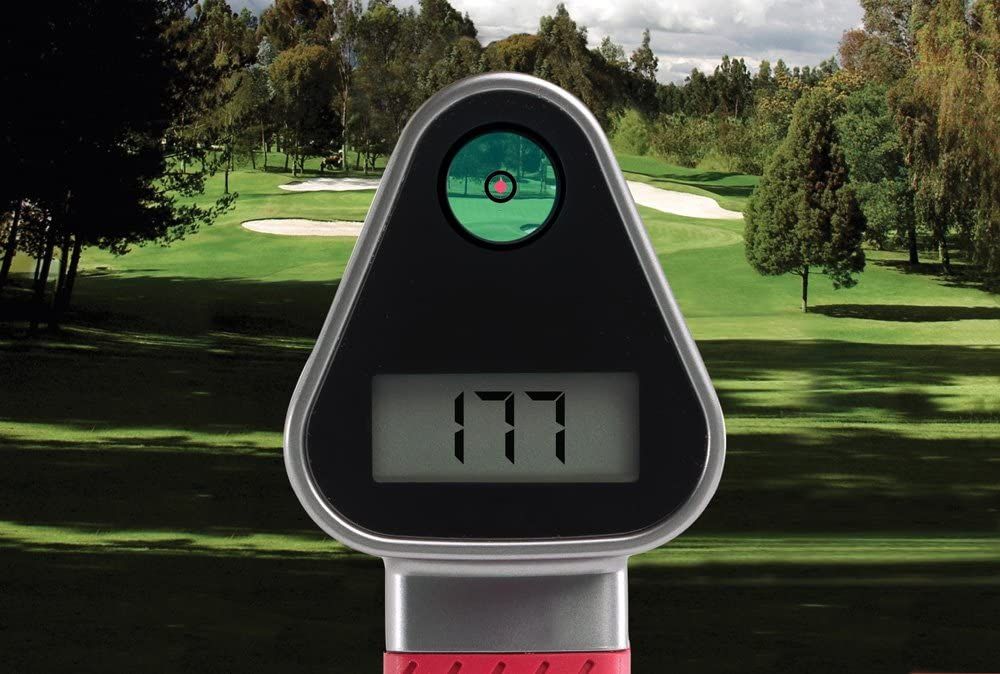 Laser Link Rangefinder has got a big LCD, and it has got three different settings for yardage confirmation viz, audio, silent, and vibrate.
Depending on what you are comfortable with, you can customize the display. Some people prefer to hear it(the distance), while others just want to take a note of it while concentrating on the target.
There are still others who want to be doubly sure before they choose to hit. They can select the 'vibrate' mode.
The Rangefinder can target anything with its laser and not just the flagsticks. It is versatile and easy to use.
The versatility and ease of use are probably the factors that make it popular among golf players. Most importantly, it is legally allowed to be used in tournaments.
On the flip side, we feel that the magnifications function could have been better. It could have added to the functionality.
Conclusion:
Now that you know the specifications, pros, and cons of using Laser Link Red Rangefinder, you will find it easy to make your purchase decision.
Laser Link Red Rangefinder uses laser technology, which is better than any others in the same category. Laser technology often gives more accurate results compared to the optical or GPS Rangefinders.
You need to check with your local regulations if Rangefinder is valid for your game, but Laser Link Red Rangefinder is tournament approved, so probably there won't be many issues for using it in the sport.
The Rangefinder improves your distance estimating skills, so even if you try playing without it (in case you forget to bring it on the golf course), it will help you.
We hope our analysis helps you in choosing the best Rangefinder. Do let us know how our suggested product works on slopes or any other terrain.
We would be glad to hear from you.
X
You might want to hear this:
Pacifijess said…
"Easy to look on any surface, accurate. No bells and whistles just a solid accurate golf laser rangefinder."