Our Top Picks
Screen time has drastically increased after the pandemic. As adults, we do exercises and aerobics but kids often don't do it.
Trampoline for kids not only helps to keep kids happy, but it also helps them to stay fit mentally and physically. More about it later in the buying guide that follows.
Bluerise kids trampolines are made keeping in view the safety features first. The safety net around the jumping area itself stands as proof.
Pros:
Large jumping area of 16.61 sq ft.
Protective net to help kids from falling out.
Easy to assemble.
Rust free material used in pipes, suitable for outdoors in all kinds of environments.
Cons:
Very few customers have problems with the packing, but any anonymity is handled by Amazon.
Bright colors attract kids. Langxun kids trampoline is colored yellow that makes it attractive for kids. The frame material is made from an alloy steel making it suitable for indoors and outdoors.
Pros:
The galvanized steel frame prevents rusting and structural twisting.
It has an outer net to protect kids from falling off while jumping.
The jumping mat is made up of polypropylene that makes it durable and elastic.
It can resist 220lbs weight.
Cons:
It uses a zipper in place of velcro on the outer net that makes it vulnerable to breakage after long years of use.
LBLA kids trampoline is made in China and can be used indoors and outdoors. Keeping in view the safety of the children the pipes are covered with foam so that it does not hurt the children even if they bump on it.
Pros:
It is easy to assemble and carry.
The protective net covers the trampoline from the outer side making it spacious.
It is suitable from age 3 and onwards.
Cons:
Foam can get torn over some time.
Some users have quality issues with the type of materials used for making pipes.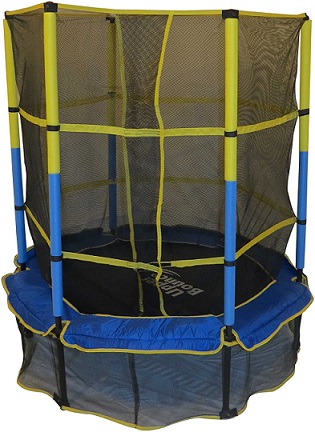 Upper Bounce kids trampoline is very compact and therefore quite suitable for indoor use. Unlike the other trampolines that have a zipper to enter, this one uses velcro.
Pros:
It is the best budget trampoline and durable due to the use of velcro instead of a zipper.
The bars are covered with foam to provide extra protection.
A protective net helps kids from falling out.
It can withstand weight up to 120lbs and is capable of being used indoors and outdoors.
Spring free bungee cord system and anti-static material for the mat make it the preferred choice.
The net under the trampoline prevents kids from getting under the jumping area and thereby preventing accidents.
Cons:
It is quite small to accommodate many kids at the same time.
Some users find it difficult to assemble.
Due to the lightweight material used in making the trampoline, it wobbles when kids jump on it, making it unstable.
Ancheer kids trampolines are suitable for toddlers and sustain weight up to 155lbs. It can be used indoors as well as in sports complexes or open play areas. Unlike others, it does not have a safety net around it, but other features make it worthy.
Pros:
It uses elastic cords instead of spring that makes it more durable and safe.
Rubber-tipped legs ensure firm gripping on the ground and prevent slipping.
It is foldable, easy to assemble, and does not require much space to store.
The blue-circle pad that covers the jumping area can be removed and washed.
The bar with foam helps kids to have a firm grip in case of need.
Cons:
Does not have a safety net for protection. You need to closely watch children when they jump to prevent them from falling.
Kids love images. Wamkos kids trampoline caters to that need. It is suitable for kids having a weight up to 220lbs and can be used indoors as well as outdoors.
Pros:
It uses environmentally friendly non-toxic material.
The legs have a rubber grip that prevents slipping.
The use of neoprene fabric in place of foam makes it more durable.
It occupies less space and is easy to assemble.
Cons:
Some people feel that the bounce is low due to the use of elastic in place of springs.
The best thing about the Little Tikes kids trampoline is that it is very easy to assemble and store by folding it. It is best suited for indoor use and can withstand weight up to 55 pounds.
Pros:
It is light in weight and easy to store.
The height of the legs is quite low making it safe for toddlers even if they bump out.
It is very easy to fold and store.
Cons:
Screws need to be tightened frequently with repeated use.
Suitable for small kids only.
Our Winner: The Best Trampoline for kids is…
When you select a trampoline the type of material used and the intended use- indoor or outdoor are of prime importance. Besides the other factors like safety, storage, cleaning, and weight-bearing capacity are of utmost importance.
Looking at all of the above, according to us the best trampoline that can be used indoors as well as outdoors that is durable and safe to use is Upper Bounce Kiddy Trampoline.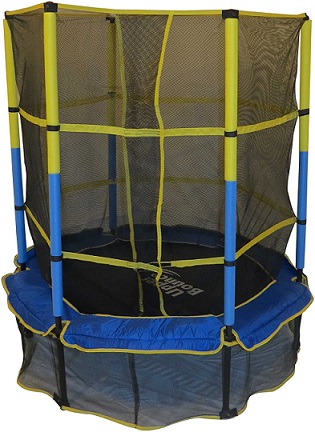 It not only takes care of the child jumping on the trampoline but also prevents another child from entering below the jumping area due to the protective net.
Well, this brings us to the end of our discussion. But if you are anxious to know more about trampolines then we have a buying guide for you.
BUYING GUIDE
What are the different types of trampolines available in the market?
Trampolines can be distinguished based on their
1) Shape
Round – Most popular and safest for kids.
Rectangular – Generally used by professional gymnasts.
Square – It is a combination of the above two, offers safety, and suits the professionals.
Octagonal – It is suitable if you have too many kids jumping on the trampoline at the same time because it is most spacious.
2) Size
Mini – Generally foldable and suitable for indoors.
Large – Generally have nets around the jumping area and suitable for outdoors.
Medium – Suitable for indoors and outdoors but you need to specifically check how to assemble it.
3) Based on the technology used
Spring trampolines – Most of the trampolines use this technology. You need to specifically check the material used for making springs if you are going to use it outdoors.
Trampolines with stretch bands – Generally used on small trampolines suitable for indoor use.
4) Based on features
Open trampolines – Need adult supervision when kids are using them, to prevent injury.
Caged trampolines – They are safe for children. Pay special attention to the type of material used for making nets.
What weight can trampolines hold?
Depending on the size of the trampoline the weighing capacity differs.
Broadly,
Small toddler trampolines can withstand a weight of 20 kg.
Mini kids trampolines can withstand a weight of 40 kg.
Outdoor trampolines can withstand a weight between 50 to 130 kg.
Does the trampoline break if you exceed the weight limit on the trampoline?
Exceeding the limit once in a while is okay but if you regularly exceed the weight limit then chances are pretty much that you can damage the springs or the jumping area.
What are the health benefits of using a kids trampoline?
If you thought that trampolines are just for fun, think again!
As such too kids don't love to sit at one place but probably they don't want to do aerobics or exercise regularly.
Trampolines exactly serve this purpose. According to the data provided by the CDC gov, nearly 13.7 million children and adolescents are obese.
1) Blood circulation: Jumping on the trampolines causes the heart to beat fast. This process itself involves rapid blood circulation and it serves as a good cardiovascular exercise.
2) Makes children happy: When we do any physical exercise, the chemical called Dopamine is released by our brain cells. This chemical release makes us feel energetic and happy.
3) Improves gross motor skills: Kids may do it unknowingly but when they jump on the trampolines, they learn to balance their body on it. This improves their gross motor skills.
4) Detoxify the body: Jumping on the trampoline helps to develop the immune system of the body and thereby helps to detoxify the body from harmful substances.
5) Develops confidence: By jumping on the trampolines on their own, kids develop a sense of pride and confidence which in turn can help in their all-round development.
6) Exposes kids to nature: Many times trampolines are kept outdoors. This exposes the kids to the natural environment and they can learn many new things from it.
7) Develop social skills: If more than one kid is jumping on the trampoline at the same point in time, then they learn to adjust with one another and develop social skills.
What are the dangers associated with using a kid's trampoline?
According to the
American Academy of Pediatrics
, improper use of trampolines can be dangerous and cause the following types of injuries.
Broken bones
Head and spine injury
Sprains
Bruises
To avoid these injuries AAP suggests the following guidelines.
An adult should always supervise the jumping activity.
The number of children on the trampoline should not exceed the suggested limit and if possible only one kid should be allowed to jump at a time.
Equipements should be properly checked for their perfect condition.
The safety net should be in proper shape.
How many calories can using a trampoline burn?
Jumping on a trampoline might seem to be just fun activity to you but in fact, it also helps to burn belly fat. This especially helps to reduce fat in obese children.
Mere 10 minutes of jumping on the trampoline burn the calories equal to a 30-minute running exercise. Approximately 1000 calories per hour.
But generally, 15 to 20 minutes of exercise on a trampoline is enough to make you drained and tired. Slowly span can be increased.
We hope our article helps you in choosing the best trampoline for your kids. If you have any concerns or suggestions please write to us in the comments section.
X
You might want to hear this:
Josh said…
"Relatively easy to assemble and by one person but I highly recommend having an electric drill to ease up the process. Arrived in time. Solid and beautiful. No squeaking or sharp edges. Our child loves it!"