Our Top Picks
A rowing machine is a device that simulates the physical activity of rowing on a boat, but from the convenience of your home.
A good rowing machine is ideal for rower hobbyists, and it's also beloved by those who want to be more active. Let's waste no time, and consider the best rowing machines around!
Marcy's rowing machine has earned its spot at the top of this list for a pretty straightforward reason:
It's had the most positive reception from its customers, and it's just a generally very high quality machine. Despite being on the pricier side, most machines of this caliber cost a lot more—so it's well priced in a way, too.
Pros:
Easily adjust between 6 levels of resistance by changing the amount of water in the rowing machine
Can be stored vertically to save space
Built-in LCD display tracks your progress by showing: a timer, reps, total reps, calories, and pulse rate (accessory needed for that)
Large pedals to ensure easy and secure foot access
Plus, pedal loops to ensure foot will not slide off
Seats are specially contoured to minimize soreness after long sessions
Handles have a comfortable grip
Recommended max weight of 300 lbs is more than most competitors, and can accommodate larger users
Very high 4.7/5 rating backed up by dozens of reviews
Cons:
Generally on the pricier side, though it's reasonable for what's offered
Batteries not included
On the heavier side (82 lbs without water)
Unlike Marcy's rowing machine, Fitness Reality's uses magnetism instead of water. We'll elaborate on the differences later, but for now, suffice it to say that either type is fine.
But for those who prefer magnetic rowers, Fitness Reality's 1000 Plus rowing machine is definitely one of the best around.
Like the first option, this offers loads of quality for the price. There's not much it does wrong!
Pros:
Decently priced, given what's offered, plus Prime members get a discount
14 levels of magnetic resistance
Foot pedals are specially designed to keep feet steady in place
Contoured seat to prevent soreness and well-gripped handles
Lightweight for a rower at just under 64 lbs
LCD display shows distance, time, total count, calories burned, strokes/min, and scan
Bluetooth-connectivity allows users to track and save their workouts with an app on their phones and tablets
Over 3,900 reviews upholding a high 4.5/5 rating
Cons:
Consistent complaints that the tracked progress numbers are inaccurate
Some complaints that the resistance levels aren't that different
Sunny Health & Fitness' magnetic rowing machine has all the features you'd want in a good rowing machine.
What makes it stand out: it has several advantages that make it more portable than most other rowers. So if you have limited space and may need to move your rowing machine from one spot to another, this is a great fit.
It's held back by some complaints about build quality, but they're a small minority.
Pros:
Price is excellent with Prime discount
Non-slip foot pedals plus feet straps
Cushioned seat and well-gripped handles
Built-in wheels allow you to just tilt the machine up and roll it away easily
Plus, foldable design and relatively light weight (just under 61 lbs)
8 levels of magnetic resistance
LCD console shows time, count, calories, total count, plus a scan mode for viewing overall progress
Extra long slide rail (48 inches) can handle most body lengths without issue
Floor stabilizers to keep rowing machine in place
Well received by customers, with a 4.4/5 rating upheld by around 9,000 reviews
Cons:
On the pricier side without a Prime discount
Consistent complaints about build quality
Consistent complaints that it falls apart after consistent use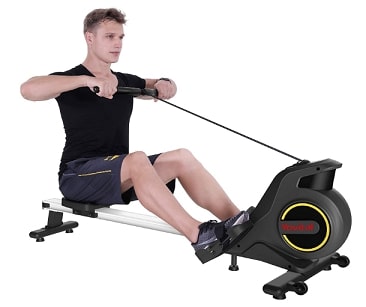 The only thing that holds back Yovital's rowing machine on this list is a lack of customer reviews. That doesn't necessarily mean it's a bad product at all—just a riskier buy.
However, the reviews that do exist are very positive, and everything else about this machine looks great, with a price that looks very fair for what's offered.
Pros:
Standard pricing, and a bit on the affordable side
8 levels of magnetic resistance
Large LCD console displays time, distance, calories, pulse, and strokes
Extra long slide rail
Patented iron flywheel to keep noise levels down
Foldable, plus transport wheels for easy storage
Ergonomic seat and handles
1 year warranty with free replacement services
5/5 rating, but there are not many reviews to back it up
Cons:
Lack of customer reviews makes it difficult to assess
SereneLife's rowing machine is a bit more of a mixed bag, but it's still been well-received by customers: even the critics agree that it functions quite well.
It has all the features you want in a decent rowing machine, and comes at a reasonable price—a pretty straightforward reason for it's placement on this list!
Pros:
Reasonable pricing
8 levels of resistance
LCD display shows count, time, total count, calories, revolutions per minute, and scan feature
Pedals have straps to secure feet
Padded seat and comfortable handlebar grips
1 year warranty
Generally well-received by customers: well over a hundred reviews backing up a 4.2/5 rating
Cons:
Not as well-received by customers as other options here
Max weight capacity of 220 lbs is less than most other rowers
Consistent complaints that LCD screen stops working
Some complaints that more could be offered for the price, particularly along build quality
Women's Health Men's Health's rowing machine is a bit of a mixed bag. It's held back on this list due to a combination of price and some complaints about build quality.
Despite that, the overall response from customers has been quite positive, and this rower also offers a nice feature combination that makes it stand out.
Pros:
14 levels of resistance
Specifically designed to reduce lag time and provide full resistance with each pull
Lightweight
Bluetooth compatibility and manufacturer app lets you track your workout intelligently
Phone/tablet holder, so one can watch instructional videos, guided workouts, (or anything else) while rowing
Large LCD display shows distance, time, total count, calories burned, strokes, strokes per minute, and split time—which is more than most displays
Generally well-received by customers: 4.3/5 rating upheld by dozens of reviews
Cons:
Pricey, even with Prime discount
Consistent complaints about build quality, especially for the price
Consistent complaints that there isn't enough resistance
Best Rowing Machines?
Ultimately, our top spot goes to the Marcy Water Rowing Machine. It's been applauded by customers and is of a great build quality.
But that doesn't mean it's best for everyone. If you prefer magnetic rowers, then the winner for you should be the FITNESS REALITY 1000 PLUS Magnetic Rower. If portability is your priority, then it's the Sunny Health & Fitness Magnetic Rowing Machine.
Different rowers are better for different preferences. If you're unsure of what rowing machine is best for you, have no fear! Check out our buyer's guide below.
Rowing Machines Buyer's Guide:
The biggest difference between different rowers is the type of resistance they use. A rowing machine will usually use one of three types: magnetic resistance, water resistance, and air resistance.
In the scheme of things, all of these can provide you with the full body workout you're seeking. However, a certain type may be more or less suited to your preferences. So here's the gist:
Magnetic resistance
A magnetic rowing machine is usually pretty easy to use, both in setting up for your workout, and in maintenance. To adjust your intensity of resistance, the only thing you have to do is turn a knob on the machine.
Turning the knob just changes the distance between the flywheel and the magnets. The closer the magnet is to the flywheel, the harder you have to pull. That's it—it's pretty simple.
Also, while there's a large price range for magnetic rowers, the cheaper ones tend to start a bit lower than water rowers.
So why would anyone NOT use a magnetic rowing machine, right?
The main downside is that you're capped at the highest resistance level of the rowing machine. It's a built-in, fixed limit. While magnetic rowers are still loved by many very fit people, those who don't want to run into a resistance limit may want to consider the other types.
Now, for air resistance:
An air resistance rowing machine is actually using a combination of air and magnetism. The fundamental form of resistance still comes from magnets, and there will usually be a dial to control magnetic strength, just like a magnetic rowing machine would.
However, you could then add resistance to whatever your magnet's setting is by activating a fan blade, which displaces more air. The displaced air works in tandem with the distance of the magnet from the flywheel.
So if you plan on building up your strength over time to be as strong as possible, then this may be worth considering. It's worth noting that you still may run into limits.
This sort of rower is a bit rarer, and may sometimes be classified as a magnetic rowing machine by manufacturers—so be mindful when reading descriptions.
Water resistance
Like air resistance, this type makes use of fans to displace something—in this case, the fans displace water within a controlled tank.
However, with water, the user has much more control over the resistance of their rowing machine. A user can simply put in as much water as can fit in the tank (which usually has markings to indicate levels of resistance).
Now, the levels of resistance are a bit less fixed than with magnetic rowers, and if a tank doesn't have markings, it can be hard to measure (especially at first).
Additionally, as you're dealing with water in a tank, there's some maintenance and set-up work that you wouldn't need to bother with in a
So why would one prefer a water rowing machine?
Water rowers still tend to be a bit better for those looking to push their limits higher and higher over time.
Also, if you're using a rowing machine to practice rowing on a boat, rather than simply as a form of exercise, you might prefer the feel of resisting water, as opposed to a magnetic force.
In short, water resistance is better for those who consider rowing a more serious hobby, rather than a simple exercise in their spare time.
Other considerations
The other considerations you should have in finding the best rowing machine are a little more straightforward.
One important thing to figure out early-on is how you think you'll use your rower in daily use. Specifically, where in your home you will use it:
If your home is small and/or crowded, then you should probably prioritize a rowing machine that is more portable.
A good, portable rowing machine will be easy to both fold and set-up, and usually has wheels so it can be moved around easily. It's also better if it's lightweight (so it's easier to carry if need be), and doesn't take up much space if you leave it in one spot.
It's not inevitable, but such a portable rowing machine is GENERALLY more likely to be a little less sturdy, especially for heavier users, and may have a lower recommended maximum wait.
Another important point to keep in mind is that your rower should have appropriate design features to prevent soreness:
A poorly designed seat will quickly leave you feeling sore after an extended period of rowing, and poorly designed handles will leave your hands sore, and perhaps even calloused after use.
Most sellers will claim to have comfortable design, and most popular rowers will indeed have the basics. Nonetheless, it's good to check what customers say here to make sure.
Lastly, some rowers might have Bluetooth connectivity so that you can track your progress using an app from the manufacturer (or an app that the manufacturer has a partnership with). Whether this is worth it for you or not is very much a personal thing.
Some would find it's more gimmicky and unnecessary. Others find it a great point towards ease of use. Additionally, the compatible app may have guided workouts or even personalized plans based on your data. Again: the importance of that is very subjective.
Conclusion
As we said earlier, our winner is Marcy's Water Rowing Machine. It's just a great rowing machine! But to repeat ourselves, that's just the generally best option around.
There are many rowers that are better or worse for certain needs and circumstances. And that means there are many great options available! Why wait?
Happy rowing!
X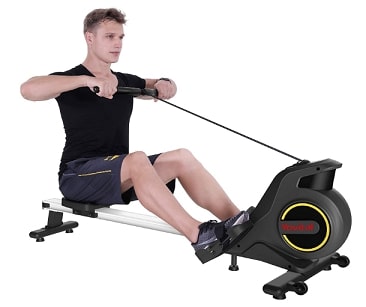 You might want to hear this:
Brianda said…
"Pretty heavy package but my husband was able to move it on his own, took him about 40 min to assemble and he said it was not hard. I used to go to anytime fitness and this rowing machine works just as good as the one they had there."