Why would a cyclist need special cycling shorts? Is it just to show off or to get the feel of enjoying a particular sport?
A close study reveals that cycling shorts are not just meant for style or to show off.
They are designed keeping in view certain specific purposes. They enhance your riding comfort by providing three benefits.
Cycling shorts have a soft padding that is referred to as 'chamois'. It is basically a cushion for your buttocks. It provides comfort in long rides and the first thing to look into when you are looking for cycling shorts.
The second very important aspect to look into is the fabric. The snug-fitting fabric should fit tightly to your skin and reduce friction.
This prevents scars in the long run. Generally people do not wear underwear under cycling shorts to avoid any unwanted friction. That is the reason you should choose dard colors too!
Lastly, they manage moisture. Correct use of materials like Lycra or Spandex can promote the evaporation of sweat and prevent rashes and bacteria that can grow in case the normal wear is used instead of cycling shorts.
While purchasing you should pay special attention to the fact about the fabric used and the anti-bacterial properties that it has.
Having said this, we would now like to turn your attention to the best cycling shorts that we have shortlisted for you.
Name
Fabric
Chamois
Sponeed
Polyester,
Spandex
4D Gel
Sportneer
Polyamide,
Spandex
Foam
Santic
Nylon,
Spandex,
Lycra
4D foam
BALEAF
Polyester,
Spandex
3D Gel
Eco-daily
Polyester,
Spandex
Foam
NICEWIN
Chintz
Gel + Foam
Souke
Polyester,
Spandex
Foam
Let's dive in!
Pros:
It is made up of Polyester and Spandex fabric that makes it breathable and moisture-free.
4D gel padding avoids friction and provides comfort.
Cons:
Better not to use them on rough and bumpy roads.
Sponeed cycling shorts are the branded shorts from China that come up to the waist and extend down to just above your knees.
Cycling shorts have different inseam lengths. Generally people prefer long inseams for long rides and vice-versa. In long rides, much discomfort can be caused due to friction and that is the reason for choosing long inseams that fit in a better way and prevent chafing.
Polyester and spandex are the fabrics that are elastic and quick drying. This helps you to stay away from unwanted moisture and helps your skin to feel dry , not sweaty.
The tight-fitting materials help to decrease the air resistance and thereby allow the user to move ahead with great speed.
While selecting the shorts you should pay special attention to padding and the inseam.
Different bicycles have different types of saddles depending on the intended use.
Each bike has a different saddle, broad or narrow one depending on its intended use.
Bikes meant for recreation, mountaineering, road cycling each have different saddles for providing maximum comfort.
The ones that we are suggesting are often used for recreation and long rides on the road. Generally, they are not preferred in the mountains.
4D Gel padding and antibacterial properties make Sponeed shorts special.
This is important because if you ride the bicycle for a long duration, you will have more sweat and more chances of bacterial infection.
It is designed to meet the men's geometry design and the holes make it a breathable fabric.
It not only provides the chafe comfort but also gives you a firm grip. The silicone rubbers do an amazing job of keeping the shorts in its place and not allowing it to roll over.
Some of the cycling shorts use foam instead of gel. Gel-based padding is preferable because it lasts longer than foam-based padding.
You may use the above table as a reference otherwise opt for the shorts that fit tight to your skin. This will give the best results.
Pros:
It is made up of Polyamide and Spandex.
It is more water-absorbent than Polyester.
It prevents chafing.
It is made up of foam for better comfort.
It can be washed in a washing machine.
The side panel reflects light and makes it safe for night driving.
Cons:
Some of the users have sizing issues.
Some of the users complain that the foam deteriorates in quality after repeated use.
Sportneer cycling shorts are made from 82% polyamide and 18% spandex material. Polyamide is more water-absorbent than polyester.
To compensate this, it is blended with nylon. This gives the fabric much-needed flexibility and an ability to dry quickly.
The ability to dry fast keeps your skin free from rashes and chaff-free.
Sportneer is different in a sense. It has a foam padding and not gel-based padding.
Some of the users find it embarrassing that the 'critical portions' are colored differently which makes it look odd.
But according to us, when you are seated on a bicycle seat then 'that portion' is automatically going to get covered.
The foam makes even the bumpy rides easy for you and provides you the much-needed comfort.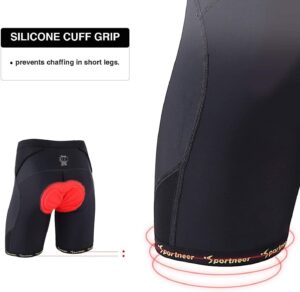 A normal grip near the chuff can get loose over a passage of time. To avoid this, Sportneer shorts have a silicone grip. Silicone grip not only stays in shape for a long duration of time but it is also helpful in preventing chafing in short legs. This is especially important to keep it in its place without sliding up.
The best cycling shorts would fit tightly. . Anything that fits a little loose, defeats the purpose. Although it has provided a size chart with the product, still you need to be doubly sure of the size.
Improper selection in size defeats the whole purpose of using cycling shorts.
We have seen sports enthusiasts who love to travel far off distances when the weather is cool and sometimes even at night.
At such times, even though you might be having fluorescent lights in your bicycle or a lamp, still if your body wear depicts your presence on the road, then it is a good sign.
Sportneer cycling shorts have a side logo containing reflecting light material. This makes it extra safe for night driving.
Although we have included the size chart here for your reference, please bear in mind that the sizes do differ according to the places you stay. XL would mean different sizes for different continents. This is what many users have commented after buying it.
Pros:
It is the brand with least sizing issues.
The use of Nylon, Spandex, and Lycra makes it elastic and stretchable and gives it the ability to dry quickly.
It is moisture absorbent.
The padding is made from 4D foam which is comfortable according to most of the users.
Cons:
It does not have pockets to carry things.
Almost 75% of the customers say that even though they chose the size depending on the size chart, they could get a correct fitting short.
Available in ten different colors, Santic shorts are made from a combination of fibers like Nylon, Spandex, and Lycra.
The use of the above materials in shorts makes the shorts stretchable and capable of drying quickly. It effectively avoids friction and the rashes caused by it. It promotes the evaporation of sweat.
The anti-slip leg opening helps the shorts to stay in its place and many reviewers on Amazon have commented that it is quite comfortable.
If the grip is too tight it can cause discomfort while riding a bicycle but Spandex makes it stretchable and hence it automatically adjusts according to the body size.
If you are fond of night driving then, these shorts will make you visible even in pitch-black darkness. The radium logo reflects light at night. Thereby reduces the chances of accidents.
The shorts have a mesh on the side panel that makes it breathable fabric and allows the air to move and thereby make it comfortable for you.
Fabric and chamois both are important while making a buying decision. The usability and effectiveness of shorts depends on it.
Santic cycling shorts are 9.4 inches wide and have a 12-panel anatomic design for better comfort.
It uses a 4D Coolmax cushion with more than 38 vents and has a three-dimensional design to suit the body requirements of a male.
A simple hand wash is preferable in place of machine wash to increase the life of the foam.
A simple hand wash is preferable in place of machine wash to increase the life of the foam.
As you can see from the above image, the chamois is strategically placed at the 'correct location' to give you much-needed comfort while riding.
The above image depicts the correct placement of chamois designed for maximum comfort.
As said earlier, nearly 75% of users find the size to be perfect when they based their decision on the sizing chart presented along with the product.
The company offers excellent after-sales support so you can bank on it.
That means if you have any issues with the size or anything you can get it resolved faster.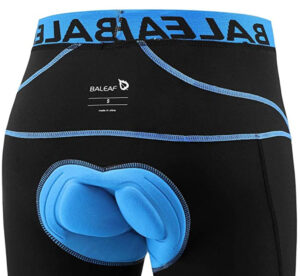 Pros:
It offers multiple color options.
It uses the fabric of Spandex and Polyester for elasticity.
It can be gifted considering the price and the variety of colorful options available.
It has a large 20 cm base with gel padding.
Cons:
It does not have pockets to store things.
The best part about Baleaf is that it offers multiple color options ranging from bright colors to simple ones like gray, black, and white. So it makes it a perfect product to be used by youngsters as well as someone who doesn't love bright colors.
Spandex and Polyester makes it a breathable, quick dry and stretchable fabric. Also, it helps you to stay away from unwanted moisture and keeps the 'crucial' area dry, free from bacterial infections.
The elasticity of the waistband adjusts according to your body shape and makes you feel comfortable.
What is notable is the feature that it is wide. The wide elastic waistband saves you from getting stretch marks on your waist.
Baleaf understands that each person will have different sizes, so it is 20 cm wide and has an inseam of 4.7 inches that suits most of the people.
Depending on your size you can choose the best that suits you.
It perfectly adjusts according to the contours of the body.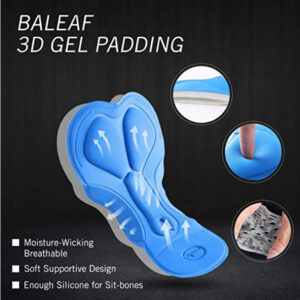 Baleaf cycling shorts offer 3D Gel padding and the gel keeps moving a bit when you paddle, but it is perfectly okay. It is meant for that comfort.
You can wash it in a washing machine but it is better if you air-dry it instead of a machine dryer. This will enhance the productive life of the shorts.
As you can see from the above image the fabric used is quite breathable and moisture-wicking. The light weightedness and the stretchability make it feasible for regular use and many users have opined on Amazon that it is quite durable.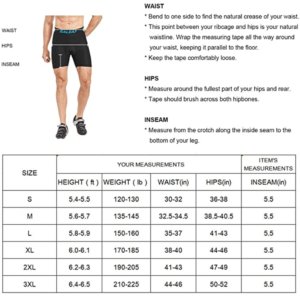 Depending on the measurements of your body for the waist size, the hip size, and the inseam, you can decide the best fitting size for you. Many users on Amazon found this chart useful to select the size that fits them.
Pros:
Polyester and Spandex make it breathable, dry and elastic fabric.
Waistband grip increases the productive life of shorts.
The flatlock seams reduce chafing.
The edges are designed ergonomically to reduce any injury to the body parts arising due to friction.
Cons:
The foam material can deteriorate if used for long rides.
It does not have pockets.
Eco-daily cycling shorts are made up of 80% Polyester and 20% Spandex. What is different in the above shorts from the others is waistband grip. It isn't made of elastic. It is encased in the shorts.
Chamois is thick and made from gel. But it is made up of foam and not gel.
Some of the users feel that the foam gets pressed by the body weight in long rides making it a bit uncomfortable. But for small rides, it is preferable.
The side panel has a white patch which consists of a mesh. Apart from that you get a wide choice of colors.
At the backside, you have a dot that reflects light, in case you are driving at night. The mesh-like structure provides breathability to the fabric and you don't get the suffocating feeling inside.
The perfect laser cut stitches, the design and the shape are ergonomically designed for maximum comfort.
The widened leg gripper helps to keep the shorts in place.
Coming to the most important part now, the chamois!
Foam is used in place of gel inside the chamois. You need to dry it in the air for better durability. Machine wash can cause harm in the long run.
Although the shorts are made in China, the size chart shows the different sizes according to the US size. This makes it easy for the buyer to make the correct decision regarding the size.
The company offers free replacement in case of size or any other issues.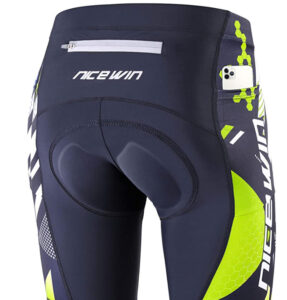 Pros:
No sizing issues.
Chintz fabric helps to maintain body temperature.
Glossy finish increases its visibility at night.
The floral design makes it a unique product.
The chamois consists of gel and foam both for better support.
It has pockets and a zip lock for keeping things while cycling.
79% of the Amazon users find these shorts to be of perfect size after ordering it. There are more reasons to be happy about it.
It is made up of Chintz fabric. Chintz is a fabric that blends cotton with other fabrics. Cotton helps to keep cool and Chintz fabric gives it a shiny texture and floral design makes it appeasing for eyes.
The floral design is made up of glossy material that makes it shine at night, making it safe for night driving.
A cyclist needs to carry many things with him like wallets, phone, credit cards, etc to name a few.
Apart from the pockets on the sides, it has a zip-lock pocket on the backside to keep things safe.
The product is designed keeping in view the maximum comfort + style + usefulness to the user.
The broad chamois makes it suitable for all types of rides. So even if you are going to use it for mountains or roads or any other bumpy ride, these shorts won't disappoint you.
The best part is that the chamois is a combination of foam and gel. The butterfly-shaped chamois with a 3D stereoscopic pad makes it vibration-free and suitable for mountain riding.
Widened wings make the bicycle shorts fit your hips, and different compression resistance modules help to reduce the pressure and impact.
Nicewin has a foam base for the padding comfort and is thick enough to give you a diaper like feeling.
Due to the stretchability feature, it is better if you wash the fabric with hands instead of machine wash.

The unique Chintz fabric keeps you away from feeling suffocated inside the garment and helps to quickly evaporate the moisture.
The cross fiber technology makes it stretchable, flexible, and durable yet prevents deformation by washing.
As said earlier, current users opine that it is true to size. That means that there will be fewer issues due to the size and you can expect to get the garment of a perfect size.
Moreover, the Nicewin replaces the garment if it is of the wrong size. They have excellent consumer support.
Pros:
The use of polyester and Spandex increases its elasticity and ability to dry quickly.
It helps to avoid friction and reduces moisture.
More durable compared to others.
Cons:
It does not have side pockets to keep things.
The front and rear views of the cycling shorts will give you an idea about the looks. Regarding the fabric, it is made up of 85% Polyester and 15% Spandex. Both of these materials help to keep it free from moisture, friction, and quick-drying ability.
Many users have commented that it feels very light just like a second skin attached to the body.
The wide elastic band helps to avoid stretch marks and makes it durable. A notable feature that differentiates it from other shorts is that it is made from one piece cloth rather than different pieces tied together.
The leg grippers are wide enough to prevent slipping and the soft texture prevents any skin rashes.
They keep the chamois pad in the right place, letting you enjoy a comfortable long ride without the leg grippers going up every single time you paddle.
As you can see from the above picture, cycling shorts are flat stitched thereby you can avoid the friction caused due to the stick marks on the garment. It has breathing holes for better functionality.
It has a compact, seamless chamois of foam. Users have commented that it is comfortable for short rides. It adjusts according to the body contours.
The pad has enough holes that allow air to flow and keep the saddle area well ventilated. This helps to prevent saddle sores and makes the fabric lightweight and breathable.
Though the product is manufactured in China, it is customized to be used by the people from all the countries.
Conclusion:
The main thing to look into while purchasing cycling shorts is the type of fabric used and the chamois. Chamois can be gel based or foam based. Both serve a different purpose, but gel based last long and are suitable for long rides.
This is so because there is a possibility that the foam may get pressed and get deformed if used longer.
Of course! It does depend a lot on the quality of foam used and whatever we have suggested here are all good quality foam materials.
The next thing to look into is whether the cycling shorts have pockets or any other attachment that can be used to keep things like cards, wallets, phones, etc. This is especially important if you are going on long rides.
The third and the most important thing often neglected by the people is the quality of chamois. Whether it has the sweat-absorbent capacity, breathable holes in it is the fact to be looked into.
It must be anti-bacterial to prevent any sort of bacterial infection.
Looking at all the above features, the product that we would suggest you buy from the above list is NICEWIN Men's Cycling Shorts. It is the only cycling sport available in the market with the combination of gel and foam together.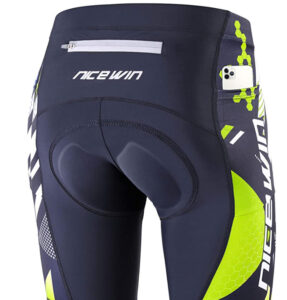 So what are you waiting for? Stay in shape, stay fit. Do let us know which of the above cycling shorts did you prefer to buy and we would be really glad if you could share your experiences after using the same.
Happy cycling!
X
You might want to hear this:
Russell said…
"Work great they are comfortable and was easily. I air dry them and they are working great. They don't take away all the discomfort but help a great deal!"