Our Top Picks
In these technologically advanced times, where everything has gone digital, one cannot deny a keyboard's importance. If you are thinking about buying a new wireless keyboard for your device, this article will help you. We have listed the best ones available in the market currently.
Apple products always top the list because of the incredible features it offers along with quality material. Talking about this magic keyboard, it comes with extended layouts, which make typing more comfortable. The document navigation controls are quite remarkable, too- you can quickly scroll through it. You would also get full-sized arrow keys, which makes playing games easier.
Pros:
The extended layouts of this wireless keyboard make document navigation very easy.
It has a scissor mechanism beneath each key, which improves the stability and enhances the typing experience.
The numeric keys are conveniently placed for all the financial works.
This fantastic wireless keyboard has a perfect size and is very lightweight (0.86 pounds). The design is relatively compact.
Cons:
It does not come with a tilt mechanism, which might be inconvenient for a few people.
It looks very plain as there is no backlighting.
This Logitech wireless keyboard comes with spherical dished keys that match the shape of the tip of your fingers. It would give you a smooth and seamless typing experience. If you want a compact design that offers stability and convenience, this is the one for you. It comes with hand proximity detection and smart backlighting features, which make its design more attractive.
Pros:
The spherically shaped keys offer a smooth and enhanced typing experience.
The efficient and compact design of the keyboard offers stability and precision.
It comes with automatic backlighting and features like smart illumination with hand proximity detection.
It is compatible with multiple devices and multi-OS, which makes the tasks of tech-savvy people easier. You can work on multiple computers with this wireless keyboard at a time.
Cons:
The overall contour of the keyboard is quite flat.
The price is on the higher side.
The J JOYACCESS 2.4G Slim and Compact Wireless Keyboard is a compact one and comes with a scissor-cross low profile structure. It is ultra-slim, very responsive, and noise-free. From quick typing to data entry, this one can be used extensively without any worries.
The best thing about this wireless keyboard is it works great across various devices like Windows and Mac Laptop, Desktop, Smart TV, etc.
Pros:
This one comes with really long battery life.
The design is very slim and compact.
It can be connected using a USB receiver; there is no need to install a driver.
Multimedia hotkeys are present for instant access and faster operations.
Cons:
The size of the keyboard is smaller than the standard ones. One might feel cramped while typing.
The keys come with hard touch and might be too intense for some people.
One of the highlights of this keyboard is that it can support three compatible devices simultaneously. The swift interaction system here enables you to switch between the devices very easily.
It is one of the best Mac compatible keyboards that meets the expectations of Apple users. This wireless keyboard is made of high-quality, durable material, and the ultra-slim design will take your typing experience to the next level.
Pros:
Its advanced Bluetooth technology helps in easy connection establishment up to a distance of 8m.
This Bluetooth wireless keyboard can be recharged easily using a USB cable.
The ultra-slim design and the scissor mechanism beneath each key gives a smooth and stable experience while typing.
It comes with multiple indicator lights for convenience.
Cons:
It does not come with a backlight.
It is compatible with only Mac OS that has 4.0 Bluetooth and higher.
It is one of the best keyboards for all the devices with Mac OS and features Bluetooth 4.2. It can easily identify the hardware system, which makes the connection to the device very quick. It comes with a rechargeable battery that can withstand 90 hours of continuous typing.
It can last up to 90 days on standby. This wireless keyboard has an efficient energy-saving mechanism that activates its power saving mode after 30 minutes of non-usage.
Pros:
It uses 2.4G wireless connection technology, which helps this keyboard to connect fast to various devices.
It comes with long battery life and is very energy-efficient.
This wireless keyboard is equipped with scissor-switch and low-profile keys, which helps in fast and swift typing.
It is a full-sized keyboard with various media hotkeys for convenience. It has a very sophisticated look.
Cons:
There is no way to mount the keyboard, which can sometimes get inconvenient.
This ultra-slim wireless keyboard comes with numeric keypads and supports various devices like laptops, desktops, smart TV, etc. It is compatible with Windows 7 and higher. It has up to six months of battery life based on 2 hours of continuous usage every day.
It is very lightweight and comes with all the necessary keys for convenient and effortless typing.
Pros:
It has an ergonomic design- made of durable materials like stainless steel; this wireless keyboard can last long.
It comes with an easy set-up. There is no need for a driver, insert a nano USB receiver in your system, and the keyboard would start working.
It comes with low-profile keys, which gives smooth and noise-free typing.
It consists of a rechargeable battery that comes with a long life.
Cons:
It does not have a numeric keypad, which can be inconvenient for people who work with numbers.
If you want the perfect typing companion for your PC, choose Macally 2.4G Wireless Keyboard. This fully equipped keyboard comes with all the keys for easy typing, and the sleek design would add aesthetics to your desk.
You can easily connect this device with your computer using its dongle; there is no need to install a driver. It comes with a kickstand, which makes the whole typing experience much better.
Pros:
It contains a foldable kickstand with anti-slip pads that would keep your device in place while typing.
You would have a swift and noise-free typing experience with the responsive keys of the wireless keyboard.
It is durable and spill-resistant.
It has a long battery life.
Cons:
It has a very compact structure, which can sometimes make the typing experience very cramped.
Buyer's Guide: How Do I Buy the Best Wireless Keyboards?
Buying a keyboard might not seem to be a complicated task, but you would need to consider many things to make an efficient purchase. Firstly, you should understand your requirements to buy the best wireless keyboard. There are various types of keyboards like:
Standard keyboard
It is the keyboard that most of us are acquainted with. It is appropriate for all office and school work. The standard wireless keyboard comes with qwerty keys- with or without numeric keys. These functional keyboards are compact and come with dedicated control keys for easy usage. It is made efficiently for fast and smooth typing.
Gaming Keyboard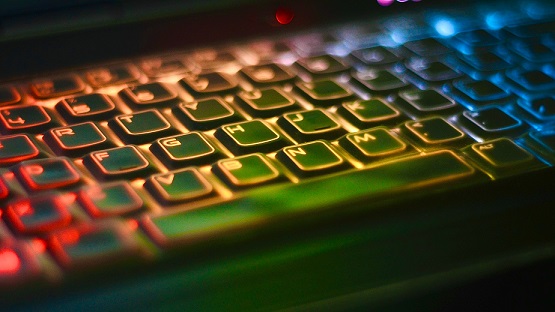 The gaming keyboards are equipped with a lot more features than the standard ones. It mostly comes with backlighting, which can be programmed to change as per the user's preferences. It comes with mechanical keys, which come with shorter key travel, making the overall typing experience relatively smooth. However, remember that some of these keyboards can be loud.
You can get both the keyboards and wired or wireless variant. The wireless ones are very portable, and they can be taken anywhere conveniently. These are very lightweight, compact and some are foldable too. So if you want to declutter and have a keyboard that you can travel conveniently with, wireless keyboards are the right choice.
How to find the perfect wireless keyboard?
If you are thinking about upgrading your keyboard, then the wireless variants can be a good choice. It is extremely portable, lightweight, and very convenient. It is a good investment that would give expected results, whether you are using it for work or playing games.
Wireless keyboards are one of the most versatile devices that are designed to suit your requirements. For example, if you travel a lot and want to keep the keyboard in a bag, go for the foldable ones. It would not only take up less desk space, but you can easily put it inside your laptop bags.
Some are spill-resistant too, which is quite convenient if you have the habit of eating in front of computers. Another advantage of wireless keyboards is that it causes less clutter. These are usually universal and can work with a variety of devices.
Before you decide to buy a wireless keyboard, consider the following features:
Keystrokes: It is crucial to choose the right keystrokes when you go to buy a keyboard. Test and see how the keys feel. While some people love working with soft-touch keys, others like the hard stroke ones. The various types of switches beneath the keys make all the differences- from feeling to comfort to the noise level.
Compatibility: The wireless keyboards get connected via Bluetooth, and thus it is essential to make sure that it is compatible with the device. Ensure that the keyboard you are thinking of buying would support your system properly.
Function keys: there are some extra function keys present on some keyboards that make the whole work process much more comfortable. One can also customize the shortcut keys very easily, which is very handy.
Design: You would get full-sized and compact keyboards to suit your needs. There are some keyboards where you will get all the keys, whereas some do not contain the numeric keys. You would get wireless keyboards that have a sleek design and those which are lightweight.
Depending on the type of work you do, like gaming or regular typing work, you should choose the ideal keyboard for yourself. The choice also depends on the price of the product. As you set up a budget, there will be choice restrictions, which would make your search easier.
Technical upgrades on these keyboards are occurring every time, and the features are getting updated. It is essential to understand your requirements first, do not go with keyboards loaded with too many unnecessary features that you will not need.
Remember that the more advanced and equipped keyboard you buy, the greater would be its range. Go for brands that offer a warranty and good after-sales service if you face any issue with it. It is vital to read reviews as well, as it would help you to understand how the device works in real.
Wireless Keyboards: Conclusion
After reviewing all the above wireless keyboards and many more, we can conclude that the Logitech MX Keys Advanced Wireless Illuminated Keyboard is a winner. It is easy to work with and has excellent connectivity to all types of devices. Even though its price is on the higher side, you would surely love its functionalities- the investment is undoubtedly worth it.
X
You might want to hear this:
S. Cooper said…
"Love it! The keyboard works great on my iMac. It's so much more convenient and easier to handle than the one that came with my desktop. The size is perfect and the keyboard functions are amazing!"