Let's talk about Best Standing Desk Mat.
But first, listen to this:
Sitting at a desk for hours a day isn't good for you. Sure, part of it has to do with lack of moving around, but it also can result in joint and back stiffness/pain.
So a lot of people nowadays are finding

health benefits in using standing desks instead.
Of course, using a standing desk can result in the obvious problems of getting tired standing.
To that end, you can use a standing desk mat!
Essentially, these help to make standing desks easier on you and your feet: together with the standing desk, they make the ultimate combination.
But you don't only need to use it for a standing desk: a lot of people find these mats are GREAT for people who just need to stand around a lot in a certain area, period.
So if you have to stand for a while to do the dishes, for example, many of these are great.
Let's dive in:
How do I choose the right standing desk mat?
There are a few major components that are key in finding the right mat:
The price, the nature of the surface's texture and shapes, and quality/durability.
For the most part, the prices of the products here are in the same general range. There are some differences, usually of just a few bucks, but largely these are in the $50-$60
range.
That's a pretty normal range.
While you should be the ultimate judge on what prices are acceptable to you, I urge you to remember that price alone isn't everything—a product that lasts can save you money in
the long run.
So that's why, of course, quality is another thing to take into account.
Now by all accounts, the products listed here are pretty high quality. They've been very well received by customers.
However, when a product has a consistent number of similar complaints—even if they're few in number—it's noted.
The physicality of the mat—the different types of textures on the surface, and the different raised shapes—matter a lot, but it's more subjective.
Simplest way of putting it: some people want really dynamic mats that provide something new every time you switch up how you stand, and a gazillion combinations of stances.
But others might want a simple mat that has some options for stretches or special stances that are more out of the way.
Of course, while those are the main things, there's more to look at: warranty is pretty important, especially if you're uncertain about buying an online product that needs to
last.
So is size—a lot of these are in the same general size range, but an extra few inches here or there can make a mat significantly more comfortable…or significantly easier to trip
on.
Here's a table outlining some major differences between the mats on this list. Note that 1) just about all of the products have 4.5 stars or close, 2) the numbers given for size
reflect the dimension at its largest point.
For instance, a width of 28" would mean 28" at the widest part of the mat, but other parts of the mat may be less wide—these aren't usually perfect rectangles.
And they usually have varying thickness.
| Mat | Price | Simplicity/Complexity of Surface | Size | Warranty? | Bonus quirks/features | Special comments |
| --- | --- | --- | --- | --- | --- | --- |
| Saratoga | $53.95 | Overall simple: 2 different textures, a few different shapes. The middle of the mat is spacious and simple. | 26.7″ wide; 23″ long; 3.5″ thick | Length unknown, but "100% money-back guarantee" | 1 free massage ball | N/A |
| Clever Productions | $64.10 (with Prime) | Overall simple: 3 different textures, a few different shapes. The middle of the mat is spacious and simple. | 26″ wide; 24.5″ long; 3″ thick | 7 years | N/A | N/A |
| Sokiss | $96.99 | Overall simple: 2 different textures, a few different shapes. The middle of the mat is spacious and simple. | 27″ wide; 22″ long; 3.5″ thick | Lifetime | 2 free massage balls per mat (4 total) | At the time of this writing, only available in packs of 2, minimum (hence price). |
| Treat My Feet | $59.99 | Overall simple: 2 different textures, some differences in shape. | 26″ wide; 22″ long; | N/A | 1 free massage ball | N/A |
| Eazeemats | $58.59 | Complexity in the different shapes and angles of the mat, but not much complexity in texture. | 28″ wide; 24.5″ long; 2.6″ thick (max) | N/A | 2 free massage balls, as well as a unique ridge in the center. | Tax likely adds about $4. |
| Fezibo | 49.99 (with Prime) | Not much differentiation in shape; multiple textures | Unknown | 2 years | Regular orientation of mat involves a unique balancing; mat can be flipped over to reveal flatter surface; multiple colors. | Amazon's Choice. |
| Butterfly | $49.97 | Only a couple textures, but many different shapes if choosing the buttergly option. Extremely simple if choosing 'half rug' option. | Regular shape: 30.5″ wide; 18.5″ long; 2.4″ thick. | N/A | Shaped like a butterfly (if you choose); 3 colors to choose from; 2 models to choose from | The official dimensions are larger, but those extra inches are part of a downward slope that's harder to stand on. |
With that in mind, here you go:
Okay, ready to dive in? Let's start with:
Yes, quite a mouthful there, I know. Here's what it looks like:
Here's the gist: Saratoga's mat is on the lower side of price here, and is a little simpler, but
still provides everything you need.
Because it's simple and has some consistent complaints about quality, it's not higher on this list (though you should note it still has an overall high rating).
Pros:
One of the more affordable options here (though only by a few bucks, so don't let that sway you too much).
The shape and design make for a spacious standing area.
On that note, the surface is a little simpler in terms of the different textures. It still has important ones though: the key point here is that you can still workout different poses, stretches, and massage your feet. I think for some people, it's a great combination of simplicity and features.
Comes with a massage ball.
Cons:
Simpler than some other options here in terms of the number of textures. Yes, this is a positive for some, a negative for others.
For a small, but consistent number of people, the material at the base is lacking: it's too thin, and not much better than standing on the floor.
As with the previous point, a small but consistent number of people have found it falls apart quickly—particularly, the raised circular bits on the back edge that are meant for massaging have fallen off for a few.
See Saratoga On Amazon
This standing desk mat comes from Clever Productions, and it's a good option for certain people.
Here's where you can see more about the mat, and at a glance, this is what it looks like:
The short version is that this is a thick, spacious standing desk mat. It's a little simpler than some of the other options here, but also roomier.
More details:
Pros:
Very firm and thick.
Incredible 7 YEAR warranty, which is among the most competitive here.
The shape of this is very square-ish. The advantage of this is that you can move your feet around freely with a lot of room, without having to deal with too much irregularity at certain ends.
There ARE slight differences in texture, which is useful for repositioning and getting into different postures, though it's not crazy.
Cons:
It's expensive if you don't have Amazon Prime, at just under $100. If you do have Prime, it's a few dollars more expensive than some of the other options here, at just under $63, which is a super hefty discount.
A handful of complaints that the material isn't high enough quality.
Not very stylish, though I doubt that is going to be a deal-breaker for most of you.
See Clever Productions On Amazon
This product from Sokiss is in fact…2 mats. At the current moment you can only buy packs 2 at a time.
Whether that's desirable or not for you, here's what it looks like:
Overall, it's a pretty solid mat. It's similar to some of the other options here
Pros:
At the time of this writing, you can only buy a pack of two at a time. This makes the price much more understandable.
Comes with two free massage balls per mat.
A lifetime warranty! This to me is what makes the higher price much more reasonable.
Pretty spacious: the dimensions are on the higher side but not too out of line compared to others here. However, it has a lot of space in the middle that makes moving around easy.
Cons:
Expensive! At the time of this writing, $96.99 even with Prime. Yes, there's a lifetime warranty and it's for two mats, not one, but some would prefer being able to buy just one mat. This being a 2-pack is a pro for some and con for others.
Some complaints of material quality and the product falling apart—but those are a year old by now.
See Sokiss On Amazon
Treat My Feet's mat is similar to a lot others here on the basics, but there are some differences.
Basically, this one is extra good for people who want to wear shoes while working, and less optimal for people who want to wear socks or go barefoot.
Of course, it's still fine if you want to forego shoes, just less so. Check out the pros and cons, plus the image, to see what I mean.
You can view and order Treat My Feet's desk mat here.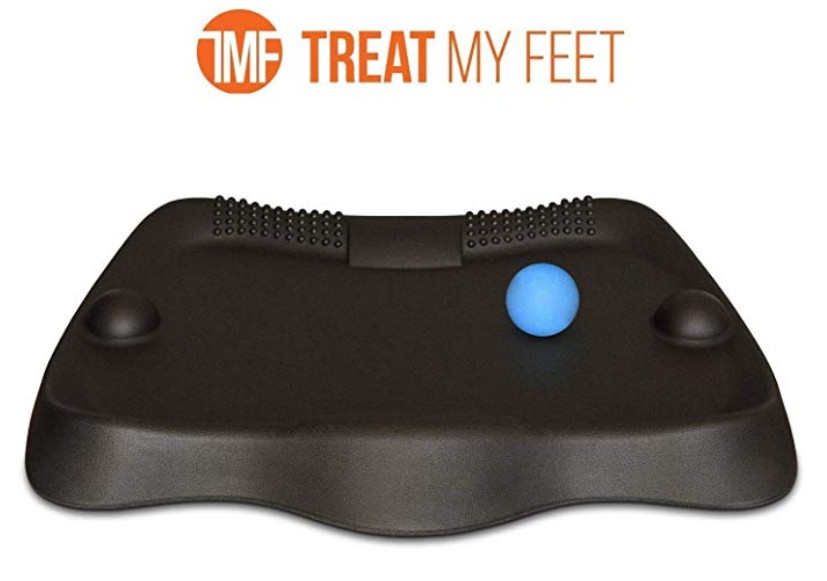 Pros:
The shape of the mat is well-suited for two feet, and is good for allowing different feet positions.
Comes with a rolling massage ball, though just one.
A couple different textures in surfaces: one end has raised grooves to massage the feet on.
Some of the surface shapes (particularly the raised round parts on the sides) are great for those who want to wear shoes while standing on their mat.
Cons:
Also on the pricier side, though again, nothing crazy.
Some people may not like the different textures throughout the standing area of the mat. Consistency and flatness may be preferable to many.
If you're not wearing shoes, some of the ridges may be too harsh/uncomfortable on the feet. You can still enjoy the mat, but your feet would be more limited in where they can go.
See Treat My Feet On Amazon
Eazeemats' extra-large standing desk mat is a great option for those who tend to fidget or otherwise like to move around a lot.
The gist: like any good standing desk mat, it's comfortable—but it also is great for absentmindedly shifting around.
You can check out the mat here.
Pros:
Fun! It lets you absentmindedly play with the mat using your feet and move around. A great option for people who can't stand still.
Great for massaging your feet as needed.
2 free massage balls included (part of why it's good for massaging feet as needed and for absentminded movement).
Stays steady (won't slip) but also can be easily moved and rotated to new positions.
One of the largest options on this list, though it's not larger by an insane margin (28" long at its longest point, which is 1-2" greater than most).
Cons:
On the pricier side (as far as options on this list go), though it's nothing too crazy.
Some people may not like the ridge in the middle.
Although the dimensions are some of the largest, the shape that is narrower at one end takes away from the ability to fully experience the size.
Although there's a unique array of shapes for massaging feet and standing in different positions, there is not much difference in texture.
See Eazeemats On Amazon
Like the Butterfly mat, Fezibo's mat is one of the more unique options here.
Have a look: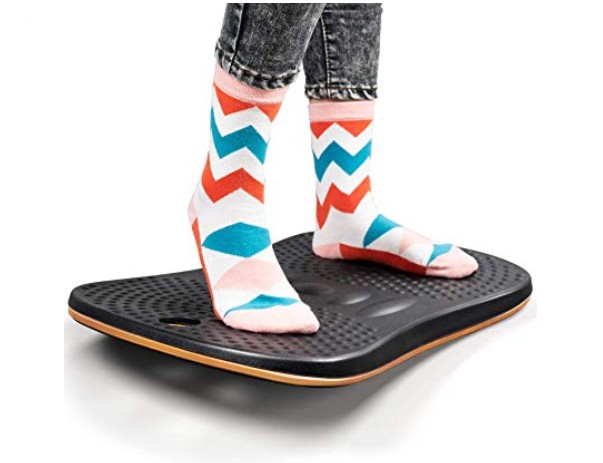 The mat's unique design has the user perform a sort of balancing act that isn't too strenuous but also keeps you active. It can be flipped for something simpler.
Plus, it's got different textures, is highly rated, and affordable.
Pros:
Has a high rating from hundreds of reviews, instead of a high rating on the scale of dozens of reviews.
In addition, it has the distinction of being Amazon's choice.
In the affordable, just-under-$50 tier of mats.
Great at not just stretching out and reducing standing fatigue, but also involving some small amounts of exercise.
Multiple colors (though not many). Also, it could just be me, but it looks cool.
Can be reversed: flipping it over reveals an un-textured, flat surface to stand on.
2-year warranty!
Cons:
If you don't have Amazon Prime, it's pretty expensive—a few bucks under $100.
Although it's by design and great for some people, the dynamic nature of this mat will also turn some people away. In particular, people who need the option of moving around but also want a reliably steady surface.
Several, consistent complaints about durability: in particular, the foam top is known to chip away and fall apart after 2-3 months.
A few have found the curved nature of the top surface forces the feet and knees to angle inward, which can be a strenuous posture and bad for the knees. Only a few have made this complaint though: the VAST majority of other people have found it to be great for fatigue and pain.
See Fezibo On Amazon
This one is pretty unique. Here's what it looks like: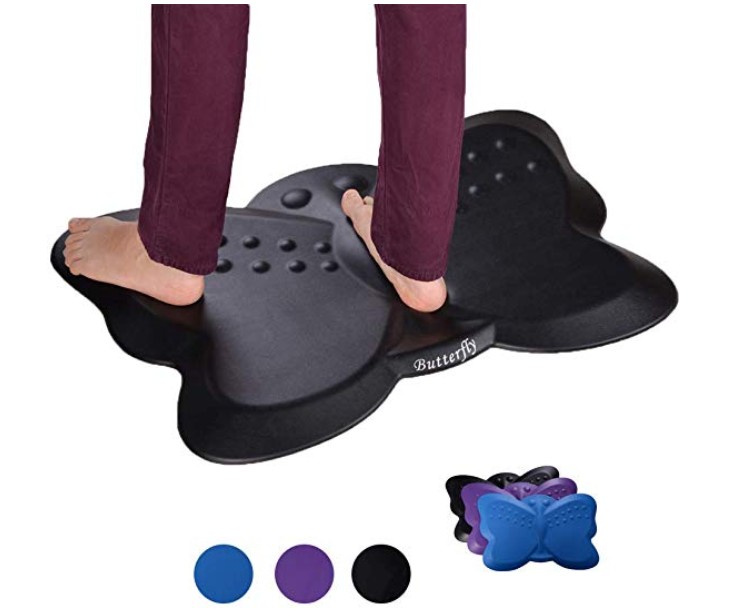 As you can see, the butterfly shape does not actually throw off necessary dimensions for a desk mat too much—in fact, it may possibly be nicer than usual.
You can check out the mat here. And now for the pros and cons:
Pros:
In the cheaper tier of items on the list, at just under $50 (if you have Amazon Prime).
Has a lot of options: multiple color choices, 2 shapes to choose from (a butterfly shape and a more "normal" mat shape, different levels of sturdiness, and multiplesizes.
Even within the butterfly shape, there are two "generations," offering different levels of thickness, softness, and different levels of 3-D texture.
Even the smallest size is much wider than the other mats here.
Very high rating while also having some of the largest amount of reviews (about 488 compared to mere dozens on the other options here). Other mats here have similarscores (4.5-4.6) but haven't had the same level of vetting.
Cons:
Although the width is good, the length is shorter than some other mats—so you have some room to move around, but only in a certain axis.
A few complaints that the ridges/raised areas need to be more prominent, and are largely ineffectual.
A few complaints that the mat skids around, and feet/shoes may end up sticking a little to certain areas.
Not a lot of different textures.
See Butterfly On Amazon
Conclusion
While it's not going to be exactly accurate for everyone, these are the seven best standing desk mats for 2023.
At the top of the list (numerically—technically, it's the bottom) we have a product known to be of high quality, with a super unique design and multiple textures and a low price.
For combining a lot of good things without suffering too many serious downsides or complaints about quality, plus giving options to the consumer (in terms of shape, color, and
model), the Butterfly mat has well-earned its top spot.
At #7, we have a mat that's overall good for most people, but has some consistent complaints about quality and durability that holds it back in the ranking.
Of course, you may find our #7 to be perfect for you if you have your own select taste—so remember that this is still subjective.
But there you have it! Stay healthy with your standing desk mat, friends!
X
You might want to hear this:
Emily said…
"High quality exactly as ordered – my feet/legs love the different positions you can get into to change how you stand. Great product"