Our Top Picks
To save you time, here's a short list of the best ergonomic office chairs we recommend.
An ergonomic office chair isn't just any ordinary chair: it's a chair with design features and considerations that make sitting not just more comfortable, but healthier.
Whether you want to work more comfortably in the office, work more comfortably from home, or are a workaholic who needs to have a chair for sustained use, an ergonomic office chair is the thing for you.
SAMOFU's ergonomic office chair is decently priced, comfortable, and has some other good perks that make it one of the best ergonomic chairs around.
There's not much holding back—some complaints are consistent, but the overwhelming majority of customers find it a comfortable chair.
What puts it at the top of this list? It's the best received and not that expensive.
Pros:
Decently priced
Consistent comments that assembly took 5-10 minutes
Adjustable recline with option for 3 locked positions
Adjustable flip armrest
5 year warranty
Highly rated (4.6/5) with dozens of reviews to back it up
Cons:
Some complaints of defects shortly after purchase, though there are very few of these
The adjustable flip armrests mean you can't adjust armrest height, just shape
Headrest not very adjustable
SIHOO's office chair is a bit more unique as far as these office chairs go. It may be perfect for some, but not ideal for others.
Basically, that's because this chair offers some features that are unique, AND does not offer some features that are more common.
So it depends on what you like, but overall, this ergonomic office chair has been warmly received by buyers and stands out from the crowd.
Pros:
Adjustable/pullout footrest included
Adjustable lumbar/back shape depth—with 3 gears
Adjustable backrest tilt is up to 170 degrees, which is a lot more than most chairs, plus the recline can be fixed in place
Suggested maximum weight of 330 lbs is higher than what most ergonomic chairs offer to support
Highly rated (4.6/5) with dozens of reviews to back it up.
Cons:
Armrest is linked to the back-rest, which may provide sturdiness preferable to some, but also means it can't be adjusted
Headrest is not adjustable
You may or may not have heard of Nouhaus. Nouhaus is a more artsy, cutting-edge brand that focuses on design and elegance.
That shows with their Ergo3d ergonomic office chair, which has a more unique look as well as acclaimed comfort and reasonable pricing.
Pros:
Reasonably priced
Choice of colors, with blue in particular being cheaper than the others
Sturdy iron base
Dynamic lumbar support responds to the amount of pressure placed on the chair, pivoting with you
Adjustable armrests can change not just height, but direction
Adjustable headrest can go up and down as well as different angles
Free set of roller blade wheels included
Highly rated (4.3/5) with nearly 2,000 ratings to back it up
Cons:
Ideal for adults up to 275 lbs, which may limit some
Consistent complaints that the mesh is saggy or loses firmness shortly
Consistent complaints that back/lumbar support is not sturdy enough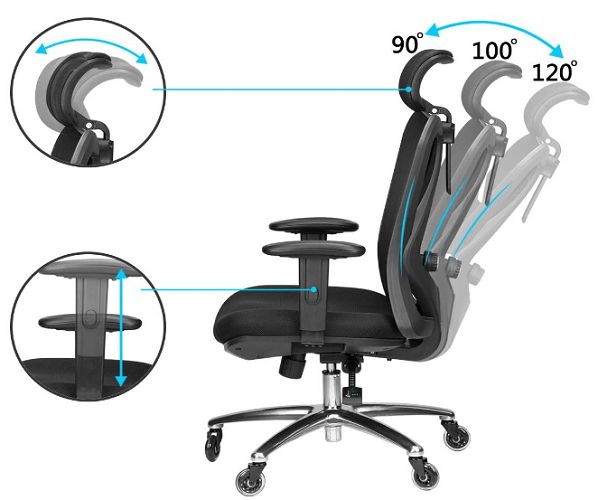 A large part of what puts Duramont's ergonomic office chair on this list is its flexibility. Just about everything can be adjusted, making it a great option for those who like to change up their seating positions throughout the day.
Additionally, it's been pretty well-received by many people and doesn't cost too much.
Pros:
Reasonably priced with a Prime discount, and the regular price is still fair
Adjustable seat height and armrest height
Adjustable headrest angle, adjustable lumbar support
Recline feature
90 day money-back guarantee
Easy assembly
Manufacturer's recommended max weight of 330 lbs is higher than what most competing chairs tolerate
Highly rated (4.3/5 stars) with THOUSANDS of reviews to back it up. Almost everyone, even those with more critical reviews, agrees it's a comfortable chair
Cons:
A tad on the pricier side, though it's well worth it for all the pros
Some complaints from taller customers (6ft+) about discomfort when sitting upright
Some complaints about armrests: they have a concave 'U' shape, which is good for arms that are pointing straight but uncomfortable for arms angled inwards (like on a keyboard)
The gist for BERLMAN's ergonomic office chair is that it's simple, but good.
It doesn't have all the features that the other options on this list have, but it also is a lot less expensive than many of the other options on this list, and has still been very well received.
So if you're overwhelmed by options and/or on a budget, BERLMAN's chair should be higher on your personal list—perhaps in top spot.
Pros:
Very affordable; one of the cheapest options on this list
Foldable armrest
Adjustable seat height and recline
Adjustable lumbar support
Very light, physically—just 33 pounds
Highly rated (4.4.5/) with hundreds of reviews to back it up
Cons:
Best for supporting up to 250 lbs, which is less than most other options
Consistent complaints that the back support is not enough
Consistent complaints that armrests are not very comfortable
Bilkoh's ergonomic office chair is pretty good: it's comfortable, adjustable in several ways, and the pricing isn't too bad.
The only thing that holds it back on this list are some consistent complaints about certain features—but those are firmly in the minority, with the vast majority of users finding it very comfortable.
Pros:
Easy installation/set-up
Adjustable incline
Adjustable headrest
Armrests can be adjusted up and down, left-right, back and forth
Highly rated: 4.2/5, with hundreds of reviews to back it up. The consensus is that it's comfortable
Cons:
Consistent complaints that armrests are flimsy
Consistent complaints that the chair sometimes wobbles or is less firm-feeling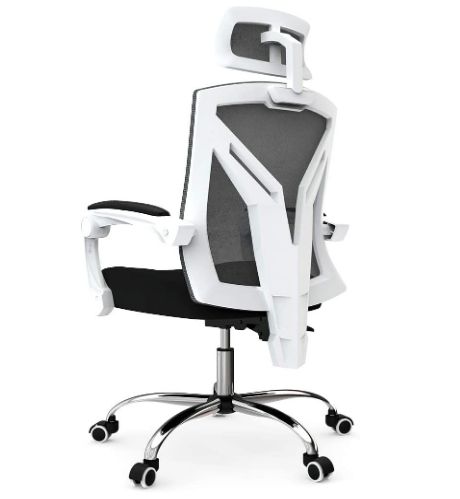 Hbada's ergonomic office chair is very unique looking. It's a bit like BERLMAN's chair in that it's great for those who want a simpler, affordable buy.
The main reason Hbada's ergonomic office chair isn't higher on the list is that it has mixed reviews. However, there's still an overall consensus that the chair is comfortable.
Pros:
Very affordable; the cheapest option on this list, even more so if you have Prime
Unique design with choice between black or white
Can recline up to 150 degrees, which is more than most, plus can lock in position.
Very light, physically, at 19.8 lbs
Consistent praise for comfort
Cons:
Reviews are more mixed (3.8/5) though the consensus is still overall solid
Maximum weight of 228 lbs may limit some heavier customers
Consistent complaints on lack of sturdiness and durability
Not very adjustable compared to other chairs
Our Winner
Ultimately, we have to give the win to SAMOFU's ergonomic office chair. At the end of the day, it has just about everything you need for a relatively good price, and has been beloved by customers.
However, remember that the best ergonomic office chairs for you may not be ordered the same way as this list. Everyone has their own preferences and constraints.
So if your priority is to pick the best value or budget ergonomic office chair, BERLMAN's chair might be the best for you. If you want a ton of adjustable parts, then the NOUHAUS Ergo3D Ergonomic Office Chair may be best for you.
You get the idea. If you're still thinking, don't worry—check out our buying guide below.
Buyer's Guide
Want To Share This On Your Site? Just Copy The Below Code!
Picking the right size(s)
Even within the category of picking the right size, there are many things to look for. Speaking generally, these are the sizes to keep an eye on:
Height of the seat from the ground, both at maximum and minimum: this affects whether your legs will inevitably dangle from the floor or whether they'll be too close to the ground.
The height of the headrest, and whether its adjustable
The spaciousness and width of the seat—you don't want to be confined
The depth of the seat, so your back is against the back of the seat
The amount of weight the chair can hold or is recommended to hold. Technically this isn't chair size, but it's close enough.
Now, in case you're feeling overwhelmed from that, don't worry:
If you've got about an average size yourself, in terms of height and weight, you will probably not have any size issues with most ergonomic chairs.
A seat width of 17-20" is standard, and should be fine for most people. A standard seat depth would leave 2-4" between the back of your knees and the seat.
If you're taller, heavier, or even shorter than average, then you should pay more attention to the dimensions of the ergonomic office chair. Though usually it's taller people who have issues with chairs being too small, than visa versa.
On the other hand, however, keep in mind what I said when you look at customer reviews on the ergonomic office chair you like.
For example—consider this review from a dissatisfied customer, who bought the SIHOO ergonomic office chair:
That sounds like a fair complaint, right?
Here's the thing:
The product description, and the manufacturer, clearly state that the recommended height is below 6'3". And the guy's review is recent enough that it's unlikely they only updated the description recently.
So it's important to always read the dimensions and sizing carefully—you may even want to contact the manufacturer directly if product descriptions and reviews are not clear enough.
As a last resort, take note of the chair's dimensions and overall shape, and compare it to similar chairs that do have recommended heights (and weights). You can even measure or dig up your existing chair's measurements for a handy reference.
Adjustment features
This overlaps with sizing/chair dimensions, but is worth its own focus from you. Adjustable parts are one of the highlights of an ergonomic office chair, but they're not a prerequisite.
While it's easy to get carried away looking at all the things you can adjust in your ideal chair, don't forget to ask yourself an important question first:
Do you really want those adjustments?
This is important because they often mean the chair will be more expensive. And one can be very happy with a chair that can't be adjusted much as long as the chair itself is comfortable and well-designed.
That being said, adjustments are useful, not just for fun, but for practicality:
It can help your workflow and if you have back, leg, or shoulder pains or stresses, then being able to adjust your seating is a life saver. Especially as everyone's body is different, adjustments let you ensure the chair works for you.
Then, however, you need to consider what you want to be adjustable. Some people want everything to be adjustable.
But many may not care too much about the armrests, for example. The "essentials" for most people would be the basics (like seat height) but also headrests and recline angles.
If you are specifically looking for a chair because you have back pains or injuries, it would be good to not just get any old chair with lumbar support, but one with adjustable lumbar support.
Or if you just really are prioritizing posture/health with your chair purchase, lumbar adjustments are also great.
Some more on that topic:
Lumbar support
This is one of the most important aspects of an ergonomic office chair, since it's sort of the point of an ergonomic office chair in the first place. But it's also one of the hardest to assess online.
However, it's not impossible.
First, your instinctive/common sense approach will be helpful: looking at reviews. If a ton of reviews say the lumbar support is bad, that's probably a bad sign that makes a purchase riskier.
If you only see relatively few complaints, they may be one-offs. The fact is no chair is perfect for everyone and many people have unique physical problems, so even the best ergonomic office chair can still get a bad review.
Now aside from just gauging reviews, you can assess things somewhat by looking at the product specifications themselves:
Do they look like a spine? Specifically, do they fit the curve of the lower back?
It sounds laughably simple, but you'd be surprised how useful it is to screen this way: some bad ergonomic chairs look wrong when you examine more closely.
And as stated, if adjustments for lumbar support are an option, that can be great. While it depends on the specific product, this would allow you to tweak the most important part of the chair in a way that's good for your back, rather than being forced to rely on the default position.
Other basics
After the points raised thus far, most of the rest is stuff you can figure out for yourself. Is the seat cushion thick? Does the seat's back look comfortable, breathable?
One thing to look out for is the armrests. This is an easy point to forget, but sometimes armrests that seem appealing aren't as good in practice.
The best way to figure out whether the ergonomic office chair you want has good armrests is to pay attention to how you work at your desk, plus what's healthy.
If you're among the majority of people who are going to be working on a computer while they sit in their economic office chair, then your arms will likely be pointed inwards at the keyboard, with the elbows jutting out in opposite directions.
As you can expect, if the armrests are adjustable, that can go a long way to improving armrest positioning. It's still good to keep an eye on shape, however, as that tends to be more fixed.
Many would also want to keep an eye on the wheels. If you don't work alone, or you're just sensitive to noise in general, you'll want to avoid wheels that squeak or roll loudly.
Conclusion
And that's all she wrote, folks! As stated, the best overall is SAMOFU's ergonomic office chair, but that's just general advice.
It's best to take time to think about your needs. It's okay to be a bit picky! There are many great ergonomic office chairs, and at least one on this list will probably do it for you.
X
You might want to hear this:
Dovi said…
"Love how comfortable this office chair and I LOVE how it leans back. Overall, quality is very strong and the chair was a breeze to set up. Maybe 15 mins"