If you have a digital business, you need to have a Chat Support System. Having Live Chat Software for your online business helps customers solve their doubts. Choose the Best Live Chat Software for your purposes.
Best Overall: LiveChat Software
Easy User Interface: Tidio Live Chat Software
Best Service: Live Agent Chat Software
Most Cost Effective: Chatra by Brevo
Best Customer Support: Smartsupp Live Chat Software
Suppose you are buying something from an online store. You are in a dilemma about some products and need urgent help. Wouldn't you expect an instant, real-time response from the company? The same goes for your customers.
The time is running out too fast to wait for an email reply. None of us wants to be in a queue while calling customer service. A real-time chat is a wonderful solution for e-businesses. Your customers can get help then and there.
Let us look at the 5 Best Live Chat Software for your online business.
LiveChat is a brand name in Customer Chat Support Software. Over the years, it has catered its services to big companies like Ikea, Adobe, Atlassian, etc.
The company has 4 different plans to offer, starting at $20 per month. There are plans for every type of business. If you have a small home office, the starter pack is for you. You can purchase the "team" plan if you have a dedicated team.
If you are a company that has a customer service department, go ahead with the "business plan. It costs $59 per month. For global companies, an "enterprise" plan is available.
What We Like
The chat interface is simple to use
There are so many chat features, including widget customization
You can download various reports, like data summaries and ecommerce reports
What We Don't Like
Only 14-day free trial is available
They do not offer Demo Service
Tidio is another popular Live Chat Software. The reason for its popularity is its easy-to-use chat interface. Not everyone is comfortable using chat support. If your customers belong to an older age group, they may need a simple chat window.
Tidio makes sure that customers of all ages get help while using the chat service. You can book a free Demo before buying the Live Chat Software.
You have multiple plans to choose from. There are 4 standard plans. You can get a completely free plan. The starter and chatbot packs cost $29 per month. The price of the Communicator plan is $25 per month.
Tidio offers bundled and personalized plans as well. A personalized plan starts at $394 per month. Various addons are also available.
What We Like
The pricing is budget-friendly
A free demo and free plan are available
Tidio offers a lot of plan customization
What We Don't Like
A chatbot plan may require technical knowledge for you to set up
Their customer service (for your help) is available only five days a week
Live Agent has been in this industry since 2006. Over the years, they have developed various real-time chat features.
They have 3 Business plans and an enterprise plan. The most cost-effective plan — a small business plan costs just $9 per agent. $29 per agent is the price for a medium business plan, and a large business plan costs $49 per agent.
You can pay the charge per month as well. But here, the price range increases. The small plan will then cost you $15 per month. Likewise, you can check other plan rates on their website.
The enterprise plan costs $69 per agent (monthly) or $85 per month (for more than 1 agent).
What We Like
You can buy the plan agent-wise or on monthly basis
You get email IDs and WhatsApp numbers for your business
Live Agent provides free services as well but with some limitations
It provides multilingual support
What We Don't Like
Purchasing the plans agent-wise can be expensive
As per some customers, Chat UI needs improvement
Some features require technical knowledge
Chatra is working with Brevo, a leading CRM suite. They aim to provide amazing real-time chat software. Together, they offer various customer services. Some of them are SMS Marketing, WhatsApp Campaigns, and web push notifications.
Chatra, too, offers a free plan. This plan applies to a single agent only. The other two plans are an essential and a pro plan. The essential plan costs $17 per agent per month. The latter costs $23 per agent per month.
This is the price range if you select a yearly package. If you want to pay month-by-month, charges may go up a bit.
The free plan has many features similar to those of the paid plan. You can use the free Live Chat software on WordPress, Shopify, etc.
What We Like
They have extensive offers in each plan, including the free one
You can streamline your common inquiries across all platforms
What We Don't Like
You do not have a lot of plans to choose from
A few users feel the company needs to improve their customer responsiveness
The software may lag sometimes
The trial period is only for 10 days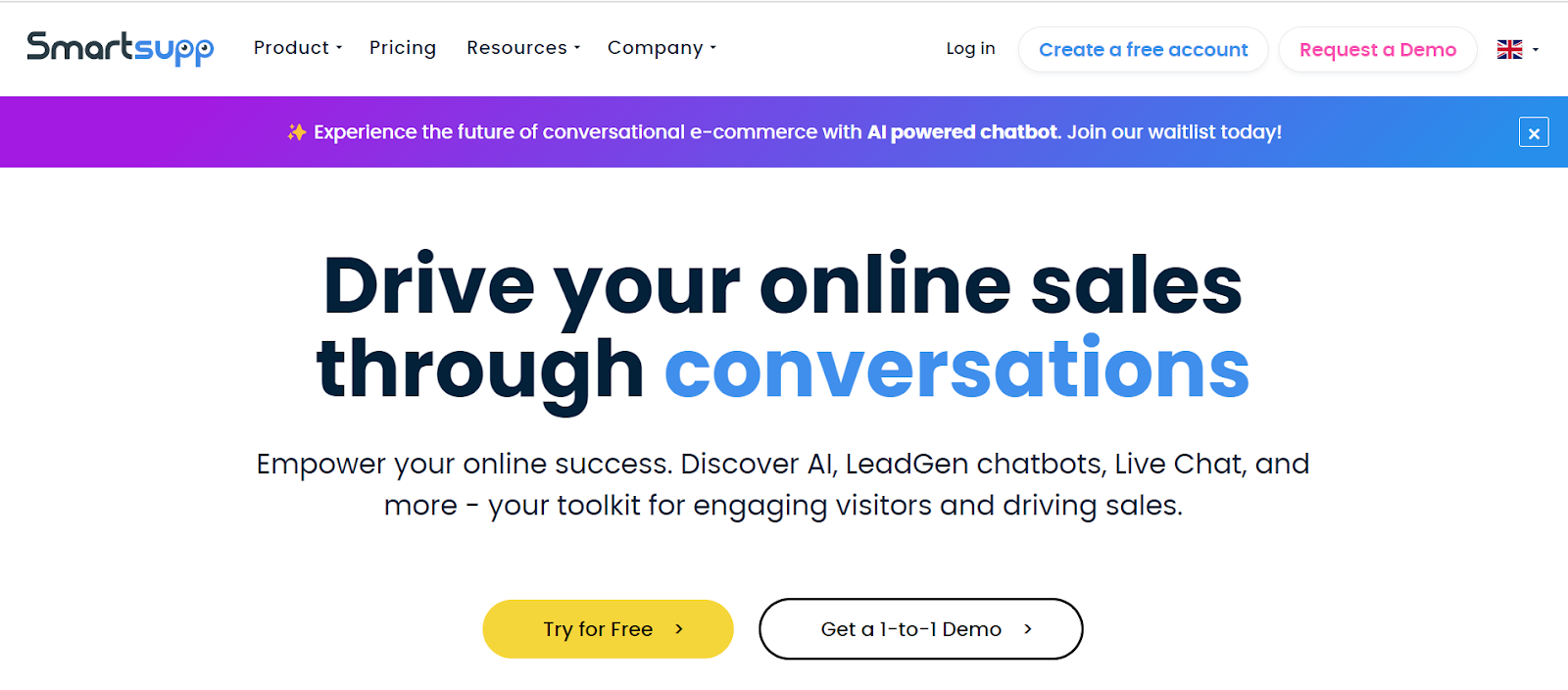 Smartsupp has been working since 2013. The company believes in taking customer communication to the next level.
You can request a demo if you want to try the services before buying them. If you want to purchase the plans, here are the pricing details. You can get a lifetime free plan, but they offer hardly 4-5 features in it.
Other plans include a standard and a pro plan. They cost between $19.5 and $48 per month. If you buy a yearly package, you get 20% off your billing amount. The ultimate plan is like a tailor-made solution. You can design it from scratch as per your needs.
What We Like
Agents can see visitors' screens (after visitors share it) to help effectively
Chatbox customization is easy
The chat box is not too big and is simple to navigate
What We Don't Like
Plans are for up to 3 agents only. If you want to add more agents, you need to pay extra amount
The free plan allows only 100 conversations per month
You will have to pay separately for AI replies and chatbot conversations
The Best Live Chat Software
We always try to bring the best recommendations to our readers. All five 5 Live Chat software are amazing and provide extensive features.
We understand that having so many suggestions can be overwhelming at times. Here's breaking it down in simple terms for you.
If you are okay with spending money and want the best in Live Chat Software, LiveChat is for you. The features they offer are limitless and rightly work towards customer satisfaction.
For those willing to have a simple chat UI, Tidio would be a great option. What makes it stand out from the crowd is its customization. You can mix various features into your plan or combine 2 plans. You get to set up the UI as per your convenience.
Do you have your business email ID and WhatsApp business account? If not, you will get these in Live Agent's plans. Their real-time chat software allows you to set up multiple languages. This way, you can interact with your customers without a language barrier.
Chatra has a lot of features in each of their plans. You need not worry about adding several add ons or services. We suggest you try this if you have a tight budget.
Smartsupp will be a good choice for those who want a small chat box. It is easy to navigate. There are ample customization options for you.
Live Chat Software Buying Guide
Live Chat stands as a bridge between your customer and your business. The better the chat process, the bigger the business's profits. Below are a few points you must consider before buying real-time chat software.
Focus on your objectives
Your first preference should be for the business you own. Let's say you own a shoe brand. Your customers are more likely to ask which one to buy. If you sell digital services, your clients may want solutions to their queries.
You need to choose a Live Chart Support company that offers sales or support services. It is better to choose the one that offers both.
Customization
Real-time chat software should be accessible to everyone. Make sure you can personalize it in your own way. If you add a touch of your own business to it, customers will like it more.
Align the chat widgets with your business idea. Make it more user-friendly for your customers.
Mobile Application
Agents should be able to attend to customers on the go. Having a mobile app comes in handy so that agents can answer clients questions from anywhere.
When customers receive an instant response, they are more likely to become regular buyers.
Conclusion
This was it for our 5 Best Live Chat Software. We advise you to explore more options in case none of the above fit your business. You can always come back to this blog to compare the various plans.
Our Buying Guide will help you find the Best Live Chat Software for your online business. Each point will help you get clarity on what suits your business best. What more features do you think a real-time chat should have?
We have a lot of reviews for each of your requirements. Click here to learn more.