If you are searching for a portable blender then you are in the right place. After reviewing various kitchen products like air fryers, portable blenders, indoor grills we got many queries from our readers regarding different products.
Today we are reviewing in detail the Lacomri portable blender. We have already reviewed it earlier but this article will give you detailed information about the Lacomri portable blender.
Before investing your time in reading further we would like to share product specifications, pros, and cons with you so that you are in a better position to judge the product.
Pros:
Very handy and easy to use
USB rechargeable
Glass jar free from BPA
Safe to use with additional safety features
Cons:
Available only in white color
Not suitable for hot products for temperature exceeding 150°F.
No extra jars or gaskets are available with the product.
Technical specifications:
| | |
| --- | --- |
| Capacity | 14oz |
| Batteries | 2000mAh |
| Motor | 120watts |
| Material used | BPA free |
| Speed of rotation | – |
| Blades | 6 blades made of stainless steel |
| Charging device | USB cable |
| Charging time | 2 to 3 hours |
| Intended use, once charged | – |
| Safety | Does not operate unless properly assembled. |
PROS: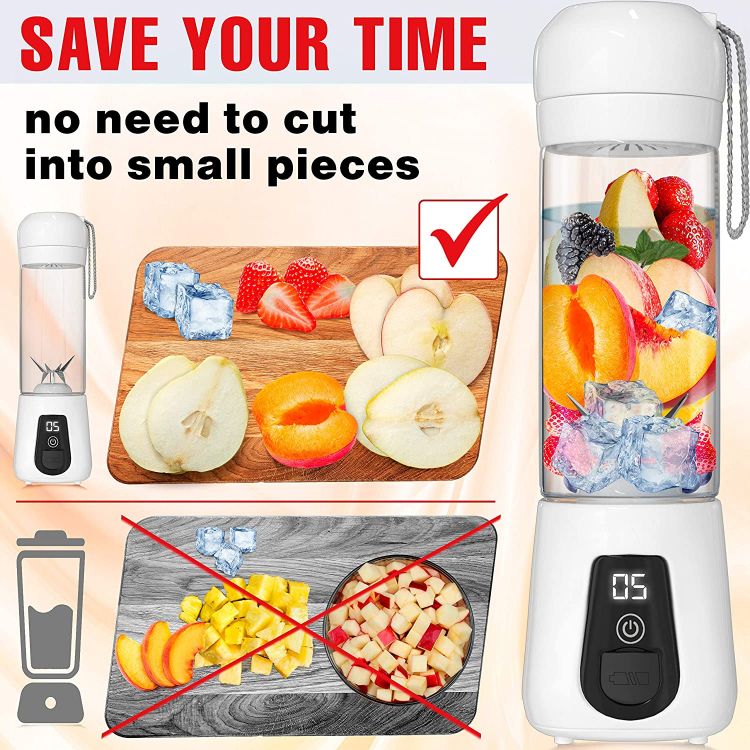 Unlike the other blenders, the Lacomri blender does not require the fruits to be cut into small pieces for blending. This is the greatest benefit that you can derive from a small size blender.
It has six stainless steel blades and 120 watts powerful motor that is strong enough to crush ice. So you can add pieces of ice cubes to the blender directly or any frozen fruits to the blender. It won't have any problem with crushing them.
As far as safety is concerned, the unit does not turn on unless the jar is properly affixed to it. This feature is really helpful if kids or elderly people are operating the unit.
It not only prevents the contents from spilling all over but also prevents any injury to the fingers by accidentally turning on the unit.
As you can see from the above image, it can be conveniently charged using a USB cable. If you are traveling or want to carry it with you at your workplace then it can be charged by using a power bank or through a charging point in the car.
The charging point is on the side of the unit and not at the bottom. This feature essentially helps to keep the unit upright while charging.
The small lid to cover the slot meant for inserting the USB cable protects it from dust and any other food or foreign particles from entering the unit that may damage it.
It has a 2000mAh rechargeable battery that can help to operate the unit without charging for many hours depending on your usage.
Once charged you can expect ten to fifteen glasses of health drink from it.
The unit can withstand the temperature up to 150°F. So while cleaning you can add the little lukewarm water with any disinfectant so that it can be cleaned properly.
This also helps to prevent bacterial growth due to any food particles getting stuck in the gaskets.
The unit can be conveniently detached from the base unit containing blades. It has got a separate lid so this itself acts as a smoothie cup and there is no need to carry a separate container.
The jar is made from friendly BPA free material. This makes it safe to use it for making baby foods.
The only point worth noting here is that after you remove the container from the base unit containing the blades, then it is a bit unsafe to handle it.
This is because the blades are sharp and the uncovered blades can hurt the fingers if not handled properly.
CONS:
The only problem that we find with the product is that it is not available in different color variants. It is available only in white color.
Another point that we observed is that after removing the glass container from the base unit, there is nothing that covers the blades.
Although the unit does not turn on unless properly assembled, still it would have been better if it had something to cover the sharp blades.
The last thing that we noticed about the product is that it does not come with an extra pair of the jar or gaskets. In case the gasket becomes loose and you want to replace it then you will have to search a matching gasket for the unit from the market.
CONCLUSION:
Barring the negative points that we mentioned earlier, we don't find any reason not to buy this product.
It has got the finest of motor capacity, strong batteries that can give you almost 10 to 15 cups of smoothie once charged.
The best part about it was that you can add frozen fruits and ice directly without crushing them.
Also, we loved the feature that the fruits can be added directly and there is simply no need to cut them into pieces.
The only hitch we noticed was that of uncovered blades. It could be nice if the manufacturer could provide a small bag that could be used to keep the base unit and the USB cable together when the glass jar is removed from the unit.
After looking at all pros and cons we would certainly recommend you use Lacomri portable blender. We feel that it won't disappoint you.
So what are the next ingredients of your smoothie using Lacomri blender? We would love to hear new recipes and any other concerns regarding the products from you.
This will help us to improve and continue recommending suitable products to you.
X
You might want to hear this:
Amy Reyes said…
"I got this to keep at work and I am glad I did. It is big enough to make my protein shakes for lunch and small enough to store in my drawer or keep on my desk. Easy clean up and super easy to use."