Blenders are the perfect choice when it comes to fulfilling your urge to eat. They not only satisfy the urge to eat but also provide a healthy option.
They will certainly benefit you in the long run.
We have analyzed many blenders in our review for their different features. We will explain in detail so that you can make the correct decision regarding the purchase.
Today we are going to analyze the G-Ting portable blender. There is a reason why we are separately analyzing it.
The reason being that we want to discuss in much detail each of its features.
Technical details:
Capacity: 450ml
Battery: 3000mAh
Body material: food-grade glass
Base: ABS
Blade: SS304 stainless steel
Motor rotation: 16500rpm±15%
Charging voltage: 5V-10A
Power: 150W
Size: 2.8*2.8*10.2 inch (70*70*260mm)
Pros:
Easy to carry and easy to use with no other extra accessories needed to drink the smoothie.
Easy to charge by USB cable using power plug, power bank, or laptop.
Glass jar to avoid harmful plastics.
Display indicator that indicates even when something is stuck between the blades.
6 powerful blades that move at 16500rpm.
Easy to clean.
Can blend ice and frozen foods.
Safety feature-the blender won't run if the lid is open.
It is perfect for making protein shakes.
It can be used as a power bank for charging your mobile in case of need.
Cons:
You need to make small pieces of fruits/nuts that you wish to blend. Big pieces need time to be crushed; else you might even need to remove them once and cut them again before putting it in the blender.
The glass jar can break if not properly handled.
It does not work on hot beverages.
Blades cannot be detached from the base unit.
Let's dive in deeper to know more about it.
G-Ting blenders have a powerful blade that can grind frozen fruits for a smoothie or even nuts and vegetables for a healthy health supplement.
You can make two cups of a health drink in one go. With the transparent glass jar, you can watch the process and it can be tempting enough to arouse interest in children to eat and drink healthy.
Many times it happens that blenders generally have four blades, but G-Ting blenders have 6 stainless steel blades that can crush fruits and veggies. It can even crush frozen fruits and nuts easily.
We recommend you to soak nuts in plain water or milk at least for an hour before inputting them in the blender. This will enhance flavor and help the blender to grind it smoothly.
The shape of the blades is such that there is a minimum possibility of fruits being stuck underneath.
This saves you from the labor of taking out the uncrushed fruits again and again from the blender, making small pieces and putting them in the unit again.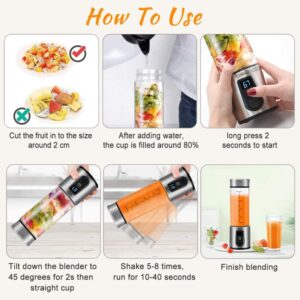 For the best results, you need to cut the fruits in small pieces, though not too small or tiny. This will help the blender to turn them into a smoothie faster.
Depending on the fruits chosen you can decide how small pieces you need to make. For instance, for juicy fruits like kiwi, banana, oranges, watermelon, etc you can make large pieces.
The fruits themselves are juicy, so it won't be hard for the blender to crush it.
But if you wish to crush pear, apple, nuts, or any other fruit which is hard with less water content in it, then you need to make small pieces and add some water or milk to it before blending it in the blender.
In case of making protein shakes too, you need to add the milk first to the jar and later add protein powder to it. This will prevent the protein powder from being stuck under the blades and to the jar.
As you can see from the above figure, the unit can be charged through a laptop, car, or a power cable. This makes it handy to carry it while you are traveling.
It requires 2 hours charging time and you can easily prepare 15 to 20 glasses of health drink once it is fully charged.
The small lid covering the charging socket helps to prevent any dust or any other material from entering the unit.
One more advantage of buying a G-Ting portable blender is that you can use it as a power bank to charge your mobile in case you land up in an emergency. The 7.4volts motor revolves at a speed of 16500 rounds per minute. This speed combined with fine sharp blades made of steel helps to crush the fruits and nuts in a faster way.
The 450 ml jar is made up of glass without the use of any harmful chemicals. It is safe for adults as well as for baby foods.
One of the major risks while cleaning the units, is that the button might get pressed and the unit may start accidentally.
This can cause bleeding in the fingers. But the G-Ting blender has an added functionality that does not allow the unit to turn on unless the jar is fixed to it.
So even if you accidentally switch it on while cleaning, it won't damage your fingers.
With the help of the lid, you can carry it anywhere easily and sip directly from the unit by removing it from the base unit. No separate glass or sipper is required.
Conclusion:
While purchasing a blender the first thing you take note of is the blades and the motor. Yes! They are the heart and brain of the blender but there are other things too that matter.
You need to pay particular attention to the jar material used. It should not be chemical-laden. With G-Ting it is made up of glass.
Secondly, you need to be very clear about the safety precautions the unit has. This is essentially important if kids or old people are going to use it. With G-Ting blenders, safety is not an issue.
The third most important thing is battery life, the jar capacity, and the ability to charge the unit. We think all these parameters are taken good care of in G-Ting blenders.
With this, we end our review hoping to see your comments mentioning how happy and satisfied you felt after using our recommended product.