Nothing says love more than baking for our family and friends, right? In fact, baking is not only great for our emotional health but it also has an important impact on our mental health, as well. More about that later!
To get the best quality baked goods you need quality ingredients and the best electric stand mixer. ReviewRoller has scoured the Internet looking for the highest-quality electric stand mixers so you don't have to!
Our Top Picks
What you've read so far is only the beginning. There is so much more to learn! Now, let's look at what's important: the details. Below you'll find the specifics of each of our top 7 picks and a Buyer's Guide to make shopping for the best electric stand mixer easy for you.
A European motor design and dual motor ventilation mean a long-lasting electric stand mixer for your home. This mixer features four built-in speed hubs that allow you to add Kenwood attachments. It measures 16.1 x 9.4 x 13.5 inches and weighs 25.8 pounds.
With this mixer, you'll receive 3 professional-quality, stainless steel bowl tools: power whisk, dough hook, and the unique K-Beater that is designed for maximum mixing performance. The bowl is a 7QT and made of solid stainless steel.
Pros:
Solid construction; durable
Bowls and attachments are dishwasher safe
It has a powerful motor
It has a nice, low profile which makes it easy to sit under cabinets
Cons:
Customer service needs improvement
It only comes in one color
The power cord could be longer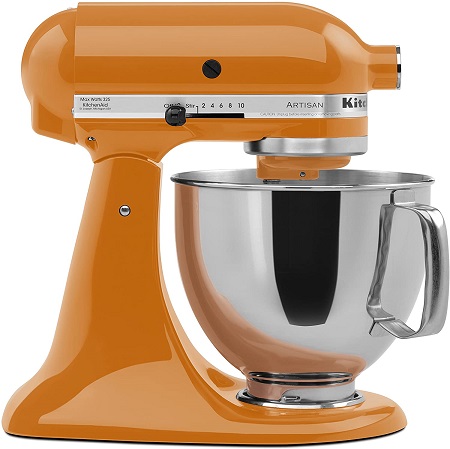 KitchenAid is definitely a household name when it comes to small appliances and their electric stand mixers are infamous. This mixer is part of their Artisan series. The product dimensions are 14.3 x 9.3 x 14 inches and it weighs 26 pounds.
The features include 10-speed slide control which ranges from a very fast whip to a very slow stir, a power hub for additional attachments, and a 5-Qt. stainless steel bowl. With this product, you'll receive a flat hook, dough beater, and wire whisk. You can mix 9 dozen cookies or 4 loaves of bread in a single batch!
Pros:
59 touchpoints per rotation around the bowl for thorough mixing
Multiple color options make it easy to match any kitchen decor
Solidly built
KitchenAid has great customer service
Cons:
You must be absolutely accurate when calibrating to keep it from moving while mixing
Plastic filter doesn't do a great job of containing flour
Before using the mixer for the first time, be sure to completely wash the bowl; food will stain if you don't
Measuring at 18.5 x 13.1 x 18 inches, this mixer comes in many different colors so it'll be a cinch to match your decor. It has a stainless steel and carbon steel construction with all metal, chrome-plated zinc, speed control, and timer knobs.
This mixer comes with a 7-liter stainless steel mixing bowl, dough roller, dough knife, dough scraper, dough hook, dust cover lid, a 3.5 liter BPA/BPS-free Tritan plastic mixing bowl, multi-wire balloon, and single-wire cookie whips.
Pros:
You get a 7-year warranty on the motor assembly
Solid construction; works like a gem with heavy doughs
Has a nice, quiet motor
The included attachments are high-quality
Cons:
The beaters don't work as well when used for small quantities of eggs or cream
Attachments not included can be pricey
Many customers have stated they needed a bit of extra help via YouTube tutorials to understand how to properly use this mixer
Kenmore is another well-known brand of small appliances. ReviewRoller appreciates the pour-through top which does a great job at adding ingredients without a mess. It features a 360° splash guard, a heavy-duty 500-watt motor, 10 speeds, and simple controls.
Included with this mixer are a wire whisk, dough hook, flat beater, pouring-shield funnel, egg separator, grater, and mixing bowl lid. This mixer weighs 30 pounds and measures 14.75 x 9.25 x 13 inches.
Pros:
You'll receive a bonus cookbook with 15 recipes to get you started
Customers have stated they've been able to use KitchenAid attachments on this mixer; helpful if someone is replacing an old KitchenAid
This product is very well made
The low profile makes for easy storage
Cons:
Doesn't do a great job of scraping the sides of the bowl while mixing
The dough hook could be better; this could be a problem if you make a lot of bread
Not ideal if you bake in small portions
With a 5. 5 – quart capacity and die-cast metal construction, you're bound to bake some amazing goodies for your family and friends. It's smaller than most electric stand mixers measuring at 14.17 x 7.87 x 14.13 inches. It's also lightweight, weighing a little over 18 pounds. Great for a small kitchen.
When you purchase this mixer you'll get a chef's whisk, flat mixing paddle, dough hook, and splash guard with pour spout.
Pros:
This model comes in several different colors to easily match the kitchen decor
This is a full-size mixer so don't be put off by the size
The motor is really quiet
It has five rubber feet to keep it stable
Cons:
The flat beater doesn't quite reach the bottom of the bowl
This mixer does have a tendency to leave dry ingredients on the sides of the bowl
You have to lift the top of the mixer with both hands; kind of annoying
ReviewRoller has chosen another popular small appliance brand with this Hamilton Beach electric stand mixer. It's budget-friendly, too! 12-speed settings allow you to easily go from a slow stir to a fast whip.
It weighs a little over 19 pounds and the dimensions are 9 x 14 x 14 inches. It comes with a flat beater, dough hook, whisk, and pouring shield to protect/guard against splatters. It also has a 4.5-quart stainless steel bowl with a handle.
Pros:
The motor is nice and quiet
Automatically adjusts to the thickness of what you're mixing
It's not very heavy and it is solidly built
Attachments are made of metal and durable
Cons:
The splatter/pour shield is a bit in the way when lifting the motor head
White the attachments are made of metal, they are also coated; the coating can come off
This is top-heavy; can fall over when moving so you'll need to be careful
We do love a product that can multi-task and this affordably fits the bill! It features a 20 minute LED display, 6.5 QT stainless steel mixing bowl, and 10 speeds plus a pulse action. Anti-slip silicone suction cups keep the mixer steady. It measures 16.54 x 9.84 x 13.23 inches and weighs a little over 21 pounds.
Now, let's talk about what it can do. Add attachments to make this product a pasta maker, juicer, food grinder, sausage maker, and cookie press. Making cakes, breads, cookies, pastry, muffins and waffles, minced meat, mashed potatoes, juice, milkshakes will be a breeze.
Pros:
This model comes in multiple colors to match any kitchen decor
The many functions are very easy to use; intuitive design
Because it's a multi-tasker you can save space in your kitchen with no need for extra appliances
Very affordable compared to other electric stand mixers
Cons:
It's a bit noisy
Some of the attachments are a bit fussy to get to work
No manual to help with troubleshooting tips
Buyer's Guide
We're going to create this Buyer's Guide a bit differently than normal. Instead of our usual Q&A, we're going to provide you with suggestions on what to consider when choosing the best electric stand mixer and we'll give you the most important tips on how to maintain your appliance.
Because ReviewRoller understands the importance of mental health, we'd also like to explore a bit into the benefits of baking and how such a simple process can mean so much to you. Consider this a bit of free life coaching!
When Choosing Your Electric Stand Mixer, Consider This!
Your baking needs are going to obviously be the biggest influence on the electric stand mixer you choose, but you should also give some thought to:
Budget: electric stand mixers can be expensive so you'll want to set your budget before you buy. We have done a good job of finding mixers to fit all budgets though!
Space: whether you plan to keep your mixer out all of the time or plan to store it while not in use, keep your space limitations in mind when buying. Take accurate measurements so you know what you can easily accommodate.
Features: not all mixers are made the same. Will you be baking large batches? Small batches? Do you need an electric stand mixer that kneads dough? Determine your needs ahead of time.
Speed settings: while most bakers will only need 3 settings, it's important to remember the more settings you have the more accurate your baking will be.
Let's Talk About Attachments
If you're buying the best electric stand mixer then you're likely planning to do quite a bit of baking. What you will bake determines the attachment you use. You may even use several different attachments during the process of mixing ingredients. Some of the more popular attachments are:
Scraper: this is a beater that has a silicone or rubber scraper on the sides to scrape the inside of the bowls as it beats. It's handy to have because it saves you the extra step of having to scrape the bowl yourself.
Dough hook: this is a must-have if you bake a lot of bread, pizza dough, pasta, or other very heavy dough.
Wire whip: this functions much like a whisk. It should be used to whisk eggs, whip cream, and you can even use it to make mayo. It should not be used for heavy doughs.
Paddle: you may also see this referred to as a flat beater. It's a popular attachment used to mix cake batters and frostings.
A special note about attachments – many consumers like to use old attachments on new mixers or use a different brand of attachments (example: a KitchenAid paddle on a Hamilton Beach mixer). Sometimes this is possible, sometimes it's not.
Trying to use the wrong attachment could break your mixer so be careful! Your safe bet is to check with the manufacturer of your new electric stand mixer to find out what they recommend.
To Extend the Longevity of Your Electric Stand Mixer You Must Maintain It
Most electric stand mixers are dishwasher safe and that usually includes attachments. Be sure to read the manufacturers instructions carefully and keep these tips in mind:
Before you use your mixer for the first time, thoroughly wash all parts – bowl and attachments.
Unplug your mixer before cleaning the outside. Make sure to use a non-abrasive cleaner.
A lot of junk can accumulate on the bottom of your mixer so be sure to clean underneath as well. Remove the bowl and all attachments first.
Baking Really Can Bring Peace of Mind and Joy
It's no secret that there is a solid connection between creativity and overall well-being. When we engage in an activity we enjoy, we feel better. Baking is extremely creative!
If you're new to baking or if you're a pro who has been at it for years, make it a habit to focus on each step of the process. Feel the excitement of trying new recipes. Find peace in the comfort that comes from baking old recipes. Enjoy the measuring, the mixing, the creating.
See if you experience any of these amazing benefits:
A meditative quality that relieves stress
A stimulation in your senses that releases endorphins
An appreciation of the nourishment provided by great ingredients and the fact you are feeding others
Making others happy is a huge benefit to all of us!
It's a fact that baking can help to ease depression and eliminate anxiety so when you're baking, be aware of how you're feeling. Be sure to feel the love in what you're doing!
Our Winner
The Kenwood KMM021 7QT Chef Titanium Kitchen Machine is our choice for the best electric stand mixer. While it does cost more than many mixers, ReviewRoller feels that to get quality you need to invest. It's suitable for large and small cooking spaces, the design is sleek and modern, and we appreciate its durability. No matter your baking needs, this is a mixing workhorse!
Conclusion
What smells better than home-baked bread or your favorite dessert? The answer is nothing! Fill your home with these wonderful smells using our choice for the best electric stand mixer, the Kenwood KMM021 7QT Chef Titanium Kitchen Machine and make your family, friends, and yourself happy with your amazing creations! Happy mixing!
X
You might want to hear this:
David M Baynes said…
"I have absolutely no regrets purchasing this device. It works really well. It is quiet and makes it easy to add ingredients while it is in operation. The construction is solid and durable. I give it 5 stars."