Our Top Picks
A stainless steel toaster is a great buy for anyone who loves toasting breads.
Nowadays, many stainless steel toasters are affordable, and come with handy features to make toasting—which is already a simple endeavor—even easier.
A good stainless steel toaster will last a long time, save you money and time, and of course, make great toast!
Keenstone's stainless steel toaster has earned its top spot on this list for a simple reason:
It's just a good toaster. No, it doesn't connect to your phone, and it's not touch-screen.
But simple doesn't mean bad, and its high ratings prove it. This stainless steel toaster is easy to use, allows for a lot of different toasting preferences, performs well, and is affordable.
Pros:
Affordable pricing
Choice of black or red color
4 slice slots
Each pair of slice slots has 4 modes—bagel, defrost, reheat, and cancel, plus 6 heat settings
The slice slots are 1.5" wide, which can take most kinds of bread
Crumb trays in rear of toaster make it easy to collect and remove crumbs
Toaster base is both non-slip and made with flame-retardant materials
Very easy to use with a simple design
Very well-received, with a 4.6/5 star rating backed up by hundreds of reviews
Cons:
Not as advanced as some of the other options here
Consistent complaints that one or two of the slots will stop working after a few weeks, but there are very few of these
Some complaints that it looks/feels cheaply made, though this is debated
SACVON's stainless steel toaster is all-around very well-received and can get the basics done just fine. On top of that, it's very affordable—arguably, it's the best budget stainless steel toaster around.
The only downsides? It's not super advanced and can handle two slices only.
Pros:
Very affordable
Choice of cream or black color
Big LED display shows the amount of time left in the toasting cycle
Bagel, defrost, and reheat modes on top of regular toasting settings
Slots are 1.5" wide to allow for most kinds of bread
Easily removable bread crumb tray
Very well-received by customers, with hundreds of reviews backing up a 4.6/5 star rating
Cons:
2 slots only
Consistent complaints that it toasts sides unevenly
Not as advanced as other options here
It's more expensive, but with that price brings a higher-quality build and some more unique settings, plus high praise for its ability to toast.
For some, this stainless steel toaster doesn't seem to bring enough for the price; but for others, it's a great deal.
Pros:
Intelligent one-touch auto lowering function
LED indicator for toasting progress
More settings than basic toasters have: there are buttons for "a bit more" time, "lift and look," on top of the normal bagel, defrost, and regular toast settings.
Consistent praise for how well it toasts
1 year warranty
Highly rated: 4.5/5 from nearly 2,000 reviews
Cons:
On the pricier side compared to budget toasters
Only 2 slices
Slots are 1.25" wide, which is okay, but not as wide as some other options here
Consistent complaints that the bread carriages get stuck, and pieces of bread get stuck in the toaster
Some complaints that it breaks down after short-term use, but there are very few of these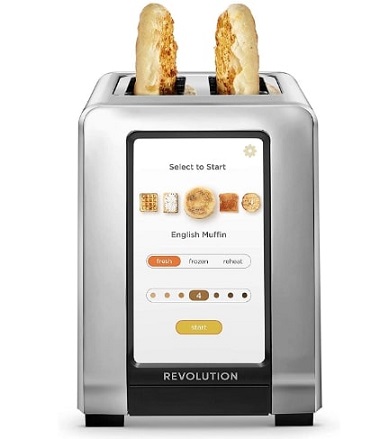 Revolution's stainless steel toaster is pricier than all the other options here, but it's also the perfect option for people looking to splurge:
It's touch-screen, for one thing, and has a lot of other unique features. On top of that, it's well-made, and doesn't forget about the basic goal of being good at toasting.
Pros:
Luxurious, large color touchscreen
5 food settings (breads, bagels, English Muffins, waffles, toaster pastries); 3 toasting modes (fresh, frozen, reheat); and 7 browning levels
Heats bread in a fraction of the time as traditional toasters using a proprietary heating system
Custom toasting algorithms for bagels, English muffins
Generally well-received: 4.4/5 stars, backed up by over 500 ratings
Cons:
On the pricey side
2 slice slots only
Some complaints that more could be offered for the price
Some consistent complaints about heating malfunctions, though there isn't much consistency about specific issues
REDMOND's stainless steel toaster is a great option for those wanting a well-built, nice-looking toaster.
That's not the main highlight though: it can handle 4 slices, has a high wattage, has been very well-received by customers, and doesn't cost too much.
The only thing holding it back are some complaints about its heating performance—but these are definitely a small minority.
Pros:
Affordable pricing
4 slice slots with good dimensions for large slices
1,650 watts is higher-powered than most other toasters, including the options here
6 browning settings, plus 3 modes (cancel, defrost, bagel)
Big LED indicators show remaining time
Easy slide-out crumb tray
90-day money-back guarantee and lifetime support
Well-received: 4.5/5 rating backed up by over 600 reviews
Cons:
Consistent complaints that one side stops heating, resulting in uneven toasting
Other complaints about heating performing inconsistently, particularly that even high settings don't heat enough
Stainless Steel Toasters #6: LOFTer Toaster
LOFTer's stainless steel toaster is pretty much what it looks like: it's nothing too fancy, but has all the basics you need, done right.
It's not too pricey and well-received by customers. It is held back by some complaints, but some of those complaints can be made for almost every toaster, and others will only matter to some people.
Pros:
Affordable pricing
1300 watts allows for higher degree of toasting power
LED display indicates toasting progress
4 slice slots, which are 1.6" wide (a bit wider than most)
6 browning/heat settings, plus 3 basic functions (cancel, defrost, reheat)
Anti-overheat protection
Well-received by customers: 4.4/5 rating backed up by over 800 reviews
Cons:
Complaints about inconsistent heating
Consistent complaints that the placement of the cord is inconvenient
Consistent complaints that it's difficult to get the bread out
Stainless Steel Toasters #7: Holife Toaster
Holife's 2 slice stainless steel toaster is an excellent budget option. It's got the lowest price out of all these options (or is functionally tied for lowest price, at least, with SACVON's toaster).
That low price still gets you all the basics you need in a decent stainless steel toaster, including decent performance, plus some helpful features.
Pros:
Very affordable pricing
LED display shows both the time remaining and the selected heat setting
6 heat/browning settings plus 4 functions (cancel, reheat, defrost, bagel)
Automatically shuts off after toasting is complete, which can be useful for safety
Consistent praise for its simplicity
Generally well-received: 4.4/5 rating backed up by well over a thousand reviews
Cons:
Only 2 slots
Some may find the automatic shut-off feature is annoying, especially when you want to make more slices
Consistent complaints about build quality
Consistent complaints that it's difficult to get the bread out
Some complaints that it's not good at toasting bagels
Our Winner: Best Stainless Steel Toasters is…
Ultimately, our top spot goes to the Keenstone Stainless Steel Toaster. This stainless steel toaster is just a good toaster, period, and it doesn't cost too much.
But that doesn't mean it's the best stainless steel toaster for YOU. Everyone has different preferences and needs.
If you are prioritizing price above everything else, for example, the SACVON Stainless Steel Toaster is best. If you want to invest in a more advanced toaster, then the Revolution Stainless Touchscreen Toaster may be best.
To help your search for the perfect stainless steel toaster, check out our buyer's guide below
Buyer's Guide: How Do I Buy the Best Stainless Steel Toasters?
If you want a toaster, and you've already narrowed down your search to the category of stainless steel toaster, then great! You've already made your search much easier.
But there are still some important things to consider when buying a stainless steel toaster.
Two slice slots, or four?
Sounds like a simple point to consider, right? It kind of is. But let's make sure you've factored it in properly to your stainless steel toaster quest:
The main advantage of having more slots is obvious: you can toast more bread simultaneously.
The main drawback is that more slots may come at extra cost. However, as you may have noticed, the options in this list are some of the best around, and show variation between price and the number of slots.
So if you can get a four-slot stainless steel toaster for the same price as one with two slots, isn't the one with four slots the obvious choice?
Not exactly.
It is if you have a family and need to make more than two slices of toast at once for everyone.
But if it's just you, or you and one other person, it's unlikely that you'll need all four slices. And in that case, there is a drawback worth considering:
A four slice toaster will usually take up more space. Now, this isn't necessarily the case.
For example, our top spot on this list is a four-slice toaster by Keenstone. It has the following dimensions:
Meanwhile, our third place option is the Breville Smart Toaster. Despite having just two slice slots, it has a more unique design, resulting in the following dimensions:
11.25 x 7 x 7.75 inches (length by width by height).
In other words, Breville's 2-slice stainless steel toaster has almost the same length as Keenstone's 4-slice, the same height, but is a few inches less wide.
There is a notable weight difference between these though, which is pretty representative of the usual size differences between 4-slice and 2-slice toasters: Keenstone's toaster is almost twice the weight of Breville's.
So this leads us to another important point:
While a four slice toaster is generally going to take up more space, you should always check the size specifications.
If you have a lot of room in your kitchen, you can probably ignore this point, but if your kitchen is crowded and counter space is valuable, even a few inches of space can be a relief.
Typically weight doesn't matter too much, as presumably your toaster will rest on a counter, but you know best.
One final point on the differences between two and four-slice slot toasters:
A stainless steel toaster with four slice slots is more likely to have additional features. Again, this is not necessarily the case, just generally so.
What features do I need?
Obviously, this is ultimately a subjective issue. However, we can still help you parse things out. The most basic way of doing this is to stick to the basics:
What are you going to use your toaster for?
A lot of people will only use a toaster for sliced bread, with some bagels thrown in here and there, and maybe English muffins.
A decent toaster, even if it's basic in features, can still toast all those things just fine. If you don't expect to care too much, you probably don't need many extra features.
However, it's often the case that once you realize how much better toasting can be with this or that feature, you'll have a hard time going back.
For example, bagels. Some toasters have a designated "bagel" mode on top of the regular toaster settings. If you love bagels, chances are this will make toasting bagels a lot better.
However, a word of warning: it's important to make sure you know what that bagel function does before you buy your stainless steel toaster:
Sometimes the bagel function just means a special heating method. Usually though, it means only one side of the bagel will be toasted. So if you don't care if both sides of your bagel get toasted, a given product's bagel setting may not be that important to you, after all.
Another feature many find useful:
Timer displays. If you looked through this list, you've noticed that these are on many of the products listed.
While it's true that many products nowadays get screens and displays, which are more gimmicky than useful, it's actually practical with a toaster:
If you're busy and have things to do, or you're rushing to get to work in the morning, you know exactly how much time you have before you can grab your toast.
Even if you're not in a rush, it's just nice for getting the timing of your meal right—you can get out your plate, butter, jam (or whatever you use) to dress your toast right when it's warm, before it cools.
Conclusion
As stated, our winner is Keenstone's Stainless Steel Toaster, because it does everything you need a toaster to do, and has been very well-received by customers.
But remember to take our buyer's guide into account, and consider your own circumstances. The perfect stainless steel toaster is out there waiting for you—why wait?
X
You might want to hear this:
mawenka said…
"Best I ever owned, many options, look stylish and a good quality, perfect toasts, very recommended!!! Worth the money"