Our Top Picks
Smart coffee makers are the devices that you can program using Alexa or by connecting to Bluetooth or Wi-Fi or a mobile app. They do not require you to be present for making them.
All you have to do is to enjoy your cup of coffee and thank us for suggesting the '4 Best Smart Coffee Makers' to you. Well, jokes apart we reviewed it just to give you a comparative view of the best 4 smart coffee makers.
Let's start discussing each one then!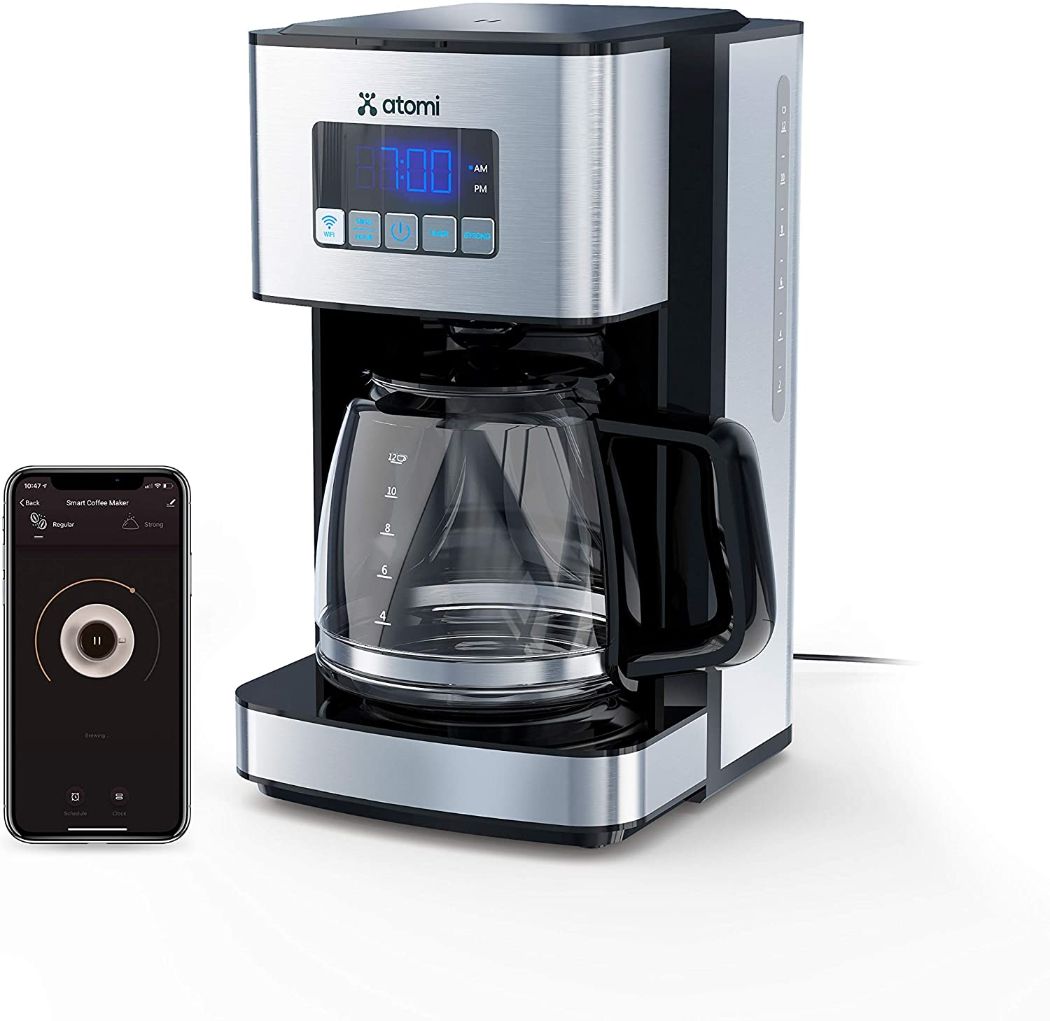 If you are the kind of person always 'on the go' then take a minute to glance at Atomi Smart Coffee Maker. Atomi will surely surprise and please you with the amazing features that it has. Your coffee won't be the same ever again and you will surely enjoy more of it often!
Pros:
It has front fill options for easy handling.
It can be auto-shutoff, auto-pause, or serve with the app.
Brew strength options for great tasting coffee can be customized.
The glass carafe is drip-free and has a large 12 cup capacity.
It can be programmed, used with voice commands, manually controlled, or connected through an app using Bluetooth or Wi-Fi.
Includes a convenient reusable permanent dishwasher safe filter.
Cons:
Some people have issues connecting it to Alexa or Google Assistant.
You need to carefully handle the glass jar.
It does not permit you to have flavored coffee.
Inability to choose how many cups to be brewed. The device chooses as many cups as are in the reservoir.
Takes a little time and research to get it linked with the Alexa smart skill.
Hamilton Beach Coffee Maker isn't simply a 'smart coffee maker' it is a blessing in disguise for all those who want a cup of coffee ready when they wake up. Unlike other smart coffee makers, it is not only compatible with Alexa but it is 'Alexa certified'. This means that you can connect it to any eco device that is certified by Alexa and not only Alexa.
Pros:
It is compatible with Alexa and Alexa certified products.
It is eco-friendly and replaces the cup-cake basket size paper filters with a permanent gold-tone filter.
The filter is dishwasher safe and can be used in any other coffee makers that use basket size filters.
It has brew strength options for customizing your coffee.
You can easily add coffee and water from the front. The front fill design of the reservoir lets you add water without moving the smart coffee maker from the cabinets.
It has a drip-free carafe that makes it look clean and leaves no mess afterward.
If you forget to shut it off, then auto-shutoff automatically turns off the heating plate after 2 hours.
Cons:
It does not have a single cup option, in case you just need a mug of coffee.
It isn't k-cup compatible.
Some users feel that it lacks temperature control and isn't able to keep the coffee hot for a longer time.
Some users feel that the minimum quantity of water required to be filled in the reservoir is large compared to the others in the same category.
The glass jar needs to be handled carefully.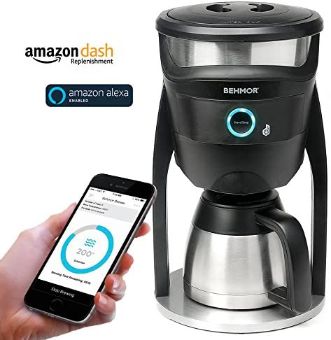 If you find it tiresome to wash glass utensils all by yourself then you should have a look at Behmor Smart Coffee Maker. This is because it uses a steel carafe instead of a glass one. That makes it easy to clean using dishwashers.
Probably it is the only 'smart coffee maker' on our list that heats the water directly in the reservoir above the coffee grounds so that no heat is lost during brewing.
It also features pulsed water flow and a large showerhead to fully saturate the grounds. A pre-soak option allows the coffee to fully bloom before brewing to ensure the perfect flavors in your cup.
Pros:
The mobile app allows users even more control over coffee brewing allowing them to set altitude, brewing temperature, and pre-soak time while saving preferences to their 'favorites'.
Due to integration with 'Amazon's Dash Replenishment Service,' it enables the Behmor Connected to detect when you are low on coffee, and can automatically reorder beans before you run out.
The Behmor Connected allows you to set the brewing temperature from 190-210°.
It connects via Bluetooth, Wi-Fi, phone app, Alexa, and Amazon's Dash Replenishment device.
The thermal carafe maintains the optimal coffee temperature.
Cons:
Bit expensive considering the cups it offers per serving. It offers just 8 cups per serving.
Some customers find the carafe design improper and they spill coffee while dispensing it in the mug.
According to some reviews, it takes a lot of effort to understand the operations of the machine clearly.
According to some customers, it has compatibility issues.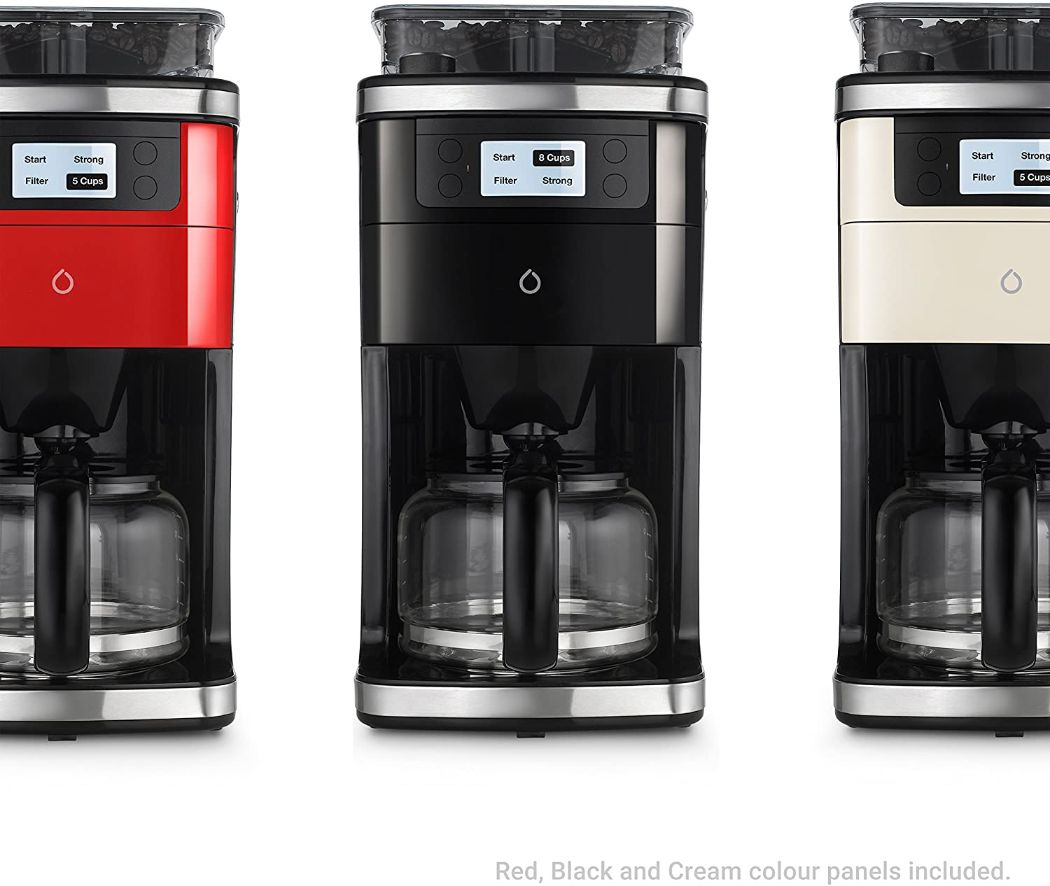 Yet another smart coffee machine but somewhat different than the others that we listed previously. What's different? Well, it is the style. It is made from plastic and you can change the color panels to suit your kitchen decor. It can brew and grind coffee for 4 to 12 mugs at a time and keep it warm too.
Pros:
Choice of different color palates to suit kitchen decor.
It is integrated with a grinder on the top of the unit.
It can be connected via Alexa, Google Assistant, and IFTTT.
Works with grounded coffee or beans.
It can be scheduled and allows time-based brewing.
Cons:
It is not so easy to set up.
It keeps coffee warm only for 40 minutes.
It requires a minimum of 4 mugs of coffee to be made, not less than that.
It doesn't have a thermal carafe.
The carafe is made from glass making it vulnerable to breakage.
Well, this brings up to the end of the review regarding the smart coffee makers. We hope our analysis helps you in making a buying decision but just in case you are confused about which type of machine to opt for then do refer to the buying guide that we are referring to.
We recommend you to use 'Hamilton Beach Coffee Maker.' as it fulfills most of the criteria to be the best smart coffee maker in our list.
Buying guide for Smart Coffee Makers
What are the different types of coffee makers available in the market?
A) Pressure coffee brewers
Manual Espresso maker
Automated Espresso maker

Partially automated espresso maker
Fully automated espresso maker

Moka pot
AeroPress
B) Filtration coffee makers (Drip brewers)
Auto drip brewer
Single-serve coffee makers

K-cup
Tassimo disk machine
Nespresso

Manual drip-brew
Vietnamese coffee maker
Percolator
Cold drip coffee maker
C) Steep Brewers
French press
Siphon
D) Boil-based coffee makers
Ibrik (Turkish coffee pot maker)
Camping coffee maker
E) Combo coffee makers
Drip and K-cup combo
Drip coffee, Toaster oven, and Griddle combo
F) Smart coffee makers
In our discussion, we just covered the smart coffee makers.
How are smart coffee makers different from the others?
Smart coffee makers can be directly connected with the phone or Wi-Fi or Bluetooth and coffee can be prepared remotely in your absence. They can be scheduled for operations.
Whereas with other machines you cannot work remotely and need to get out of the bed to get a cup of coffee. Such devices are programmable but you cannot connect them with your phone or Wi-Fi connection.
Do smart coffee makers cost more?
Yes. They certainly cost you more than the simple coffee maker machines. The simple coffee maker machines that are programmable can be brought in the minimum range of $25 whereas smart coffee makers minimum range is $99.
What points should you consider before purchasing a smart coffee maker?
You need to take care of the following points before purchasing a smart coffee machine.
1) Brand: You need to carefully choose the brand. A well-known brand offers a guarantee so in case you face difficulty in operating the product, you can get good service/response.
2) Features: Another very important aspect before choosing a coffee maker machine is to look into the essential features.
Programmable: You need to check whether the machine can be programmed for making coffee. Some machines allow you to schedule it for a week.
Permanent filter: Some machines use disposable filters that need replacement at specific intervals whereas the others use permanent filters. Using disposable filters increases the cost and adds to the recurring expense.
Keep warm: Some coffee makers have thermal jars that store coffee. They save you from the job of heating the coffee again and again.
Coffee grinder: Some machines have grinders at the top. You can fill coffee beans to it and grind it to get perfectly blended coffee.
Capacity: How many cups of coffee can the machine make in a single operation? Coffee makers have different capacities. Depending on your need you can choose a coffee maker machine that can make coffee ranging from 4 cups to 12 cups and above.
Connectivity: If you are thinking of purchasing a coffee maker, check the devices with which it can connect. Some devices can be connected not only with Alexa but also with Google Assistant and IFTTT. IFTTT is the feature that allows you to connect the device to multiple smart devices.
Single-serve brewer capacity: Depending on your need and the place where you are going to use it, you can choose the machine that can brew from a single cup to almost a hundred cups in a single operation.
Warranty length: Some manufacturers give a warranty for one year whereas others give it for three to five years. This is an important consideration while purchasing a smart coffee maker machine because at times programming errors do occur and you need to replace it.
Auto Replenishment: Smart coffee makers can order the coffee beans directly from Amazon, once it finds that they are running out of stock. If you can't stay without coffee even for a single day, then this feature will certainly help you.
Make of the jar: Some coffee makers have glass jars with markings of measurement on them whereas others are made up of steel. Glass jars can break if not handled properly. So depending on the place of usage whether it is an office or home you need to carefully choose the product.
How much space does the smart coffee maker machine require?
Depending on the area in which you are going to use it, whether it is an office or home, you need to carefully consider the place where you can connect it to the power source and use it.
It is better to have a dedicated space because if you keep on shifting the machine from one place to another there is a possibility of breakage.
How fast and how hot does it brew the coffee?
One point which deserves your attention is the time that the machine takes to prepare the coffee. If you can make it manually in the same amount of time then there is no point in opting for a coffee machine. Speed is an important consideration.
The optimal brewing temperature for coffee is around 91℃ to 96℃. This makes it essential to get a machine that can brew at high temperatures.
How noisy is the coffee maker?
If you are going to a coffee grinder along with the coffee maker machine then it can be a bit noisy. Apparently 'noise' won't be an important factor to consider but when it becomes a regular phenomenon then it can be a headache.
How user friendly is it?
No matter how 'smart' your coffee maker is, if you cannot use it easily then it is of no use. It should be simple to operate and even a person without sound technical knowledge should be able to use it.
How easy it is to clean and maintain the machine?
Cleaning and maintenance are the two issues that require attention. It should be easy to refill the water tank and the coffee bean section.
How easy it is to clean the drip tray and to dispose of the used grounds also deserves attention. Some machines have automatic descaling programs which help to clean it fast.
Maintenance might require you to connect to the vendor for replacing the parts of the coffee maker machine.
What is the material used for making the coffee maker machine?
Some machines use plastic whereas others use steel. Steel-make is more durable. Before purchasing carefully look at the external and the internal make of the machine. This can give you an idea of its durability.
What are the expenses involved?
Cost is the most important factor to consider while purchasing a smart coffee machine. This is so because it is not only the one-time cost of buying the machine, but it also involves the recurring cost of buying consumables.
Broadly it involves the following costs:
Maintenance cost
Electricity/power charges
Consumables ( filters, pods, coffee beans, thermal carafe, etc)
All these costs are recurring in nature and deserve special attention.
We hope our review helps you in choosing the best smart coffee maker machine for yourself. If you have any concerns or suggestions do let us know in the comments section, we'll be happy to hear from you.
X
You might want to hear this:
Mandoline Reviewer said…
"Makes a great pot of coffee. Very easy to clean. The pre-soaking of the grinds is unique and allows the oils to release. The way the unit seems to percolate the water I believe is key. You can get a good idea of this when you first calibrate the unit with the cover off. The wifi app is fantastic. Very easy to use."