Our Top Picks
Pizza Stones are special plate-like devices made from clay, ceramic, stone, or metal that can be pre-heated and used for baking the pizza crust. They absorb moisture from the dough and make the base crusty like restaurants.
Made in Canada, Kamado pizza stone is huge in size measuring 19 inches and having ½ inch thickness. Absorbs moisture quickly and gives you an even pizza crust.
Pros:
Large size, 19 inches and ½ inch thick.
Fits ovens.
Absorbs moisture from the dough.
The ceramic base makes it easy to clean.
Cons:
Many users complain about the name of the brand not being inscribed on the pizza stone and a product of inferior quality.
Breakages in transit.
Cast Elegance pizza stone is made from Thermarite stone that makes it durable and capable of bearing thermal shocks without cracking. It has dimensions of 14*16 inches and fits the oven easily. It weighs 8.2 pounds and is ⅝ inches thick.
Pros:
The square shape fits the ovens easily.
Works with perfection on gas, oven, or charcoal.
It is approved by the European Union.
It meets FDA standards and has passed safety standards for RoHS.
It has passed the LFBG German food code.
Good packing ensures that it does not break in transit, if it does, then it is replaced by the manufacturer.
Eonsix pizza stone is similar to the Cast Elegance pizza stone that we discussed earlier in terms of the 'make' but it differs in the dimensions and price. It is 15*12 inches, 0.43 inches thick, and weighs 6.47 pounds.
Pros:
It gives a burn-free holding due to the bamboo pizza paddle and absorbs moisture evenly.
It is made from cordierite stone. It can withstand heat up to 1112°F(600℃).
Easy to clean.
Can bake even the Frozen pizzas.
It is odorless even when heated.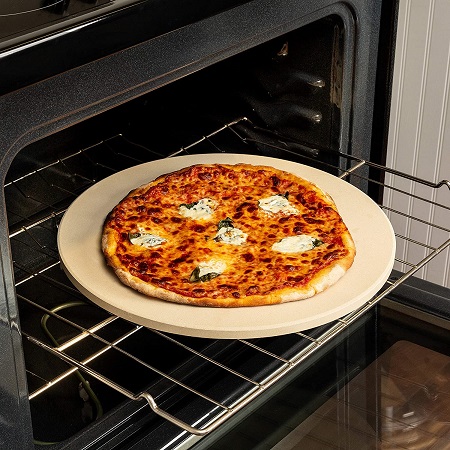 Honey-Can-Do pizza stones are made in China and are made from stone that is most durable. It is round in shape with 16*16 inches dimension, weighs 8.45 pounds.
Pros:
The ridges at the bottom help to have a firm grip while removing it from the oven.
It can be used to cook bakery products and vegetables.
It can withstand temperatures up to 500 degrees.
Cons:
The make of the stone is not clearly mentioned by the manufacturer.
Does not contain safety guidelines or any FDA approvals.
Some users complain of the foul smell.
Nearly all the products that we listed earlier can be used in ovens and gas. But Hans Grill pizza stone users have specifically commented about its versatility. It has dimensions of 15*12 inches, a thickness of 0.59 inches, suitable for a large pizza.
Pros:
The rectangular shape makes the contents spill-free in the ovens.
Made in Germany, it is transported with utmost care so that it does not break in transit.
The stone is made from a ceramic tile that makes it easy to clean.
It can handle up to 750 degrees of temperature.
The wooden peel adds to the functionality of the stone.
Cons:
The instruction manual is in the German language, which is hard for some people to follow.
Some users complain about the foul smell emitting from it when heated.
Some of the users complain of cracking of stone when heated.
Yet another pizza stone from China that not only satisfies your urge for tasty and crispy pizza but also friendly on your pockets. It has dimensions of 12*15 inches and is 0.6 inches thick.
Pros:
Economical to buy.
It can safely be heated up to 600 degrees celsius.
It is accompanied by a free pizza peel board.
Resists thermal shocks.
It uses FDA approved Cordierite stone and emits no smell.
Cons:
Not meant for a large size pizza.
The pizza peel board breaks after regular use.
Some users complain of foul smell even though the product mentions that it is odor-free.
Although this costs less than the Augosta pizza stone, the one that we listed as 'best budget', this is suitable just for medium-sized pizza. The dimensions are 12*12 inches and 0.35 inches thick.
Pros:
It is suitable for medium-sized bakery products.
It is made from Cordierite stone, odorless.
It can withstand temperatures up to 800 degrees celsius.
It is accompanied by the pizza peel board.
Cons:
Some customers complain about the foul smell.
Our Winner:
When it comes to pizza stone you should look for a stone that meets the size criteria, made from a material that does not emit a smell. It should be easy to clean and a product that meets all safety standards.
When we consider all the above parameters, we think Cast Elegance Pizza Stone is the best.
The rectangular shape makes the contents of the pizza spill-free in the oven.
A famous quote(anonymous) says; " A pizza always confuses me, it comes in square boxes, it is round in shape and when you start eating it, it is a triangle." If you too are confused about which pizza stone to opt for then we have a buying guide for you. Hope it helps!
BUYING GUIDE FOR THE BEST PIZZA STONES
What differentiates homemade pizza from a pizza made in the bakery?
In our homes, we use a pan with a metal base to prepare a pizza base. It fails to absorb the moisture and as a result, we do not get 'restaurant-style' pizza.
The pizza stone absorbs the moisture from the dough makes it crispy and cooks evenly.
What are the different types of pizza stones available in the market?
A pizza stone is not only available in a variety of shapes like square, round or rectangular but it is also made using different materials like iron, stone, ceramic, steel, clay, etc.
The thickness of the stone varies from model to model and it is generally a half inch or one inch thick. It is preheated in the oven so that it absorbs all moisture from the dough when the dough is placed on it.
Some pizza stones can sustain heat up to 600 degrees Fahrenheit.
The diameter of the stone ranges from 10 to 16 inches and weighs between 5 to 10 pounds depending on the model opted by you. For a kitchen oven, the ideal pizza stone size is fourteen to sixteen inches.
Some pizza stones have handles that can prove to be very handy while removing it from the oven.
Which material should you opt for when you buy a pizza stone?
The pizza stones with a ceramic base cost less whereas metallic or clay base cost more. Also, the clay base can break if not properly handled.
Should you apply oil to the pizza stone before baking the pizza dough?
The pizza stone is basically designed to absorb moisture from the dough, so applying oil is not a good practice. If you fear that the dough might stick to the pizza stone then you can apply some quantity of bread crumbs or wheat flour. That can help!
Does the pizza stone need to be pre-heated?
YES! If it is properly pre-heated then only it will absorb moisture properly from the pizza dough.
How should you clean the pizza stone?
A metallic base pizza stone can be washed gently with the detergent without scrubbing. The same logic applies to the ceramic stone.
If it is clay then it is better not to use any detergent or scrub it. Gently wash it and see to it that it is cleaned thoroughly. A little scrubbing with gentle pressure is okay but too much pressure can break it.
Using a detergent can cause a foul smell when it is heated.
Why does a pizza stone crack?
Pizza stones need to be preheated and they absorb moisture from the dough. Cracks can be found on the pizza stone if you put the cold dough on the pizza stone. So preferably the dough should be warm or of room temperature.
If you consider any other factors which are worth noticing while purchasing a pizza stone, do share with us in the comments section. All our readers can benefit from it and we will be glad to answer you.
X
You might want to hear this:
jeannie madsen said…
"I love my pizza stone! It bakes the pizzas perfectly. I cant wait to use it to make buns. The wooden paddle that comes with it is well built and sturdy.
Definitely recommend this product."