Let's talk about Indoor Grills today.
But first, listen to this:
If, like me, you frequently enjoy chilling with grilling, but find that bad weather or a lack of proper outdoor space hinders your wishes, look no further – a solution has been found!
I have discovered that indoor grilling is a fantastic option for BBQ lovers everywhere!
Indoor grilling provides a great opportunity to all those looking to exercise their culinary skills without restraint!
Now there is no more fear for unpredicted rain to dampen the party spirits. It can also be a means to having fresh BBQ even in the heart of winters – instead of waiting for summer to come around!
I believe that apartment dwelling food-fanatics who may have been largely deprived of the 'grilling' experience due to lack of space, can now take a breath of relief, for their prayers have been answered!
Being 'on the grill' indicates a homely togetherness, a celebration of food and community, which is a beautiful collective experience. I absolutely couldn't contain my excitement when I found how easy indoor grilling has made it to recreate this experience!
I thought of compiling a list of the best indoor grills that I have come across, while also giving tips that you should know before stepping into the market. I hope this is a helpful guide to all the adventurous foodies out there!
The Best for the Ultimate Indoor Grill-Fest!
Features
Hamilton
Cuisinart
GoWISE USA
Proctor Silex
Material
Stainless steel
Stainless steel
Non-stick
Stainless steel
Item weight
8.14 lbs
8.00 lbs
10.00 lbs
11.00 lbs
Cooking
surface
118

Square-Inch

100

inches closed/

200 open

12.5×20.5

inches

100

inches closed/

200 open

Adjustable
temperature
✓
No
✓
✓
Dishwasher
safe dishtray
✓
✓
✓
✓
Lid/cover option
✓
No
No
No
Wattage
1200
1500
–
–
Introducing the Premier Indoor Grill Choices:
One of the best choices available on the market, the Hamilton Beach Indoor Grill is the ultimate combination of economy and overall performance.
This multi-grill has removable parts for easy cleaning, and serves more people while taking up less space. Its adjustable temperature controls help lock in the flavor and juices for optimal grilling!
Pros:
Adjustable Temperature- from 200 degrees to the searing 450 degrees!
Convenient Window in the Lid to keep an eye on the food
Extra-large drip-tray to catch dripping juices
Power and Preheat lights- no more guesswork!
Reasonably priced
Removable and dishwasher-safe parts
Cons:
Large Lid size, which may not fit in all dishwashers
Short power cord
This multi-functional option is the ultimate foodies' dream! Working as a contact grill, full grill, Panini press, full griddle and half grill/half griddle, for infinite cooking possibilities!
Pros:
5 different cooking options
Adjustable temperature controls
Reversible plates
Dishwasher safe, non-stick cooking plates
Cons:
Grease-trap a little hard to remove
Takes time to heat up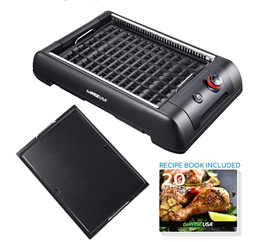 The grill for all seasons, and for all people! This grill is a true guide, not just in the actual mechanics of grilling, but also the method of preparing the food that wants grilling!
This is a true guiding companion for all those who consider themselves (myself included!) grilling-amateurs!
Pros:
Low profile, makes it easier to store
Large drip-tray, that is easy to remove
Ceramic surface for easy cleanup
Dishwasher friendly parts
Built-in fan to eliminate smoke
Comes with a Recipe book with 20 fun and easy recipes
Cons:
Does not come with a covering lid
May require more time to cook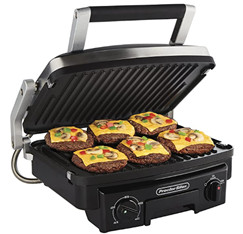 The key to good grilling is managing the temperature, and with this grill you can put that cat right in the bag! Easy-to-use and regulate the temperature, this ensures an intense flavor-lock for the ultimate grilling experience.
Pros:
Large cooking surface: 100 square inches, which double to 200 when opened.
Cooking versatility- has a grill and a griddle
Adjustable temperature control with indicator lights
Non-stick, dishwasher safe plates
Consistent heating up
Cons:
Shallow drip-tray
Surfaces can get really hot
Indoor grilling with poor smoke management can be a real nightmare! I find that this is a great option for those with respiratory disorders, or even those more sensitive to strong odors. The best grilling sessions are when everyone is comfortable!
Pros:
Airflow technology with hidden fan to eliminate smoke
Dishwasher safe with nonstick surface
Overheat protection
Cons:
Small in size
Suited for smaller meat pieces
Portable, and fun to use, this is for big groups to multiply the good food and good memories! With a stand, you can recreate the outdoor magic indoors, with similar results! What a way to recreate that grilling magic!
Pros:
Cook for more than 15 people at once!
Tough, nonstick coating- durable and easy to clean
Removable stand
Adjustable temperature control- five levels of heat for the perfect sear
Cons:
Short cord
Grill height is not adjustable, so difficult for tall people to use
Perfect for steaks, seafood, vegetables, you can use this grill to show off your cooking skills without worrying about the mess!
This is a great grill to use for the neat-clean fanatics, who have a taste for things fine! This grill allows them to unleash their creative juices, knowing that this grill will help them clean up after!
Pros:
Large drip pan
Insulated handles and base for easy transport
Dishwasher safe
Disassembles easily for easy cleaning
Cons:
Not smokeless
Takes time to heat/ for raw meat to cook
Indoor Grills: the Key to Flavor and Fun!
The word grilling has long been associated with 'outside', which is seriously limiting! When thinking of 'Carpe Diem'- to seize the day- you should not have to wait for summer to come along, or the weather to turn nice.
With the solid option for indoor grilling at hand, you can arm yourself with the knowledge that come rains and foul weather, your party can still go on!
Since indoor grills do not use combustible fuels, there is a little chance of the flare-ups that usually occur while grilling. This makes this choice a safer, and less hazardous option.
Their simple 'plug-in' mechanisms make indoor grills a convenient easy-to-use option. Much less hassle on the setting up allows you to focus more on flavors and 'fun' rather than sweating over getting temperatures constant as well as right for grilling.
Usually, indoor grills are dishwasher safe, which makes cleaning up much less exhausting than their combustible fuel counterparts.
Indoor grills produce significantly less smoke, which is preferable for apartment dwellers, and even foodies with respiratory troubles. For a better air quality, I would advise making the use of a ceiling fan and an open window to clear the air.
Things to Think About Before Purchasing Indoor Grills
The Price
Ah! The great "p-word". With more people turning towards this grilling option, the markets are flooded with products of different prices. The more hi-tech grills go up to $400, while the less jazzed up grills are available from $50 to $150.
Prices don't just depend on the interior capacity of a grill, they are influenced by the name of the manufacturer as well, and it is up to the buyer to see which one is best suited to their needs.
Size
Indoor Grills are not exactly built for large friends/family gatherings, but are perfect for groups of seven people or less.
Safety
Heat Protection: presence of a covering lid, cool-to-touch surface, and well-insulated handles.
Reliable Electrical Mechanism: a simple kill-switch, an automatic shutdown, with a power cord that is long enough for ease-of-use, but not overly so to be a danger.
SmokelessSmoke-less grilling property: for those in apartments and food-fanatics with asthma (and similar respiratory disorders).
Cleaning Ease
Though most indoor grills have a non-stick coating, some food may still stick upon it, so hand washing may be required to clean perfectly. Some grills have stainless, or even coated steel grates that can withstand dishwashers, which may make a better choice.
Additionally, when getting an indoor grill, it would be helpful to choose one with a deeper drip-tray to avoid overflowing and making a mess during the cook.
Conclusion: Best Indoor Grills
No matter the season or time, good food is always in vogue. It brings people together while treating the taste-buds. Using indoor grills allows more people to use grilling methods for preparing food and enjoying the results, spreading smiles around!
That being said, I would say that the Hamilton Beach Electric Indoor Searing Grill is the best buy!
Lighter than most of the larger grills, and reasonably priced, this guarantees more for less! The presence of a lid, and being dishwasher friendly makes this ready for easy/ speedy cooks!
I can see that indoor grills have come a long way, becoming increasingly easy-to-use and to clean, and therefore encouraging more people to either come up with unique ways of preparing food, or to keep old traditions alive.
One thing is for sure, indoor grills are here, not just to stay, but also to SLAY!
X
You might want to hear this:
Zachary Ruth said…
"The best indoor grill I have ever used. Extremely easy to clean (dishwasher) and works just as well as a normal gas grill. Heats up to over 350° in less than 10minutes and also includes a searing option."