Let's talk about the best air fryers today.
But first, listen to this:
Potatoes are America's favorite vegetable. Every year we consume about 110 pounds of potatoes per person.
That's the reason over 70 million adults in the U.S. are obese. Obesity is mainly caused due to high fat and oily food that we consume.
So if you want health + taste + nutrition then air fryers are a must for you.
Fried foods can be pretty tempting. But they're often dripping with fatty grease, which acts as a health hazard if consumed in excess.
Thank God! We have a product like air fryers which come in, as a way to "fry" food without drenching them in oil, and making for fried foods that both taste great, and won't lead to us to an operating table for a bypass.
The efficiency of an air fryer depends on its heating element and its fan.
Together both of these give us crispy and mouth-watering food.
with the help of Maillard reaction. According to the mechanism of frying used in them, air fryers can be classified into three different categories.
A static air fryer is one in which food remains static and hot air circulates around it, to cook it.
A dynamic air fryer is one in which food is gently stirred by the paddles and hot air moves around it.
Whereas a halogen air fryer uses a halogen light to heat up the food.
The dynamic or paddle-type air fryer can be used for cooking liquids and risottos too.
If you are going to use it mainly for frying chips, chicken and french fries then a static or basket-type air fryer will suit your needs.
Once you have decided the type of air fryer you are going to buy you need to take care of some other points before you make a final purchase.
Here's a quick look at our suggestions:
| Features | Ninja | COSORI | GoWise | Proscenic | OMORC |
| --- | --- | --- | --- | --- | --- |
| Weight(Pounds) | 4.9 | 16.1 | | 16.1 | 13.2 |
| Capacity(Quarts) | 4 | 5.8 | 7 | 5.8 | 6 |
| Watts | 1500 | 1700 | 1700 | 1700 | 1800 |
| Program functions | Air Fry, Roast, Re-heat and Dehydrate | Air Fry, Roast, Reheat, and Dehydrate,preheat and shake remind | Air fry, roast, broil, dehydrate, grill, bake, reheat, or keep warm | Schedule, menu, keep warm | Air Fry, Roast, bakeReheat |
| Coating | ceramic | nonstick coated basket | nonstick coated basket | nonstick coated basket | nonstick coated basket |
| Auto stay warm | – | Yes | Yes | Yes | Yes |
| Warranty | 1 year | 1 year | 1 year | 1 year | |
| Basket dimension | | 9*9*3.75 in | 10″ X 9.5″ X 4″ | | 9.1*9.4*4.5 in |
| Temperature range | 105 degree Fahrenheit to 400 degrees Fahrenheit | 170-400°F | 180°f to 400°f. | | 180 to 400 degree F |
We did an extensive search and shortlisted a few for you.
Hope it helps!
Pros:
Ninja is a magical Ninja in a true sense! With this air fryer you can reduce the fat content in food upto 75%. Well that means you can munch your favourite finger chips as much as you want while watching TV or surfing the internet without the fear of gaining extra calories.
It has a wide temperature setting range from around 105 degree Fahrenheit to 400 degrees Fahrenheit.
It allows you to gently remove moisture from foods or quickly cook and crisp foods with convection heat.
It is made in China with a 4 quart ceramic coated nonstick basket crisper plate which is PTFE and PFOA free.
When using the dehydrate function, we recommend that you use the multi-layer rack along with the crisper plate to dehydrate twice as much.
It comes with a 1 year warranty and excellent support from the company.
Accessories for the product are available on order as per the need.
Cons:
Ninja Air Fryer does not have a pressure cooking function. This machine allows you to Air Fry, Roast, Reheat, and Dehydrate.
We would like to inform you that the basket can be removed from the Ninja Air Fryer without pressing the Start/Pause button.
If this is done, the cooking time will still continue to count down and the timer does not shut down. It can give you false indication about the cooking time.
We recommend pressing the Start/Pause button prior to removing the basket.
It cannot be used with Alexa.
CONFIGURATION
Watt: 1550
Capacity: 4 Quart
Basket: Ceramic coated
Color: Black/Grey
Programmes: Air Fry, Dehydrate, Reheat and Roast
Temperature range: 105 degree Fahrenheit to 400 degrees Fahrenheit
Weight: 4.9 pounds
Well, if you are fond of cooking and eating as well then COSORI Air Fryer will drive you crazy!
Pros:
Able to handle a wide variety of cooking dishes ranging from vegetarian dishes to non-vegetarian dishes. Chicken thighs, Chicken wings, Shrimp, Zucchini all taste simply mouth watering with this air fryer.
The 11 presets are convenient in automatically setting temperatures and times to cook food crisply and evenly if you are new to the machine. That means if you are learning to cook, no need to get scared that the food will get burnt.
The basket is easily detachable, so it is easy to clean and dishwasher friendly.
The COSORI Smart WiFi air fryer provides you the ability to control your air fryer by using the Vesync APP or through voice with Alexa from anywhere. That clearly means you can have something nutritious and delicious to eat when you reach home after a hectic day at the office.
Recipe book containing 100+ recipes.

It has 85% less fat than traditional deep frying methods to keep your heart healthy. The myth that says good food needs oil is proved to be wrong by this smart air fryer.
The best part is that it has a square basket and not a round one.
The square shape of the basket makes it really easy to fit a 5 lbs-6 lbs.' entire rotisserie chicken, while a small round basket can't. Cooking in large quantities can save time and efforts. Also, the hunger pangs can be satisfied in one go!
Automatic shut off prevents overcooking, overheat protection.
Cool touch handle button guard to prevent accidental detachment.
Removable nonstick coated basket is dishwasher safe, PFOA-free BPA-free.
This air fryer takes care of your spine too! Special improved ergonomic angled display provides better viewing, without bending over.
1 year manufacturer warranty.
Reminder to shake the food as well. With this air fryer you just need to remind yourself to eat, it does the rest for you.
Comes with an application guide, user manual, user guide and a recipe book.
Cons:
Does not have a remote control. You need to download the VeSync app.
Not compatible with Google Home.
CONFIGURATION:
Watt: 1700
Capacity: 5.8 Quart
Basket: Non-Stick coating PFOA-free BPA-free
Color: Black
Manufacturer: Cosori
Programmes: Air Frying, Roasting Keep Warm 11 Cooking Preset, Preheat Shake Remind,Digital Touchscreen
Temperature range: 170 degree Fahrenheit to 400 degrees Fahrenheit
Weight: 16.1 pounds
Basket Dimension: 9*9*3.75 inches
Tired of cooking in batches due to the small size of the air fryer? Check this one out.
It has a capacity of 7 quarts of cooking space. The huge extra space the extra trays make it easy to create zones of different foods to cook.
So that a whole meal – protein, veggies, and carbs can come out at the same time and in proper way without wasting much time and effort.
Pros:
If you ever wanted an appliance with all functionality, GoWise will fulfill your wish.
You can Air fry, roast, broil, dehydrate, grill, bake, reheat, or keep warm all in 1 appliance with a touch of a button. Its multi-function display gives it the appearance like a futuristic robot.
It gives you a wide temperature range from 180°f to 400°f. The air fryer gives you more control by allowing you to set the temperature in increments of 5. I think this is perhaps the best feature by which it is possible to customise any dish. If at times you feel that food is not properly cooked, you can increment it by 5 points and watch.
With this you can surprise your family members by preparing a variety of dishes.
You can use fruits such as strawberry or any vegetable of your choice and dehydrate it to make it look like chips.
It comes with a dehydrator functionality. With this air fryer you can showcase your expert cooking skills- a window to the world!
The built-in dehydrate function is designed with a temperature range from 90°f to 170°F and a timer from 2-24 hours with 3 stackable racks.
Racks make cooking multiple items at the same time, very easy and less time consuming.
The basket is huge with a non-stick material measuring 10″ X 9.5″ X 4″. That means you can cook a rotisserie chicken at one go!
It is FDA compliant and uses PFOA-free non-stick material.
It comes with a recipe book with 100 recipes.
The product offers a 1 year warranty with excellent support.
The best thing is that the timer stops as soon as you pull out the basket and resumes from where it had stopped earlier when you push it in. This perfectly guides you regarding how much time you will take to cook the item.
It is dishwasher friendly. Also, you can add some foil at the base to prevent oil from dripping in and making the unit messy.
Cons:
It does not have a pressure cooking function. This machine allows you to air fry, roast, broil, dehydrate, grill, bake, reheat, or keep warm.
It is not connected with Alexa or Google Home.
In case you are cooking using the stackable racks, for uniform cooking you may need to stop it in between and toggle it.
It will be better if you prepare a chart showing different temperature settings and the minutes required and attach it to the unit. Because although it has a predefined menu, it does not not show it item wise. For e.g chicken and french fries both need the same temperature but both need to be baked for different minutes. In such cases, the chart will come handy to you.
CONFIGURATION:
Watt: 1700
Capacity: 7 quartz
Basket: Non-Stick coating PFOA-free BPA-free
Color: Black/silver
Manufacturer: GoWise USA
Programmes: Air fry, roast, broil, dehydrate, grill, bake, reheat, or keep warm.
Temperature range: 180°f to 400°f.
Basket Dimension: 10″ X 9.5″ X 4″
Till the time I came to know about this air fryer, I presumed that all things can't be there in a single product. But the Proscenic T21 smart air fryer proved me wrong!
Pros:
It has three combination functions – schedule + menu + keep warm, you can choose any one, or two, or three of them, it all depends on your need.
It has pre-heat and auto shut off functionality. Auto shut off ensures that the food does not get burnt.
It has 8 pre set menus and in case you are the chef and want to save your recipe then you can do that too!
It is possible due to WIFI connectivity and the Prosenic app. With this app you can customise and save your own recipe.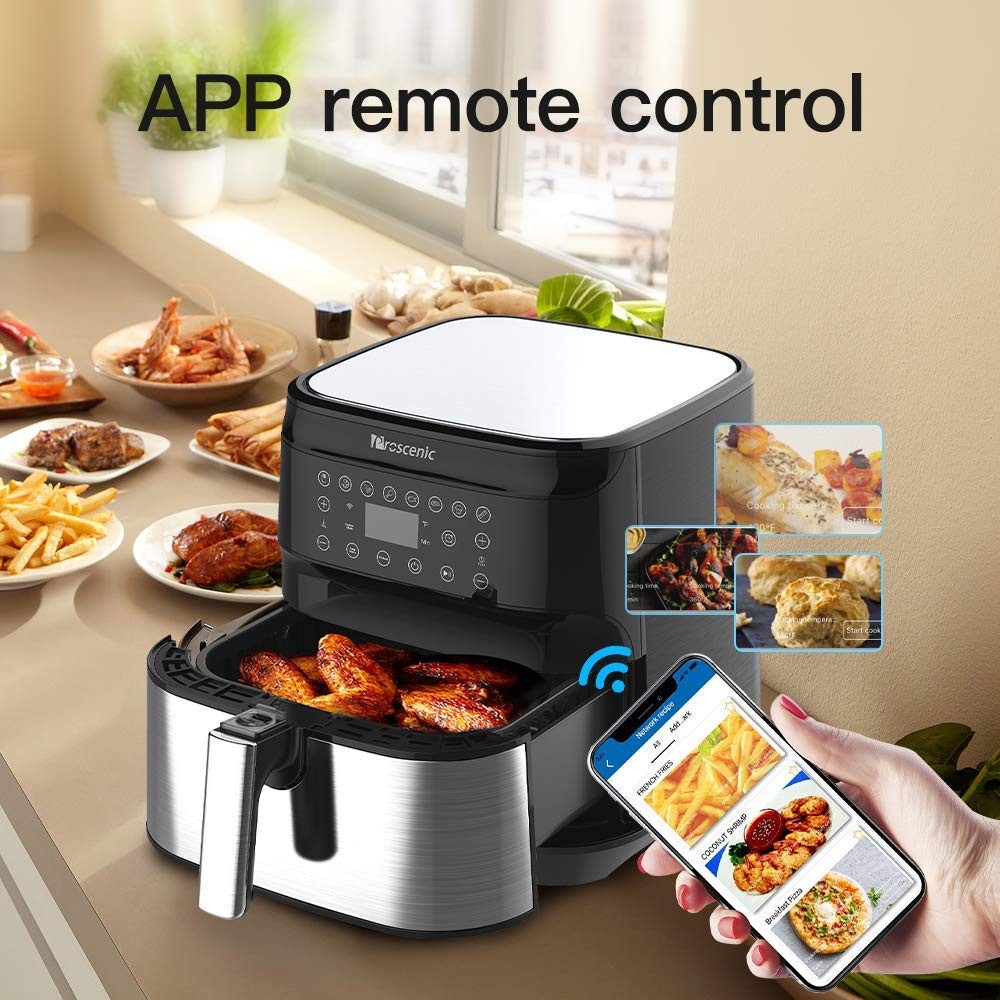 One thing I personally like about this air fryer is the quality of non stick coating.
Compared to all other air fryers in the similar category, this one has a double coating.
The detachable basket is made of aluminium with two layers of Teflon coatings making it very easy to clean and safe.
The detachable parts are dishwasher safe.
Well, with the help of Alexa you can cook food even if you are away from the house.
Cons:
The app only supports 2.4G WIFI, 5G is not supported.
The adapter for different countries isn't the same. The adapter for this item is US standard, which can't fit for Europe or Asia use.
CONFIGURATION:
Watt: 1700
Capacity: 5.8 quartz
Basket: Non-Stick Double coating PFOA-free BPA-free
Color: Black
Manufacturer: Prosenic
Programmes: Schedule , menu, keep warm
Weight: 16.1 pounds
I guess everyone will agree with me when I say that often we need to wash our hands, clean them, and dry them before we press the buttons of the air fryer. Isn't it?
How would you feel if I told you that you no longer need to do it? You have an air fryer which can tolerate your wet hands.
Don't believe me? Try it out then!
Pros:
It has a knob to rotate which decreases the repeated pressing of buttons and further damage to the instrument.
The 6 quartz square basket makes it possible to cook large quantities in one go. That means you can have small parties and lots of fun with family quite often!
It has predefined menus for easy cooking. That really makes it worthwhile for someone who does not know the temperature requirements of different things.
It can reduce 85% oil compared to traditional frying methods.
Cons:
Not connected to Alexa or WIFI
CONFIGURATION:
Watt: 1800
Capacity: 6 quartz
Basket: Non-Stick double coating PFOA-free BPA-free. Health conscious people would simply love this feature.
Color: Black
Manufacturer: Omorc
Programmes: air fryer,cooker, roast, bake, keep warm
Temperature range: 180°F-400°F
Weight: 13.23 pounds
Basket Dimension: 9. 1*9. 4*4. 5 inches
Generally all air fryers claim that they burn the fat content in the food. But do they really burn it?
Where does the excess fat in the food go?
Well, here we have an answer.
Pros:
The ONLY product with the fat removal technology. Extra fat is collected at the bottom of the air fryer.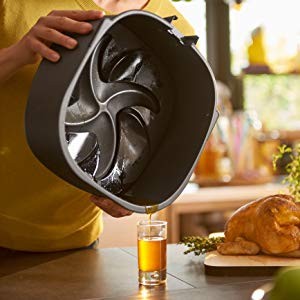 Does not require preheating. It uses Twin TurboStar technology that creates a tornado like air flow exposing food to circulating heat and a better taste.
It is dishwasher friendly and has a multi-cooking technology.
Cons:
Not connected to WIFI or Alexa
CONFIGURATION:
Watt: 1725
Capacity: 4 quartz
Basket: Non-Stick Double coating PFOA-free BPA-free
Color: Black
Manufacturer: Philips
Programmes: air fryer, roast, bake
Temperature range: 175 – 400°F
Weight: 18.74 pounds
Well if you thought that only ovens give you the chance to have a look at the food while it was being cooked, then you are wrong.
Chefman air fryers give you the view of your food being cooked. On one hand it takes away fat from your food with 98% less oil and on the other hand it tempts you to eat the same. Amazing isn't it?
Pros:
Does not require pre heating.
Uses ' Rapid Air Technology'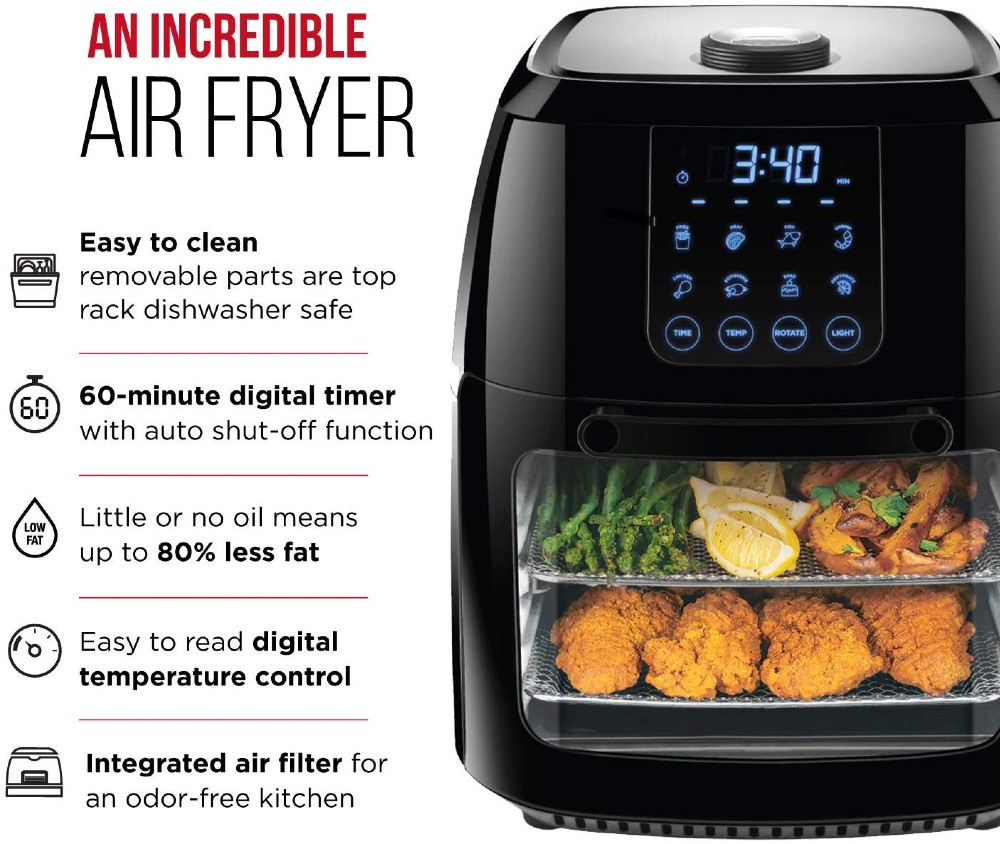 It has an integrated air filter to give you odour free kitchen.
It has 8 pre set options to choose from. Having a pre-set option clearly means that you need not worry about setting time and temperature for a particular dish.
Accessories useful for rotisserie baskets are also included. All are dishwasher friendly.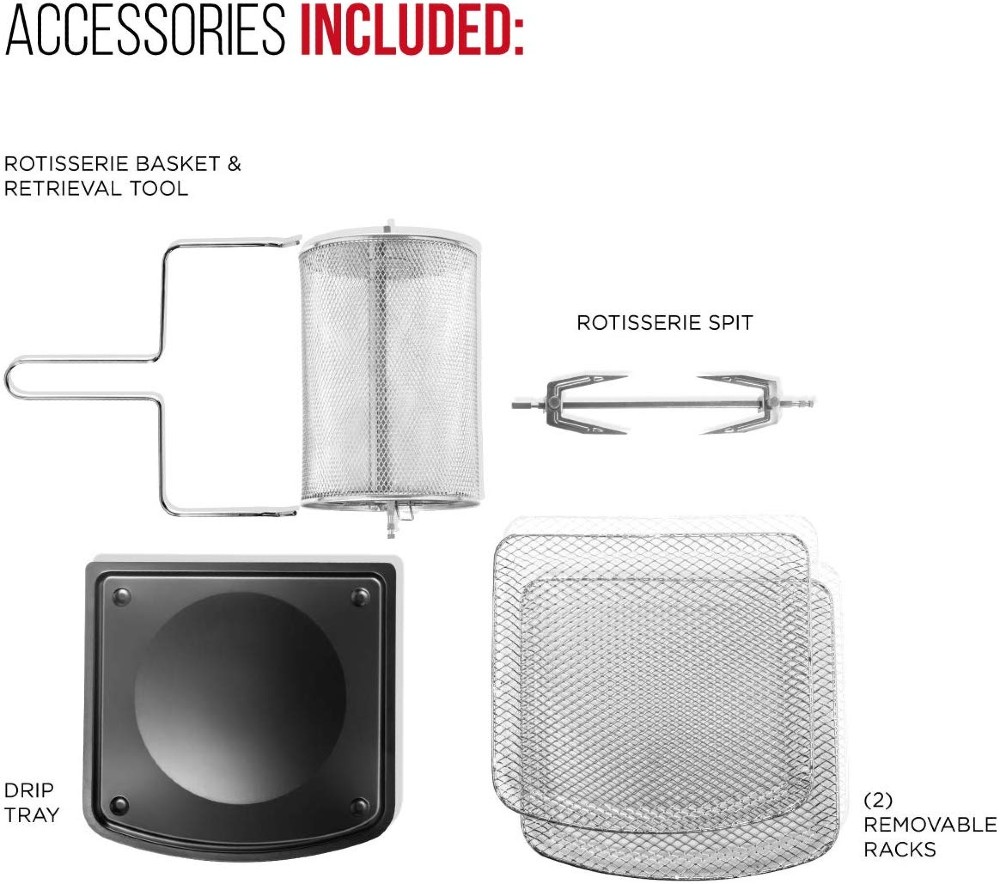 Cons:
Does not connect with Alexa or WIFI
CONFIGURATION:
Watt: 1700
Capacity: 6.3 quartz
Basket: Non-Stick double coating PFOA-free BPA-free
Color: Black
Manufacturer: Chefman
Programmes: Fry, Roast, Dehydrate Bake
Temperature range: 90-400 °F
Weight: 19.65 pounds
BUYING GUIDE FOR AIR FRYERS
Size
Air fryers come in different sizes and we need to figure out the exact size depending on our needs.
We often read about the technical specifications of the product on Amazon or any other site. But does it truly give us an idea about how big or small our actual product is going to be?
I guess you said, probably not. That's precisely the reason I decided to dig a bit deeper so that we know which size suits our needs.
The size of an air fryer is measured in a quart (quarter gallon), liters or pounds.
An air fryer that holds 1 quart is big enough to hold 0.94 US liters, which converts to about 2lbs.
Accordingly, it can be said,
For two people- an air fryer with 2-3 quarts will be ok.
For a normal family size of 3 to 5 members – an air fryer with 3-5 quarts will suffice.
For a group of 5 to 6 members – you need an air fryer of 5-6 quarts.
For a party or social gatherings- you require 6+ quarts.
Dimensions
Air fryers are somewhat bulky appliances. So if you want to use them regularly, take note of the counter space available to you.
Secondly, you need to take care that this device should not be kept on or very near to the stove as it may cause a fire hazard.
Last but not the least, generally all air fryers have a fan at the back of the unit. So you need to have ample space all around the unit to keep it well ventilated.
Type of air fryer
Depending on which type of food you want to cook you can opt for a paddle-type or static air fryer.
Paddle type suits wet foods.
Whereas a static one is more suitable for chips and french fries.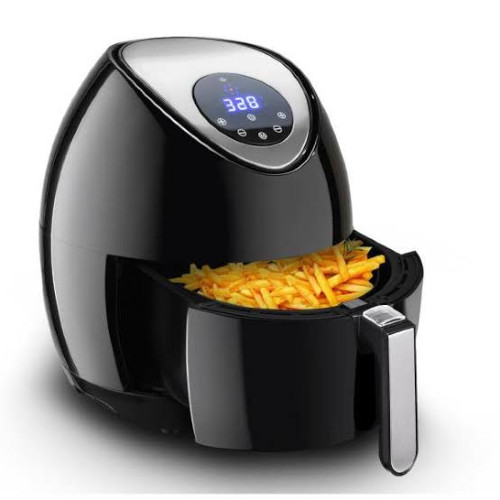 Temperature regulation
Different food items require varying degrees of temperature to get fully cooked.
In case the oil does not heat up at the proper temperature, you might not get crispy food. Rather it will be soggy.
So you should choose a product with a thermostat and a timer which shows you how much temperature is actually maintained. The timer tells you when the food is cooked.
Baskets
Some models have a revolving basket that allows food to get cooked evenly.
Whereas some baskets have tiny openings outside them. Due to this excess oil comes out and it becomes laborious to clean.
Safety features
Sometimes the equipment which generates heat catches fire accidentally. So it is necessary to see whether the equipment has an automatic cut off setting.
Air fryers must have a well insulated exterior handle to prevent hands from burning while taking food out from it.
If kids are going to operate it, you specially need to check whether it has a lid locking system to prevent splashing of oil.
Cleaning
You need to check whether they can be cleaned in the dishwashers.
You can add food to the foil and then keep it in the air fryer to prevent it from going bad.
Positioning of basket
In some cases baskets are placed inside the removable trolley. So every time you need to remove food, you first need to take the trolley out.
In some cases the basket can be removed from the top by opening the lid of the fryer. This makes it very easy if space is one of your constraints.
Recipe guides
Sometimes we are fascinated by the products and later on are unable to put it to multiple uses.
So before buying make sure that the appliance comes with a ready recipe book which guides you to make different things.
After having a clear idea about the features of the product to look into, we can now explore a wide range of air fryers available in the market. For your ready reference you can look at our suggestions above.
FREQUENTLY ASKED QUESTIONS
1. Do air fryers have radiation?
No, air fryers do not use, produce or emit electromagnetic radiation rather they use radiated heat to cook.
2. How much healthier is an air fryer?
Air frying is healthier than frying in oil. It cuts calories by almost 70% and has a lot less fat which helps to reduce the trans fat and bad cholesterol.
3. Is air fryer better than an oven?
Both involve the principle of air circulation but air fryers tend to do it better using less oil.
4. Do air fryers destroy nutrients?
Air fryers are new to us and much research is going on about it.
In general it is said that because of the hot air circulating
Technology which they use, they retain nutrients.
5. What are the benefits of buying a large air fryer?
It is the versatility, more accessories, and layering possibilities
Which makes large air fryers an irresistible option.
6. How much do large air fryers cost?
Depending on their bucket size they cost you somewhere
Between $100 to $300.
7. How big is 1 Quartz?
1 quart is big enough to hold 0.94 US liters, which converts to about 2lbs.
X
You might want to hear this:
Elizabeth Shapiro said…
"I LOVE This air fryer! It works so well and is so quick and easy to clean up. Love all the different functions. Really feel like this is a one stop shop for all your kitchen needs!"