Our Top Picks
In earlier times watches were meant only to show time. With time, things have changed. Now even the watches that kids put on are smart. They have touch screens, games, connectivity, a calling facility, and a lot more features. Here is a list of the best kids smart watches.
Vtech kids smart watches have eight pre-loaded games and you can even download more if you wish. The belts are adjustable.
It shows digital as well as analog time.
This helps the kids to understand it in a better way.
Pros:
Adjustable belts.
More games can be downloaded.
Shows analog and digital time.
You can keep track of kids due to the motion sensor.
It has a pedometer installed so it can show whether the child was active during the day.
It is capable of clicking photos, videos and effects can be added to them to enhance the creativity of the child.
It has a calculator and calendar apps that can be synchronized with your phone.
Kids can get the feel of 'augmented reality' in monster detector games.
It has 256MB of internal memory.
Cons:
Some people feel that there should be an improvement in the graphics.
An additional set of belts is not available in case the original breaks due to any reason.
It cannot be used for calling or GPS tracking.
If you are worried about children playing games all day long on their smart watch, then CMKJ kids smartwatches with 32MB initial space will be a boon for you.
This is because it contains educational games. It has a camera and video recorder and very good picture quality.
Pros:
It is durable and wash proof with an IP67 rating.
It has a 300000-pixel camera that helps to give clarity to the picture.
It has a music player, camera and video recorder.
7 games are preloaded in it and the 2GB memory card makes it possible to store even more.
It has apps such as a stopwatch, alarm clock, calendar, and audio recorder.
It has a great battery life and can remain charged for one or two days.
Cons:
It cannot be used to make or receive calls.
It does not support GPS services.
If you are looking for a combination watch that has all features and allows the kid to call the parents in case of an emergency then have a look at this smart watch.
It allows emergency SOS calls and also can connect to a 2G network with a micro sim card. It can store 10 contacts.
Pros:
It supports a 1GB memory card that is provided free with the watch.
A separate GSM sim card can be installed that supports a 2G network to enable calling.
It has multiple apps like games, calculator, stopwatch, alarms, calendar, camera, music player, recorder, etc.
It has a comparatively large display of 1.54 inches with a good touch screen.
It can be conveniently used by the kids at school because it can be put on a silent mode whenever required.
It has pre-installed seven games.
Cons:
It supports only 2G networks.
It cannot be used as a telephone and can make limited calls.
It does not have GPS enabled.
It does not support two-way phone calls.
WillowWind kids smart watches are suitable for kids from age 4 to 12. It looks quite elegant and can be used for calling if you have a 2G SIM.
Pros:
It has fourteen pre-installed fun games.
It has important apps like a calculator, alarms, MP3 player, torch, and camera.
It supports five different languages.
It has a 'school mode' that operates on a silent mode during school hours.
Health monitors can be used to monitor sleep hours, calories used, and lots more.
Cons:
It operates only if a 2G connection is available.
It does not support a GPS tracker.
Kids generally imitate adults and they want all their things just similar to the adults. Nadaho kids smart watches are compatible with almost all phones.
You have got an option to insert the micro-SIM card having a 2G network if you wish to permit your kids to call you.
Pros:
It has 14 puzzle games and 7 learning games.
Micro SIM can be inserted with a 2G network to permit calling.
Allows the kids to make SOS calls in case of an emergency.
It has other useful apps like a calculator, stopwatch, music player, video player, camera, and recorder.
Cons:
No GPS tracker.
No health trackers are included.
No facility to add a memory card.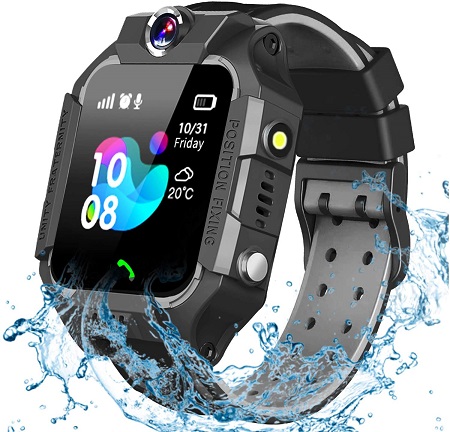 After the pandemic we all are habituated to wear masks, take extra care of our health and also note our body temperature to keep a check on things.
GBD smart watch has an extra feature that records body temperature. This is a must feature post-pandemic situation.
Pros:
It has very stylish looks.
It is durable and washproof, IP67 certified.
It supports both, IOS and Android operating systems.
It has five pre-installed games.
It can store ten phone contacts and can make SOS calls in an emergency.
It has in-built apps like a camera, alarm, stopwatch, calculator, and torch.
Micro SIM with 2G connectivity can be inserted if you wish the smart watch to be used for calling.
It supports five different languages.
It displays analog and digital time, that way making it easy to teach kids about time.
Cons:
Does not have GPS connectivity.
No facility to add a memory card.
Our Winner:
After you read the buying guide that follows, you will be able to make out the things that you should consider before buying a kids smartwatch.
If you intend to allow the kids to make an emergency call then go for the models that allow it. Considering this fact we feel that PTHTECHUS Kids Smartwatch is the best choice.
We recommend it because it can be used to make SOS calls, track the health of the child, it is durable and the most important part- it contains just 7 games. This will keep children away from getting addicted to the watch.
We know by now you must be thinking that there are so many features to look into while purchasing a kids smart watch. Which one should you consider? So here is a buying guide for you that will simplify things for you.
Buyer's Guide:
How are Kids Smart watches useful?
Depending on the use you can choose a model accordingly.
Just like the watches, our kids too have grown smart with time and they know how to handle electronic gadgets.
If instructed properly they can use it for their safety and also make calls in an emergency. Probably that justifies the need for a smart watch.
Also, it can help working parents to stay connected with their kids when they are away from home.
Is it safe for kids to use a smart watch at a tender age?
It might come as a shock to you, Bill Gates never gave phones or any electronic gadgets to his children till they turned 14 years of age. The reason?
Pretty simple, he did not want them to get involved in all these things at a tender age. He quoted, " If you give phones to kids at a tender age then rather than putting the phone to use for themselves, the phone is using them; which I don't want to happen."
Well, this is one view for safety. But you can always set limits for the usage or buy a smartphone that has features that don't allow kids to access social media.
Anyways, kids are smart these days and don't want to be left behind in the rat race. The best way is to keep an eye on usage. Rather than telling them not to use certain things it is better if we tell them why not to use them. Educating them in this regard can certainly make a difference.
What are the features to be looked into while buying a smartwatch for the kids?
Depending on the age of your child you can opt for a smartwatch with different features. Mainly a smartwatch has the following features.
The shape of the watch:
Well, this might not be a big deal for you but the design and the colors do matter to our kids. Most probably they are more attracted to the way the watch looks rather than the features it has!
The display:
Often kids like to imitate adults and parents. When they see your fingers running down the devices from dawn to dusk, they might also feel the need for a touch screen watch.
You can have watches with buttons, touch screens, or even a combination of the above.
Connectivity:
Smartwatches with GPS connectivity require a sim card and can be used to show or share location, make calls. Depending on the use you can opt for a smartwatch that keeps you connected to the world.
Health monitor:
Many smartwatches contain apps that monitor your blood pressure, heartbeats, calories burned, and even sleep.
If you are planning to buy it for a small kid, this feature might not be needed but if you are purchasing it for a teenager then this feature can be helpful in the long run. This can help to sensitize kids about health issues.
Toughness:
Kids often take care of their belongings for two to three days. After that, they simply forget about the article, and hence it is necessary to buy them a smartwatch that is sturdy and can withstand dust, water, and rough handling.
Apps and games:
If you have ever observed kids talking to one another about their electronic gadgets, then you must have probably heard them say how many games are installed on their devices.
The small screen size does not bother them and they love to boast about it. Some watches allow the kids to click pictures or watch videos.
SOS alarms in case of emergency:
Some of the smartwatches have this feature that allows the kid to call the parent in case he/she is in an emergency.
This feature can be of great help to working parents.
Battery life and charging:
Depending on the usage, the battery life can extend to one or two days. It is essential to note how the watch can be charged via a USB or any other mode.
Compatibility with other devices:
You need to check whether the smartwatch is compatible with Android or IOS systems and choose wisely.
Music player:
Smartwatches can play music or videos and help to entertain and educate. You can use this as an opportunity to train your kid. It can be used by a teenager to hear podcasts or listen to audiobooks.
What are the benefits of giving smartwatches to your kids?
It can help you to track the location of your kids.
Kids can use it to make calls or send messages in an emergency. This helps them to stay connected.
It can be used to monitor health.
It can teach them the value of time and also teach them how to take care of their belongings.
Different gaming apps or music files can help to keep them entertained and can be also used to educate them.
We hope our review helps you in choosing the best kids smartwatches. If you know any other point that we missed out then do let us know in the comments section.
X
You might want to hear this:
Girlglogo said…
"Great watch for kids, my soon to be 6 yr old daughter was ecstatic when it arrived. It fits her perfectly and she loves the different features that are on it for her to play with."