Our top picks
Rising utility costs are a cause of concern for everyone. On top of that, if you have to add the cost of keeping the house warm, it can pinch. That is where space heaters come to your rescue because they can provide warmth at a lower cost. The best thing is that you don't have to worry about keeping the central HVAC switched on.
Using space heaters is the most effective way to quickly raise your room temperature and add warmth to any space that might be left out of reach from the main HVAC system. They come in various sizes and styles. Some electric space heaters even boast special features such as automatic oscillation and digital controls while in operation.
So, have a glance at some of the best space heaters currently available in the market.
The Trustech space heater is an ideal choice for both office and indoor use. The advanced and portable design makes it handy for use. The powerful heating element is enough to heat up any large room within a few minutes. Moreover, you can control it with your fingertips and select any mode of heating as you wish.
Pros:
The adjustable thermostat lets you select temperatures ranging from 50 to 95 degrees Fahrenheit to enjoy effective and consistent warmth.
The digital display is user-friendly. Furthermore, the remote control lets you have control at your fingertips.
It comes with a 120° widespread oscillation and advanced 3 seconds ceramic heating. Because of this, it can heat up large rooms pretty fast and spread warmth evenly.
12H Timer Feature
This energy-efficient heater for indoor use is designed with a timer feature of up to 12 hours, which will free you from worrying about electric bills.
This ETL-certified heater comes with overheat protection. It is also safe for families with kids, toddlers, and pets.
Cons:
The heater is annoyingly loud.
Customers have even complained about the heating problems.
Depending on your comfort and room space, the Pelonis ceramic tower heater can be used horizontally or vertically. In just three seconds, the heater reaches 70 degrees Fahrenheit. Furthermore, its superior heating technology maintains a consistent temperature.
The heater has four temperature settings and can warm up to 100 square feet. Its portability allows you to move around your home or office.
Pros:
The heater comes with an advanced heating element which starts heating in just 3 seconds.
It has in-built storage for the remote so that you don't lose it. Also, you control the heater from a distance of 20 feet.
The eco mode is meant to save energy. Hence you do not have to worry about the electricity bills.
The handle comes real handy to move it anywhere in the house.
Use it any way you want with the 8 Hr timer. Also, the overheating protection will automatically shut it down in case things go out of hand.
Cons:
You have to reprogram it once you unplug it from the power source.
The KopBeau functions vertically or horizontally, depending on how you want to heat your home. The body is made up of robust material that can withstand fire up to some extent. With control at your fingertips, you can be sure of getting warmth instantly. It comes with some of the most sought-after features including a smart LED panel and eco-mode.
Pros:
You can keep track of the appropriate temperature with the eye-catching LED display. Also, you can adjust the thermostat if necessary.
The 24-hour timer allows you to program your heater to ensure your home is warm when needed.
The internal oscillation ensures even heat distribution while keeping the sound low.
The eco-mode will cut down on your electric bills without compromising on overall warmth.
It comes with a detachable filter which makes it easy for you to clean it from time to time.
The fireproof materials and overheat protection function will keep you safe even when things go wrong.
Cons:
Customers have complained about burning smells.
Some customers have even complained about the heater burning the wall socket.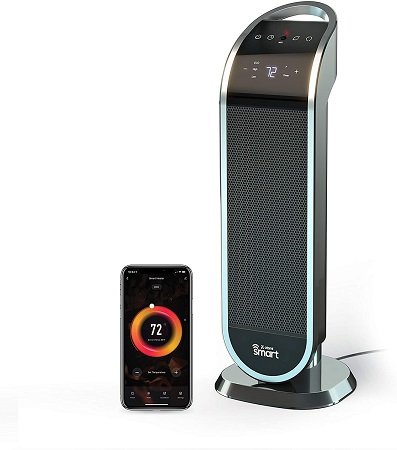 This smart heater responds to simple voice commands from Alexa or Google Assistant. This means you can use it hands-free whenever you want. The sleek frame matches aesthetically to your interior. The carry handle makes it portable. Moreover, the wobble-free base gives it stability. The best part is that you don't need to install anything. You can control the whole function from your smartphone, be it scheduling, or preheating.
Pros:
Its superior heating technology heats up the room in just 2 seconds.
The 90-degree oscillation feature means you can spread the heat around the room.
You can easily control this space heater with your smartphone. It is available for both iOS and Android OS.
The next-gen design has removed the annoying beeps. So you can sleep peacefully even in a chilled winter.
Alexa integration makes it an ideal choice for smart homes.
The safety features include built-in overheat protection, cool-touch housing and handle, a wobble-free base, and a 360-degree tip-over safety switch.
Cons:
No spare remote control is provided.
Controlling the heat and fans speed is not that easy.
The Asterion space heater is an ideal choice for instant room heating. The powerful heating elements take as long as just 2 seconds to heat up a room. The internal oscillation spreads the warmth evenly throughout the entire place.
When it comes to control, it is entirely at your fingertips with easy control from 6m away. Furthermore, it is less noisy as compared to some other models of the same price range.
Pros:
The fast and safe heating material can provide warmth in just 3 seconds.
LED display, control panel, adjustable thermostat, and 24h timer are some of the must-have features you can find in this model.
The wide-angle oscillation is meant to provide even heat distribution.
Equipped with a 360° Tip-Over Switch, it can protect from overheating.
From a safety point of view, the ABS flame-resistant body provides fire resistance.
This model is highly energy-efficient and saves a lot on your energy bill.
Cons:
The heater does not shut on auto mode when the room gets too hot.
The Aikoper space heater is a great choice for someone with limited space. Because of its convenient size and price, it is a popular space heater in the market. Features like fire prevention, powerful heating element, and control are its attractions.
Furthermore, the tip-over and overheat protection make the child safe. Overall, this is a feature-rich model at an equally great price tag.
Pros:
This is an all-weather space heater. Hence, you can save money as you do not have to spend on HVAC as the season changes.
This is suitable for both home and office use.
The compact size makes it convenient to place anywhere, be it on a tabletop or under the desk.
Apart from the normal three mode settings, it has a fan-only mode. When you do not require heating, you can switch on to fan-only mode.
It has all the safety features like overheating protection, tip-over protection.
It produces low noise, thereby letting you sleep peacefully.
Cons:
It does not have a remote control.
You have to control everything manually.
What features should you look for while buying the best room heater?
Buying a space heater involves thorough market research which is itself time-consuming.
So, to save you from that burden, we have done that part for you. Here we present you the buyer's guide which includes the important features to look for buying the best space heater.
Type of heater
The first thing to consider before purchasing a space heater is the type of heater you need. There are many different types of heaters. But every electric heater falls into three categories: radiant, convection, or fan-forced. The best way to ensure adequate performance is to choose the right type of heater.
Convection heaters provide even whole-room heating in most cases.
In small spaces, radiant heaters provide quick, spot heating.
Internal fans blow across a heating element in fan-forced heaters.
Safety features
Portable heaters can become fire hazards if not monitored. As a result, it's critical to think about safety. Many manufacturers stress advanced safety features to reduce the risk of fire.
Nowadays, most space heaters come with overheat protection. This switch turns the heater off automatically if the temperature rises. Some other safety features to look for are tip-over and cool-touch.
Heating capacity
Heating capacity is an important factor to consider when purchasing a space heater. The wattage rating of the heater determines this. A room heater, on average, uses 10 watts of heating power per square foot of your space. A typical 1,500-watt heater covers average-sized rooms up to 150 square feet.
Wattage
The wattage of a space heater is crucial for determining its power. Before you buy, double-check the wattage. More wattage means more heat is produced. But the energy consumption will also be more, which means a higher electricity bill. Keep this point in mind while buying space heaters.
Thermostat control
A good space heater should have at least two different heat settings. In some advanced space heaters, you can adjust the heat level according to your needs. This becomes possible because of the multiple thermostat controls. Hence, we advise you to avoid room heaters with only one thermostat setting.
Noise Level
The room heater, like other appliances, may make some noise while in use. Room heaters with fans make a lot of noise, whereas oil and radiant heaters are relatively quiet. Choose a space heater without a fan if you want a noiseless operation.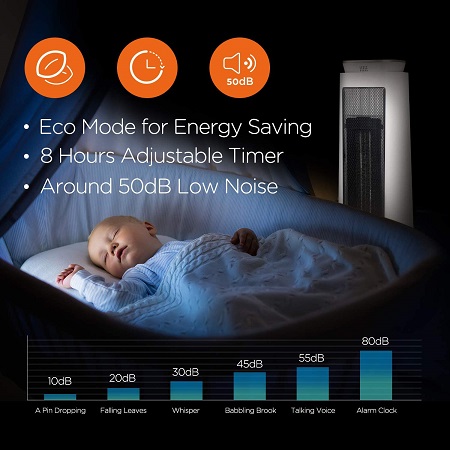 Energy Efficiency
An energy-efficient space heater is important to keep your electric bills from skyrocketing. Unique features like adjustable thermostats, low wattage, and programmable timers also help to reduce power consumption. This will further contribute to the cost-effective operation. So, do not hesitate to spend some extra bucks while buying. This will help you in the long run to save electricity and money.
Price
A high-quality feature-loaded space heater is more expensive. High-end models come with extra innovative features like remote control, energy-saving mode, and a timer. Some budget space heater models may not have many intelligent features. Still, they will provide you with plenty of warmth.
Tips for using a space heater
Consult the owner's manual, and take all other necessary safety precautions.
Keep a 3-foot safety zone around the space heater. Also, keep blankets, furniture, draperies, children, and pets out of it.
When using space heaters, ensure your home has functional smoke detectors to avoid a fire hazard.
Turn off the space heater when you leave the room or go to bed for safety reasons.
When using a space heater, never use an extension cord.
Close the door to the heated room to prevent heat from escaping
The concluding note
Space heaters are an instant and handy way of saving high-rise electricity bills without compromising the warmth of your room. They are highly portable and easy to use. So, you must get them to heat up the part of your house where the main HVAC may not reach. But you must remember the points mentioned in the buyer's guide to select the best space heater.
X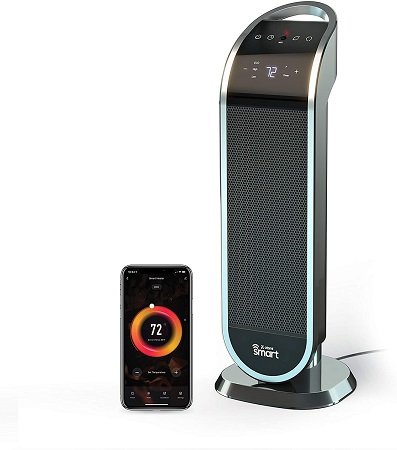 You might want to hear this:
Tami Emerson said…
"I bought this for my husband, he wanted one for the garage to he could lift weights during the cooler months. He turns it on via an app an hour before he works out and he loves it."