Our Top Picks
Humidifiers are the devices that add moisture to the air. They are specifically used if dry air causes the problems of dry skin, dry eyes, and respiratory symptoms.
Whole-house humidifiers are different from portable humidifiers in the sense that they humidify the whole-house of around 1000 square feet.
Here are the top 7 whole-house humidifiers that we reviewed for you.
Aprilaire whole-house humidifiers can cool houses measuring 3000 to 4200 square feet. The humidifier is designed by Aprilaire in the U.S.A. Aprilaire is the pioneer of the whole home evaporative humidifier.Apart from having a gigantic capacity, it is compact and does the job of humidifying the whole house effectively.
Pros:
Covers large areas ranging from 3000 sq ft to 4200 sq ft.
Easy to install, it can be done yourself by DIY technique.
It has dual sensors.Dual sensors make it an automatic humidifier. It monitors and responds to indoor and outdoor temperature and humidity.
It is equipped with digital control that shows all the required parameters.
Cons:
You will need to buy some accessories yourself if you wish to install it yourself.
DIY is difficult.
The warranty is valid only if the product is installed by a qualified technician.
Levoit whole-house humidifiers are designed in California, USA. They cover the area up to 753 square feet. It has a large transparent tank of 1.59 gallons, so need not refill it frequently and it provides 60 hours of continuous use with low mist level. It is equipped with an automatic sensor that automatically adjusts the humidity levels, in case you don't want to set it yourself.
Pros:
Auto control to set humidity levels.
Remote control device offer better operations and ease.
You can use your favorite essential oils in the aroma box and feel fresh.
It can scheduled for 12 hours of operation.
It offers silent operations and permits easy cleaning of the water tank.
Cons:
A bit costly when you take into consideration the area that it covers.
Too many features make it difficult to adapt.
The unit creates a sound, every time you change the settings. This annoys some customers.
The unit displays flashing lights that irritate some people.
The water tank does not have a handle at the bottom, which makes it a bit tricky for refilling it.
Honeywell is a trusted brand for many electronic goods. Well, their whole-house humidifier just proves this right. It covers an area up to 3000 square feet.
Pros:
It has a flow-through design that helps to keep the unit clean of microorganisms and decreases the frequency of maintenance.
The use of water-saving technology uses 30% less water than standard models and makes it an eco-friendly option.
It can be easily mounted.
It optimizes efficiency and water usage.
Cons:
Some people find it difficult to install themselves.
An additional scale filter is recommended if you wish to increase the useful life of solenoid.
Some people need to attach the extra steam units with it.
Opolar presents a portable whole-house humidifier with a large tank that measures 2.6 gallons. The best part is that the tank can be filled from the bottom as well as the top. It emits filtered water molecules rather than mist.
Pros:
It has light sensors for easy humidity readings.
The casters at the bottom of the unit make it comfortable to shift from one place to another.
It has four different settings for humidity control along with the timer to shut off the unit at scheduled times.
Sleep mode switches off all the lights that are operational for a quiet night.
The product offers an 18 months guarantee.
Cons:
Replacement of filters is a costly affair according to some customers.
Some users complain about the bad service.
Some people have issues with the noise levels generated by it.
If the installation part gives you jitters, then look for Keecoon whole-house humidifiers. They are probably the 'only' whole-house humidifiers on our list with the sleek design and casters. The most adorable feature is the easy assembly of parts and auto shut off if the unit runs out of water. The product offers a 12 months warranty.
Pros:
It can be easily filled from the top and the transparent tank makes the water level easily visible.
It can humidify large areas measuring 1000 square feet, with 16 liters tank capacity.
The nozzles can rotate 360 degrees for the best humidification experience and can generate 1500ml/h mist output.
The casters make it possible to easily shift from one place to another.
Cons:
The mist blown is in the form of water vapor. Keeping it very near to the wooden furniture can damage the furniture.
The extension nozzles offered with the unit are not bendable.
The operation manual and the remote control device contain the information in the Chinese language that is difficult to understand for some users.
Some customers have problems with the after-sales support from the manufacturer.
If 'returns' on the amount invested is your topmost concern then go for Vornado whole-house humidifiers. This is so because the product is backed by a 5-year guarantee. It has a huge 4-gallon capacity that is enough to humidify up to 1000 square feet. The unique Vortex action makes sure that correct humidity levels are automatically maintained in all rooms.
Pros:
Detachable and easily refillable water tanks.
Simple controls with intelligent humidification.
Excellent customer support from the vendor.
Cons:
Cannot be moved from one place to another once the tanks are filled due to the absence of casters.
The unit is a bit noisy according to some users.
Getting the replacement of wicks is an issue with some of the customers.
Noise levels generally don't bother us during the day, but when it comes to night then even the slightest noise is enough to irritate us. These are whole-house humidifiers that are powerful remote-controlled devices with just a 20dB noise level.
Pros:
It is equipped with an auto-shutoff feature that shuts off the unit if there is no water in the unit.
It adopts a high-frequency atomization system that atomizes water into 1/6 micron particles, 6 levels spray mist up to 700 ml/h.
A Double-sealing system prevents it from leaking.
6.5 gallons water tank fillable from the top makes it convenient for operations.
It has a set and forget auto-mode that allows you to set the required levels of humidity.
Cons:
Does not have casters that make it difficult to shift from one room to another if it is filled.
The remote control device does not illuminate making it difficult to operate at night.
Reviews are certainly great to read before purchasing the product, but even more helpful than that is a buying guide. We hope this buying guide serves as a handy reference and helps you to grasp the important aspects.
Buying Guide for Whole-house humidifiers
Why is it necessary to keep watch on humidity levels at home?
Dry air, especially during winter, causes flu, allergy, sinus, parched skin problems, cracks in the wooden furniture. Hence, to prevent this, experts recommend using humidifiers at home that can maintain humidity levels at 30 to 50% and save us from these problems.
What are the different models of humidifiers?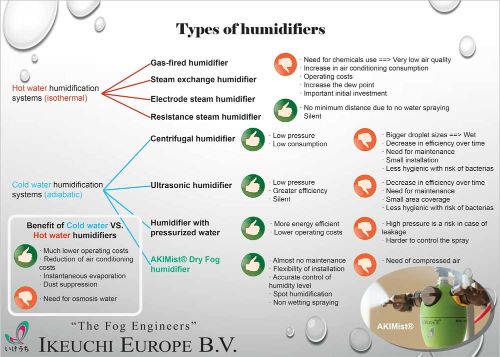 Depending on how they moisturize the room they can be broadly classified into four categories.
Evaporative humidifiers: They are usually cheaper and most commonly used humidifiers.
Ultrasonic model: They are costlier than evaporative humidifiers. They use mist to humidify the room and create less noise.
Warm mist humidifiers: The mist produced from warm-type one is much cleaner than the cool ones. They cater to the objective of achieving clean and hygienic air.
Ultrasonic humidifiers: It uses an ultrasonic vibrator to generate the mist and is costly compared to the above two.
Whole-house humidifiers: They are connected to the central HVAC system in the house. They can cover large areas. Nowadays even portable versions of whole-house humidifiers are available.
What is the difference between whole-house and portable humidifiers?
Portable humidifiers are small in size and are used to humidify a specific coverage area. They need to be shifted from one place to another and you need to refill water in them.
Whereas Whole-house humidifiers are directly connected to the HVAC system in the house and require less maintenance.
But lately, we have portable whole-house humidifiers in the market too that reduce your effort to install humidifiers in your HVAC system.
How can you decide about the size of the humidifier needed?
The size of the humidifier needed depends on two main factors: Big area requires a large humidifier and vice-versa.
Furnishing at home: If your home has a POP ceiling and is tightly sealed then moisture stays in for a longer duration.
For calculating cubic feet you just need to multiply your home's square feet area by the ceiling height. Later you can use this handy chart as a reference.
What decides the efficiency of the humidifier?
The capacity of the humidifier to generate mist and moisturize the room decides its efficiency. Many companies list the tank capacity but it is not the factor to judge the efficiency.
What are the things to look into while purchasing
the whole-house humidifiers?
No matter how efficient the equipment is, we don't use it if it is not easy to operate. So choose the one with minimalist required functions.
This depends on the type of humidifier that you have hoped for.Portable humidifiers need regular changing of water to avoid bacterial growth whereas the ones fitted in HVAC systems just need the pads to be changed.
All humidifiers do not allow the use of aroma to be added to it so you need to check before-hand whether the humidifier permits its addition to the unit.
You need to carefully plan which type of humidifier you need and depending on that the cost varies.
The power bill is not a one-time affair. It is a recurring cost so you need to carefully select the option depending on how much power it uses.
The tank size is of immense importance while choosing a humidifier.This is because if the tank size is small then you will need to refill it frequently.
The capacity of the humidifier decides efficiency.
Depending on the room in which you are going to use and the safety concerns involved you can opt for cool mist or hot mist humidifiers.
Before purchasing you should pay special attention to the features whether it can be controlled by a remote control device, whether it is programmable, Whether it will shut down automatically in case the unit runs out of water etc.
Noise levels and lights can be disturbing at night. Choose wisely!
Pricing and availability of consumables
You need to replace the pads in the humidifiers. This can be costly in some cases so it deserves special attention.
Humidifiers are costly devices so you need to check before you purchase whether it will be covered by a warranty.
Reading reviews on Amazon can give you an idea about the quality of service rendered by the seller. This is especially important in case you need some help.
Caster wheels: This is an important feature especially if you wish to move the humidifier from one place to another.
How often should you replace the filters?
The useful life of the filter depends on your usage, the type of water, and the model chosen by you. A manual accompanying the product contains this information.
Our Winner:
We hope the buying guide helps you in choosing the best product for yourselves. Each one of the above parameters that we have listed is important while making a buying decision.
We would suggest you a humidifier that does not require refilling of water. Portable humidifiers are great but they require your time for maintenance. Also, they require regular replacement of water to avoid bacterial growth.
Considering the country in which it is made and the ease of operation, the after-sales support for our preferred brand is Aprilaire 500 Whole-Home Humidifier.
We hope our review helps you in choosing the best humidifier for yourself and according to us unless you are technically qualified, it is better to get it installed by a professional. Yes! It can be a bit costly in the beginning but it is better considering the conditions for the warranty of the product. If you have any concerns do share with us, we'll be happy to hear from you.
X
You might want to hear this:
Kindle Customer said…
"Wife really likes the remote on this unit and the options. This unit replaced a standard humidifier that was big and bulky."