Our Top Picks
Wedge pillows are pillows with an inclination that allows your body to stay up in a slanted position. Often doctors recommend it post-surgery. Some people use it to rest their backs and read. Whatever be your reason, today we'll review the best wedge pillows that can help you to choose.
Made in the USA, Linux wedge pillows are designed for comfort. The extra pillow adds to the neck comfort. It also provides firm back and leg support.
It is easy to store it in the vacuumed bags provided with it. You can adjust the pillows according to your needs and that way it is a versatile product.
Pros:
The pillow stays in place due to velcro.
Offers perfect firmness to the back.
It can be flipped for the best lumbar support.
It does not slide even when used on the floors.
Can be used by people who have orthopedic problems or post-surgery.
It offers a one year warranty.
The bamboo covers can be removed and cleaned.
It offers two replacement covers.
Cons:
The product is costly compared to the others in the same range.
Available only in one size, the size is nowhere mentioned in the product description on Amazon.
The material used is not FSA-approved.
Available in a four-piece and five-piece set, Avana wedge pillows are made in the USA. They are available in five different color variants. They can be customized for comfort as per the needs.
They have dimensions of Back Rest: 28.5L x 24W x 8H. Knee Rest: 18L x 24W x 6H. Head Rest: 9.5L x 24W x 4H. Back Cradle: 13L x 24W x 10H and weigh 12 pounds.
They are made with high-quality foam and have a 100% polyester cover.
Pros:
The covers can be removed and washed.
Offers great versatility, you can adjust it the way you want for the best comfort.
It offers a one year warranty.
The product has a 30-day returnable offer, in case you are not satisfied with the product.
It is suitable for people with surgery or orthopedic problems.
Cons:
It is costly when compared to others in a similar range, moreover, the shipping costs are charged extra and not included in the price.
Many users have problems with deflating it, once it is inflated.
The use of polyester as a cover fabric makes it hot for prolonged use.
Flexicomfort wedge pillows can be adjusted in a variety of positions to give you all needed comfort. The angle is just perfect for sitting and sleeping positions.
It has dimensions of 22.8 x 10.2 x 10 inches and weighs 7.68 pounds.
Pros:
It can be used post-surgery or by people having a medical history.
The covers can be machine washed.
The head support pillow can be adjusted anywhere as it has velcro.
The buttons on the side panel give the pillow extra grip to stay in place.
Cons:
The small pillow meant to give rest to your head is not made from foam.
Available only in a single color.
AllSett wedge pillows are much simpler to handle, they have just two pieces of pillows. People appreciate it for the best leg support that it provides.
It has dimensions of 26.87 x 17.41 x 8.63 inches and weighs 6.54 Pounds. It is available in two colors.
Pros:
Most easy to assemble.
The covers can be removed and washed. They have a zip cover.
It is suitable for people with pre-medical conditions.
Cons:
Not many customizations are possible.
Made in China, the InteVision wedge pillow has two sets of pillows meant for the backrest. It is made with foam and can be adjusted in two different positions for a comfortable sitting posture.
It has dimensions of 25 x 24 x 12 inches and weighs just 5 pounds.
Pros:
It is suitable for people with GERD, post-surgery, and other orthopedic problems.
It is light in weight and has a simplistic design.
The built-in airflow channels help you to sit comfortably without feeling hot.
The pillow has a removable insert that can be used to adjust the height of the pillow.
Washable cover.
Cons:
Not many customizations are possible.
The head-rest pillow does not have velcro for it to stay in one place.
Pillow has to be purchased separately.
Only supports the back, no leg support.
Lisenwood foam wedge pillow has two sets of pillows that can be adjusted in a variety of positions for back and leg support.
It has dimensions of 20.3 x 16.5 x 10.1 inches and weighs 4.84 pounds.
Pros:
Useful for people with pre-existing medical conditions or post-surgery.
The angle of the pillow is medically designed for proper blood circulation.
It offers a lifetime warranty.
The pillow covers can be washed.
It has a concealed zipper for the foam material which makes that product durable.
Cons:
Some users feel that the foam used is not of proper quality.
It offers fewer customizations with design.
The wedge pillow is designed in the USA and manufactured in China. It offers a variety of sizes and angles of inclination to choose from.
Dimensions vary according to the size chosen by you. But what we feel peculiar to this wedge pillow is the flat roof after the inclination ends. This helps you to rest your head on it.
Pros:
It offers the best customization options with a variety of inclinations.
The quality of the foam is pretty good and firm.
Helps people with acid reflux, GERD, post-surgery, or any other medical conditions.
The machine cover is removable and washable.
Cons:
Depending on the size opted by you get the 1 or 2 sets of the pillow sets.
After opening the polyethylene, the pillow takes much time to inflate.
Our Winner:
Till now you must be pretty clear in mind about the various features that a wedge pillow offers. You need to specifically check the angle of inclination and the quality of the material used.
Most of the people have concerns with the above only. If you would ask us to choose one among all of the above it would be Avana Wedge Pillow.
Although they are costly compared to others but offer the best lumbar support, and are durable. Also, there aren't many negative reviews about the product stating a foul smell or issues regarding inflating. This makes it our top choice!
We discussed some of the best wedge pillows available in the market. But there are certain facts that you should always keep in mind while using a wedge pillow that will help you to make a correct choice.
Here is a buying guide that will help you in choosing the best option.
BUYING GUIDE
Does a wedge pillow require to be recommended by a doctor to be used?
Normally wedge pillows are recommended by orthopedic doctors for patients with surgery. They can also be used by persons who have problems with acid reflux (GERD) or spine problems.
Wedge pillows are also recommended to people who have poor blood circulation, varicose veins, or deep vein thrombosis. Elevating the legs above the heart level can prevent swelling in the legs, prevent blood clots, and reduce the pressure on the veins.
Often ophthalmologists recommend it to patients who have glaucoma or face the problem of increased pressure in the eyes. Lying down in an inclined position can help to reduce pressure on the eyes.
Well, if you don't have any problems still want to relax and read comfortably while in a lying-down position then you can use wedge pillows that can support your neck and back.
It helps to reduce soring. (well buy it for your partner who does not allow you to sleep and keeps snoring all night!)
Pregnant women can use it as additional support for the spine.
We found yet another use of a wedge pillow. It helps you to work with the laptop on your lap and relax comfortably in the bed. (Thanks to the pandemic, we can work in any posture and relax).
Aged people find it much easier to get up from the bed if they have a wedge pillow behind them. It gives them much-needed support while getting up. Also, it is easy for any adult to feed old persons without the hazard of choking up.
In short, you don't always need a doctor to recommend the product to you.
What are the different shapes in which wedge pillows are available?
Wedge pillows are available in different shapes and models. Also, they are made with different materials. We found some of the basic shapes that wedge pillows normally have.
Triangular shape:
Triangular shape with pillows: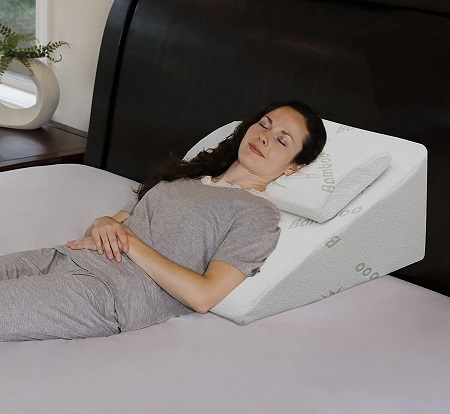 Wedge pillows with neck and leg support:
Versatile wedge pillows:
What are the other considerations that you should keep in mind while purchasing a wedge pillow?
The angle of inclination:This is the most important fact that you should consider when you buy a wedge pillow. The doctor clarifies the dimensions in case he/she recommends it. But if you are purchasing it on your own, you need to take care.
The normal inclination that wedge pillows normally have is between 7 to 12 inches, depending on the different models and use, it can vary.
Design and Shape: As discussed earlier, wedge pillows come in various shapes and designs. Depending on the use you can choose a specific model.
We would like to add that some models have a flat surface whereas the others have contours or protruding surfaces.
Some of the wedge pillows have detachable pillows attached with them especially for the neck support.
Size of wedge pillow: People with acid reflux or with other medical conditions are advised to sleep on the wedge pillow. In those cases, it is really important that the size of the wedge pillows is large enough for you to rest on them so that you don't fall off them even if you roll a bit.
As a thumb rule, it should be 20 inches wide and 20 inches long for the best support.
Weight of the wedge pillow: Wedge pillows are portable and you may need to shift them from one place to another frequently. In such cases, you need to pay attention to the weight of the pillow.
Some lighter pillows weigh two to four pounds but heavy models can weigh up to twelve pounds too!
The heavier models stay perfectly in place whereas the lighter ones tend to move if you try to roll on them.
Material used:The weight of the pillow depends on the material used in making it. They can be made using memory foam, or synthetic fibers like polyester, rayon, bamboo, etc.
Memory foam gets hot with repeated use so you should consider this before you buy. To reduce its effect some manufacturers use gel-based foam.
Warranty: Depending on the material used and the cost the manufacturer offers a warranty on the product. Normally it ranges from one to five years.
Cost: Cheap wedge pillows are available from $25 onwards whereas a good quality wedge pillow can cost you even up to $200 or more depending on your choice of materials and accessories.
Cleaning and hygiene: The covers of wedge pillows can be removed and washed in a machine or hands. The foam cannot be washed but it can be vacuumed gently.
Portability: Some pillows are light in weight and can be ported very easily from one place to another. They also have special cases to carry them.
Firmness: Wedge pillows offer firmness ranging from medium to low. Firmness decides the tightness that you feel while using it. If you are going to use it as back support while working, go for a medium firmness wedge pillow.
We sum up our buying guide here, but if you think that we missed mentioning anything, please do let us know. We will be glad to add it in our review. Thanks!
X
You might want to hear this:
Steven Hendricks said…
"This is a wonderful pillow. Help me sleep so much better using my CPAP machine…"