We live in a world where technology is king and most everything we own is "smart" so why not have the best touchless trash can, too?
The staff at ReviewRoller appreciates the idea of a fancy, effortless yet logical way to keep our hands clean and we think you will, too.
So, we did some research and came up with 7 options for you.
Choosing a safe, sanitary way to throw away garbage is a no-brainer. Choosing which trash can to purchase might be a bit more difficult. Now that you've had a quick glimpse of our top picks for the best touchless trash can, let's look at them in-depth.
iTouchless has made separating trash from recyclables a breeze with this liner locking, 2-bin option. The wheels are included but optional. Easy to clean and smudge-resistant, this touchless trash can would make a nice addition to any space. It weighs 19 pounds and the dimensions are 23.13 x 22 x 13.88 inches. This one comes with an AC adapter or uses 4 D batteries (not included).
Pros:
Features lid status alert: green indicates "stay open mode" and red means the lid is about to close
Reflx Technology keeps the lid from closing on your hand
Bags are easy to replace and a bag ring keeps bags secure
The lid does a good job of keeping in odors
Cons:
The stainless steel is a bit on the thin side
Customers have complained of the product arriving dented despite being well-packaged; possibly a quality control issue
The battery compartment is a bit awkward to access and open
Measuring 11 x 18.5 x 27.1 inches, this trash can has a nice sleek design. This features automatic and manual modes, an inner ring to keep trash bags in place, and can run on 6 AA alkaline batteries that are not included.
Pros:
The rim is lightweight making replacing trash bags easy
Battery installation is simple
The motion sensor works very well and doesn't seem to be randomly activated by walking by
Special bags not required; works with any brand
Cons:
The manufacturer put a stick on the front of the can that is difficult to remove; minor annoyance
Goes through batteries quickly
No inner liner bin
This touchless trash can has many features including a removable bucket liner, removable ring liner, rotating motion sensor, and a soft close. Product dimensions are 14.5 x 18.5 x 26.9 inches and it weighs 9.81 pounds. Can use 3 D batteries (not included).
Pros:
Good customer service; the manufacturer does not charge for defective parts
Nice, non-skid base
The steel and chrome give it a nice appearance
This is a fantastic upgrade to their previous model
Cons:
Customers complained of a faulty lid button
Have to wait for lid to completely close before you can use the can again
Lid is slow to open
A 20 gallon capacity is nice for big families. One nice feature that we appreciate is bags can be stored in a compartment on the back of the can. The motion sensor keeps the lid open for 5 seconds or you can use the optional open/close button. The can measures 14.5 x 16.2 x 27.8 inches, weighs 15 pounds, and can work with 6 AA batteries which are not included.
Pros:
Has added protection of Clorox antimicrobial protection on the lid and lid frame
Durable product
There are indicator lights that show when the lid is about to close; handy if you're throwing a way lot of trash at once
It is a 20-gallon capacity but can accommodate larger bags
Cons:
There have been complaints about the lid wearing out too quickly
The manual button is a bit tricky; need to push it a few times to get it to work
The labels on the trash can come off easily; can be a minor annoyance
This touchless trash can has a nice split "butterfly" lid as opposed to the traditional solid lid opening. We feel this would be a nice choice for office spaces as they'll fit nicely under a desk. Adjustable 90° swiveling sensor means it works in the open or underneath surfaces It features a trash bag ring and 2 modes – auto and manual. It measures 16.2 x 10.3 x 22.5 inches and weighs 9.26 pounds. Can work with 4 C batteries (not included).
Pros:
There is an on/off button to help save on power/battery life
Very easy to replace bags
The butterfly lid does help to keep the top of the can clean
Lid stays open for 6 seconds; handy when disposing of a lot of trash
Cons:
The bag ring is flimsy
Adapter does not come with the product and must be purchased separately
Motion sensor is a bit tricky; may need to wave across it a couple of times to get it work
With a bag locking hoop, quiet lid hinge, and countdown timer this trash can is durably built. It comes with bin inserts that need to be removed before use. These are only meant to protect the can during shipment. The product measures 15 x 10.2 x 24.8 inches and weighs 14.2 pounds. Use an AC adapter or 3 AA batteries.
Pros:
Features a unique bag locking mechanism that works really well
Batteries are easy to replace
Does a good job at keeping in smells
Super simple to assemble
Cons:
Steel is a bit thin; can dent easily
Some customers felt the bag locking hoop was more difficult that the usual ring
There were customer complaints about the trash bag getting torn on by the lid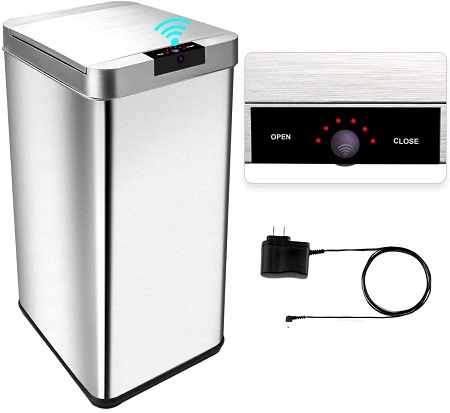 The least expensive of our top picks, the Secura touchless trash can is a great choice for anyone who appreciates luxury but wants to save a bit of money. This model features an LED countdown function and can run with an AC adapter or 4 AA batteries. It measures 27.1 x 13.9 x 12.5 inches and weighs 10.68 pounds.
Pros:
Adjustable sensor
Sensor remains open if it detects movement; won't close on your hand
Bamboo charcoal filter keeps odors under control
Has a nice, wide opening
Cons:
The bag ring is a bit flimsy
Sensor is a bit tricky; can get stuck in the 'open' position
Customer complaints of longer than promised delivery times
Buyer's Guide
According to the Center for Disease Control and Prevention, a touchless trash can is recommended for not only public spaces but also for homes because this is the safest, most hygienic way to dispose of your trash.
ReviewRoller wholeheartedly agrees.
Because touchless trash cans can be a bit pricey, we felt it a good idea to answer some of the most commonly answered questions to help guide you while making a decision. We want you to safely throw your trash away, not your money!
A touchless trash can seems a bit extravagant. Are they really necessary?
What if we told you that it is possible to find over 400 million bacteria per square inch on a regular trash can? That is more than you'll find on your toilet! Disturbing, isn't it? Owning touchless trash can significantly reduce the risk of coming in contact with bacteria. Necessity may be a matter of personal choice but given the stats, we'd definitely recommend purchasing one for your home.
Aren't touchless trash cans difficult to maintain?
Not at all!
They are easy to clean!
Obviously, you should never submerge the lid in water so use a gentle disinfectant on a soft cloth making sure to keep chemicals away from the sensor. For the stainless steel can, use the same non-abrasive disinfectant to wipe it down inside and out.
For a deep clean, you can use soap and water to clean the can only. Wear gloves while cleaning and make a habit of using trash bags inside the bin. Be sure to empty your trash can regularly. To keep down smells, you can use scented trash bags or a deodorizer made for touchless trash cans.
What are problems that might occur with a touchless trash can?
There are only a couple of problems you might run into and even the best touchless trash can might incur these issues.
The first one is a bit silly but before you start believing your house is haunted, check the placement of your trash can. If you notice the lid opening and closing on its own, it may be because you have placed it in a high-traffic area. Your best bet is to keep it somewhere at least 10 inches away from a walking path.
If you choose to run your touchless trash can on batteries instead of plugging it in, expect to use a lot of batteries. It's a good idea to invest in rechargeable batteries if possible. Also, be sure you check with the manufacturer's recommendations as your trash can may have certain requirements regarding batteries.
Heads up! If you don't want to spend money on batteries, be sure the trash can you choose comes with an AC adapter. Many models do not and charge extra for the adapter.
Our Winner
iTouchless has encompassed all the most important qualities in their iTouchless Stainless Steel Dual-Compartment Touchless Sensor Trash Can/Recycle Bin.
We appreciate that mobility is an option if needed and we like the overall appearance. The two bins are convenient and make recycling so super easy! In our opinion, this is the absolute best touchless trash can and we highly recommend the investment.
Conclusion
Review Roller would like to again suggest the iTouchless Stainless Steel Dual-Compartment Touchless Sensor Trash Can/Recycle Bin as our selection for the best touchless trash can. It'll look great in any space. These days safety is so important. We all want to do our best to keep our homes and offices free of bacteria so why give germs a free place to live if you don't have to?
X
You might want to hear this:
Darrell Dechene said…
"Great size and works like a charm was money well spent."