Our Top Picks
A smart thermostat is a great buy for both luxury and practicality. Good smart thermostats make your life a lot easier by reducing the amount of time you spend bothering with your home's heating.
But they also can save you money by helping you be more energy efficient, and can help you get just the right temperature in your house and even specific rooms.
Ecobee's smart thermostat definitely earned its top spot on this list. The short version is that it does a lot of things right and has minimal flaws. On top of that, it's got a pretty normal price tag for a premium smart thermostat.
And while it's subjective, Ecobee's smart thermostat is arguably the best looking one on the list.
Pros:
Price is good for a higher-end smart thermostat
Built-in Alexa, and can integrate with Google Assistant, Apple Home Kit, Samsung SmartThings, and more
Intuitive mobile app means you can control the thermostat by voice, from your phone, tablet, computer, or even Apple Watch
SmartSensor (included) keeps important rooms at comfortable temperatures by measuring occupancy
Ecobee's software maximizes energy efficiency
Limited three year warranty
Easy to install
Very well received, with 4.6/5 stars backed up by over 3,700 ratings
Cons:
May be a bit pricey for people seeking budget options
Consistent complaints that controls are less intuitive and more finicky than they appear
Some consistent complaints about geofencing
It ought to be no surprise that a smart thermostat option from Google found its way to this list, let alone close to the top.
Google is a leading provider of smart home products, and its Nest Learning Thermostat, with a lot of features and good performance, is a leading smart thermostat.
Pros:
Prime members get a good discount
Range of color options available
Learns your schedule/habits and adjusts itself to that (which helps both to save energy and keep you comfortable)
Home/Away assist (geofencing) saves energy when you're not home
Remote control lets you or other residents change temperature from phone, tablet, or computer
Voice control with Alexa and/or Google Assistant
Handy green leaf icon ("Nest Leaf") appears on thermostat when an energy-saving temperature has been chosen
HVAC monitoring, which looks at heating and cooling systems in the home
Compatible with Nest Temperature Sensor which lets you make sure a specific room is the right temperature
High 4.5/5 star rating with over 26,000 reviews to back it up
Cons:
Probably pricey for those looking for budget thermostats, especially without Prime discount
Those who want room sensing must buy the Nest Temperature Sensor separately
Some complaints of the smart thermostat failing after a few months, resulting in cold temperatures
Some complaints that the self-learning feature isn't as smooth as advertised
Emerson's smart thermostat is a great option for those who want a good-quality smart thermostat that doesn't break the bank.
It's not as advanced in features as some of the other options here, which is what holds it back a little, but is still a good smart thermostat overall.
Pros:
Generally affordable, and Prime members get a good discount
Works with Alexa (but Amazon Echo speaker is required), plus Google Assistant, Apple HomeKit, and Samsung SmartThings
Remote control from iOS or Android devices
HVAC compatibility can save around 23% on HVAC energy usage
Survey of over a thousand customers found over 70% installed within half an hour
3-year warranty
Highly rated: 4.5/5 stars with over 5,600 reviews to back it up
Cons:
Not as many advanced features as some of the other options here
Consistent complaints about customer support
Some complaints that the product has difficulty connecting to WiFi, though these are varied and in minority
Honeywell is a leading technology company. It's not as big as some other smart home product makers, but it's still managed to hold its own in the growing field.
Here's the short version: Honeywell's T9 smart thermostat provides the quality and advanced features you'd expect of a smart thermostat from a leading brand, but it doesn't cost as much as thermostats from similarly large brands.
Pros:
Overall affordable, especially from a leading brand
Compatible with Alexa, Microsoft's Cortana, Google Assistant, Samsung SmartThings, and more
Auto home and away-mode
Learns heating and cooling patterns to send temperature and filter alerts
Power adapter included so that just about any home can use it
Compatible with room sensor
Honeywell account can be connected with your energy company to earn rewards for energy efficiency
Well-received, with over a thousand reviews backing up a 4.4/5 rating
Cons:
Room sensor not included, though it's easy to buy a combo package at extra cost
Consistent complaints of incorrect temperature readings
Consistent complaints of software design and device compatibility issues
The gist of Orbit's smart thermostat is that it's an excellent budget option, but some features are sacrificed as a trade-off.
Those who really want their smart thermostat to be as smart and advanced as possible probably wouldn't love this one. But those who want the basics of a smart thermostat without spending too much definitely would.
Pros:
Very affordable; the cheapest option here
Ability to program each day of the week individually with up to 4 programming periods
Copy feature lets you replicate a day's settings to another day, plus permanent and temporary hold mode for simpler control
Super easy to use: a good combination of functionality with simple controls
Well-received: 4.4/5 with about 2,200 ratings to back it up
Cons:
Not as sleek looking as other options here, and not touch-screen
Not WiFi based, and no smartphone app integration for remote control
Not compatible with base board heating, multi-stage heating, or cooling systems, or 3-wire hydronic systems
Some complaints of defects arising, but varied/inconsistent
GoControl's smart thermostat isn't as "smart" as some of the other options here. It's not even a touch-screen! But, the advantage comes in with its ability to integrate with smart devices and its affordability.
By itself, it may not be a smart thermostat, but with other devices you own, it can work as a smart thermostat, but at lower cost.
Pros:
Very affordable
Works with Alexa for voice control
Z-Wave compatible, which means it can work with Samsung SmartThings and other smart home products that are Z-Wave compatible too
Z-Wave compatibility also means you can remotely control the thermostat from your phone or tablet
Works with most modern HVAC systems
Generally well-received: 4.2/5 rating, backed up by hundreds of reviews
Cons:
Alexa hub, which is required for voice control, is sold separately
Not as many smart features as some other options here
Consistent complaints that thermostat stopped heating after 2 years
Some complaints about poor battery life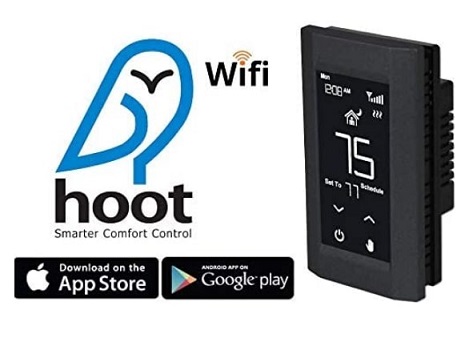 The main thing that holds back KING's smart thermostat is a combination of price and review record. Simply put, there aren't a ton of reviews, which makes it a bit riskier to determine if the quality matches the price.
That's not a guarantee it's bad though, and looking at the feature list, KING's smart thermostat still seems solid.
Pros:
Programmable with Hoot smartphone app
Can program 4-6 time periods per day, every day of the week, allowing for a lot of flexibility
Hoot app also allows for remote control from a phone/tablet
Multi-volt rated (120/208/240 volts) means compatibility with most homes
Can easily be connected with other KING smart thermometers throughout the home, and controlled from a central location
Cons:
On the pricey side without a Prime discount
Not as many advanced smart features as some other options here, though the basics are there
Not many reviews makes it difficult to assess
Some complaint that LED screen can't be turned off
Our Winner: The Best Smart Thermostats is…
Ultimately, our winner is the ecobee SmartThermostat. It's the best-received by customers, packs a load of smart features, and isn't too pricey for what you get.
But that doesn't mean it's the best for everyone. If you're prioritizing budget in your search for a smart thermostat, the Orbit 83521 Clear Comfort Programmable Thermostat is a great option for you.
And if you're going for a splurge on smart features, then you can't do better than Google's Nest Learning Thermostat.
So it's important to pay attention to what you need or want most. To that end, check out our buyer's guide for help finding the best smart thermostat for you:
Buyer's Guide: How Do I Buy the Best Smart Thermostats?
What is a smart thermostat?
Let's get the basics out of the way. What is a smart thermostat, exactly?
Well, it's not as clear cut as you might think. Some of the options on this list actually push the boundary.
For example, the Google Nest Learning Thermostat is very clearly a smart thermostat. It's touch screen, integrates smoothly with modern tech and other smart devices, and can learn your behavior.
But some of the other options on this list, like the Orbit 83521 Clear Comfort Programmable Thermostat, don't even look like smart devices. Orbit and GoControl's devices look like ordinary thermostats, frankly.
But it's not all in the looks, or having a touch screen. Orbit's thermostat can be programmed—that's not something traditional thermostats could do. GoControl's can be linked to your phone, so you still functionally get smart features, just via your other devices.
Programmable vs. learning thermostats
There's a general distinction that can be made here, using the examples given above, between "programmable" thermostats and "learning" thermostats.
Learning thermostats adapt automatically. Even if they don't exactly learn your behavior, they can make basic changes by themselves—like geofencing (more on that in a sec).
Programmable ones need you to set schedules.
And of course, some can do both. But typically a smart thermostat will err more on one side than the other.
So what are the benefits of a programmable thermostat?
For one thing, they're usually more affordable. And if you have a fairly regular schedule, your programming of the thermostat will still make it effective at saving money the way a smart one would, so it's even more cost-effective over time.
Another benefit is that these often don't require internet connections, which can make them more reliable, and programming may not be too difficult.
The downsides? While programmable thermostats CAN have voice control through integrating with compatible devices, they usually don't. Most features we consider "smart" in the current context won't be available.
With learning thermostats, you probably can infer the main strengths and weaknesses based on the ones for programmable thermostats above.
You can get finer-tuned temperature adjustments with less hassle. Learning behavior allows for a lot more flexibility, which can be great even if you have a regular schedule anyway.
Even when learning behavior is more limited, voice commands are both handy and luxurious. Being able to control the smart thermostat from your phone or computer is also a very practical ease-of-use feature.
As for the downsides, a learning smart thermostat will cost more, may require other smart devices for full functionality, may be less reliable if WiFi connectivity is an issue in your area, and some have trouble integrating with HVAC systems.
However, some would argue that the finer-tuned energy changes from a learning thermostat can help you save even more than a programmable thermostat, and that this should affect your view of the cost.
So when you look for a smart thermostat, it's best to consider carefully how "smart" you actually want it to be.
That includes considering the other smart devices you already have in your home, or plan to buy:
The smartest thermostats work best, not only when you have a smartphone and/or tablet, but when you have a smart speaker, for example, or additional smart sensors from the same company.
It's not a prerequisite, but some smart thermostats may pay off the most when you have additional smart products.
What is geofencing, and do I need it?
You'll probably hear of "geofencing" either in reviews or product descriptions. Basically, geofencing is when a smart thermostat uses your phone's location to figure out if you're home or not.
When you leave your home, the geofencing feature will be used to adjust your home's temperature—either to reduce the heat to save energy, or to keep the house warm for when you come back.
Now, how important is that? Well, obviously that's your call.
But generally speaking, this is a more important feature to those who leave their home frequently for work, or who have to leave at random times. In such cases, geofencing can make your smart thermostat a lot more useful and even more cost-efficient.
But if you work from home, or if you just don't really care that much, then it's probably not worth paying too much attention to in your smart thermostat search.
It should go without saying, by the way, that if your smart thermostat is programmable-only, it probably won't have a geofencing feature. It's a point worth considering if you're not sure if a programmable or learning thermostat is better for you.
If geofencing is something you want to prioritize, there's good news and bad news:
The good news is that it's a pretty common smart thermostat feature.
The bad news is that not all of those geofencing features work that well. So you'll need to do your own research into which options have the best geofencing.
Will my smart thermostat work in my home?
It's not as fun to consider as "smart" features, but it's pretty important in choosing the right smart thermostat.
The main issue here is whether or not your smart thermostat will connect to your home's HVAC system—that means heating, ventilation, and air conditioning.
Specifically, most advanced smart thermostats will require a C-wire (or "common wire") connection to your home's HVAC system. Newer homes may have that, but older ones may not.
If your home does, there's a fair chance you can just install the thermostat yourself. Most are fairly easy for an average person to install and come with beginner-friendly instructions.
But if your home doesn't have a C-wire, or if you're just cautious, you're not out of luck. You can hire an electrician to install one. If you feel confident, you can even buy a C-wire adapter and plug everything in yourself—though of course, do your own research and be careful!
Smart Thermostats: Conclusion
To recap, our top pick is ecobee's SmartThermostat, but that's just the best in general. You specifically may be better paired with another option, so don't be afraid to get picky!
A good smart thermostat isn't just luxury: aside from making your home more comfortable, it saves energy and time.
Happy choosing!
X
You might want to hear this:
Shaz said…
"Easy install and great app, surprised by the easy installation, you do need a common. The app itself quite easy to use."