Our top picks
Cleaning is often seen as a burden. Moreover, when it comes to outdoor cleaning the feeling is to skip cleaning(only if possible). How nice it would be if one gets a magic wand to clean the dirty surfaces within minutes!
Thanks to the electric pressure washers, you can now fulfill that wish. Electric pressure washers do exactly what you wish; clean the surfaces to make them sparkling in a few minutes. The jet stream from pressure washers does not let any stubborn dirt remain on the surfaces.
But, the market is full of pressure washers; both electric-powered as well as gas-powered. That's why we have compiled this list of some of the best electric pressure washers for helping you out. So without much ado, let's straight away get to the list of the seven best electric pressure washers.
Paxcess pressure washer makes cleaning fun. It is designed for the toughest cleaning task and stands true as a reliable product. The onboard hose reel makes it easy to store the hose without any tangle.
Pros:
This machine is suitable for cleaning driveways, decks, patios, cars, trucks, outdoor furniture, and many more.
The pressure cleaner has 4 cleaning modes for different cleaning tasks.
It comes with a professional safety feature to auto-stop the machine when in use.
The 26-feet long hose can reach unreachable spots, thereby making it suitable for outdoor cleaning.
Cons:
The washer often trips when used for a longer duration.
The Suyncll 3800 PSI Electric Pressure Washer cleans stubborn areas with a high-pressure 3800 PSI, 2.8 GPM water jet. The inner layer of the high-pressure hose is designed to prevent explosions. It releases high-pressure jets with water as hot as104 ℉ and shuts off automatically when not in use.
The range of accompanying accessories is easy to connect and gets the job done in minutes. The machine is highly portable and can reach any spot you want to clean.
Pros:
Suyncll Pressure Washer is perfect for quickly cleaning cars, motorcycles, and trucks. Moreover, you can also use it for watering flowers or bathing pets.
It creates less noise and also needs low maintenance which saves your money and time.
It comes with an explosion-proof inner layer for enhanced safety.
The safety lock prevents kids from starting the water gun accidentally.
Cons:
Customers have complained about the motor burning out.
The handle seems to be fragile.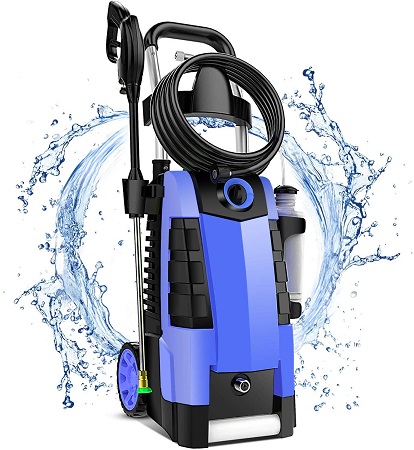 This TEANDE electric pressure washer is ideal for cleaning decks, patios, driveways, sidewalks, garden furniture, and a variety of other surfaces. According to their height, the telescopic handle is ideal for all user types. The product is waterproof and terminates the effects of water on the body, resulting in improved production.
You can easily adjust the water pressure as per your needs. When the trigger is not engaged, the device immediately turns off the pump. This saves energy and extends the pump's life. It includes a soap bottle and four different angle nozzles.
Pros:
With a high PSI for an electric pressure washer and five interchangeable nozzles, you can do a wide range of household tasks.
When the trigger is not engaged, it automatically shuts off the pump for safety.
It also has built-in compartments for storing all of the accessories that come with it.
A 35 feet long power cable can be easily hooked at the top to keep it tangle-free.
This model also has an integrated soap bottle, so you can use your own detergent if necessary.
Cons:
The model seems to be a little on the higher side of the price range.
Stanley is known for making some of the best electric pressure washers on the market. The newly- introduced SHP2000 Electric Power Washer, stands to the reputation. It's ideal for cleaning any kind of surface including automobiles. You can also use it to clean animal cages or garbage cans.
When compared to a standard garden hose, it saves 80 percent more water. It has an onboard hose reel for easy storage of the long hose.
Pros:
The ergonomically designed body is easy to move around and carry. Moreover, the compact makes it convenient to store in restricted places.
The powerful cleaning pressure can clean any surface such as decks, pavement, outdoor furniture, cars, trucks, and many more.
It comes with 4 quick connecting nozzles, wherein you can get the desired cleaning jet or stream.
It has a 2-year warranty and lifetime customer support.
Cons:
It is not an ideal choice for tough stains.
Oasser electric pressure washer generates up to 3046 PSI at 1.85 GPM for maximum cleaning power. This maximum cleaning power removes all the dirt, grease, or mud. The washer comes with a complete set of cleaning accessories. These accessories are versatile in nature and completely safe. Thus, you can rely on the washer for cleaning needs.
Pros:
This cleaner is highly suitable for high-duty cleaning tasks.
The 35ft power cord is long enough to enhance your reach. The plug is also safe to use in outdoor outlets.
It is designed with a unique telescoping handle and two sturdy wheels on the stable base for excellent portability and mobility.
It comes with a range of accessories that are helpful in performing a variety of cleaning tasks.
The manufacturer also provides prompt and satisfactory after-sale services.
Cons:
Customers have complained about the hose connection getting loose while in use.
The usual cleaning time is more.
WHOLESUN 3000PSI Electric Pressure Washer is perfect for siding, decks, cement, outdoor furniture, and cars because of its powerful 1600-Watt motor which generates pressure up to 3000 PSI/2.4 GPM. It is completely leakproof and automatically shuts off during emergencies. The 2-year warranty period is surely a star attraction.
Pros:
It is highly suitable for any tough stain and the powerful motor generates enough pressure to remove any kind of dirt from various surfaces. The metal coupling makes the whole unit leakage-proof. For safety assurance, it automatically shuts off the pump when not in use or in case of an emergency, thereby prolonging the pump life. The manufacturer provides a 2-year warranty, unlike the standard 1-year warranty. 30 days full refund policy in case the product is found to be faulty.
Cons:
Customers have complained that the built quality is not so sturdy as compared to other brands.
Homdox Pressure Washer 2950 PSI Power Washer Cleaner is portable in design and is a very powerful washer. It is suitable for all surface types yet requires very low maintenance. The advanced design lets you use it without any hassle and struggle.
Pros:
The 1800-Watt motor generates pressure upto 2850PSI at 1.7 GPM, which really cleans very fast.
The x5 Quick-Connect spray nozzles give you options to perform a range of cleaning tasks from light to medium to heavy in nature.
The safety feature automatically shuts off the pump in an emergency.
The copper connection between hose and nozzles is sturdy and strong.
Cons:
The pressure it generates is comparatively low.
Buyer's guide:
Selecting the best pressure washer can be difficult if you are buying one for the first time. That is why we have brought a simplified step-by-step guide to select the best pressure washer among hundreds of models. Our experts have included all the important features to look at while buying the pressure washer that can match your expectations.
Here are the important features you must consider before buying your favorite pressure washer model.
Cleaning power
Cleaning power is the first feature to look for. After all, you are buying it to keep surfaces sparkling clean. The cleaning power is decided by the PSI and GPM values. More PSI value indicates better pressure and a powerful jet stream to remove stains and dirt.
Powerful motor
The more powerful the motor is, the better cleaning tasks you can cover. If the motor is powerful, it will provide deep cleaning and last for a long time, even with regular use. These machines can take pressure well, which makes it easier to do the job.
Nozzle type
You must consider what types of nozzles you are getting. Check out whether it is an adjustable nozzle or a set of interchangeable nozzles. Adjustable nozzles are more convenient than replaceable nozzles because they can be changed with a twist. On the other hand, replaceable nozzles allow you to customize the spray pattern with different spray angles.
Cleaning surfaces to cover
Choose a pressure washer that can clean various surfaces. After all, you are paying so much money to have a multipurpose cleaning tool. Generally, pressure washers can clean patios, decks, siding, cement, and pavements. Some of the best machines even clean outdoor furnishing units and vehicles.
Warranty service
You must consider the warranty when it comes to electrical items. A warranty ensures that you operate without worrying about any breakdown or faults. The more the warranty, the better the quality. Apart from the basic warranty service, reputed companies also provide after-sale services. So, don't ignore the warranty pack before making any final commitment.
Accessories as included in the pack
Accompanying accessories are an important consideration. Check out what accessories you are getting with the washer. So that you do not have to buy anything later. The accessories also help you in a wide range of cleaning tasks. Different surfaces may need different treatments. So having accessories help in accomplishing the task.
Wheels
You might find yourself dragging a pressure washer across upstairs and downstairs, across bumpy lawns, or through the mud. That is where big wheels come to the rescue because they make mobility so much easier. So, choose models which have sufficiently large wheels.
The Total Stop System
The TSS feature is a must while purchasing an electric pressure washer. This mechanism helps in shutting off the pump whenever the trigger isn't engaged. This further saves your electricity bill and also prolongs the pump life. So, your selected electric pressure washer must have this feature within.
Hose storage
The best pressure washers allow you to store the hose and cord by gently looping them together. To hold the hose and cord, they usually have a simple hook or a Velcro strap. A large looped cord is easy to pack and unravel, and it tends to lie flatter when the washer is in use because it isn't tightly wound.
Some models include hose reels or multiple brackets to aid in the winding of the cord4. Still, these features are inconvenient to use. The tightly wound cord and hose retain their memory while in use, increasing the risk of tripping.
Spraying wand
Instead of a plastic spray wand, we recommend a pressure washer with a metal spray wand. In the long run, a metal wand is more durable and also makes the job easier. A removable tip that you click into the wand's end fits better on a metal wand. Hence, always go for a metal wand.
Cost
You can expect to pay $150 to $250 for an electric pressure washer with a pressure range of 1,800 to 2,000 psi from a reputable manufacturer. At the low end, there are basic models with few features and universal motors. In contrast, you get more feature-rich washers with heavy-duty induction motors at the higher end.
The bottom line
Pressure washers make it easy and convenient to clean surfaces that have stubborn stains and dirt patches. These machines really prove to be an asset to maintain cleanliness in your home and surrounding.
However, choosing the best one may be difficult as the market is flooded with pressure washers of all make and models. That is why we hope that our buyers guide and the compiled list of the best electric pressure washers really help you in choosing the right product.
X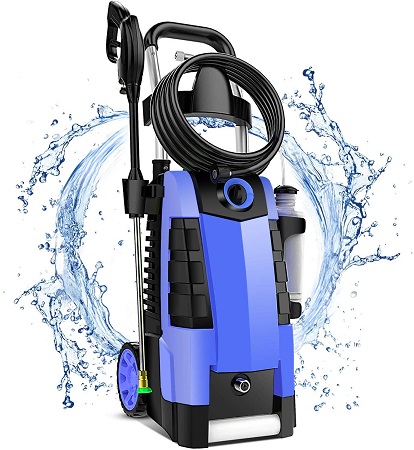 You might want to hear this:
Joseph M. Day said…
"Works really well but every now and again it hick-ups and loses pressure but recovers quickly.I love the design."