Our Top Picks
Massage chairs are the complex yet powerful devices that can help to relax your muscles and the whole body after a day's labor.
Many variants of massage chairs are available in the market and we shall discuss more in the buying guide. Earlier we reviewed massage guns, but you need to use them on pressure points whereas on a massage chair you can sit back and relax.
As of now let us dive in to see more about the best four massage chairs that we shortlisted for you.
This massage chair from Lemonade offers three different types of massage options viz, zen, renew, and revive. The massage chair is designed to fit into any chair and can easily adjust to the torso height as it is almost 19 inches in height.
Pros:
It has three different massage options.
The massage functions can be customized with the remote control device.
It is made up of leather seats and can be cleaned easily.
Pinpoint relief by adjustingYou can adjust the width and height of the nodes or choose one of the pre-programmed massages.
It provides back support, neck support, and has a detachable neck pillow.
Cons:
Revolving attachment is only for the middle and lower back and stops around the rib area so it's not a full back massage.
A little noisy massager. loud (makes a smacking sound on upper back)
The heated massage option is only for the seat and does not cover the back.
A Renpho massage chair is made with the utmost care and precision to massage the neck, shoulder, back, vertebrae, and buttocks.
The ergonomic design allows you to customize things as required. The pillow height meant for neck massage can be adjusted to suit the lowest neck height of 5'1 inches to the tallest 6'1 inch, along with the back settings suitably altered.
Pros:
S-shaped massage cushions for best comfort which massage the lowest waist point.
Adjustable neck massage pillow.
Multi-function remote control with customizable options.
Easy to carry, light in weight.
Easy to clean.
The massage nodes can be customized to move clockwise or anti-clockwise.
It is possible to use it to massage only a specific point that needs attention, with customizable options.
Cons:
It has preset functions for massage and you cannot customize it separately for the neck and back.
Some users feel that the lumbar region is not perfectly designed for all body types.
Fewer color options are available.
The remote control device is difficult to operate in dark, the buttons do not glow.
Naipo massage chairs are meant to provide massage to the back, neck, and thighs. They can be customized according to the need and have a 'heat massage' option. They can be conveniently fitted to a car seat and used in a car.
It provides four types of massage options like rolling massage, kneading massage, vibrating massage, and shiatsu massage for pressure points.
Pros:
Suitable for varying heights from 160 cm to 180 cm.
It provides pin-point massage for the back.
Adjustable height for the neck pillow
The detachable and washable node cover helps to inhibit bacterial growth.
It has an auto-shutoff operation that shuts after 15 minutes of continuous operation.
It has a handy pocket on the side to keep the remote control device.
Cons:
The pressure applied is of the greater force as compared to the others compared in a similar category.
Some people have issues with the massage in the lumbar region due to the height factor.
If you ever wanted a combo of massage chair that has rolling massage, pin-point massage for neck and back, hip massage, and also heat and air squeeze massage, then look no further! Comifier massage chairs offer all types of massages in one product.
Pros:
Offers a wide range of massage options.
It is a versatile device that can be used in any chair.
Helpful in providing deep massage to acupressure points in the neck, back, shoulder, and lower back.
It has a removable and washable cover for the neck with a detachable flap.
It has a demo function to illustrate how the device works.
Cons:
The neck pillow size cannot be customized for use.
Some users find the massage a bit strong.
Our Winner:
Well, we reviewed different massage chairs that provide different massages for the neck, back, lumbar region, hips, and shoulders. Although we have listed a few options, that will certainly give you an idea about the features to look into while purchasing the product.
If you wish to know more, then you can refer to the buying guide that we have provided. According to us, if multiple people are going to use it then the best purchase would be RENPHO Shiatsu Neck and Back Massager Chair.
The ability to customize it makes it our first choice.
BUYING GUIDE: Massage Chairs
Why do you need massage chairs?
The best answer to this question is – for fitness! Well, it's not fitness but it keeps us healthy, fit, improves the function of our muscles, helps in relaxation, reduces blood pressure and pulse rate, and increases metabolism.
Our hectic lifestyles combined with the kind of junk food that we eat, make it imperative to use devices like standing mats, massage guns, massage chairs, herbal tea that can help us to keep our health intact. We reviewed all these products earlier.
How do massage chairs operate?
Massage chairs are powered devices that can be operated in cars, homes, and offices. Depending on the model opted by you, it can be a recliner chair or a chair that needs to be fastened to another chair.
What to expect from a massage chair?
Generally, most of the massage chairs offer rolling massage, pin-point massage, and heated massage. They use vibrators to stimulate your muscles. Some massage chairs also use air pressure to compress the required body parts. They copy the motions of a massage therapist. are designed to mimic the hand motions of a massage therapist.
What are the different types of massage chairs?
A) Classification that is based on the user.
1) Professional massage chairs
They require a professional to help you in doing a massage.
2) Consumerist massage chairs – They can be further divided into two parts.
Therapeutic use – They have features such as inversion therapy, deep massage, and heat massage.
Hobbyist use – They have features like MP3 supports, LEDs, memory slots.
B) Depending on the design
1) Fixed frame – Least expensive, obsolete design, just move along X-axis and Y-axis.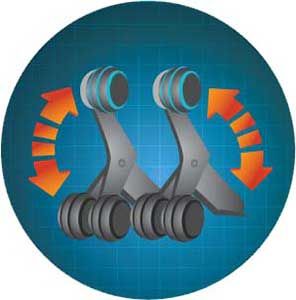 2) S-track – Most commonly used, adjust according to the counters of the body.
3) Hybrid L/S track – Used to massage back as well as thigh region.
C) Depending on other factors
1) Stealth massage chairs – These chairs were designed and built for people who love to look stylish.place lots of importance on aesthetics.
2) Inversion chairs – Therapeutic chair with powerful massagers and zero gravity recliners.
3) Chairs with extendable ottomans – They are specially meant for tall people who don't fit in regular massage chairs.
What are the core technologies used by the massage chairs?
What are the health benefits expected from a massage chair? of using a massage chair?
Muscle relaxant: Massage chairs help to relax muscles and thereby improve their functionality.
Alleviates mood: Generally all people love to get a massage done. This is because it releases serotonin from our brains. This particularly helps to control mood swings.
Cell regeneration: When you use massage chairs, you sweat. This helps your skin to clean the pores and increases cell regeneration.
Improves posture: It helps muscles to relax, improves blood circulation, and improves posture.
Improves concentration levels: When the body is in harmony, the mind can think clearly and with clarity.
Strengthens the immune system: It helps in the circulation of blood, flushes out toxins, improves digestion, and strengthens the immune system.
What points should you consider before purchasing a massage chair?
Type of massage chair needed: Massage chairs often offer many times of massages like rolling massage, kneading massage, pin-point massage on the acupressure points, heat massage, etc. Depending on the type of massage that you wish, you can choose.
Customer service: Before you finalize the massage chair, look at the reviews, and check out for the customer support offered by the vendor and the warranty on the product.
Budget: Massage chairs can cost you more depending on the features that you are opting for. So it is necessary to narrow down on the features and fix the budget before purchase.
Massage power and speed settings: It is necessary to judge the massage power and verify whether it can be customized to adjust to different speeds. This is purely subjective and hence look for the free look period when you buy the product. This allows you to return the product in case you are not completely satisfied with it.
Air compression massage: Check out for this feature if you love your calves and arms to get an air compression massage done.
Ease of cleaning and portability: Before you purchase, check whether it can be cleaned by removing the covers or not. This is so because it is the area most prone to bacterial infections. Also, it should be light in weight and easy to carry.
What is the optimum usage of a massage chair and the safeguards to be followed?
Almost all massage chairs have an auto timer that shuts the unit off after 15 minutes. If you try to use it for more time, it can damage your tissues and other muscles.
It is not safe to use it if you have any undergoing medical problems relating to muscles or spine. You need to check it with your medical practitioner.
It is not safe to be used by pregnant women and children should not use it unattended.
We hope that our review helps you to choose the best product for yourself. Do let us know your views regarding our recommended product and share with us your concerns. We will be happy to help.
X
You might want to hear this:
Serena Finn said…
"I'm a massage therapist, my back and neck muscles are tight and sore every night after work, this massage cushion works out my neck and back muscles, it works great and a very affordable price."