Our top picks
Fireproof safes help to keep important documents safe in case of fire. We decided to study them in detail so that you have the best choices. With a wide range of products and features, it is nearly impossible to get the one that you wish to buy. So here's a ready list of our top 5 picks and a buying guide to help you in making a purchasing decision.
Sentry fireproof safe has a dual locking system that operates with keys in combination with the digital lock. It comes with the instruction manual, keys, and documentation. It has dimensions of 19.3 x 16.3 x 17.8 inches with a chamber that is 11.9 inches deep and 12.6 inches wide. It is quite heavy with a body made up of steel weighing 86.69 pounds.
Pros:
Double locking system with keys and digital lock to be extra safe.
1-year warranty on the product.
Can store digital media too.
Offers protection from fire for 1-hour at 1700 degrees F.
Offers protection from water for 24 hours in 8-inch deep water.
It has interior light inside the cabinet that helps you to find the documents quickly.
Additional accessories like drawers and key hooks add to the functionality.
UL and ETL verified and can withstand 15 ft fall in case of fire.
Pry-resistant hinge bar
Cons:
You will need to memorize different passwords to open the digital lock.
The documentation contains important information regarding the locks, in case you forget it inside the safe and forget the password, it is impossible to open it again.
The door handle is made up of plastic, which is not liked by some users.
In case you bolt the safe to the ground, the 'water-resistant' warranty becomes void.
The factory code cannot be changed, you can keep two additional codes if you wish.
AmazonBasics fireproof safe has dimensions of 1.24 cubic feet with dimensions of 14.17 x 13.8 x 19.67 inches weighing 67 pounds. The internal dimensions are 12.5″ x9.6″ x 18.1″ (L x W x H).
Pros:
It has a 14-gauge heavy-duty steel body with large external bolts.
The internal shelf height can be adjusted.
The product has a 1-year warranty.
It complies with the UL 72 standard of safety and can keep the documents safe from fire at 120 degrees Fahrenheit for 20 minutes.
It has a back-up key in case you forget the code.
The physical lock is not visible and it hides behind the digital lock, and thus provides additional security.
Cons:
The protection time of 20 minutes is quite less compared to the others in a similar category.
Does not have additional accessories like drawers, key slots, etc to keep things bifurcated.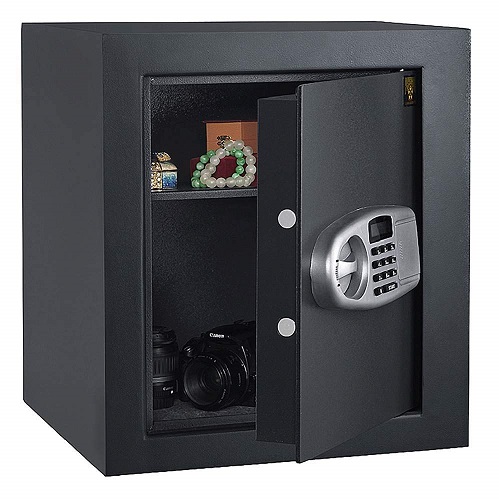 Paragon fireproof safe has external dimensions of 14.75 x 16 x 19 inches and weighs 74 pounds. It is made up of steel and what makes it unique is the hidden door hinges which makes it difficult for the burglar to open it.
The manual key is secretly located under the digital key lock and can be used in case of an emergency.
Pros:
Tamper-proof concealed door hinges.
It has a digital lock in addition to the physical lock and can be code manually infinite times.
It protects from fire for 30 minutes at 1700 degrees F.
It requires two small sizes of batteries of 1.5V.
Cons:
Some users have problems while coding the digital lock and feel that it is a complex process.
Honeywell is brand famous for locks and when you have a fireproof safe from them, it is like icing on the cake. It has dimensions of 14.4 x 15.7 x 12.5 inches and weighs 72 pounds. It offers a 1-hour fire rating at 1700 degrees F. Depending on the model that you choose the cost goes up and so does the fire rating.
Pros:
A robust body with digital and physical lock combination.
It is water-resistant.
The product offers a 7-year limited warranty and a lifetime replacement guarantee.
Cons:
Some users feel that the door hinges are not proper and they fit loose.
Steelwater fireproof safes are made in China and probably the most costly ones considering the others on our list. But this is because of the long duration of fire protection that the safe offers. The safe has 0.99 cubic feet capacity with an interior dimension of 15" x 9 3/8" x 12 1/8" and weighs 115 pounds.
Pros:
The safe offers protection from fire for 2-hours at 1850°F (1010ºC).
It has a combination of digital and physical locks.
Doors swing 180 degrees.
It has a removable drawer and adjustable shelf.
Cons:
It has a pre-set 4-wheel combination dial lock, the code cannot be changed.
Many users face the problem of humidity inside the fireproof safe and hence not suitable for digital products.
Our Winner:
When you are trying to choose the best fireproof safe, the safety that it offers from fire is of prime importance and along with that, you need to consider the locking system, the ease of use, the safety, the ratings, etc.
The locking system is essentially important because in case of any damage due to fire, later on, you need to open it to take our precious documents.
The ability to customize the shelves adds to the functionality of the product.
Looking at all the above factors, we feel SentrySafe SFW123GDC Fireproof Safe is the best fireproof safe that you should opt for.
This is because it offers protection from fire, water and you can even store digital documents without the fear of damaging them due to moisture.
Well, this brings us to the end of the topic but if you still feel that you have some questions in your mind then do read the product guide that follows. This will surely solve most of your problems.
BUYING GUIDE:
Why are fireproof safes needed?
According to Wikipedia, "The first insurance company in the United States underwrote fire insurance and was formed in Charleston, South Carolina, in 1735.
The USA accounts for the world's largest insurance volume in terms of premium. This is indicated from the fact that out of the $4.640 trillion of gross premiums written worldwide in 2013, $1.274 trillion (27%) were written in the United States."
People try to protect their property, documents by various means. One way is to mitigate the losses by opting for insurance. The other way round is by taking care that the documents or valuables aren't lost in case of casualty.
Fireproof safes fall in the second category. They help to keep your valuables safe from fire. Data from NFPA reveals that in 2019, $14.8 billion damage was caused by fire.
In light of the above facts, fireproof safes deserve special importance.
What can you store in a fireproof safe?
You can store all your important documents like Driving license, Passport, Will, Bank papers, important certificates in a fireproof safe.
Can you store digital things in a fireproof safe?
Preferably you should not save digital things like pen drives, CDs, hard drives, photographs, and negatives, etc in a fireproof safe. This is because a fireproof safe generates humidity inside the safe which can damage the digital things. They are designed to keep paper away from catching fire and have a temperature below 350 degrees F.
What should be the ideal size of a fireproof safe?
Fireproof safes are not an item that can be purchased now and then. The price range can be as small as 100 dollars to 1000 dollars and even more. Most importantly we need to purchase it keeping in view the future needs. So while opting for the ideal size you should consider the future requirements and not the current. You need to look into the space available inside the safe.
What should be the location of the fireproof safe?
To be safe it should be kept in a place where it is most easy for you to operate. This is so because if it is difficult to approach, we might be lazy in keeping our valuables in it.
Secondly, it needs to be kept in an area having a proper source of light so that you can easily input the code for opening the safe. This also means that you should have clear visibility of the things that you keep inside the safe.
Will the fireproof safe offer protection from burglary too?
Fireproof safes are meant to protect your documents from fire and not burglars. They have a thin metal gauge of 16 to 18 gauge metal inside that is insufficient to protect from burglars. So you cannot have a peaceful sleep if you keep your valuables like cash, jewelry, precious antiques in a fireproof safe. In that case, you need to buy a safe that complies with both of the above.
How long can a fireproof safe protect things from the fire?
Fireproof safes protect documents from fire by releasing moisture in case of fire. The long hours for which they can protect the paper from being ignited, gives them a high rating. Generally, they can protect documents ranging from a half-hour to about four hours. Sometimes in addition to the manufacturer's guarantee, they have Underwriter's Laboratory rating also and it is considered more valuable than a mere manufacturer's rating.
Should the safe be kept loose or anchored to the walls?
As said earlier, it should be kept in a place that is easily accessible to you and preferably anchored in a concrete wall rather than keeping it loose.
What is the difference between fireproof and fire-resistant safe?
While searching on any commercial website, fireproof and fire-resistant safe mean the same thing. You just need to check the ratings so that you know the exact time for which your documents will be safe in case of fire.
What type of lock should a fire-safe preferably have, mechanical or digital?
Mechanical or digital, both types of locks have their benefits and drawbacks. Mechanical locks need maintenance and are considered more reliable than digital locks. Whereas digital locks require frequent replacement of batteries and you need to remember all passwords correctly.
If you have any suggestions do let us know in the comments section, we will be glad to hear from you! Stay safe!
X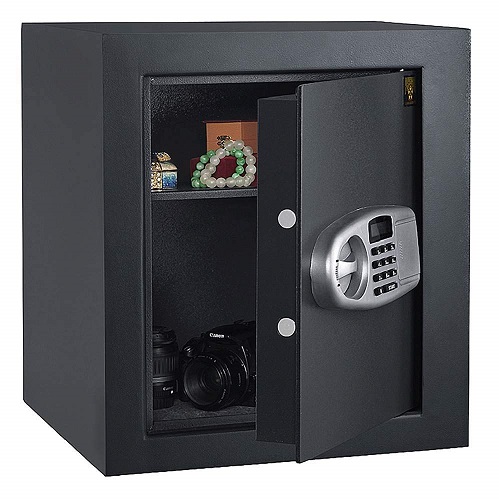 You might want to hear this:
Dennis said…
"Wonderful safe, has a digital code unlock of your choice and a key as well. That's a backup for you to get into your settings if code is forgotten. You can also change your code whenever you'd like."