Our top picks
Fully automatic espresso machines are must-have home appliances for those who drink coffee regularly. Good fully automatic espresso machines are worth the investment, and will pay for themselves with consistent use.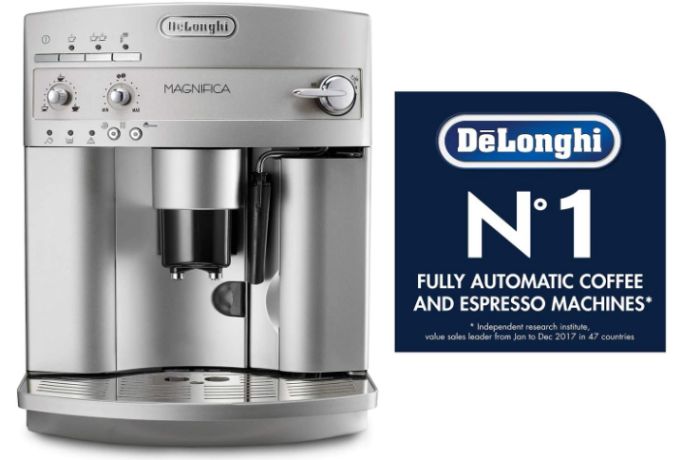 De'Longhi isn't a household name, but it's a well-known Italian brand that makes home appliances. It's especially known among coffee lovers.
So how did De'Longhi's fully automatic espresso machines get to the top of this list?
Quite simply: it's got the best combination of price and quality.
It's not the cheapest, as fully automatic espresso machines go, and it's not even the cheapest on this list…but it's certainly on the lower side. Meanwhile, it's highly rated with THOUSANDS of reviews making that rating more credible.
Pros:
Reasonably priced overall.
Average of 4.3/5 stars, but with well over 2,000 ratings (making the score more impressive)
Can make 5 drinks (espresso, cappuccino, latte, Americano, and hot water).
Also, one-touch options to make a single or double espresso.
Average heat-up time of 75 seconds
Automatically shuts off after 3 hours, saving energy but still allowing a good window for use
Cons:
Maximum cup height of just over 4 inches
Although dedicated customer support is available, consistent complaints about its quality—especially when product defects are in the picture
Philips is one of the biggest and most trusted home brands, especially for espresso and coffee machines.
This machine is basically a very reliable fully automatic espresso machine. It's got a high point on this list because it's just…well, a good machine that does what it's supposed to do!
The downside? There are a few, but most of them are minor. The big downside is price:
Even if you get the price discounted with Amazon Prime, it's still a bit expensive.
Pros:
Huge discount for Amazon Prime members ($200 off)
Intuitive touch display, which also allows for many options/settings
Aroma seal preserves freshness of coffee beans
Wide range of bean grinding options
LatteGo milk system easily froth milk for lattes, with handy pre-drawn measurements for various amounts of milk needed per cup. And it can be easily cleaned.
Can make 5 beverages: hot water; coffee; espresso; Americano; and cappuccino
Strong on reviews: 4.5./5, safely backed up by over 300 ratings
Distinction of being an Amazon's Choice product
Cons:
Pricey without a Prime membership (list price $999.99). May still be pricey for many, even with the Prime discount ($799.99)
Lever size means you can't brew enough to fill a travel mug or larger cups—you'd have to make two smaller cups
Some complaints about speed: the machine has a lengthy warm-up process it needs to go through, and automatically shuts itself off after 10-15 minutes
Some complaints that espresso comes out too watery
Espressione's machine may be in third spot, but it's effectively tied with the option that comes after it—Saeco's machine (you'll see soon).
Espressione has more mixed reviews, but the consensus is still pretty positive. Meanwhile, it's got useful settings, is less physically obtrusive, and has the lowest price of the options here.
As many fully automatic espresso machines can be too bulky, expensive, and even complicated, Espressione is great for those with simpler needs.
Pros:
Relatively low price, as long as you have a Prime discount ($450.99)
The machine is thin, making it easier to position in a crowded kitchen setting
Option to pre-program two cup settings, so you can quickly produce a drink to your preferences without messing with settings
Coffee grinding is quiet
Cons:
Without Prime membership, price is more average—a bit on the higher side ($599.99)
Reviews are more mixed, though more reviews would be helpful (there are fewer than a hundred)
Some consistent complaints about defects upon purchase
Like I said, this is pretty much tied to Espressione's machine in spot #3. But it's got the opposite dynamic as Espressione:
Saeco's Xelsis machine has a ton of features that other fully automatic espresso machines don't usually have. If you want a highly-featured, fancy machine, this is the one. The only problem?
It's expensive.
Even for fully automatic espresso machines, which cost hundreds at minimum, Saeco's Xelsis is so expensive that even most of the people who gave good reviews (which is the vast majority of reviews) commented upon the price.
BUT, those people also say that the price is well worth it for the features and performance.
Pros:
Highly intuitive touch screen interface
Very wide range of settings. Allows for some of the most customized drinks from an espresso machine
15 coffee drinks available (which can in turn by customized, as described above)
Ability to create up to 6 user profiles and save favorite drinks/presets to those profiles
HygieSteam feature will automatically clean the milk circuit with steam
Cons:
Some complaints about customer support, but not a huge number
Consistent complaints, even among those who gave good reviews, that drinks come out lukewarm—even on the hottest settings

What holds Gaggia back on this ranking is its small number of reviews. Despite the fact that the reviews are positive, more information is needed to make buying it less risky.
But Gaggia, an Italian manufacturer, is relatively straightforward about the specifications of the Naviglio Milk model, and the price is fairly normal.
It's a bit like Espressione in that it's a nice, simpler option in a field of overly-fancy fully automatic espresso machines.
Pros:
Simple buttons and dial. Once you get used to the interface, easy to use
Heats quickly
Automatic rinsing cycle
1 year warranty
Cons:
Lack of a digital digital display makes it a bit tougher to understand what is happening. Instead the machine informs you of processes through lights by the buttons.
Not a wide variety of beverages (just espresso, cappuccino, hot water, and milk froth)
Only 2 reviews (though both are 5 stars)
The reason Colet's machine has got a low spot on this list is simple:
It looks good, but stands on the pricier side of fully automatic espresso machines, and like Gaggia's machine, not much is known about it.
That doesn't necessarily mean that it's bad. It could be a great hidden gem. But from a consumer perspective, it makes the price much more of a risk.
Pros:
Option for fresh beans or pre-ground ones with two chambers. The second chamber also allows for decaf.
Easy to use touch display
One-touch drink options for more than just the usual 4-5 drinks: Cappuccino, Latte, Espresso, Americano, Steamed Milk & Foam, Lungo & Flat White
Adjustable coffee spout lets you fill larger cups
2 year warranty
Cons:
No customer reviews. Doesn't mean it's bad, but it does mean it's a bigger risk.
As the fully automatic espresso machines on this list go, KRUPS' is a bit more of a mixed bag. On the one hand, it's got a super simple interface, a couple options, and puts out solid drinks.
On the other hand, it's got mixed reviews and consistent complaints—and there are enough poor reviews to ignore those complaints as flukes.
And when the price is taken into account, those mixed reviews seem even more important.
Pros:
Option for both a machine with an integrated milk frothing system and one with a separate milk frothing system (the integrated machine is cheaper by about $80).
Super simple interface that mixes a physical dial with an LCD display
2 year warranty
Automatic rinsing function
Can fill taller cups
Reviews note that resulting drinks are good
Cons:
Average rating of 3.3/5 stars, with a large amount of reviews (well over 500)
Consistent complaints that the machine doesn't last more than a couple years, and complaints of malfunctions and inconsistent performance
Consistent complaints about maintenance/cleaning issues
Our Winner
Ultimately, we have to award the win to De'Longhi, but it's a very close call.
Philips represents the highest guarantee of quality on this list. And as fully automatic espresso machines go, Philips' is great for the price. BUT, it's still considerably more expensive than De'Longhi.
Meanwhile, De'Longhi offers a guarantee of quality that's CLOSE to Philip's (and the ratings are even easier to trust because of a large number of reviews), and all the necessary features you want in a fully automatic espresso machine.
Buyer's Guide
Overall:
The first thing to understand about buying fully automatic espresso machines, is that there are no "perfect" fully automatic espresso machines.
Put simply, fully automatic espresso machines may have defects with unfamiliar materials, experience common tech glitches, or be noisy.
And even the easiest-to-use automatic espresso machine will still require some maintenance on your end. Things go wrong often.
So am I telling you to not buy one?
Of course not!
Fully automatic espresso machines are WONDERFUL. Despite the flaws that even the best have, they can make life much easier, and pay for themselves after a year or two.
The key thing though, is that you consider carefully what your deal breakers are, and what you prioritize.
Some people have families or roommates that could incentivize quieter and/or smaller fully automatic espresso machines.
Some people may want a machine that's good for a household, or at least more than one person. Those people will need to prioritize performance and durability, and may need to be willing to invest more heavily in a machine.
If you have simpler tastes, then don't bother with fully automatic espresso machines with loads of settings. But if you're sharing with people, or just enjoy mixing things up, get one that lets you
Plus, consider how much ease of use is key here. Sure, the point of a fully automatic espresso machine is ease of use. But even here, there are variations:
A device that's easier to clean is going to be a worthy consideration for almost everyone. And it should be.
But how much more will you pay for advanced self-cleaning features, when you'll still have to clean it manually anyway? Because even the best machines need to be cleaned manually.
Now, let's talk about the coffee:
For the most part, you can't just use any coffee beans for fully automatic espresso machines. If you take a look at the reviews for automatic espresso machines, you'll often find complaints that beans oil up the machine.
That's generally because fully automatic espresso machines are delicate, and prefer higher quality coffee beans and roasts. And in regards to espresso specifically, not just machines, finer grinds are usually preferable.
The good thing about fully automatic espresso machines is, unlike semi-automatic ones, they come with bean grinders built-in. Basically all the options on this list let you choose basic degrees of bean grind, from fine to coarse.
So if you're picky about your coffee, you should double-check your target espresso machine has a grinder and settings for the grinds.
Now aside from that, there's milk:
Although for the most part fully automatic espresso machines reduce the amount of work you need to do, there's still some variation.
Some machines will use auto-frothing steam wands. You have to use them manually to top your coffee, but it's not very hard to do. The higher-end machines will usually make even this more automatic.
These have attachable milk containers with connected tubes and spouts to do the frothing. In those cases, it's basically one-touch: you press a button or two, and even the milk will be frothed for you without intervention.
To use an example from the list, here's the KRUPS machine with a built-in milk froth system:
And here's the version without a built-in milk frother:
Whether that's worth it or not is really up to you:
Some people really like frothing the milk themselves, since it's not too hard. Even aside from being fun, it allows you to practice and learn how to make your favorite drinks. Plus, you usually save money for it.
Others will swear by fully automatic milk frothing. They'll often argue that if you're already investing hundreds into a fully automatic espresso machine, you may as well go all the way, and get one with a separate carafe or milk container.
And there's one last point you should look out for:
Size
You might think that it's the least of your worries, but it's not.
There's a basic bulkiness that is inevitable with fully automatic espresso machines. But there's still a range, and that varies not just from aesthetic choices, but from features.
To give you a good example—a separate milk jug/container will naturally take up more space, especially if the machine has a holder for that container built-in.
And the reason this matters?
You'll need to reach into and open parts of your machine regularly. Whether it's because you're filling in coffee beans, or cleaning the machine, or trying to check out an issue.
So will you have room to do that given your existing kitchen, or counter space? Whether it's in a home or office, you should have a machine that you can easily manage, physically.
And that especially includes height—if your machine is tall and right below a cabinet, it could be hard to feed coffee beans into it.
There's one last important note about machine sizes:
The dimensions of your espresso machine could mean your dispenser/drink spout has a low height. Meaning, you can only fill small cups.
This may be fine for many people, but if you often take larger cups with you on the go, or just prefer larger cups in general, this is an important point to note.
You should either look at the listed dimensions of a product to see how tall of a cup you could fill—the seller will often tell you—or look for fully automatic espresso machines with adjustable heights.
Conclusion
So to wrap it up, even within the narrow category of fully automatic espresso machines, there are many options.
The ones here are the best, and though they're ranked in an overall order from best to least good, the realistic order will be different for everyone.
In general, De'Longhi's fully automatic espresso machines provide great value for money. But if you want something of a bit higher quality and features, Philips is another option with a higher price tag.
You get the idea.
But there you have it—enjoy your espresso!
X
You might want to hear this:
ShadowMerlin said…
"The foam produced by this machine as EXTREMELY smooth add silky. Far better than any of my previous machines."