Laser hair removal has become the safest and most effective way to remove unwanted facial and body hair for both men and women. If this is something you are considering you will need the best laser hair removal at home. You're in luck!
The staff at ReviewRoller will make this easy for you. We've done extensive research so you don't have to! Below you will find our top picks along with a detailed Buyer's Guide that will help explain who is a good candidate for laser hair removal, how to use and maintain an IPL device, and assist you with making the best purchase for your hair removal needs.
Our top picks
You can see by the snippets of customer reviews that our top picks are quite popular. Now, let's take a more in-depth look at each product to find out why.
Braun is a well-known brand among consumers who value quality and this at-home laser hair removal device is no exception. One of the most important features is the SMART IPL with SensoAdaptTM skin sensor (with UV protection) which automatically and continuously adapts to skin tone. It is a fast-working device that is easy-to-use.
Pros:
New compact design provides precise handling
Can see significant results within 4 weeks
Has been recommended by dermatologists for sensitive skin
Offers painless hair removal
Cons:
Use with caution around birthmarks; can burn
It is recommended you wear goggles while using the device; goggles not included
Cannot be used on male facial hair
The unique design of the DEESS makes it comfortable and easy to hold. It features 3 flashes to meet each hair removal need, it has Ice Compress and IPL Technology that increases comfort during the hair removal process, and 3 modes: hair removal, skin rejuvenation, and acne removal.
DEESS is a well-known supplier among plastic surgeons and dermatologists. If it's good enough for clinical use then it's certainly good enough for home.
Pros:
0.9s/flash with smart automatic flash mode which shows when the skin is detected
Significant results within 6-12 weeks
Comes in a box sturdy enough to use for storage
Ice Compress feature truly does make this a painless process
Cons:
It would be helpful if the cord was longer
The lamp heads needed for skin rejuvenation and acne removal are sold separately; added expense
It's a bit too large for upper lip hair removal
An automatic skin sensor, LCD screen, and 5 energy levels make this a good choice for at home laser hair removal. It also features a long lamp life of up to 300,000 flashes. It comes with safety goggles which you will need to protect your eyes from the light.
For full results, this device requires 7-9 treatments. If used properly, you will be pleased with the final outcome.
Pros:
Pain is minimal; minor "zap" sensation that goes away quickly
Smooth, sleek design
Handle make it easy-to-use
Does a good job or moving thick/coarse hair
Cons:
On some devices it was noted the flash button began to wear out over a rather short period of time
The flash bulb doesn't last long
Not recommended for sensitive areas such as the bikini line
This device features 2 modes, 5 energy levels, and over 900,000 flashes. It's comfortable grip, auto, and manual modes make it easy to use. Provides a nice, smooth, soft feel after use.
Pros:
This device is painless
Durable product
Packaged well to avoid damage during shipping
Instructions are well-written and easy-to-follow
Cons:
Flashes only cover a small area
Works a bit slower than other devices
Not a good option for those prone to acne
Almost a million flashes, 2 modes and 9 energy levels are what you will find with this device. There is a manual mode for small areas and an auto mode for larger areas. The ice cool feature makes for painless hair removal. This is an easy-to-use device for at-home laser hair removal.
Pros:
If not using at the right angle, the lights won't flash; helpful since you'll know the device is working properly
Comes with goggles and a razor
The cooling function does a great job at eliminating the "zap" feeling
Attractive and sturdy packaging
Cons:
Some users with sensitive skin may feel the device get a little too warm
The high level of flashes may be startling to some users
Can't be used on tattoos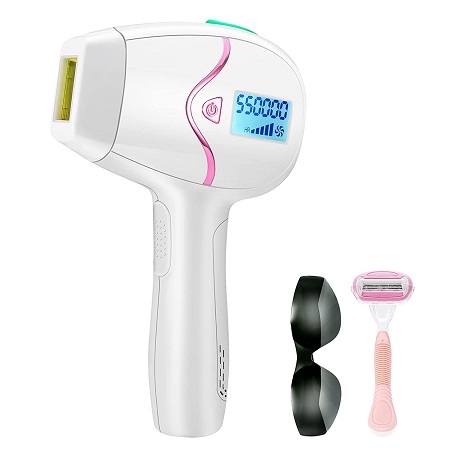 Edousin offers state-of-the art technology with their at-home laser hair removal system. It has2 different modes and a lifespan of approximately 500,000 flashes and is suitable for all areas of the body. It takes only 5-8 weeks to begin seeing significant results.
Pros:
Nice quality and well built
Well written instructions
Easy to use
Has a nice grip and is easy to hold
Cons:
Not recommended for mothers who breastfeed
Some customers found it bothersome there is no contact information for the manufacturer included with the product
It seems the manufacturer does not guarantee returns will be accepted; buy at your own risk
This laser hair removal system has 5 energy levels and 2 flash modes. It also features over 900,000 flashes and we like the large LCD screen. It is the most economical and effective at-home laser hair removal on our list. Expect significant results in 9-12 weeks of correct use.
Pros:
While it takes up to 12 weeks to see major changes, you should notice a difference within only 1 week
Relatively painless, although you might notice a slight warming of the skin
Nice quality and well-made
May have a soothing effect on bumpy skin
Cons:
The flashes are extremely bright; goggles are a must for user and as well as anyone in the room
Cannot be used on tattoos; painful
Instructions could use some improvement
Our Winner
With the quality and excellence the Braun brand provides, there is no reason to not give the Braun IPL Hair Removal for Women Silk Expert Pro 5 PL5137 a try. The new design is also an upgrade over their previous devices. The most important feature is their patented SMART IPL with SensoAdaptTM skin sensor (with UV protection) which detects skin tone automatically.
The Skin Health Alliance has certified this device is safe for sensitive skin, as well. It is the most expensive device on our list but you simply cannot put a price on healthy, clean, smooth skin. This is one investment in yourself you should make.
Buyer's Guide
At-home laser hair removal can be a serious undertaking and it only makes sense you want to be prepared. The Review Roller Buyer's Guide is designed for that purpose. Our hope is to assist you in making a wise choice. With that goal in mind, we gathered the most commonly asked questions and have provided thorough answers, as well.
How Does Laser Hair Removal at Home Work?
The process is basically the same as in salons. A laser is used to destroy hair follicles thereby inhibiting hair growth. The results are mostly permanent but because you can't catch every follicle in between growth cycles and because of that, you may need to do a follow-up treatment periodically.
Don't go into this expecting to kill all follicles at once. Whether at home or in a salon, this is a process that requires a lot of patience. It is slow and it is vitally important you read and carefully follow all instructions and precautions provided with your device. Pay special attention to instructions pertaining to skin preparation. Done incorrectly, you won't get good results.
Are there benefits to laser hair removal?
Absolutely! The biggest advantage is removing ingrown hairs and/or avoiding them altogether. This is a common problem with shaving and ingrown hairs can be painful. Other benefits include:
Smoother, softer skin than you get with waxing and shaving
You can shave between treatments which is not often the case with waxing
It's a money-saver – no more buying razors, wax, creams/lotions, or paying for expensive visits to a salon
There are no scars or side effects; this is an absolutely safe process.
You can expect long-lasting results
How do I know if I'm a good candidate for at-home laser removal?
The effectiveness of laser hair removal is based on skin and hair pigmentation. The lighter the skin and the darker the hair, the better the results. There was a time when this treatment did not work for anyone with dark skin. The reason is because the laser is attracted to pigment and darker skin would end up damaged. That is no longer the case with today's advanced technology. Still, it is highly recommended you check with the manufacturer to be sure your skin tone will work with their device as not all devices work the same.
What do I look for in an at-home laser hair removal device?
When purchasing a device, we suggest you give thought to the following:
Your skin tone and area of the body you wish to treat – not all devices work on all areas
Whether the device is suitable for small areas or larger areas
The battery. Do you want something rechargeable? Is keeping it plugged in okay?
Something else to keep in mind is the 2 types of lasers available. Diodes are more targeted while IPL is less powerful and uses light waves.
What are the pros and cons of doing this at home?
Naturally, you can expect some good and some bad with doing the hair removal treatments at home. The good we covered in the question regarding benefits. The bad includes:
Less power with at-home devices which means it's a slower process
It's more difficult to cover larger areas on your own
Salon laser hair removal is typically safe for all skin tones and types of hair whereas home devices may not be
Conclusion
As previously noted, the Braun IPL Hair Removal for Women Silk Expert Pro 5 PL5137 Is the device we highly recommend for at-home laser removal. We believe the Braun name carries weight when it comes to quality and feel this device will suit the needs of most every consumer.
X
You might want to hear this:
Yule said…
"Good to use device , help to reduce my hair grow is really important for woman, thanks to this device it helps me with hair not growing keep my skin smooth, and the kit is so neat and nice comes with everything. "