Balsam Hill is a popular brand of artificial trees and this one is stunning! It is 7-feet tall Classic Spruce with 800 clear LED lights. The lights emit a nice warm glow and the stand has rubber feet to prevent damage to floors. The dimensions of this tree are 52.8 x 52.8 x 84 inches.
This tree comes with fluffing gloves, a storage bag, an on/off foot pedal, as well as replacement bulbs/fuses. Assembly is simple but it is important to note the 7-foot height does include the stand.
National Tree has designed "Feel Real" technology so while this tree is artificial, it'll feel like you cut it down yourself. It has 1,147 individual branches and life-like pinecones. It's a great choice if you prefer a more natural, woodsy look for your home.
This is a 7-foot tall Caroline Pine. Once properly fluffed, it is a full 58-inches wide at the base. The tree is easy to assemble and we appreciate the natural appearance of various shades of green. We'd like to point out that some of the branches are a bit wide at the end. That might make it difficult to hang ornaments.
With hand-crafted branch tips and 750 lights, this 7.5-foot tree would be a beautiful addition to your home for the holidays. It features 3 different sections that can be easily assembled and a sturdy metal stand.
This tree comes with a storage bag and fluffing goes. The company offers a 3-year warranty and replacement parts are available if needed. Note: the picture depicts longer branches but these do not come with the tree.
This 7.5-foot tree is pre-lit, flocked, and features over 1,300 tips. It has 500 lights that will give your home a warm, welcoming glow. It takes only 3 steps to assemble the tree and it stands on a steady, durable metal stand.
We love the authentic winter feel the flocking provides but be warned – there is some shedding. Not a major problem as a vacuum will quickly get it up. It isn't difficult to assemble but it takes a bit of time.
This is a 7-foot Vermont Spruce that has Alexa capabilities. With Alexa, you can choose the color of the lights and turn them off/on. Or, if you prefer you can set the lights on a timer. It features 2,000 branch tips, 400 LED lights, and 40 light functions.
There is no special assembly required to pair the tree with Alexa. All you need to do is plug it in. It is possible it may not pair with Alexa immediately. This means you'll need to unplug it to resent it, maybe a few times.
This is a glorious 16-foot tree with 7,491 individually crafted branch tips. The tree is quite full when fully fluffed and assembled and the needles are non-allergenic. This is a North Valley Spruce that measures 96-inches at the base.
National Tree Company has been in business for over 60-years and is a trusted brand. This is an incredibly well-built tree that will last for years, however; there is a bit of a lack of 'realness' with this tree.
This is a pre-lit, 12-foot tree that features 1,250 LED lights and 4,693 memory steel tips (decorations not included). The hinged metal branches offer stability and flexibility. Assembly is a breeze.
Although it is advertised as "no fluffing needed" there will be a bit of fluffing that needs to be done for complete fullness. Customer service could be more helpful.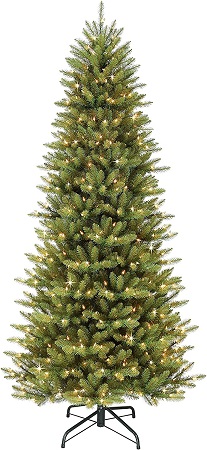 The slenderness of this tree makes it a great choice for small spaces. It is pre-list with 900 lights and has 2,557 branch tips. Lots of room for your treasured ornaments! The warranty covers 5-year on the tree and 2-year on the lights.This is a well-made tree but there have been complaints that pieces were labeled incorrectly.
That didn't seem to pose a problem though as the assembly is self-explanatory. It should also be noted that the outlets are very snug and may need help with electrical tape.
This well-made tree features 850 clear lights and 2206 tips. It has a nice, lush appearance when completely assembled (decorations not included). We like that it is accented with light-brown stems and pinecones giving it a more realistic appearance.
It comes in 4 sections and a foldable base. You will need to take the time to completely fluff the tree to get total fullness. Because they sell trees in different sizes, it's possible you'll get instructions for the wrong tree.
81 pine cones and 1335 branch tips have been created to give a realistic appearance. The .600 LED lights provide a warm and cozy glow. It comes in 4 sections and the stand is made of sturdy iron.
This is a really pretty tree but warning! You'll be fluffing for a while to get it completely full. The light cords seem a bit restrained but that doesn't affect the appearance. You may lose pinecones during assembly.
The fiber optic lights make this such a festive tree! A perfect addition to any room where only a tabletop tree will do. It is 4-feet tall with 200 individually crafted branch tips. It is trimmed with multi-color ball ornaments and the lights change color automatically.
We like the attractive gold base. It's pretty enough that a tree skirt isn't really needed. We would like to note that the on/off switch is flimsy and it may or may not break.
This is a no-hassle "pop-up" tree. Assembly is as easy as that – pop it up and done! We love that there are options available: Poinsettia, plaid, red/gold, and silver/gold. The decorations are included this time and it features Features 100 clear twinkling white lights.
Because it stores flat, it's easy to put away until next Christmas. You may want to adjust the ribbons and fluff them out a bit after setting up.
National Tree Company has made our list again and that's because we truly value the quality of their artificial trees. The burlap base on this 3-foot Nordic Spruce tree gives it a nice, rustic appearance. It comes with 100 small lights,
Set-up couldn't be easier. Fluff it for a fuller appearance. It can work as a tabletop tree, a centerpiece, or a nice touch to your porch. The "Feel Real" Technology isn't as noticeable on this tree and the base might be a bit wobbly.
This 4-foot tree is flocked, has pinecone accents, and hinged branches. We like the 2-toned greens that give a realistic appearance. Assembly is quite simple.
You may notice slight shedding of flocking but it won't alter the appearance of the tree. The inner pole could also be sturdier.
This tree features 130 fiber optic lights with continuous lighting, pre-programmed patterns, and flashing modes. It features a sturdy base and is easy to set up. It has a balanced branch structure that makes it easy to decorate.
The flashing lights put on quite a festive show! But, beware if you are sensitive to lights. This is a very bright tree. There are also a lot of red and blue lights; could be more "Christmas-like."
Buying Guide
Purchasing an artificial Christmas tree should be viewed as an investment. Obviously, you'll want one you can use for years to come so what's why we've put together this Buying Guide. Our goal is to help you find the best artificial Christmas tree for your family.
Below, you'll find advice on how to select a tree and tips on decorating and maintenance. We've also included a Bonus Guide to Lights!
Our Wish for You!
ReviewRoller takes great joy in being able to provide you with options for the best artificial Christmas trees for your home. We hope you've found this guide valuable and hope this year is your best Christmas ever!