Our Top Picks
Lawn mowers are very effective tools to keep the lawn well-manicured. Without putting much hassle, these machines can come in handy to maintain a great and attractive lawn. After all, all you have to do is just roll over the grass and weeds.
Although several types of lawn mowers are available in the market, we will focus on push-reel lawn mowers. These lawn mowers may have the fewest features and the most basic design, but they do the job of maintaining lawns with areas between ¼-acre to 0.5-acre. Moreover, they are inexpensive and require low maintenance.
However, selecting the best lawn mower may be tricky as the market is full of lawn mowers of different makes and models. That is why we have included a buyer's guide. This guide has all the key features to look for when choosing the best lawn mower. We've also included a list of five of the best lawn mowers currently available in the market with their benefits and drawbacks added in the comparison.
This mower combines advanced technology with superior ergonomics. As a result, it provides the best-in-class cutting performance. The best part, you do not need gasoline, oil, charging, cords, or the noise that other mowers produce. It has an Inertia Drive reel. Because of this drive, it provides 50% more cutting power than traditional reel mowers.
The mower is 30% easier to push than other reel mowers. This credit goes to the superior design. A 1.5 to 3.5-inch cut height range, a 17-inch cut width, and a two-year limited warranty are included.
Pros:
This mower is effective against all grass and weed types.
The intelligent and eco-friendly design of the reel mower offers a cleaner cut without any hassle.
You get rid of the dependence on gasoline, oil, battery charging, electrical cords, or loud engine noise.
Advanced technology makes the mower 30 percent easier to push than other reel mowers.
The company provides a lifetime warranty.
Cons:
Customers have complained about poor customer support.
The wheels are not sturdy.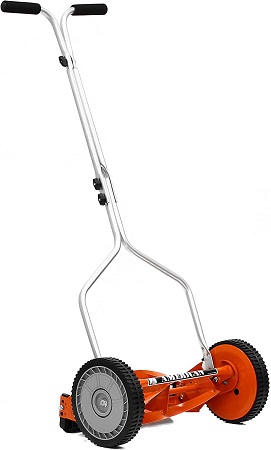 The 4-blade push reel lawn mower is an ideal choice for large areas. This US-made lawn mower with four blades can cut grass up to four inches tall. It's simple to put together and use without any hassle. It has a cushioned handle that is both durable and comfortable. Moreover, the handle provides the ideal balance of grip and comfort.
This gasless lawn mower is an eco-friendly option as it emits no carbon dioxide. You can forget about gas engine lawn mowers' cords, fumes, oil, fuel, and noise. It is lightweight and low maintenance.
Pros:
The 8.5" polymer wheels will give you maximum maneuverability.
The adjustable cutting height will leave your lawn evenly trimmed.
The heat-treated alloy steel blades stay sharp for years.
Eco-friendly design contributes to zero pollution.
The machine is lightweight, easy to use, and requires low maintenance.
Cons:
This mower is not effective against weeds.
Cutting is not very smooth.
This Great States' old-style lawn mower simplifies lawn maintenance. It helps maintain your lawn by precisely cutting the grass at whatever length you wish. This machine meets your expectations of maintaining a greener and healthier lawn without much hassle.
This mechanical lawn mower is compact and maneuverable. It requires little maintenance because the blades are durable. But, you can always make them sharp if you feel the necessity. The compact design allows you to store it in your garage or hang it on the wall to save space.
Pros:
You do not need to depend upon gas or oil.
The 5-blade ball bearing reel with a 16″ cutting width makes your lawn trimming experience full of joy.
The 10″ composite wheels make moving the push reel lawn mower easy.
Blades are made of quality, heat-treated alloy steel for staying sharp for a long time.
T-style handle with cushioned grip provides comfort when using this manual reel lawn mower.
Cons:
Grass constantly gets stuck in the blades, and it has to be taken out by hand.
This lawn mower is an ideal option if you want to trim your lawn without depending upon a power source. The rechargeable 28-volt lithium-ion battery ensures you use it for a longer duration. A durable steel blade cuts with precision in a single pass. Furthermore, it has a convenient 3-position manual height control. This is to tailor the grass to your desired height. With the 10.6-gallon bag, you can collect the grass for the entire run and dispose of it later.
Pros:
The rechargeable lithium-ion battery allows you to cut a quarter acre in a single charge.
Its durable steel blade cuts with precision in a single pass.
You can adjust the cutting height with three different positions.
It comes with a detachable 40L grass catcher for easy disposal.
Cons:
Some customers have complained about the machine getting stopped abruptly.
The Earthwise 7-blade reel mower is a perfect choice for a clean and trim lawn. The motor-less machine is designed for precise scissor-cut action. With a classic design and modern features, it needs less maintenance. Moreover, the smooth-spinning blades with easy-roll wheels ensure effortless mowing.
Pros:
The 16″ cutting width with a 7-blade ball bearing reel and 10″ composite wheels make grass cutting fun.
The steel side plate design provides stability.
The 7-blade mower blades are made from alloys that stay sharp even after prolonged use.
It comes with an adjustable cutting height of 0.5″-2.5″ for clean and even cuts of your lawn.
Its eco-friendly design ensures environmental-friendly use.
Cons:
It does not work well on uneven surfaces.
BUYING GUIDE:
When it comes to choosing the best lawn mower can be a tricky task, with so many models on the market and such a wide range of brands. Briefly, there are four main types of mower available with different features. First, you need to figure out which type of lawn mower you want for your lawn and garden. Let's understand the four types of mowers so that you can make a well-informed decision.
Types of lawn mowers
Corded electric mowers
These mowers are generally in the mid-price range and are light and quiet. You'll need a charging station and an extension cord for its operation. The electric cable might obstruct your view while mowing.
Petrol/Gas-powered lawn mowers
Petrol lawn mowers are powerful, but they are also noisy and heavy. They need high maintenance and environmental pollution. The maintenance is also high as compared to other variants.
Battery-powered cordless lawn mowers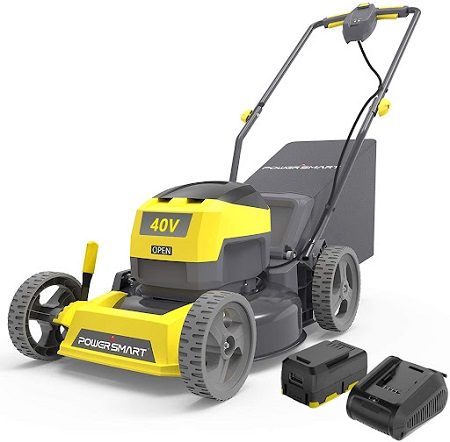 Cordless lawn mowers are the newest in the market. They are the lightest and most maneuverable. It's important to keep the battery charged. Although they can be costly, the prices are falling lately.
Push mowers
These mowers are inexpensive and manually powered. This makes them the most environmentally-friendly option. But, they can be strenuous for the user, especially if strength and mobility are issues.
How to select the best push lawn mower?
The cutting width
Push-reel mowers are designed for small lawns with flat surfaces and few obstacles. Hence, the majority of push-reel mowers have a 14″ to 18″ cutting width. This is one of the major disadvantages of buying these mowers because they're much narrower than other varieties that have more than 20″ width.
Cutting options
This is an important consideration before you buy a mower. Some mowers have multiple cutting options, while others have only one. Depending upon what type of lawn you have and how frequently you cut your lawn will determine what's ideal for you.
Blade material
Blade material plays a key role in cutting the grass and weeds. The blades have to be sharp and strong enough to cut through grass and weeds. While grass is not a problem, most blades get stuck on weeds or cut them poorly. Some blades may even weaken over time due to growing rust. Hence, you need to keep these things in mind. Generally, stainless steel with alloys is considered the best for this purpose.
Safety
Consider the safety features of the mower before you select the final model. Safety is important as you are dealing with sharp blades. Read the product specification clearly to understand what safety features the company is providing along with the model.
Warranty
This is a product category where you should look for a solid warranty to ensure that you are covered if something goes wrong. The best brands always provide better warranties to gain trust among the users. A longer warranty means you can expect better service quality. So, always go for branded mowers that come with longer warranty periods.
Budget
When weighing these features, you must, of course, consider your budget. It will ultimately come down to a trade-off between performance, comfort, and durability. Models of lawn mowers start at a few hundred dollars, but they can cost thousands of dollars.
Wheel size
Wheel size plays an essential role in trimming the lawn. While small wheels may be good for small grass, they are not fit for long grass. In such a case, you need large wheels. While selecting the best mower you need both the front and rear wheels. Remember that if you're going over rougher terrain, you'll need taller rear wheels.
The bottom line
Lawn mowers help you to trim your lawn and maintain it in great shape. However, you need to find the right lawn mowers for this purpose.
You can surely try out the Sun Joe Push Lawn Mower for a small to a medium-sized lawn or the Fiskars Push Lawn Mower for a large-sized lawn.
In case you don't find the right model from the above-compiled list, you can buy the best push lawn mower by following the guidelines given in the buyer's guide.
X
You might want to hear this:
Joe T. said…
"This is great for cutting the small grassy area around our pool which has a fence around it. With several palm trees, it was cumbersome to use a gas mower in this area. This is ideal, especially since our two small dogs prefer the grass kept cut versus the areas outside of the fence."