'Shapewear' you might be wondering, why on the earth do you need a product review for that!
It isn't that important. Anyways you are going to wear them inside clothes so how does it matter?
Well, according to neurologist Orly Avitzur, MD, medical advisor for Consumer Reports, 'Too-tight shapewear may lead to health problems. Any time we put on tight garments we take the risk of compressing organs or nerves."
Avitzur says that in her practice, she has had patients complain of tingling and numbness in the front to outer thigh region, from hip to knee. Avitzur has traced the cause back to restrictive clothing like shapewear or skinny jeans.
That's precisely the reason why I decided to write about shapewear. Being a lady myself, I know how it feels if you aren't wearing the perfect size and have a perfect texture of the garment. It keeps itching all day!
So here are the top seven shapewear that I found suitable. Well, if you are unsure about the size here I have a tool for you.
Eleady shapewear is made from 100% latex core and spandex material which gives it a smooth touch along with flexibility.
Flexibility makes it possible for it to be used on regular days as well as for work-out giving your body a beautiful hour-glass shape.
Pros:
Zipper & three rows of hook closure provide an adjustable tight fit to achieve a long-lasting waist-cinching effect and give a sexy look.
Lace panties help tighten your bottom and lift the buttocks instantly.
Anti-droop breast design.
High compression Durable latex bodysuit will give you a higher abdominal compression, instantly reduces up to 3 dress waistline sizes and is made to fit up to a G cup bra without compressing your bust.
Cons:
The zipper is in the center and at times it becomes difficult to zip it particularly if breasts are big. There is a risk of skin getting pinched.
The hooks beneath the zipper can be felt in some sensitive areas.
The line of the zipper is visible in the case of the tight-fitting dress.
It is open from the bottom to facilitate using loo but at times you might find it uncomfortable particularly during times of mensuration.
See Eleady On Amazon
The fabric is smooth and soft and the straps are adjustable to perfect the fit. Three slimming layers meeting different purposes and that makes it extra comfortable.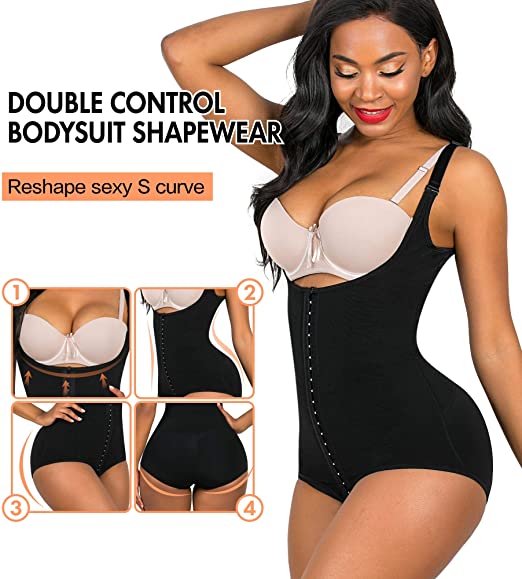 Pros:
You can comfortably put it on for the whole day as the innermost layer is breathable and sweat-absorbent.
The middle layer is built from highly elastic latex fabric which helps to burn body fat, provides relief to the back and improves posture.
Three different hooks for fitting and adjustable shoulder straps make it extra comfortable to adjust the size.
Cons:
Well, there are two hooks underneath for a thong. They can be a problem for someone who has got an extra sensitive skin.
See Shaperx On Amazon
Well, before you jump in to purchase this shapewear please check whether you are allergic to certain fabrics. Danala shapewear is made up of 30% spandex and 70% nylon. Nylon can sometimes cause skin rashes.
Pros:
It uses spandex which is very elastic and smooth fabric. Elasticity helps to fit it comfortably to suit any body size. Spandex fibers can be stretched to almost 500% of their length.
It dries up easily and this feature can be particularly useful if you are living in an area having less sunlight.
You can put on any dress you want to and look glamorous because it isn't visible from outside.
It gives you a sexy look by raising your bust line and flattening your stomach.
Cons:
Spandex is moisture-wicking but can cause skin dermatitis.
Open crotch design is for going to the toilet might not be comfortable for all.
Skin can at times get pinched in the zipper and cause discomfort.
See Danala On Amazon
The first thing you need to take care of while purchasing shapewear is the fabric used. Nebiliy uses 100% latex core and quality soft fabrics that are stretchable, flexible and breathable, smooth to touch, comfortable to wear for the abdomen area. While it blends cotton and spandex for the other areas.
Pros:
The main concern while purchasing shapewear is whether it will hurt the skin while zipping? Nebility shapewear is equipped with separate three hooks and eye closure inside the zipper which avoid skin hurt and provide full control.
It can fit in any type of dress you wear, whether its low cut tops or dresses, with two adjustable shoulder straps ensuring a smoother and sexier curve.
Cons:
The bottom lace part digs into the butt and can easily be seen under a pair of jeans or any other wear.
Although it claims that the crotch region is made from a fully absorbent material, still some people find it painful in the crotch region.
It does not fit well with the people who have a very curvy butt area. It becomes too tight and uncomfortable to wear.
The straps are unremovable and easily visible if you are wearing a tight-fitting dress.
See Nebility On Amazon
Irisnaya shapewear uses 60% nylon and 40% spandex fabric which is light-weight, flexible and skin-friendly, fits for slim, normal and any body shape. The fabric offers a medium firmness, so it'll smooth without feeling like you can't breathe.
Pros:
The U-type anti-droop bodysuit makes the chest look more erect and attractive.
The adjustable and removable strap makes it possible to wear the shapewear along with the bra all day long.
The lingerie underwear corset's buttock part is a breathable hole, very healthy to wear as your daily brief.
Waist girdle shapewear knickers design help to tighten your bottom and lift your butt to create a slimmer feminine figure.
Cons:
Some people feel that it is very thin and does not fit into the category of shapewear.
The shoulder straps are too wide, sometimes they can peep out or look odd from the dress you are wearing.
Although it has a breathable crotch area with three hooks, it might be a bit uncomfortable if you need to urinate frequently.
The frills used near the thigh area can cause itching and discomfort to some people.
Only hand wash is suggested, no machine wash.
See Irisnaya On Amazon
If you were ever looking for shapewear with a bra then this shapewear will interest you. You don't need to put on a separate bra when you use this shapewear.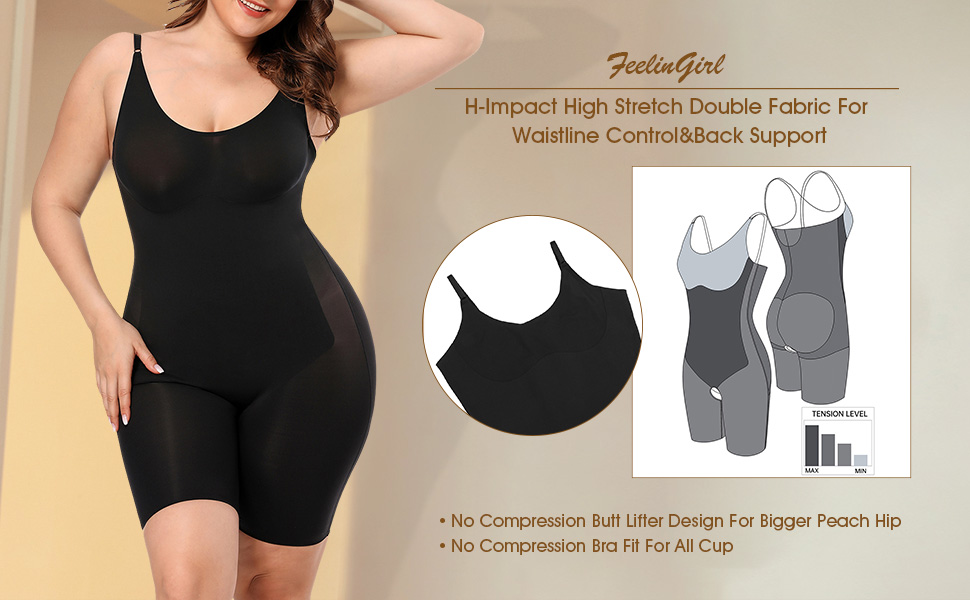 Pros:
It uses 43%polyamide and 57%elastane which is breathable & comfortable shapewear.
Feels comfortable around the crotch area, not too fit.
Suitable to be used inside any party dress.
Cons:
The only thing we found a bit uncomfortable is the open crotch area, if you are perfectly okay with this idea then go for it.
See Feelingirl On Amazon
Available in two colors, this shapewear is extremely elastic, skin-friendly and light-weight.
It is made from high-quality 82%Polyamide, 18%Lycra/Lining 55%Spandex, 45%Polyamide which offers high flexibility and lasts long.
Not only do these handy undergarments lift you in all the right places, but they also help make a seamless base which helps your clothes look and fit better.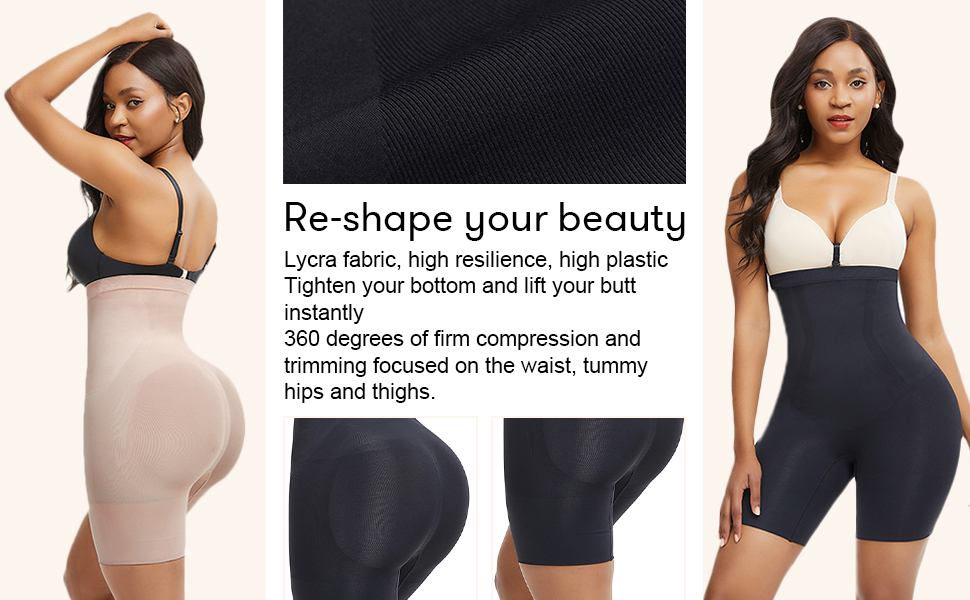 Pros:
Perfect fit for a sexy look-out and natural curves.
Suits post-pregnancy women.
Butt lifter shorts front & back straps to ensure it won't roll down, keep it always in the right place.
Not visible from any party dress, perfect for party dresses.
Cons:
The only thing we found a bit uncomfortable is the "Easy Access Gusset" for going to the loo if you are perfectly okay with this idea then go for it.
See Lover-beauty On Amazon
Conclusion:
No matter which shapewear you go for, it is very necessary to keep in mind that it does not harm your body.
In words of celebrity stylist, Ali Levine always considers "the Four f's: fit, form, fabric, and fashion" while choosing shapewear.
The shapewear that we listed above will perfectly fit you and will not cause harm to you in any way.
Of course, your subjective judgment is involved.
Wishing you a perfect body figure you always wished for!
X
You might want to hear this:
Arely Delgado said…
"You cant see this at all and it defenitly hides the love handles and everything I need to hide ? very soft and not bulky at all cant see it through clothes yes yes yes"