Let's talk about Nail Polish today.
But first, listen to this:
"Great nails don't happen by chance they happen by appointment." Given a chance, most of us would love to opt for a gel manicure.
The reason is simple – because it is glossy and remains intact for approximately two to three weeks.
As women, we need to handle everything ranging from washing, cleaning, child-care, bathing, and diaper duties, and all other household work that leaves a little room for self. At times it is a tiresome task.
Despite all this, if you manage to take care of your nails then you must have observed that some of the nail polishes didn't live up to the shine and durability of professional gel polish.
We thought of helping you select the best nail polish that lasts long and does not have any harmful effects on your skin.
We particularly paid attention to the fact considering that women are involved in cooking and child care activities.
So rest be assured that we are going to suggest all the safe products. Ready to get pampered?
let's dive in!
Pros:
Available in 20 different shades.
Free wipe base, matte topcoat, and glossy top coat.
Easy application and good tenacity.
It has a toxin-free formula that is safe to apply.
It is produced by following GMP(Good Manufacturing Practices)
Passed SGS test of Heavy metal and Toxicological risk assessment.
SDS provided.
Cons:
Some of the users find it costly but we have tried to justify this point.
It requires an LED light for drying.
If you always wanted a wide range of colors to try, then Beetles has to be your first choice. Of course, some of the users on Amazon feel that the bottles are too small making it a little expensive but we will try to justify it later as we discuss it further.
Beetles nail polish is made from safe colors making it harmless for application. Along with the different shades of the nail polish, you get 9 toxic free gels.
This includes black, and glitter nail polish. Rest assured, your nail polish won't fade away for the next 21days if you have used gel polish and cured it under a LED dryer lamp.
Just as our moods change, we need to change the way we dress up too. Sometimes you may want to add the glitz and at the other times, might feel the need to look simple yet gorgeous. In both of the above cases, Beetles won't disappoint you. It offers a glossy top coat and a matte topcoat to suit different needs.
For anyone who is curious about how nail polish would look like in different lighting environments, have a glance at the above picture that shows how the nail paint looks in different lighting environments and after adding different layers of the coat to the paint.
Now, coming to the most important part – the price! Some users feel that that price is too high because the bottle is just 5 ml in size.
Generally, a standard bottle of gel polish costs more than $12 each.
To have the basics, you'll need a base coat, (assuming you skip a white or grey base color) one color just to start with, and a topcoat.
At $12 each, your total for all three bottles is $36, and you have just ONE color to use. Add in a LED lamp and it feels as if you have been in a spa.
With Beetles, you get a base coat, a matte topcoat, and a gel top coat in addition to these 20 different colors.
The size of each color is (very clearly) represented in the product description and photos: 5mL.
The base coat and top coats are in 7.5mL bottles, which means that the total quantity of this product bundle is 122.5mL.
That means that you're paying roughly 0.24 cents per ml of this product.
Whereas the bottle of gel polish that we talked about earlier was costing $12 for a 9ml bottle, which means you're paying $1.34 per ml.
So cost-wise we can justify that Beetles is a good choice, not an overly priced commodity.
Apart from that let's not forget that typically, a sample pack is used for trying new products to see if you like them.
Do you want 20 full-size bottles of sample colors that you individually didn't choose?
Beetles nail polish is worth a try!
Pros:
Available in 12 different metallic shades.
Easily removable with acetone.
Last longer up to a week, once they are applied.
Don't need LED light to dry.
Cons:
Some of the users do not like the smell and they can cause allergic reactions.
Kleancolor is a metallic nail polish made in China and it uses the chemicals Phthalic and Ferric Ferrocyanide which is approved by the FDA for cosmetic use.
The best part is that the nail polish dries on its own and it does not require a LED lamp for curing.
Some of the users complain that they don't like the smell of this product but probably it is because of the chemicals used.
One of the satisfied users on Amazon has written that colors are highly pigmented and shimmery. The user tried to do a sponge gradient and it worked out fantastic.
Removing the nail polish isn't a difficult task and you can easily do it by using acetone.
Pros:
It is a cruelty-free product manufactured in the USA.
Wide range to shades to select.
Clear instructions to get the expected results from the product.
They are made from non-toxic materials that make it safe for daily use.
Once applied, they stay on long for two to three weeks.
They can be easily removed using acetone.
Modelones nail polish is manufactured in the USA that is a cruelty-free product.
It is available in 5 different shades namely, baby blue, nude grey, red-grey, red-grey nude glitter, and rose-red each consisting of a pack of 6 different colors.
The main cause of concern while using any nail polish is that it gets dull if we get our hands wet. Of course!
It does have its useful life beyond which it will start to peel off, but many verified users on Amazon have opined that it stays long for almost a week to ten days even with the wet hands.
Many users have opined that they find the nail polish bit thick but it can be used with a thinner.
Modelones specialize in beauty nail kit products so they have specifically laid down the guidelines that can help you to get the best results from the product if you adhere to them.
Modelones nail polishes are made from non-toxic materials. This feature essentially makes them easy for daily use.
Once they are applied, they stay on long for two to three weeks. Removing them is a simple task, you just need to apply acetone to get the task done.
For the GEL polishes, you will need an LED light to dry the nail polish. Each bottle is of 10 ml and small in size that can be conveniently carried in travel.
If you feel that the nail polish is thick or not giving the expected results like above, then you just need to follow the following steps.
How to keep the long-lasting?
Remove the cuticle, trim the edge, polish your, make sure they are dry and clean.
Remember to apply the base coat, thinner, the better.
Do not cure the coat too long or too short. (It is normal for a base coat to feel sticky after curing.)
practice is the most important, practice makes better.
Practice makes everything better.
After you have learned the above you need to know the steps to be followed before applying Gel.
How to apply the gel?
Trim nail surface, prep and push back cuticles, clean and dry your nails.
Rub the bottle between your hands. (important)
Apply Base coat thinly, and cure under UV lamp for the 60s, LED light for 30s. Apply another base coat if needed. (It is normal for a base coat to feel sticky after curing.)
Apply gel polish in a thin application. Cure under UV lamp for 120s, LED light for the 30s. Repeat step to get the color effect you want.
Apply top coat and cure under UV lamp for 1 minute, LED light for 30 seconds.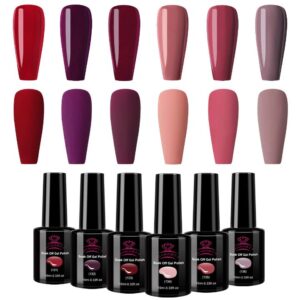 Pros:
MSDS and SGS certified.
Available in six different colors in bottles of 10 ml each.
It is a safe product made with non-toxic material.
It lasts long for two to three weeks.
It is easy to remove.
Cons:
Some of the users do not find it suitable to their skin so it is better to test the product before wide application.
It requires LED light for drying of specified configuration for the best results.
Makartt is a Chinese company that specializes in manicure and pedicure products, including poly nail gel kit, gel polish, nail polish holder, nail polish remover, nail files, nail tips, nail brush, dipping powder nail, foot care tools, satisfying all your needs for nail art.
With Makaratt you get a choice of six different gel-based colors. The company claims to be non-toxic and free from smell.
Some of the users have complained about skin irritations after using them. So it is better if you test the product before application on your nails. The bottles are available in a size of 10 ml.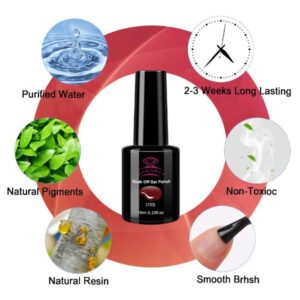 Makartt uses non-toxic materials and natural pigments in combination with other friendly chemicals to make it skin-friendly.
It uses a natural resin that allows the polish to stay on the nails for a long time and doesn't get washed away even after washing your hands frequently.
The brush allows you to spread the nail polish evenly on your nails. Many users have opined that they use it for daily use and it lasts long for two to three weeks.
In this regard, it is essential to follow the steps listed in the guidelines for applying the nail polish if you want it to stay long.
Many times it peels off just because of the low wattage LED lamp dryer used. The company recommends using LED light for 60-120 seconds and UV light for 2 to 4 minutes for the best results.
The company specifies the instructions for use in case of daily use, for holiday, and the removal instructions. Many users who follow the same have obtained excellent results from the product.
The small bottle size of 10 ml makes it comfortable to carry it while traveling. Also, Makartt has MSDS and SGS certification that makes it a safe product to use.
Pros:
Wide range of colors with a free top coat and a base coat.
It is non-toxic.
The product comes with a clear set of instructions to get the desired results.
It lasts long for two to three weeks.
Cons:
It needs UV and LED light to dry.
Gellen nail polish is manufactured in the UK and is available 3 different color combinations of Grey, Bright candy, Pink-Red.
Each color combination has a further 16 different color variants. You get a top coat and a base coat as free add ons with the set.
The bottles come in a size of 6 ml. Some users find this size to be small considering the price involved.
But then we would like to remind you that it is not a simple nail polish, it is a gel paint which is going to last longer for two to three weeks.
On a lighter note, don't we get fed up using the same product again and again! Unless the old product is out of stock we don't buy a new one, isn't it? That justifies the cost with the size.
There is a wide range of colors to choose from. We would particularly like to draw your attention to the fact that the nail polish is made up of gel so you will need an LED lamp for drying.
For the best results, you need to follow the below-mentioned steps.
Remove the cuticle, trim the edge, polish your nails, and make sure they are dry and clean.
Apply base coat – cure with LED or UV lamp. (UV lamp for 1 min, LED lamp for 30 secs)
-It is normal for a base coat to feel sticky after curing-
Apply 1st thin coat of polish – cure. (UV lamp for 2 mins, LED lamp for 30-60 secs)
Apply 2nd thin coat of polish – cure. (UV lamp for 2 mins, LED lamp for 30-60 secs)
— Apply 3rd coat if necessary.
Apply top coat – cure. (UV lamp for 2 mins, LED lamp for 30-60 secs)
Wipe nails with rubbing alcohol to remove residue.
The base coat cured for 30 secs.
Gel polish each coat – 60 secs.
Top coat – 60 secs.
Wipe with an alcohol cotton ball.
For the best results, it is necessary to apply thin coats.
Gellen uses non-toxic material and you can rest assured that it won't cause a foul smell. Many users have opined that they felt the product offered satisfactory results and lasted long.
Pros:
It is perfectly suited for gifts with a wide range of glowing bright colors.
Top coat and base coat are offered as addons with the product.
It is non-toxic and smell free.
Cons:
Too bright and glowing colors might not be suitable for office use.
Requires UV and LED light for drying.
If you are fond of bold and bright colors then Saviland nail polish will impress you. You can use it to gift it to your friend and impress her too!
It comes in a pack of 9 glowing colors of 7 ml each and has six different color variants.
So if you are satisfied after using the product then you get a wide choice of full 54 different colors, enough to last for a year.
The key to applying any gel nail polish is to apply it in thin layers without forming bubbles. This helps the final coat to stay on for a long duration without peeling.
Do not cure the base coat for too long or too short. (It is normal for a base coat to feel a bit sticky after curing so that it could make the next gel coat attach on it more tightly to keep it long-lasting.)
If you apply the nail polish as stated in the directions for use then it won't easily peel off and would last long. The key is to apply UV and LED light dryer for proper durations.
Pros:
It is suitable for kids.
It is 100% non-toxic, chemicals free, and scented.
It is odorless.
Made in the USA it is crafted with utmost care taking into account all safety measures.
Often we notice that kids try to replicate us in everything we do. At times we certainly don't want them to get exposed to harmful chemicals even though the companies call their products non-toxic.
Piggy paint is specially meant for kids who love to sit with their mothers and try on their hands at applying nail polish.
Natural ingredients make Piggy Paint nail polish virtually odorless compared to solvent-based alternatives.
It is water-based, free from all chemicals. Having said that, don't expect it to last long like gel nail polish but then kids often love to change the shades.
The best part is Piggy paint is free from cruelty and chemicals. It is scented although to give it an altogether different feel of nail polish and to give your little one a feeling of being 'different' and 'special' than others.
So if you are looking for a 100% non-toxic product, free of chemicals then Piggy Paint should be your first choice.
CONCLUSION
So when you choose a nail polish you need to decide whether you want a simple nail polish or a gel-based. Often simple ones look dull and fade away quickly so if you want to use it daily then you will need to apply it frequently.
Contrary to it, gel-based nail polishes last longer and glow. They are available in plenty of shades which makes it possible to choose the ones which can suit both the office and daily routine.
The only problem is that gel-based nail polishes require UV an LED light for drying and as per the specifications of the companies you need to dry your nail polish for the best results.
One more thing to look into is the ingredients used. It should be non-toxic, odor-free, and easily removable.
Lastly, it should be friendly on the budget. That means you should be able to get a fair quantity at a reasonable price.
Looking at all the above suggestions we recommend using Modelones Gel Nail Polish. They fulfill all the above criteria.
So pamper yourself and do let us know how you felt after using our recommended product.
X
You might want to hear this:
Chelle said…
"I loved all the colors. The box they came in is very pretty. Perfect for gift giving. The gel polish flows evenly, which is very important if you want your nails to look perfect. Purchase this set. You won't be disappointed."