Lips are often viewed as a symbol of sensuality and sexuality. That's the reason we even have an emoji for that.
If you have seen a lip emoji then you will notice that the lips are shown plumped up. This is so because they appear more sexy and welcoming.
Probably many of us want to have lips with full volume but unfortunately, we don't opt for it because of the fear of lip injections.
Even the optical illusions made by an overdrawn liner do not help you to get the required volume.
That is why we are going to suggest a product which is far better than lip injections and a liner. Lip plumpers work the best if you want full-looking lips without any kind of painful injections.
Lip plumpers generally contain ingredients like capsaicin, ginger, mint, wintergreen, or cinnamon which help to boost the blood flow to the lips and make them appear swollen and deep red.
As if, you have had a sting on a honeybee on your lips.
Some lip plumpers make use of chemicals too. That is why we need to be extra careful while using them.
Lip plumpers that work by irritating the skin, used too often, they may cause lips to peel or even develop ulcers.
So, here is the list of best lip plumpers that can help you to look more presentable and sexy.
Pros:
Glossy look.
Blends with any lipstick color.
Uses safe ingredients.
Cons:
Some users find the taste of ginger used in making the lip plumper quite tingling on lips.
Rejawece uses ingredients such as mineral oil, hydrogenated styrene/isoprene, copolymer, vanillyl butyl, and ether.
These ingredients make you feel the tingling sensation in the lips for a few hours and help to plump the lips. It has a ginger taste which fades after some time and isn't uncomfortable.
The best part is it has a nice shiny gloss that is not sticky. It keeps your lips moisturized and can be mixed with other lip colors for a more polished look.
It blends beautifully with lipstick and gives long-lasting sexy looking lips.
Rejawece lip plumper increases the lip volume by pulling the moisture from the environment or trapping water that would otherwise evaporate from the skin.
This keeps your skin hydrated and gives you a sexy look with a non-sticky formula.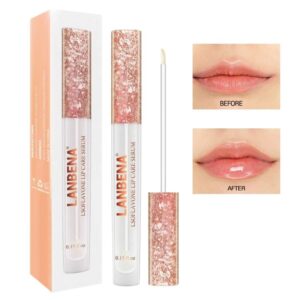 Pros:
Safe to use with natural ingredients inside it.
It can be used regularly.
Moisturizes and repairs the lips.
Easy to carry.
Cons:
Not suitable for pregnant and lactating women.
Made in China, Vafee claims to use natural ingredients to plump the lips. Most of the verified customers on Amazon state that they were happy with the product and did not have any skin allergies after using it.
It uses Soy Isoflavones, Euglena Gracilis, and fruit extracts as active ingredients that activate the cell regeneration, repair lips and help to reduce wrinkles.
So next time you want lustrous, sexy looking lips which can keep your lips moisturized, then surely think of Vafee lip plumper.
You can use it as per your need but for best results apply it on dry lips and later use any lip gloss or lipstick if needed.
Pros:
It is mild on the skin, causing a less tingling sensation.
It has a vanilla flavor, which is pleasing.
It is clinically tested.
Cons:
Not suitable for pregnant and lactating women.
All lip plumpers give a tingling sensation associated with a mild irritation on lips. But Easebeauty uses natural ingredients that are mild on skin and hence do not cause much irritation.
Some of the users state that it has a vanilla flavor and does not have any taste or color. That makes it nice to apply lipstick later on.
Easbeauty uses most of the ingredients that are natural causing less harm to the skin in the long run. One of the users has listed the ingredients on Amazon, which states that in addition to the natural ingredients it makes use of some other friendly chemicals too. But this product is clinically tested which makes it more trustworthy.
So far we rarely came across any reviews mentioning the allergic reaction to the product. The product guidelines state that it is not safe for pregnant or lactating mothers.
Pros:
Most trustworthy product, the ingredients are displayed on the packaging itself.
It uses a vegan formula for making lip plumper.
Easy to carry.
It is loaded with vitamins to keep the lips well hydrated and nourished.
It is available in many shades that can be matched with the shade of lipstick.
Cons:
Not suitable for pregnant and lactating women.
Made in the USA, Buxom is one of the most preferred choices of customers using lip plumpers. This is so because it uses vegan formula, vitamins A and E, peptides, and hyaluronic acid to plump the lips.
The best part about it is that it is available in fifteen different colors and you can choose the one that matches your lipstick and lip liner.
A close look at the ingredients of many lip plumpers reveals the use of :
Cinnamon oil: Helps to increase the blood circulation in lips, makes them appear red, and does not irritate the soft skin.
Wintergreen oil: It has an analgesic and anti-inflammatory properties which gives a tingling sensation. It is the basic ingredient that makes the lips swell.
Ginger: Ginger is used because of its ability to cure diseases and inflammations. It is often referred to as a bomb lip plumper which most of the lip plumpers usually contain.
Niacin: It is one form of vitamin B which causes the blood capillaries in the lips to swell.
Palmitoyl Oligopeptides: Although it appears big in name, yet it is just a blend of fatty and amino acids used for anti-aging properties. It helps to give skin a smooth look.
Buxom uses the combination of the above ingredients in varied proportions for making lip plumper.
The tiny size of the lip plumper makes it easy to carry it even in pockets. It is the best combination of flavor, color, and delightful tingling sensation.
Pros:
It gives an instant plumping effect.
It is very easy to carry in pockets.
The use of natural ingredients makes it a preferred choice for many customers.
It causes less tingling sensation compared to the other lip plumpers in the same category.
Cons:
Not suitable for pregnant and lactating women.
Some users complain about allergic reactions after using it.
Made in China, the Segminismart lip plumper is the preferred choice of customers who want the instant plumping effect.
According to the verified users on Amazon who use this product, it gives a mild tingling sensation unlike other lip plumpers in the same category.
Some of the users state that the effect can last as long as four to six hours if you don't have a meal in between.
It is made with natural ingredients that help to keep your lips hydrated and wrinkle-free. Also, it helps to repair the chapped lips giving it a smooth and glamorous look.
Pros:
It is glossy and non-sticky.
It can be easily blended with lipsticks.
It uses safe ingredients.
It has a peach flavor, very uncommon.
Cons:
Not suitable for pregnant and lactating women.
Some users complain about allergic reactions after using it.
Yet another lip plumper from China which boasts of using natural ingredients.
We could not verify from the packing regarding the ingredients used but in addition to the natural ingredients, it makes use of some safe chemicals.
It is a glossy serum having a peach flavor. But the flavor is mild and you won't notice it after a few hours. It is non-sticky and can be used in combination with lipstick.
As you can see it from the above image, Vivostar helps to keep your lips hydrated and gives it a glossy look. It helps to heal the cracked lips and increases the lip cell viability.
The small size makes it easy to carry it along with you and make the desired use.
Conclusion
So, with the handy list of seven best lip plumpers which one do you choose?
Just to guide you, think about what kind of result do you expect from the product? Do you just want your lips to be fully plumped or you want to add some shade to it?
Because we have listed many lip plumpers which do not have any color shades. You need to use lipstick in addition to it for a perfect finish.
Secondly, you need to consider the quality of the product. You should opt for a product that suits your skin type.
Based on the above discussion according to us the best lip plumper to choose from the above list is Buxom lip plumper.
The best part about it is that it is very handy and easy to carry anywhere. The wide availability of colors makes it possible to use it with different colors of lipstick which don't make it feel different from the lipstick shade.
One more thing which we particularly like about Buxom is that it uses natural ingredients and safe chemicals that are promptly displayed on the packing itself. This makes it more trustworthy.
We hope to see your lustrous smile soon. Do keep us posted after using our recommended product and let us know your personal experiences. We shall be glad to hear from you.
X
You might want to hear this:
Gina Lascink said…
"LOVE this. Creamy, not sticky. Not too shiny. Plumps lips and lasts for HOURS! Smells good too. My new favorite!"