Our Top Picks
Cloth steamers are the fastest devices that help to remove wrinkles from clothes. It is best suitable for delicate clothes. Some of the cloth steamers can remove the visible dust from the clothes even! Check out for the best 7.
Dodo cool is a handheld travel steamer. It has dimensions of 10.12 x 7.09 x 4.72 inches and weighs 3.08 pounds. The water capacity is 350 ml and it can render continuous steam for 15 minutes. It uses 1800 watts of power.
Pros:
It offers two modes for steaming. One for the lighter fabrics like silk and the other for the heavier fabrics like cotton.
LCD aptly displays the settings.
Heats up in 25 seconds.
It offers a leak-proof silicone seal.
It offers 60 days money-back guarantee.
Cons:
The water canister release button is placed horizontally which gets pressed accidentally while operating.
The short cord is a problem for some customers.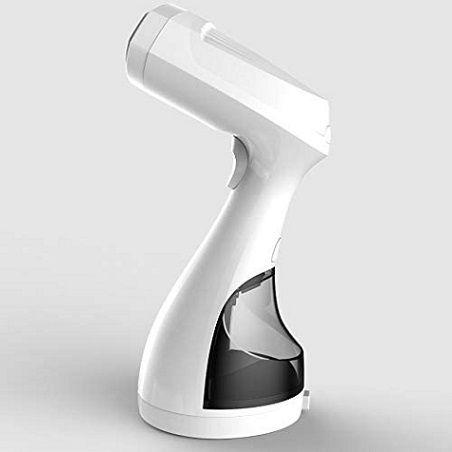 MagicPro cloth steamer is a compact steamer made in China that uses 1500 watts, weighs 2.9 pounds, has dimensions of 12.76 x 7.05 x 5.31 inches, and has a water capacity of 300 ml.
Pros:
Ergonomic design allows you to view the water level while operating the machine.
It has a 6 ft long cord.
It suits all types of fabrics, like silk and cotton.
The unique leak-proof technology allows you to steam the clothes vertically or horizontally.
It heats up in 25 seconds.
It has an auto-shutoff feature that shuts off the steamer in case it is too hot or running dry.
It complies with the North American Safety standards.
It offers a 1-year warranty.
It offers 15-minutes of continuous steam.
Suitable for travels.
Cons:
It does not have a retractable cord.
The instruction manual is not clear.
Some customers find it difficult to fill the water in the container meant for it.
It cannot be customized for different heat settings depending on the type of fabric.
The cord is too short.
Beautural cloth steamer is not just a cloth steamer, it has many other functions that add to its utility. It offers a lint brush attachment that helps to remove lint from the garments.
The soft brush and creaser attachment can be used to remove visible dust that lies deep inside the fabric and maintain perfect creases respectively.
Technically, it uses 1200 watts, stores 260 ml of water, has an 8 ft long power cord, weighs 2.05 pounds, measures 6.03 x 4.33 x 10.71 inches, provides steam for 15 minutes, and heats up in 30 seconds.
Pros:
The compact size makes it feasible for travel.
It can be used on all types of fabrics.
The no-leakage technology helps to use it even horizontally.
The auto-shutoff feature stops the equipment from operating when overheated or running dry.
The steam lock button allows you to operate the machine without pressing the button continuously.
Yika cloth steamer is the most budget-friendly cloth steamer on our list. The compact size makes it suitable to carry while traveling.
Technically, it is a 1200 watts steamer, has a long cord measuring 9.2 ft, has a heat-up time of 20 seconds, can continue unhindered operations for 25 minutes, weighs 2.12 lbs, has dimensions of 6 x 4 x 10.6 inches, and stores 300 ml water.
Pros:
The 'brush' accessory provided with the unit can be used to clean dust from the clothes.
LED indicators to guide you through the working process.
It has a self-heating ceramic panel and not one made up of plastic or steel.
Available in two different colors.
It offers two different modes of heating.
It offers a lock button for continuous steam generation.
Easy to fill water in it.
It can be used horizontally or vertically.
Cons:
Heating time is more compared to others.
The water tank beneath the unit makes it a bit uncomfortable to carry it while traveling.
The steamer is compatible only with 120V USA outlets.
iSteam is a handheld cloth steamer that can be used on all types of fabrics. It is most suitable for persons who require to travel frequently due to its compact size.
It has dimensions of 8 x 5.5 x 3.3 inches, weighs 1.01 pounds. It starts generating steam in 60 seconds and offers continuous steam for 12 minutes. The water tank capacity is 120ml, power consumption is AC 110-120V | 60HZ | Up to 900W.
Pros:
The product offers a three years warranty.
It has got all the required certifications from ETL.
Most suitable for people with frequent travels.
The eight feet power cord adds to the functionality.
An enlarged steam nozzle prevents water spots on the clothes.
It has auto-shut off to avoid overheating and protects the equipment if it is running dry.
Cons:
It requires more time to generate the steam compared to the others in our list.
Can be used vertically only.
For a 220 volts outlet, you need to buy a voltage converter separately.
Hilife cloth steamer is similar to iSteam cloth steamer in terms of looks but it has a larger capacity than iSteam. Hilife cloth steamer is a handheld steamer that can be used on all types of fabrics.
A close look at technical parameters reveals the dimensions of 14 x 14 x 2 inches, weight 1.7 pounds, water tank capacity 240 ml, steam output time 130 seconds, steam duration 15 minutes, power usage 700 watts, and a voltage of 110-120V, 50/60Hz.
Pros:
It can be used on all types of fabrics without getting water spots.
Energy-efficient.
The design makes it very comfortable to hold it in hand and use it.
The compact size makes it a good choice for using it on travels.
The brush accessory provided with it helps to remove visible dust from the garment.
Cons:
Needs to be used vertically only, else the water spills.
PurSteam cloth steamer differs from all of the above that we discussed earlier. It uses a unique heat ball technology instead of ABS technology used by others and secondly it is the only cloth steamer on our list that does not have a power button. You just need to plug it in to start it.
Technically, it has dimensions of 3.7 x 8.6 x 7 inches, weighs 1.13 pounds, stores 180 ml plain water, has a nine-foot-long power cord, generates steam in 90 seconds, has a 9-foot long power cord, gives continuous steam for 15 minutes, and uses 900 watts of power.
Pros:
Uses unique technology to generate steam.
Compact in size.
Has a travel bag as an accessory to carry it.
It offers a 1-year warranty.
Cons:
Some customers find it annoying to use it by directly plugging it instead of a power button.
Takes more time to generate steam compared to others.
Our Winner
When you purchase a cloth steamer the first thing you should consider is the water tank capacity and the time that it takes to generate the steam.
Apart from that, you need to check the power usage too if you are going to use it daily or too frequently because it will add up to the power bills.
According to us, the cost does not matter when you buy because it is a capital expenditure and you are not going to buy such items daily. Considering this, it is better to go with a product that meets all guidelines.
Taking forward the discussion in this regard, we would recommend you to buy BEAUTURAL Steamer for Clothes.
It is neither too costly, has required functionality, and is reviewed positively by most of the users on Amazon.
For those of you who want to explore more about cloth steamers, we have a buying guide for you.
BUYING GUIDE
Why do people need to use a cloth steamer?
Ironed clothes have creases. There is a difference between ironing and steaming. Sometimes we get wrinkles on the clothes even after ironing, steamers do not touch the clothes and help to remove such wrinkles.
Should you prefer iron over steamer?
Steamers can be used on delicate clothes or fabric prone to get burnt during ironing like satin, silk, polyester, etc.
Steamers can be also used on sweaters, suits, designer T-shirts and can effectively remove any bad odor emitting from them.
Ironing works best on a strong fabric like cotton. As a thumb rule, ironing works best when you require a crease on clothes. Steamers won't be useful in such cases.
To which professionals do cloth steamers appeal the most?
Anyone who is in an executive capacity has to deal with people and needs to travel frequently will need a cloth steamer. This is because even ironed clothes often get wrinkled when you carry them in baggage.
In case you are an executive who wants to use the steamer while traveling, the best is to opt for a compact size cloth steamer that will fit in your bag.
What are the things to be considered while purchasing a cloth steamer?
Time: You should particularly consider the time required for the cloth steamer to heat up and start releasing the steam. This is especially important if you are going to use it while traveling.
Type of steam: Some steamers generate continuous steam whereas the others do it just for a few minutes. Depending on your need you need to check the steamer.
Two-in-one: Some models of iron have inbuilt steamers inside them and are light in weight. It can cost you a bit more but offer you the benefits of both.
Water holding capacity: Ultimately the steam production depends on the amount of water that your steamer can hold. So this should be one of the factors that you should consider while buying.
Weight of the steamer: Steamer weights its own. Filling water inside it adds more weight to it.
You need to hold it vertically in your hands and steam clothes which can be a painful task. Consider the weight of the steamer with and without water before buying.
Attachments: Steamers often have different attachments for steaming the clothes. A keen attention to it can make your job much easier.
Length of cord: Often people use steamers for draperies and curtains. To reach the proper height you need to have a steamer with a long cord.
Safety features Some steamers auto-shutoff if they do not contain water. This can save the equipment from getting burnt.
Power consumption: When you purchase a cloth steamer, the wattage that it consumes is mentioned on it. You should carefully consider it to avoid high power bills.
How to use a cloth steamer?
To use the cloth steamer properly, the cloth should be vertically anchored and then the steam should be used over it.
If you try to use the steamer horizontally like you do while using the iron, then it will not be able to remove wrinkles effectively.
Can steamers leave watermarks on the clothes?
Some delicate fabrics like silk, rayon, polyester are prone to watermarks. Steamers go well with the other fabrics.
Delicate fabrics can be turned inside out and then steamed for better results.
What safety precautions should you take while handling a cloth steamer?
Firstly, the steam is very hot so you should always keep children away from it. The same logic applies to the adults too.
Secondly, to take care of your equipment always use distilled water. Clean the nozzles of the steamer gently with a cloth after you are done with steaming.
Never run the steamer dry, it can damage the motor.
We hope our review helps you to choose the best cloth steamer for you. Your suggestions are always welcome in the comments section.
X
You might want to hear this:
Dd said…
"I hang my clothes on a hanger put it on the curtain rod in the bathroom. Takes about 30 seconds to warm up, then another 1 – 2 minutes to get the wrinkles out. I like that I don't have to bother with an ironing table."