Our Top Picks
Investing in a television for a home theater is one of the best decisions you can make. Good TVs will display movies, games, and even play music in high quality.
And nowadays, most will come with loads of useful smart features, and the ability to watch content from an array of streaming services.
There are a ton of great options for those seeking an ideal TV for home use. Let's look at the best ones:
Insignia's NS-65DF710NA21 Smart TV is a top-tier, premium option for those who want an ideal home theater.
It's got all the features you need, is easy to use, and is known to perform very well.
This option is admittedly on the pricier side, but it's well-worth the investment, and thousands of customers have said so too. Plus, we're just looking at the 65-inch model—smaller versions are available at lower cost.
Pros:
Decent discount available for Prime members
Smaller and larger models available, so you can get the right combination of size and price
High dynamic range (HDR)-compatible, plus 4K, means you can watch in the highest quality
Voice control with Alexa, plus Fire TV built in
Thanks to Alexa functionality, can also integrate with your other smart home devices
Built-in WiFi and integrated apps, so you can stream from any service
Automatic software updates means it's constantly getting better
Highly rated by customers: 4.6/5 stars, backed up by well over 8,000 ratings
Cons:
On the pricier side
Some complaints that screen arrived cracked (but there are not many of these)
Consistent complaints about the recent software updates being hard to use and crashing
Hisense's H4 Roku Smart TV is very close to earning top spot on this list; indeed, for some of you, it'll be the best option.
Customers are just as satisfied with this product as with Insignia's, but it comes at significantly lower cost.
So why is it not in 1st place?
It's held back by having less features built-in than the previous option, and being a bit lower-res. That being said, it's still a great option overall, and maintains its value for the price.
Pros:
Affordable pricing considering what's offered
Can purchase smaller and larger versions, plus versions with soundbars included
Built-in Roku TV platform and WiFi lets you watch whatever you want
Roku app lets you use your phone as a remote, plus a physical remote is also included
Compatible with Alexa voice control and Google Assistant
Low latency game mode reduces lag between controller and screen
1 year warranty
Very-well received: 4.6/5 rating backed up by well over 4,000 reviews
Cons:
To use voice control features, you must separately purchase an Alexa-enabled device or Google Assistant (unless you already have one)
1080p resolution is good, but not as high as 4K
Some customers fell prey to a scam "set-up fee"
Some complaints that it arrived cracked (but there are not many of these)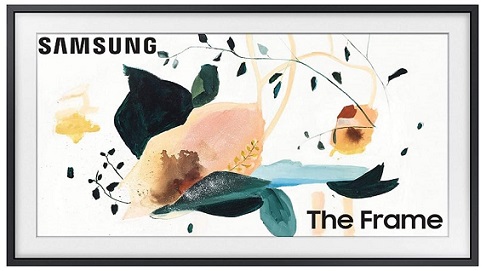 Samsung's Frame Quantum Smart TV is one of the most unique options on this list.
It has to do with the name "frame": when you're not actively watching something, the monitor will enter "art mode." It displays beautiful works of art as if you had real framed art there.
On top of that, though, it's also just a great TV. It's only held back by price, and the fact that this art mode may only appeal to some people.
Pros:
6 sizes available, from 32 inches to 75 inches
Aforementioned "art mode" will provide a nice decoration to your home when you're not watching something
It can enter and exit art mode using built-in motion sensors
You can buy pieces of art to display, or subscribe to collections of art
Choice of differently colored frames
Built-in voice assistants (Alexa, Google Assistant, Bixby) thanks to a handy remote (included)
Easy to set-up: can be hung on a wall or placed on a simple stand, plus it can be rotated to vertical positions
Mirror/cast content from your smartphone
Compatible with Samsung SmartThings (Samsung's collection of smart home devices)
Well-received: over a thousand reviews backing up a 4.5/5 rating
Cons:
On the pricier side even if you get the smallest size available
1080p resolution isn't as high as 4K, and some may expect 4K for the price
Smart home compatibility is limited only to Samsung's SmartThings
Consistent complaints about buggy software
Sansui's Smart TV primarily stands out on this list for packing in a lot for a little.
Despite having very affordable pricing, it's still well-received by customers, and comes with all the features you'd want in a modern television for a home theater.
Pros:
Very competitive pricing: the most affordable option here
At 43 inches, is pretty decently sized for the price
Many accessories included in package, including a 6 foot long HDMI cable, plus mophead cable ties and microfiber cloth (for cleaning)
HDR (high dynamic range) means better image and color quality
Built-in WiFi and streaming services
Download apps and stream movies from Android phone
Built-in full range stereo speakers
1 year warranty
Generally well-received: 4.3/5 rating backed up by over a hundred reviews
Cons:
1080p resolution isn't as high as top-tier 4K resolution
Remote control is included, but the batteries needed for it are not
Consistent complaints about lack of compatibility with other remotes
Some complaints that the available apps are limited
VIZIO's D-series smart TV is a mixed bag:
If you get the discounted price, it's an excellent value buy. It has the cool smart features that are popular, is generally well-received, and while the picture quality isn't top-tier, it's still pretty dang good.
But if you pay the full retail price? Then it's not as competitive with other leading brands, and offers less bang for the buck
Pros:
Prime members get significant discount, which makes the price more competitive
Comes with helpful accessories: a 6-foot-long HDMI cable, cable ties, and microfiber cloth
Built-in WiFi and Chromecast lets you stream from plenty of services
Compatible with Google Assistant and Alexa
VIZIO SmartCast app lets you use your phone as a remote
1 year warranty
Generally well received: 4.3/5 stars with well over a hundred ratings backing it up
Cons:
1080p resolution could be higher
Without a Prime discount, the price is on the higher side relative to what's offered
To use voice commands, you must separately purchase or already own Google Assistant/Alexa-enabled smart devices
Consistent complaints about software glitches and freezes
Sony's KDL32W600D Smart TV is overall a pretty good option for a home theater. It performs well, with most performance-complaints being outdated, and doesn't cost too much for the price.
On top of that, it adds some features to improve the home theater experience. What holds it back? A lack of more competitive specs that other items on this list have.
Pros:
Reasonably priced
Built-in WiFi lets you access streaming services and YouTube
Range of input options, including HDMI and USB, so you can display content without having to depend solely on internet streaming services
Special refresh rate technology (Motionflow XR 240) designed to enhance clarity in fast-moving scenes
Special audio filtering technology to allow for crisper and more balanced audio
Handy components attached to the back of the TV let you arrange the cables in a neat way
Screen mirroring from smartphone
Photo Sharing Plus lets up to 10 people in the room share photos and short videos from their phone to display on the screen with a choice of background music
Generally well-received: 4.3/5 rating backed up by over 1,400 reviews
Cons:
Resolution is 720p, which is lower than the 2 resolutions ideal for a home theater (1080p and 4K)
32 inches only, which may be too small for the ideal home theater
Consistent complaints about picture quality and deterioration after some use, but these are all more than 2 years old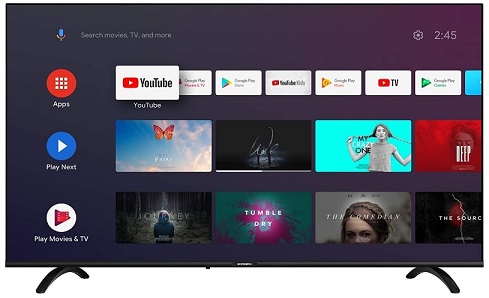 Skyworth's E20300 Smart TV may be in last place on this list—based on more mixed customer opinions—but that doesn't mean it should be out of your consideration:
The overall reception has still been very positive, and it provides a ton of value for the price, with perks like small bezels, a slick interface, and advanced smart features.
Pros:
Affordable pricing; smaller size is available for very low cost as well
Small bezels (1mm) results in a sleek appearance and makes the most of the size
High-powered processor means quicker loading time for apps, games, etc
Supports not just WiFi and HDMI connections, but Ethernet and USB
Android/Google operating system means stability and ease of use from a leading brand
Compatible with voice control via Google Assistant and Alexa; voice remote included, so no additional purchases are needed for this feature
Mirashare function and built-in Chromecast lets you display content from phones and tablets, while browser function lets you view websites
Generally well-received: 4.1/5 stars with around 700 reviews backing it up
Cons:
Though reviews are generally positive, this hasn't been AS well received as the other options on this list
1080p resolution is good, but not the best available
Consistent complaints about WiFi connectivity issues
Consistent complaints about the remote
Some complaints about software interface and apps being buggy or crashing
Our Winner: The Best TVs for Home Theater is…
Ultimately, we have to give the winning spot to Insignia NS-65DF710NA21 Smart Fire TV Edition.
Insignia's television is both packed with features and a very high performer, with good specs and an easy to use interface.
If you're prioritizing price, you might be better off with either the Hisense Class H4 Series Roku Smart TV or Sansui Smart TV S43P28FN. These provide solid performance and features without breaking the bank.
There's no need to rush to choose! Everyone has different needs and tastes. Check out our buyer's guide below for help narrowing your search:
Buyer's Guide: How Do I Buy the Best TVs for Home Theater?
Fire TV, Roku TV, etc…what's the difference? Does it matter?
This is a common point of confusion. Part of what adds to it is the fact that some companies that make smart TV software also make smart TVs themselves. So, for example:
Roku sells TVs, among other things. It has Roku's software (operating system, or OS) and comes with a Roku remote. But, you can ALSO just buy a television produced by another company that has Roku's software on it.
Remember the top two options on our list:
The first is a TV by Insignia, and the second is a TV by Hisense. Insignia makes and sells the TV, but they made sure it's running Amazon's software—Fire TV. Likewise, Hisense is selling you its own TV, but with Roku's software on it—Roku TV.
So realistically, these names in your search will be relevant for software more than hardware. Now, the main question: does the software matter?
Many people may at first worry that Fire TV just means you can watch shows by Amazon. But nowadays basically all mainstream smart television software will let you stream from just about any popular service.
So if you're using common streaming services like Netflix, Hulu, Disney+, or Amazon Prime, you'll be fine using any mainstream operating system.
There are some differences worth noting, however:
First, some people find certain operating systems to be better than others for design reasons alone. For example:
Amazon's software emphasizes Amazon Prime shows. Meanwhile, Roku displays all streaming services pretty much equally. It's not a huge difference in features, but some find the latter to be a lot less annoying.
And while features are generally the same, some operating systems offer more unique features, or do common features uniquely well. So it's worth investigating the features in the different software.
As for price…
Are there cost differences between these operating systems?
Not significantly. Generally speaking, you just need an account with the company providing the software, the TV, an internet connection, and accounts to whatever services you want to watch.
Now, one word of caution here:
You may sometimes encounter attempts to scam you for set-up or service fees. For example, many negative complaints about Hisense's Roku TV were about a $100 hidden fee.
However, these were, unfortunately, not real hidden fees from Roku or Hisense. Make sure you look closely at any requests to derive extra payments from you after you make a purchase.
Also, always check the company's website. Roku displays this message very prominently on their site, for example:

Currently, Google TV is free as long as you have an account, as is Roku TV. With Fire TV, you need an Amazon account, but you don't need an Amazon Prime subscription; however, a Prime subscription may offer other benefits in discounted or free content.
What's the difference between HDR, 4K, and 1080p?
All the options on this list, as well as any others you're interested in, advertise with a lot of numbers and initials together. For example: "4K Ultra HD," or "Full HDR 1080p."
4K and 1080p refer to the number of pixels. These are the things that can be most directly compared. To understand the difference, it helps to understand what pixels are:
Every monitor is displaying a grid of small pixels. Each pixel can be lit independently to display a different color. When you combine these millions of pictures together, you get the whole image.
So a 720p resolution means a width (vertical distance) of 720 pixels, and a length (horizontal distance) of 1,280 pixels.
1080p means 1920 x 1080 pixels. 4K has a looser definition: it basically means roughly 4,000 pixels horizontally. The most common 4K resolution is 3840 x 2160 pixels, but it can vary.
(Side note: there are also 8K resolutions, but those are less common and pricey).
Now, does having more pixels matter? Kind of:
For the most part, the more pixels your screen has, the higher-quality the image. Colors are crisper, often more vivid, and accurate to how something was filmed or designed.
Most TVs nowadays are 1080p, particularly higher-end ones. You can think of it as the standard for "high quality."
720p is still considered high definition (HD), but at this point is generally considered sub-par to 1080p. If you have a smaller screen, 720p is probably fine; however, such a TV probably wouldn't be ideal for a home theater.
And 4K? Well, it's undeniably better than 1080p and 720p Mathematically speaking, it's got 4 times as many pixels as a 1080p screen. And if you are going for a pretty large screen, 4K is ideal.
It might help to visualize the difference between them:
However, with that being said, there are some people who would argue that 4K screens don't provide that much of a noticeable difference compared to 1080p, especially if you're not choosing an enormous screen:
In other words, there may be 4x as many pixels as 1080p, but that does NOT mean the image is 4x better. Skeptic would say 1080p lets you save money and still enjoy high-quality images.
And there is one advantage 1080p has over 4K:
Many movies and games are meant to be displayed at 1080p. If you have a 4K TV, you can still play 1080p movies and games, of course—but the increased pixels may not do that much given the source material.
But pixels aren't everything. While your images will overall be better with 1080p or 4K, how that TV can process and display colors is very important too.
This is where HDR comes in:
HDR does not refer to the number of pixels. It means "high dynamic range," and it refers to color balancing. An HDR TV can display contrast better as well as an expanded color range.
HDR isn't firmly linked to a resolution, but you'd most likely want your HDR TV to be at least 1080p.
Just because a TV lacks HDR doesn't mean it displays colors poorly. So while it's worth looking into whether your ideal TV has HDR or not, it's most important to ascertain that it displays colors well.
Conclusion
As stated, our top spot easily goes to the Insignia NS-65DF710NA21 Smart Fire TV Edition. But that's just our overall take, for the typical reader.
It's important to pay attention to your own preferences and constraints, especially because there are so many good options available. The perfect television for your ideal home theater is out there—why wait?
X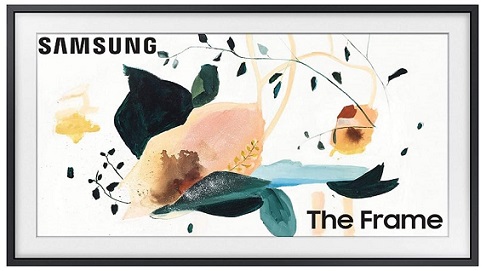 You might want to hear this:
Miranda Wigner said…
"Yes you need this. I cannot say enough good things about this tv. Great sound quality which was surprising. Great picture ! And the art mode is amazing! Don't hesitate- just get it! You won't be sorry! "