The best 2-way radio walkie talkies will make communicating with family and friends easy when cell phones aren't enough. Mobile phones aren't always reliable in emergencies. Cell towers may become impaired making communication with loved ones impossible. Cell phones are also a bit more fragile than 2-way radio walkie talkies.
You've made the decision you'd like something more reliable than a cell phone but how do you choose the best 2-way radio walkie talkies? Read on for our top choices and a helpful buyer's guide.
Our Top Picks
That's just the basic list of our top picks. There is so much more to learn. What features do you need to look for? Are they easy to operate? You know the importance of open lines of communication with family and friends and want to be able to reach them easily, especially in an emergency. So, let's get into the nitty gritty of what features make the best 2- way radio walkie talkies.
SAMCON offers a 5-watt long range, rechargeable product with the option to purchase up to 19 2-way radios. These have a low mode setting which can prolong battery life, as well as an LED backlit screen so you can easily see the channel status.
While this is the most expensive option on our list, it is also a top choice for reliability and flexibility.
Pros:
Initial purchase includes 6 units
Comes with built-in speaker and mic; includes earbuds
It is compatible with other brands
Features "Low" and "High Power Distance" modes to accommodate the environment; decrease or increase signal
Cons:
There have been complaints about the user's manual; difficult to understand
Manufacturer notes it is possible incorrect screws will be sent with product; they will replace if contacted
Customers have complained about range deficiency
This system comes with 6 units and a multi-unit charger. You'll find these are compact and easier to hold than some brands. It features 16 channels, the capability to use them 'hands-free', and a channel lock to avoid accidental channel changes.
These are lightweight 2-way radio walkie talkies that are easy to use and affordable.
Pros:
Features an alarm for emergencies
Compact and simple to use straight out of the box
Retevis offers fantastic customer service
The range Retevis promises is the range you get
Cons:
Common customer complaint was battery life/quality
Antennae covers may easily fall off
There have been complaints about interference when using a headpiece
Very affordable, this set of 2-way radio walkie talkies comes with 4 units. In addition, you'll receive clips, battery packs, USB cords, earpieces, and lanyards for each unit. TopSung promises advanced technology and a 100% satisfaction guarantee.
Suitable for family or commercial use, this set will give you a bang for your buck.
Pros:
Set comes in 4 different colors to coordinate which unit belongs to whom
Keypad lock
Backlit large LED screen
Can be charged via USB, car charger, PC or power bank
Cons:
Signal may not pass very well through metal walls; there have been complaints about use in urban areas
Some may find the earpieces uncomfortable
Customers complained the battery cover was difficult to remove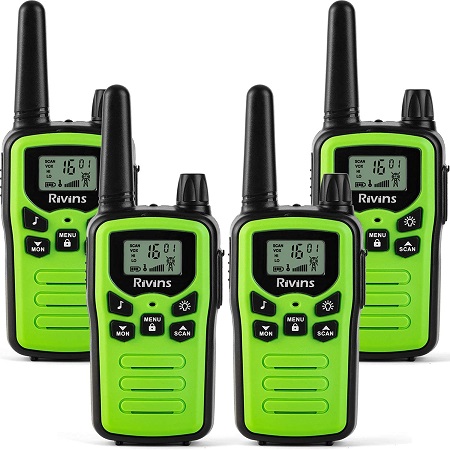 If reliable and affordable is what you are searching for, these may be the best 2-way radio walkie talkies for you. The vibrant color makes them easy to keep track of which is great for kids. A range of .6 – 2 miles (or 5 miles in open spaces) and built-in flashlight provides parents comfort if kids are out after dark.
Ready to use straight out of the box, this is an excellent choice for families who spend their time outdoors.
Pros:
Features 22 pre-set channels
Speaker and mic are built-in
Battery automatically goes into save mode after 10 minutes of non-use; prolongs battery life
Programming and customization is easy to do
Cons:
These are not waterproof; can handle some rain but are not submersible
Instruction manual incomplete
Customers have complained that FCC certification can't be found on packaging or product; be sure to check with manufacturer on legality of these devices
This set of 2-way radio walkie talkies comes with 6 batteries, a USB cable, and a USB port. It's simplicity makes it a breeze to use. The price makes it practically a steal. The bold yellow color makes the units highly visible. Sound and voice recognition makes it possible to use devices hands-free.
The KOMVOX brand seems to be aimed at electronics for kids but this set of 2-way radio walkie talkies is absolutely suitable for adults, as well.
Pros:
Depending on environment, these units have a 2-10 mile range
Does not drain batteries quickly
Features different calling melodies
Features a flashlight which makes them suitable to use after dark
Cons:
Advertised as rechargeable. Don't be misled. Rechargeable batteries must be purchased as these come with standard batteries
Some customers felt the buttons were difficult to distinguish one from the other
Consumers have also mentioned they KOMVOX offer to pay for a review is a scam
These are the most inexpensive 2-way radio walkie talkies on our list. What's included with purchase: 2 devices plus battery packs, chargers, belt clips, and slings for each unit. Each unit is compact and lightweight but durable.
Waterproof and dependable, this is a great choice if you are in the market for 2-way radio walkie talkies.
Pros:
Customers have mentioned the ease of use for elderly family members; good option for caregivers
There is an alarm for emergencies
There is a hands-free option
Batteries are easy rechargeable and have a long life
Cons:
Will not communicate with other brands
Some customers complained about interference/static
There have been customer complaints about quality of parts i.e. screws, antennae
With this purchase you can expect 2 units and the accompanying accessories for each unit: earpiece, USB charger, battery pack,sling, and belt clip. Features include a low battery alarm, flashlight, busy channel lock, noise reduction, and a power saver.
eSynic seems to have a focus on customer service and we've found their customer services practices are great. That matters when making any purchase for your home or business.
Pros:
Customers have stated the range is exceptional
Battery life is impressive
Proven reliable in areas where cell phones cannot be used making them a good choice while traveling
Features a built-in LED flashlight
Cons:
There have been reported problems with the instruction manual: English isn't clear making it a bit difficult to understand
These may not be legal in some areas outside of the U.S.; be sure to check for your region
Be aware that some of the listed functions must be activated via PC
Our Winner
We voted SAMCOM as the best 2-way radio walkie talkies. We appreciate the flexibility that is offered with these units. There is an option to purchase as many as 19 units making them great for commercial use and personal use, especially for large family events.
These are the most expensive on our list but let's face it – we get what we pay for, yes? If you want high quality and the best 2-way radio walkies talkies then give SAMCOM a try. Still have questions? That's okay. We've got you covered with our in-depth buyer's guide.
Buyer's Guide
While doing our research, we were careful to pay attention to questions most often asked by consumers. Whether you wish to use these for commercial or personal reasons, the best 2-way radio walkie talkies are an important investment. As such, feel it is important to bring you a buyer's guide you can rely on. Below you'll find the most frequently asked customer questions.
How do I choose the best 2 way radio walkie talkie for my needs?
This depends largely on the purpose of your purchase. Will you use the unit for business? Will you use them for travel with family and friends? Do you need something reliable for home use?
When making a decision consider the following factors:
Range: this will vary and it will rely on terrain and building structures in both urban and rural areas.
Battery life: decide if a long battery life is necessary or if you will have the opportunity to charge your units frequently. You may also want to give thought to rechargeable vs. non-rechargeable batteries as well as their cost.
Special features: these vary from brand to brand but features such as an emergency alarm, flashlight, low battery alert, and number of available channels may play an important part in your requirements.
Price point: if you are budget conscious then making a decision on how much you wish to spend is important.
Do 2-way radio walkie talkies require any special maintenance?
Any product you wish to keep in good working order requires maintenance. While minimal, the following tips will keep your units in tip top shape:
Avoid grabbing your 2-way by the antennae as this can cause unnecessary breakage
Don't expose your units or chargers to harsh chemicals
Keeping them at a stable temperature is important; unless specifically made for harsh environments, avoid extreme temps and prolonged exposure to sunlight. Room temperature is recommended by most manufacturers.
If your unit is not specifically made for use in water, keep them as dry as possible.
For optimal charging, make sure to carefully dust the charger connectors.
Choose accessories made for your specific brand of 2-way radio walkie talkies
If you must store the unit, be sure to remove the battery
When cleaning, wipe gently with a slightly damp cloth; plain water should be sufficient.
I'm concerned about exposure to COVID. Are there special steps I can take to clean my 2-way radio walkies talkies in order to reduce exposure?
Absolutely! We share your concerns about COVID and have found the following to be helpful in preventing exposure:
Prepare a work area large enough to separate clean from unclean radios; you'll want to make sure one side has been disinfected so you have a safe place to put clean units.
Make sure to wash your hands before cleaning units
Before disinfecting 2-way radios be sure to remove batteries and antennas.
To clean radios, use a slightly dampened cloth of mild soap and plain water to gently wipe each unit then use a clean; or a solution of 60% or above isopropyl alcohol can be used.
Never spray directly any water or chemicals on the units.
After sanitizing, do not mix clean with unclean units.
Lastly, as a question of maintenance, let's discuss battery care.
Obviously you will want the longest life that can be achieved with batteries. This takes a bit of effort. Things to consider include:
Before initial use, charge batteries to full capacity and at right temp; 68°F/20°C to 86°F/30°C is advised for charging and storage.
If your battery is not fully discharged, don't charge it; carry spare batteries with you if you think you may need them.
You can avoid draining a battery by removing it if not in use for a period of time.
As with any electronic device, leaving it continuously in a charger will drastically reduce the life of a battery; unless charging, don't store a radio in the charger.
I've heard a license is required to operate a 2-way radio. Is this true?
The short answer is yes and no. Most manufacturers are producing 2-ways that do not require any special licensing. Look for DUR, FRS, MURS, and DTR series units. These typically do not require a license. Businesses that require most sophisticated systems may require a license.
It is important to note that in our research we have found a few conflicting reports. There are brands available that say they do not require a license when in fact they do. What does this mean for you? Be sure to do your research, as well. Verify directly with the manufacturer the license requirements, if any. If you are still unsure, it might be a smart idea to check with the FCC (Federal Communications Commission). Violation of licensing laws do carry penalties. Better safe than sorry!
Conclusion
As a reminder, we have recommended SAMCON as our choice for best 2-way radio walkies talkies and we hope you'll give them a try. There are so many features we feel make this an excellent choice for both commercial personal use. As always,we encourage you to shop smart and we hope we guided you in the right direction.
X
You might want to hear this:
Jorgo said…
"Worked just as described. Fairly easy to use and came with a lot of other add ons. It was great to use when we went to the mountains it gave uninterrupted communication."